In a Nutshell
Grocery Pup is a pet food delivery service that focuses on top-quality dog food. All meals are made using fresh, real, USDA-approved foods designed by veterinary nutritionists to deliver the maximum health benefits for your dog. Grocery Pup uses a special cooking process called sous-vide to seal in both the flavor and the nutrients. So, your dogs are getting a healthy boost to their diet that also tastes great.
pros
Sous-vide cooking for max nutrition
Convenient packaging
Monthly $100 gift certificate giveaway
cons
Doesn't ship to Hawaii or Alaska
Not enough support options
No cat food and only 3 dog flavors
Grocery Pup at a Glance
Best for pet types: Dogs
Price: From $1.60 per serving
Shipping costs: Free
Meal options: Turkey pawella, porky luau, texas beef stew
Subscription options: Monthly or bimonthly
What's Unique About Grocery Pup?
Grocery Pup is definitely a dog-focused business, and you can tell these guys really love their pets. The dog food is healthier than the kibble alternatives and can contribute to your dog's overall health and wellness. What's more, Grocery Pup meals stand out for a few reasons, including:
Some pet delivery services send their meals over in complicated packages that aren't conducive to storage or serving. They come in bulk bags that don't reseal well or, groan, multi-meal packs that need to be measured or scooped. We like that Grocery Pup meals come conveniently-packaged for both easy storage and easy serving. Each patty is vacuum-sealed for simple stacking in the freezer. Then, you can take out one patty at a time, submerge the package in water for 30 minutes, and serve. Other dog food services don't make pet parents' lives that easy, and Grocery Pup certainly earns street cred for this feature.
We will go into the details in the ordering section below, but it's worth noting that Grocery Pup makes ordering a smooth and simple process. You'll select from a range of dog sizes (using the most adorable visual aids you can find). Dog sizes range from Teeny Tiny (under nine pounds) all the way up to Jumbo (71-80 pounds - yikes!). So, you can easily find your dog size in this selection.
How it Works
Pet parents will be happy to hear that ordering with Grocery Pup is nice and simple. Here's how it works:
Here, you get a panel of doggie sizes along with weight ranges and sweet pup pics to help guide you along (or entertain you, whichever).
Grocery Pup offers 2 types of plans, a Full Plan or a Half Plan. If you aren't ready to quit kibble cold turkey, you can use the Half Plan to supplement your doggie's diet with healthy options for half of their meals. Full Plan meals get delivered monthly, while Half Plan meals get delivered once every 2 months. So, this is something you may want to take into consideration when making your choice.
Choose your meal preference.
You can select the flavor that you know your dog prefers or order the variety pack if you aren't sure.
Confirm your order and proceed to checkout. If you want to order more bags, now's your time to do so. Enter your shipping and payment details, and wait for your order to arrive. Orders are generally shipped out on Mondays and Tuesdays.
What's on Offer?
Grocery Pup has 3 flavors, which is nice if you aren't sure which flavors your dog will appreciate. Some other pet food delivery services offer more of a selection, so maybe Grocery Pup will up the game with more flavors in the future.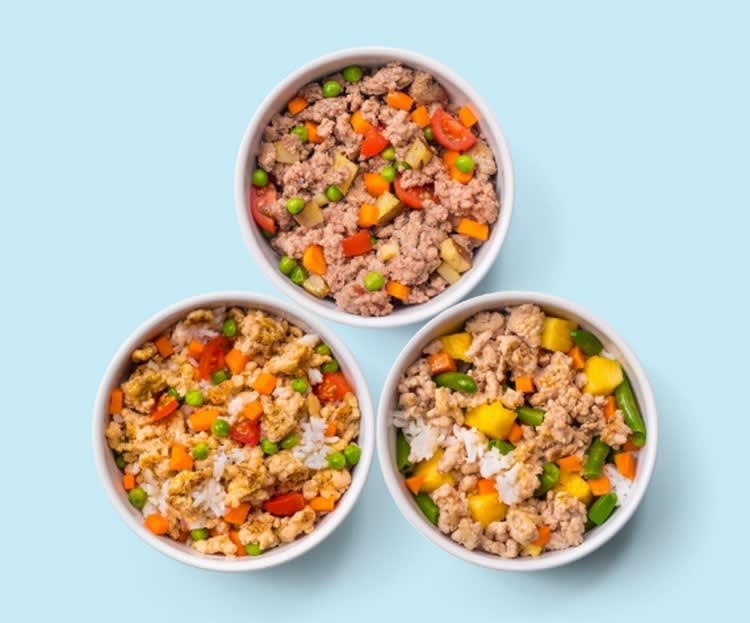 For now, you can choose from these 3 options:
Texas Beef Stew

Porky's Luau

Turkey Pawella
What's good about the Grocery Pup is that it has a sampler pack you can order if you want to test out all 3 flavors. Sampler pack comes with one 3-pound bag of each of the flavors.
Food Freshness and Quality
Grocery Pup really seems to go the extra mile when it comes to quality. The brand makes food that is good enough for human consumption but designed specifically for dogs. To begin with, the meals are all created by veterinary nutritionists to include all of the necessary daily nutritional requirements a dog needs to live healthy and thrive.
What's more, Grocery Pup uses sous-vide cooking technique. For those not up on their culinary lingo, sous-vide is a slow-cook process whereby the food is vacuum sealed in a bag and brought to the perfect internal temperature in a water bath. This cooking process actually has several benefits for the quality and health value of the food. For one thing, the nutrients aren't lost to cooking water. Sous-vide foods also turn out moister than other cooking methods. And finally, these dog foods are packed with flavor since they're sitting in a marinade for nearly two hours inside of the vacuum-sealed bag.
Let's talk ingredients for a second. Grocery Pup uses non-GMO, pesticide-free vegetables, and USDA meats that are locally-sourced for all of its meals. Between that and the sous-vide process, Grocery Pup definitely scores big points for quality and flavor.
In terms of freshness, Grocery Pup meals are vacuum sealed before they're cooked to trap in the nutrients and fatty acids, and then frozen flat. We like the packaging because it's easier to store than some brands.
Pricing
Grocery Pup doesn't have a set price list, which is annoying when trying to make a comparison. The size of your dog, along with the type of plan you choose, will determine how much each meal will cost you. Here's a sample pricing table for a 9-14 lbs dog:
For a Teeny dog (9-14 pounds)
Keep in mind that this size refers to a relatively small dog. If you have a much larger dog, like a mastiff or a Saint Bernard, your meal plans are going to be considerably more. For a Jumbo dog plan, you're talking about $14.21 a day for the Full Plan or $7.11 for a Half Plan.
Also, Grocery Pup doesn't charge shipping, so that's a big plus.

A Pup Above Visit Site
Help & Support
Grocery Pup could use some work on their customer support. There's an FAQ section, but it's missing a lot of basic questions. If you want to speak to a customer service rep directly, you can fill out the support form on the website. But there's no live chat or even a phone number to speak to someone. Grocery Pup should consider making these additions to improve the customer experience.
Bottom Line
In terms of quality of product, Grocery Pup is top-notch. The ingredients are all fresh, real, human-grade vegetables, and proteins. What's more, the cooking process traps in both flavor and nutrients for the best meal your pup is likely to ever have. Meals are delivered in convenient packaging, too, for better serving and storage.