The definition of a 'smart city' varies, depending who you ask. If we had to sum it up in one sentence, it would be cities that leverage technologies like artificial intelligence and the Internet of Things (IoT) to improve public services and infrastructure and provide more opportunities for social and economic mobility.
Singapore is the city that most often ranks at the top of global smart city rankings. Among other things, it has digitized its healthcare system with online doctor consultations and wearable monitoring equipment; created an autonomous fleet of vehicles for elderly and disabled residents; and installed an AI-powered traffic light control system for smoother traffic and pedestrian flow.
In America, city governments will invest around $41 trillion over the next 20 years to upgrade their infrastructure to benefit from the IoT, according to the SmartAmerica Challenge, a White House Presidential Innovation Fellow initiative that aims to bring together projects from sectors such as smart manufacturing, healthcare, smart energy, intelligent transportation, and disaster response.
Not surprisingly, many of the cities investing heavily in smart technologies are already known for being innovation or academic hubs, as our list of the top 10 smart cities in America demonstrates. For this list, we considered only cities whose urban areas contain more than 1 million people. As a bonus, we also selected 1 smaller city investing heavily in smart initiatives.
You may also like:
Best Moving Companies for Stress-Free Local & Long-Distance Moves
1. New York, NY
As the largest American urban area by population (more than 18 million) and GDP ($1.8 trillion, equivalent to all of Canada), New York has an unrivalled ability to invest in becoming a smart city. This is demonstrated by the fact that it was 1 of 2 American cities to receive an A rating from the Global Smart City Index 2020 (7 cities, all of them outside the U.S., received AAA or AA ratings). According to the Global Smart City Index (GSCI) survey of residents of New York and more than 100 other major world cities, NY is one of the best cities for internet speed and reliability, information on traffic congestion through mobile phones, and cultural activities.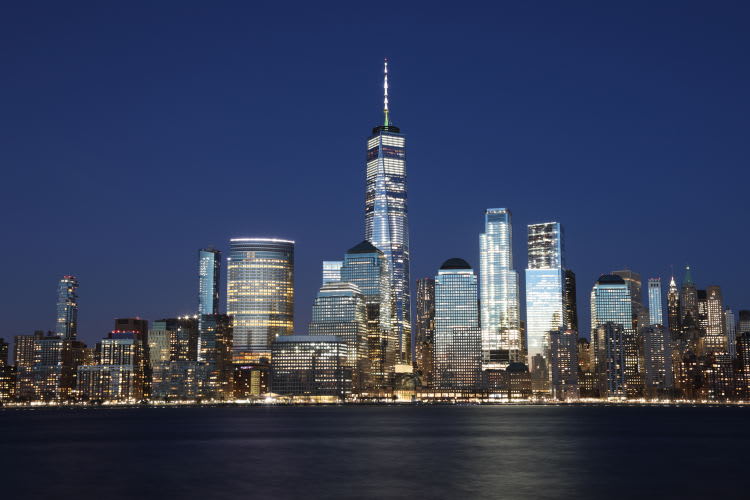 Best smart initiative: The city recently launched a pilot program that installed hundreds of smart sensors to monitor waste levels. In a separate pilot, it equipped 5 city fleet vehicles with solar-powered sensors to collect and compare air quality data in different neighborhoods in the South Bronx.
2. Washington, DC
Washington, D.C. was the only other American city to receive an A rating from the Global Smart City Index 2020. According to survey respondents, information on local government decisions is easily accessible, an online platform where residents can propose ideas has improved city life, and cultural activities are among the best in the world.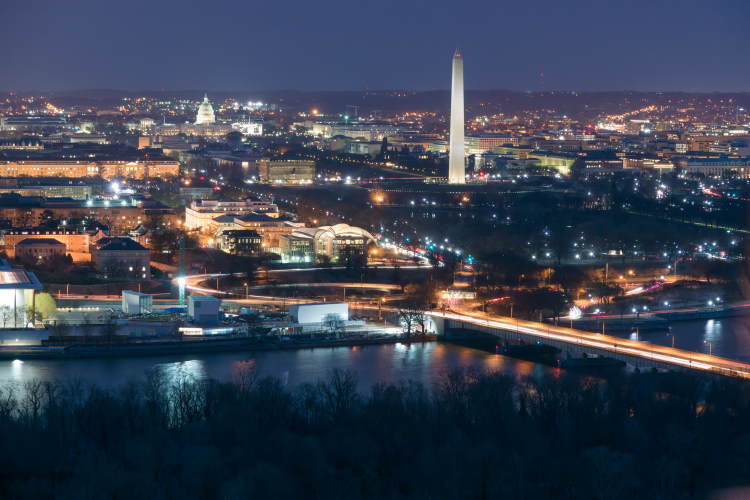 Best smart initiative: DC is using video sensors to classify and count city movement (people, bikes, cars, etc.) to measure traffic volume and flows in key economic development corridors and event locations. The primary goal is to provide 'movement analytics' to aid in improving city operations, economic planning efforts, and other ways of understanding and improving the city.
3. Boston, MA
Boston has 2 of the best 3 universities on the entire planet (MIT #1 and Harvard #3), according to the QS Top Universities rankings. With such a wealth of human capital, it's no surprise Boston is one of America's top smart cities. Boston received a BBB rating from the Global Smart City Index 2020. According to residents, it has above-average internet speeds and above-average medical services.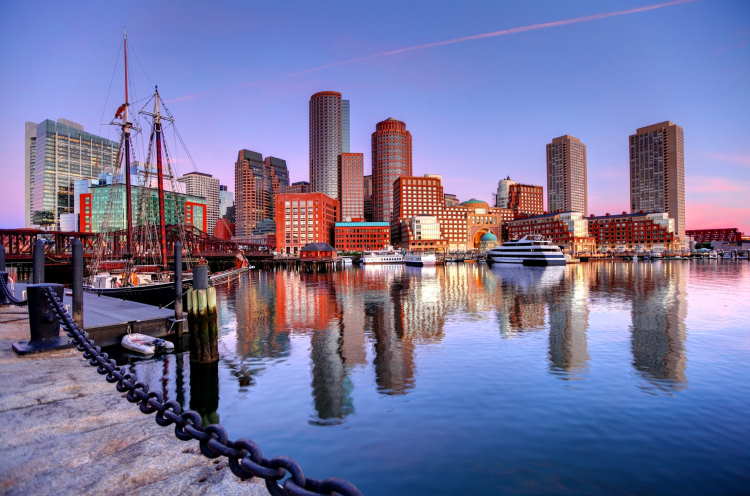 Best smart initiative: The BOS:311 app, previously called Citizens Connect, enables residents to report issues such as potholes and graffiti. These reports are automatically fed into the city's work order system, where they are tracked and assigned to service teams.
4. San Francisco, CA
As the gateway to Silicon Valley and a city that attracts billions of dollars a year in technology investments in its own right, it's no surprise San Francisco is high up on our list of smart cities. The city received a BBB rating from the Global Smart City Index 2020. According to residents, it excels at online access to job listings and the ability to provide feedback on local government projects. Like New York, D.C., and Boston, San Francisco's residents see it as a world leader in cultural activities.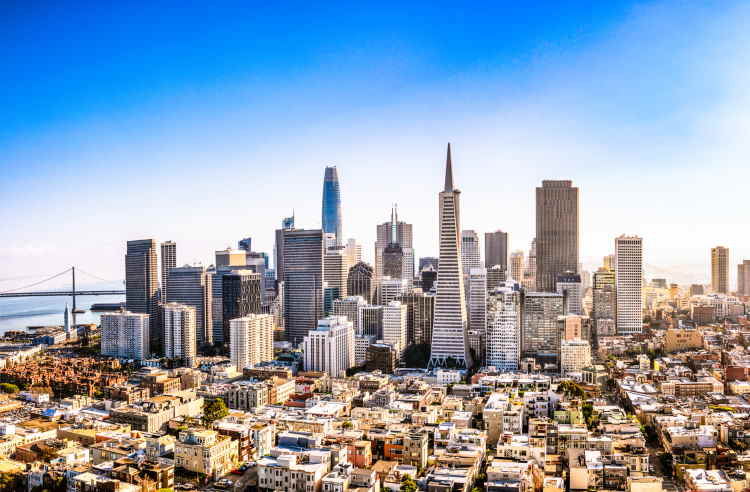 Best smart initiative: It was actually launched in 2011, but the SFpark smart parking system deserves a mention here. Parking usage is monitored via sensors placed in the asphalt and the data is fed to smart parking meters that change their prices according to availability and time of day. The purpose of the system is to reduce time and fuel wasted by drivers searching for parking. Prices range from 25c to $7 per hour during normal hours, and about 15% of spaces are kept vacant on any given block at any time.
5. Seattle, WA
Seattle, the home of Amazon, Microsoft, and numerous other tech companies, was yet another city to receive a BBB rating from the Global Smart City Index 2020. Residents enjoy the fact that employment-finding services are readily available and that they can easily provide feedback on local government projects. Seattle is yet another American city to rank well above the global average for cultural activities.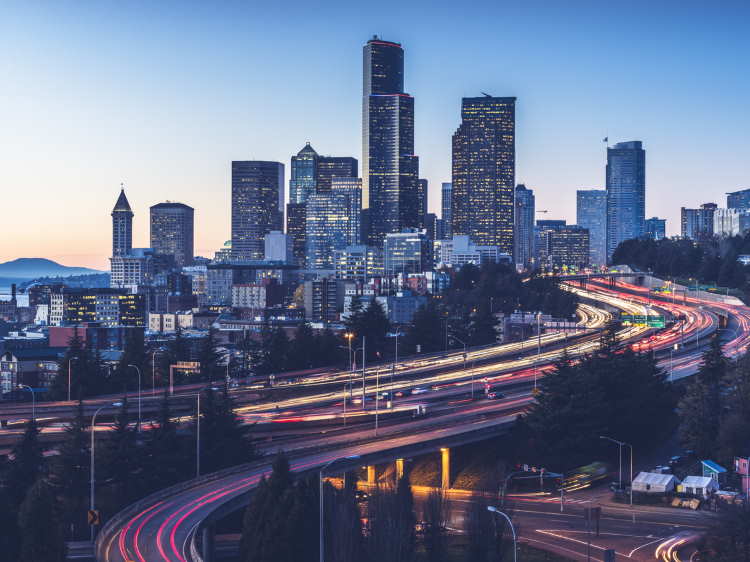 Best smart initiative: The Food Rescue Innovation Labs, an initiative of Seattle Pacific University supported by the City of Seattle's Innovation Advisory Council, is developing software to provide real-time, open-access information about surplus food, transportation options, and other food rescue logistics. Potential users of the app include last-mile organizations (local meal programs and food banks) as well as food-oriented businesses as potential donors.
6. Denver, CO
The Mile High City also received a BBB rating from the Global Smart City Index 2020. According to residents, Denver stands out for online purchasing of tickets to shows and museums, ease of online voting, and ready availability of employment services. Oh, and it's well above the global average for cultural activities.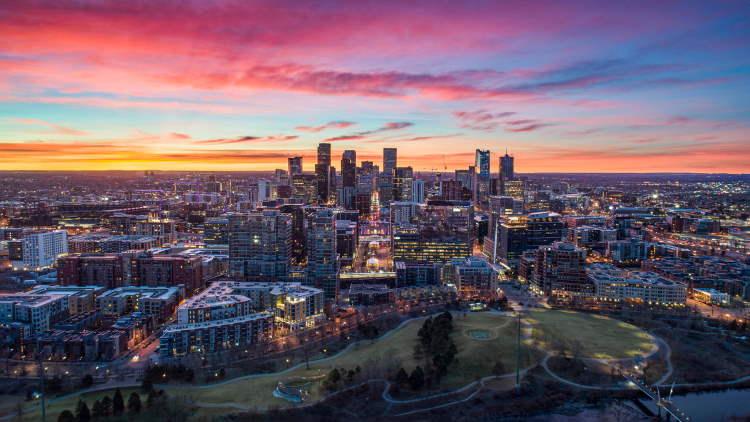 Best smart initiative: The Colorado Smart Cities Alliance's Love My Air program, in partnership with Denver Public Schools, is creating a citywide air-quality (AQ) monitoring network to provide real-time AQ data–utilizing low-cost cutting-edge air pollution sensor technology, redeveloped with solar, battery storage and data connectivity to make it useful for wide scale deployment and replicable in any municipality.
7. Los Angeles, CA
America's second largest urban center by population (13 million) and GDP ($1 trillion) had to appear somewhere on this list. LA received a BBB rating from the Global Smart City Index 2020. According to the GSCI survey, residents were impressed with the recent online voting pilot which was run in 10 neighborhood councils, including Downtown LA, in 2019. Surprisingly, Angelenos are not as impressed with their city's cultural activities as residents of Denver and Seattle.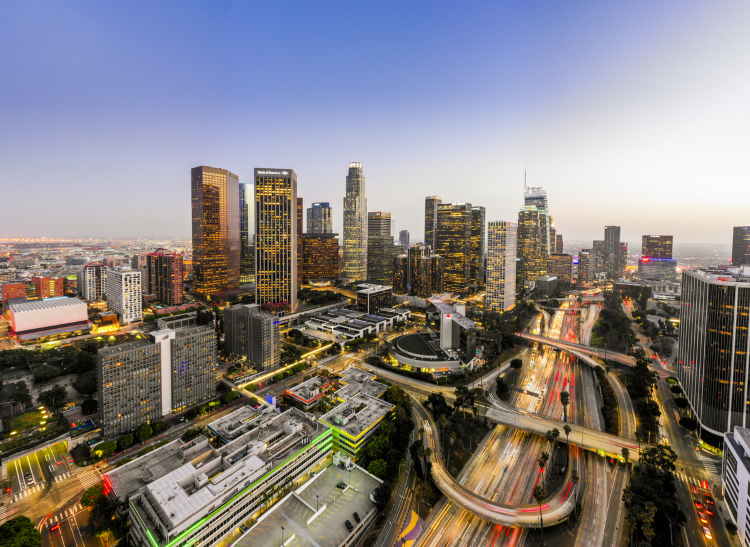 Best smart initiative: If there was one thing LA would need to use IoT technology to monitor, what would it be? Earthquakes, of course. In 2019, LA became the first U.S. city to launch an earthquake early warning app to the public. Using a network of seismic sensors installed through the greater Los Angeles region, ShakeAlertLA sends an alert to users when there are early warning signs of a quake of magnitude 5.0 or larger.
8. Columbus, OH
Columbus is too small to feature in the Global Smart City Index, but it did win the U.S. Department of Transportation's inaugural Smart City Challenge. The City of Columbus proposed a comprehensive, integrated plan addressing challenges in residential, commercial, freight, and downtown districts using a number of new technologies, including connected infrastructure, electric vehicle charging infrastructure, an integrated data platform, autonomous vehicles, and more. Columbus plans to work closely with residents, community and business leaders, and technical experts to implement their plan.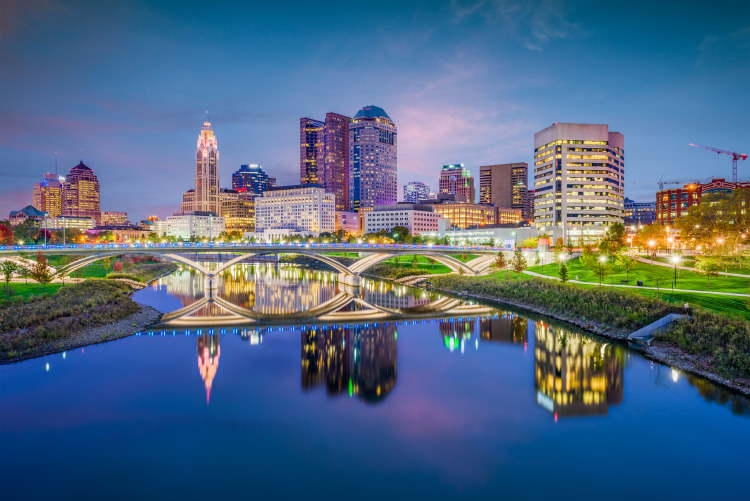 Best smart initiative: As mentioned, Columbus is working to empower residents through responsive, innovative and safe mobility solutions. It is also working to accelerate electric vehicle adoption to become one of the leading EV markets in the United States.
9. Austin, TX
Another city that's too small to feature in global rankings, Austin is known for being on of America's fastest-growing cities as well as a fast-growing center for hi-tech. The University of Texas at Austin's world-class engineering and computer science programs provide a steady stream of talent to support this sector, as do new arrivals from interstate and abroad.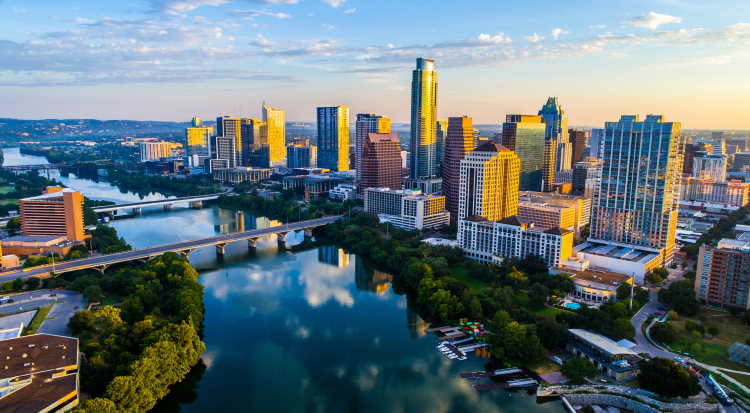 Best smart initiative: Austin Water is conducting a pilot installation of thousands of smart water meters in various neighborhoods. The meters transmit consumption data electronically, enabling the utility to predict and respond to conditions and improve engagement with customers.
10. Pittsburgh, PA
Metro 21: Smart Cities Institute is a program run by Carnegie Mellon University in collaboration with the City of Pittsburgh, Allegheny County, and other government agencies to use technology to significantly improve quality of life in metropolitan areas. For this reason, Pittsburgh earns a place on our list of top 10 smart cities.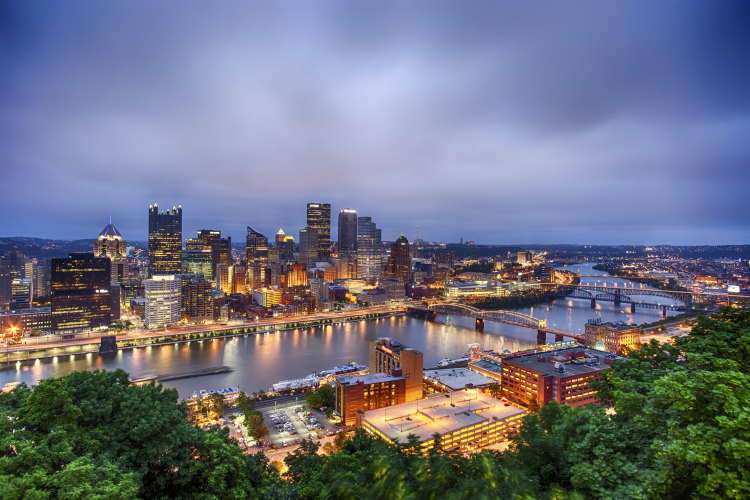 Best smart initiative: One of the dozens of projects run by Metro 21 is an artificial light survey of night-time Pittsburgh at resolutions finer than can be done by open satellite surveys. Camera and spectrometer-enhanced drone flights assemble a high-resolution map of Pittsburgh at night. The data is used for scientific studies of light pollution and its effects to identify the major light polluters in the city.
And the smartest small city is…
Boulder, Colorado, home of the main campus of the University of Colorado, for a project to reduce the city's building energy costs with an innovative pilot that sends energy in 2 directions – from electric vehicles to buildings and from the buildings back to the EVs.
Smart and Getting Smarter
With trillions of dollars to be invested in building America's smart cities over the next two decades, American cities may well be unrecognizable by 2040 compared to today. Will the current top 10 smart cities maintain their competitive advantage or will other cities emerge as front-runners in smart technologies? It will certainly be interesting to watch.