Pets are precious cargo, and moving is just as tough on them as it is on you. They're swapping one familiar—and happy—environment for the unknown, all while being surrounded by an often frantic moving process. It's no surprise that 93% of pet owners voice concerns about moving with their pets.
Pet moves also come with extra costs that are important to keep in mind when starting your move. To make the big haul easy on pets and humans alike, I've put together three essential steps to pet-proof your move so everyone can acclimate quickly on the other side.
» Budgeting for the big move? Find out how to save money with moving companies.
Step 1: Prepare Your Pet Before the Move
Moving with a pet can be quite stressful due to the changes in their environment. It's not just about the logistics of packing boxes and hiring movers; there are additional responsibilities to keep in mind when you have pets.
Landlords often require extra fees for pets and might impose restrictions, so make sure to include these factors in your plans. Consider your pet's specific needs during the move. Personally, I always pack my pet's favorite toy last, ensuring it's readily available during the transition. Familiar items can provide comfort and help ease their stress.
Just as you meticulously plan utilities and other essentials, think about when and where your pet will need to be during the move. I recommend waiting to introduce your pets to the new space until after the furniture is set up. This provides them with a calm retreat away from the chaos of moving.
It's important to remember that every pet is unique and has different needs. Dogs may adapt more easily depending on their breed and temperament, while cats often require more time to acclimate. Be prepared for behavioral changes in the weeks following the move. Pets kept in a cage or kennel may adjust better due to the familiarity of their surroundings.
Checklist for Pre-Move Preparations
Check with your landlord about any pet-related fees or restrictions.
Plan your pet's timeline alongside your moving schedule.
Pack plenty of food, treats, toys, and familiar items for your pet.
Set aside a quiet space for your pet during the move.
My biggest recommendation is to plan for your pet based on their personality and past experiences with moves. If your pet has never moved before, take extra precautions when possible.
» Need help getting organized? Our moving checklist is your ultimate planning tool.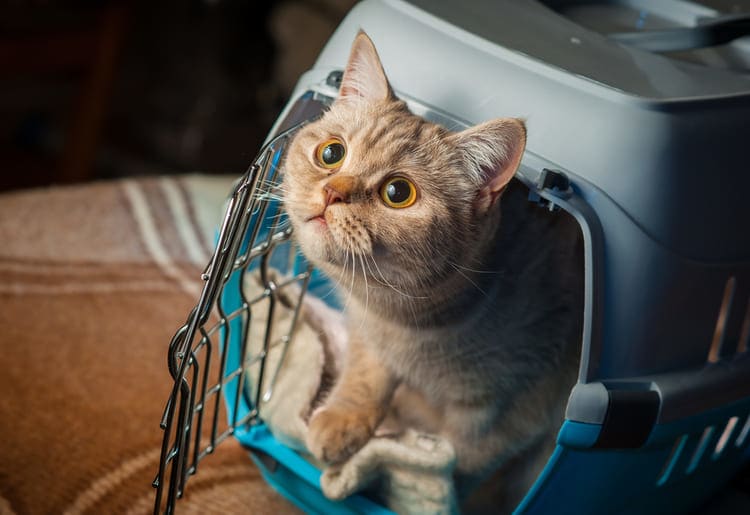 Step 2: Arrange Your Pet's Transport and Travel
When planning a move with a pet, I always start by considering the distance. If it's a big move, you may want to use a professional pet transport service to fly or ship your pet to your new city. If you're driving, plan for bathroom breaks and meal times to keep them comfortable and avoid any accidents.
Safety is key. If you're using a pet transport service, ask questions about how they'll handle your pet and any specific requirements they may have. I always read reviews and get recommendations from other pet owners who've had positive experiences with these services.
Prepare, prepare, prepare. Think through every step of the process:
What tools do you need?
How much food should you pack?
Are there any comforting items like a familiar blanket to help calm them?
If needed, reach out to a vet for advice on medication or other products that can help during the journey.
Overcoming Obstacles: A Pitbull's Cross-State Moving Adventure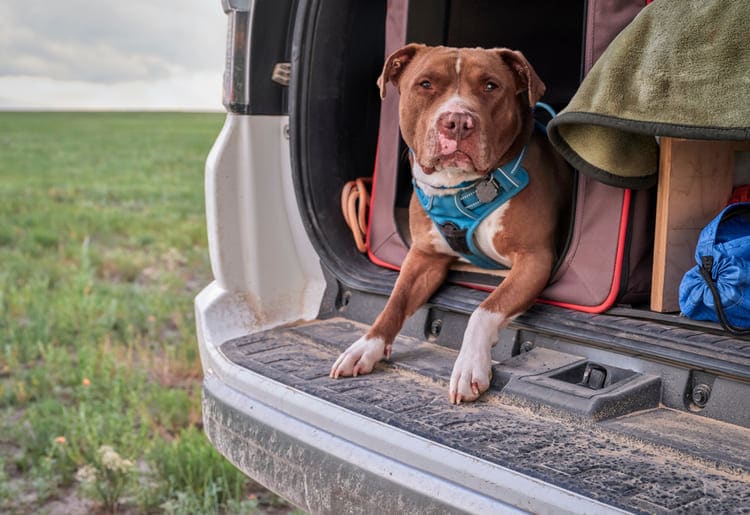 One of my clients had a pitbull, her emotional support animal (ESA). She moved across many states and faced potential breed restrictions in apartment complexes and rental properties. She called numerous apartments to ask about breed restrictions and found three that didn't have any after going through around 30+ options.
She had all her furniture and belongings shipped to the apartment so she could have ample room in her car for her dog during their three-day drive. She purchased a large back seat cover and a special car harness to secure her dog in the backseat row.
Once she arrived at her new home, she took her dog to a daycare facility while she worked with movers to set up her apartment.
» Managing the transport yourself? Check out the best moving truck rentals.
Step 3: Settle In
Establish a routine from the start. Designated walk times and areas for dogs, for instance, can provide structure. Allowing ample time for exploration and familiarization with new scents is also important. Pets may be overwhelmed, scared, or extra excited by the new environment, so be prepared for a range of reactions.
During this transition, there'll be lots of new things around them. You may have to clean up accidents. Signs of distress could include:
Inappropriate bathroom habits
Hiding
Shaking
Excessive vocalizations
Destruction of items
Unusual disobedience
If these signs persist after several weeks, consult your veterinarian for advice.
To prevent escapes or accidents during the move, consider using leashes, harnesses, or secluding your pet in a specific space with everything they need. Introduce them to one room at a time and let them explore the entire home gradually.
For cats, ensure they know where their food, water, and litter box are. Cats often hide in new places to calm down, so you need to be patient.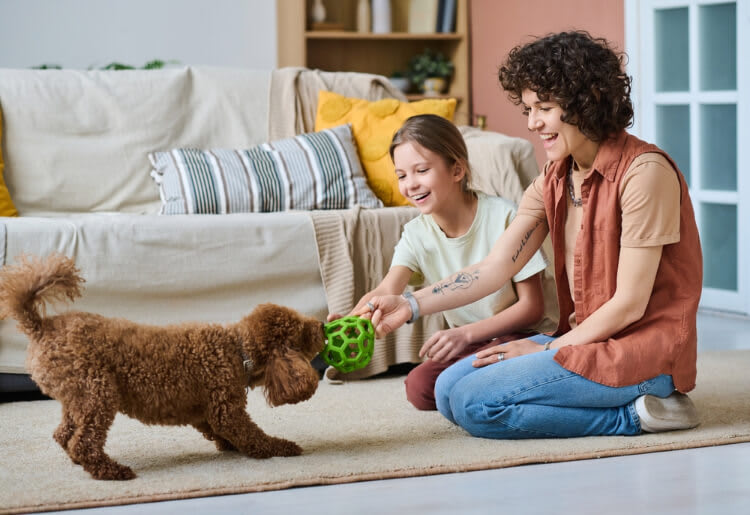 Moving With Pets: Make This Journey Seamless for All
The key to a successful move lies in meticulous planning and understanding your pet's personality and demeanor. Every pet is unique. What works for one may not work for another. If you consider your pet family, like 80% of US households, then their comfort, safety, and well-being should always be at the forefront of your planning process.
Every step should be tailored to your pet's specific needs, from the pre-move preparations to the travel arrangements and settling in. If you're worried about your pet being allowed into an apartment or rental, consider getting them certified as an ESA. Landlords cannot legally deny your ESA.
» Ready to make your move stress-free? Contact Colonial Van Lines or American Van Lines today.