Medical Care Alert Visit Site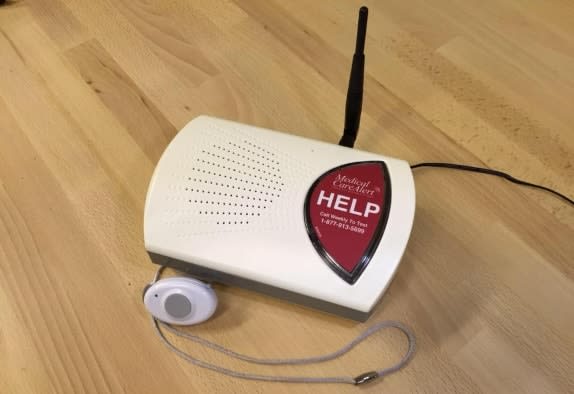 Home system is great for those who stay mostly at home
Highlights
EMT certified monitoring staff
30-day risk-free trial
A+ Rating with BBB
Monitoring Services
Medical Care Alert has a state of the art 40,000 square foot emergency response center in New York State as well as a second center in California. Both are fully functioning so if one encounters any problems, the other can seamlessly take over. The facility is custom-designed and is UL-certified to ensure the highest standards of excellence in customer service and performance. It is highly secure and protected by video surveillance, and boasts continually upgraded biometric access controls and fail safes for any situation.
The staff members are all EMT-certified, which means they can handle a medical emergency and know how to assess a patient.They are also SIA-certified, having completed a 6-week course given by the Security Industry Association, and have years of experience in 2-way medical alert monitoring. Medical Care Alert also has Spanish speaking operators for those who need it. There is even additional support available for the deaf and hearing impaired and staff members will stay on the line with you until help arrives, a caring extra feature not found everywhere.
Product Features
Medical Care Alert has 3 package options: "Home," "Home and Yard" and "Home and Away."
"Home" is a simple at home system for those who aren't very active. It has a great range of up to 1,000 feet so it's perfect for seniors to make the most of the space in their home, without worrying about an emergency situation. With the annual plan, you get 2 buttons which can be worn as a pendant, wristband, or on a belt that has a clear and simple button to press if you need help. The button will signal the base station, which has a powerful microphone and speaker so you can talk to the monitoring staff wherever you are at home without needing to shout. You are also given a lockbox which is a safe way to allow emergency service personnel entry to your home without damaging the door. Options include a Fall Detection pendant, and a cellular module if there is no phone line in the home.
"Home and Yard" is a similar system, but involves a powerful 2-way voice pendant which can be worn within 600 feet of the base station. The pendant is water resistant so it can be worn in the shower, has voice alerts for low battery, and automatically tests itself every 13 hours so you never have to worry that it isn't working. You can even use it to answer the phone. The base allows for up to 4 pendants or buttons, so you can cover your spouse or anyone else under the same roof at a price of $5 per extra pendant. Fall detection is not an option for the Home and Yard system.
"Home and Away" is the final option. It is a mobile solution for those who live an active lifestyle, but want the added security in case an emergency happens. The mobile system works through GPS, powered nationwide by AT&T, and includes everything you need, including 2-way voice pendant technology and fall detection, along with location services so emergency services can find you even if you don't know where to send them. Along with your personal medical profile, which you create upon sign up, this is a powerful solution to any medical emergency.
Installation Process
Some companies charge an installation fee for them to send 'experts' to come and set up your medical alert system. The truth is that in 9 out of 10 cases even the elderly user can set up the system themselves as it merely involves plugging the base unit into a phone socket and the plug into an electrical outlet. Once this is done, you can self-test by pressing the help button.
When you are ready to buy a system, all you need to provide is the name, address and phone number of the user so that Medical Care Alert can send the product to them. You also will provide a few names of emergency contacts like neighbors, friends or family members who can be called in an emergency instead of, or as well as, emergency services. You complete your personal profile, which will give medical information, special instructions and a lockbox code if applicable. This is where you include payment information as well. You can start this process either by phone or online, and your equipment can be shipped the same day.
Medical Care Alert Customer Support
Medical Care Alert really makes customers feel important, and is happy to answer any questions you might have about its systems and use. The company offers live chat on the website, as well as email support and phone support during working hours, as well as a comprehensive FAQ section.
It breaks down the pricing into transparent monthly and annual costs, and includes plenty of freebies, like a lockbox and free spousal cover. Medical Care Alert encourages you to get in touch by social media or from the website directly.

Medical Care Alert Visit Site
Pricing & Special Offers
*Last updated: October, 2018
The main medical alert system on offer is the Home System, which starts at $27.45 per month for an annual plan. It's worth signing up to the annual plan and receiving the cheapest price because there are no cancellation fees if you want to return your equipment at any time. Any pre-paid money will be returned to you when the system is returned. You can add the Auto Fall Detection pendant for an extra $10 per month, and if you don't have a landline, you can add a Cellular Module for $5 per month.
Home and Yard is the same protection but with use of the portable and waterproof 2-way voice pendant, which starts at $32.04 per month. An extra pendant or wall button is just $5 per month.
The Home and Away plan gives you the same security nationwide with AT&T and is just $36.62 per month.
Annual Plans with Medical Care Alert represent the best price and value as they include one-month free service, free shipping, and a free key lockbox. There is no risk, as the company refunds any pre-paid amounts upon return of the equipment.
No matter which plan you choose, there will be a lifetime guarantee on that price, as well as no activation or setup fees, or cancellation fees whatsoever. The 30-day risk-free trial means that you can return all equipment at no cost as long as you try it out. If your equipment is sent back untested, there will be a $50 one-time fee.
Bottom Line
Medical Care Alert is a good system for anyone elderly or living alone who is nervous about a medical emergency. Most importantly, with the EMT-trained staff and the personal medical profile you fill in upon signup, you can see why it attracts those who have more specific medical needs, and gives them peace of mind both at home and on the move.