In a Nutshell
Salesforce Marketing Cloud is a comprehensive and powerful suite of marketing tools that helps enterprise-scale businesses create personalized customer journeys. Salesforce includes tools for email marketing, online advertising, and social media management, plus automations to make those tools more effective. Salesforce Marketing Cloud is pricey, but it's hard to beat if you want to take your business's marketing to the next level.
pros
Highly customizable email builder
In-depth automation tools
AI-powered customer analytics
cons
Expensive
Steep learning curve

Salesforce Visit Site
Salesforce Marketing Tools at a Glance
Enterprise-scale businesses
Automated emails

Online advertising

Social media management
Free trial (or guarantee)
24/7 phone, email, and live chat
Email Marketing
The Salesforce Email Studio is a highly customizable email campaign builder. It's loaded with templates to help you start building emails, and you're free to drag and drop content blocks to create your own email formats.
In line with Salesforce's focus on personalization, many of the content blocks in Email Studio are dynamic. They're auto-filled with customer-specific data when you launch a new campaign, so your emails are speaking directly to each customer based on their past interactions with your brand.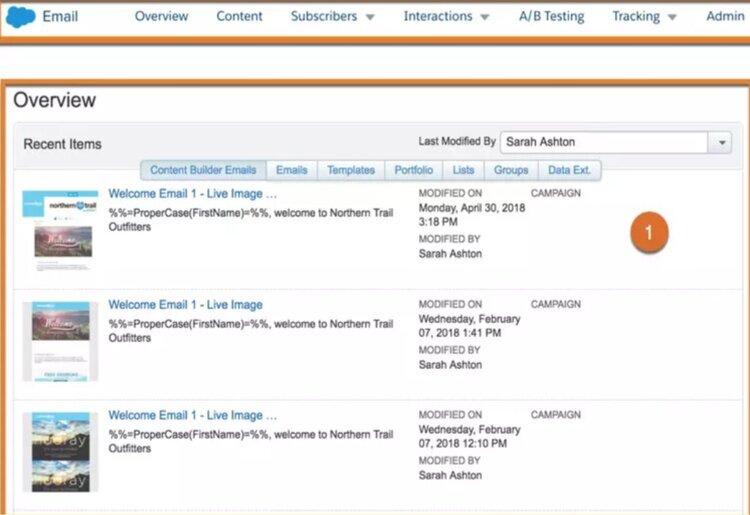 Email Studio also gives you a significant amount of control over how your email campaigns are targeted. You can segment customers based on a huge variety of factors, including what products they've purchased or how they were added to your email list. Email Studio also offers the ability to automate the segmentation process.
You can launch new email campaigns manually, but Email Studio is optimized for automation. Using the Journey Builder tool, you can visually map out triggers that will initiate emails to individuals or entire groups of subscribers.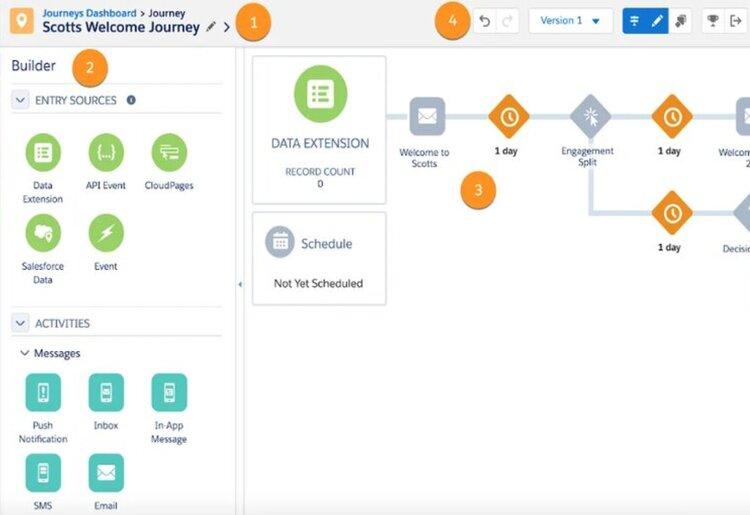 All the emails you send are tracked, and you can monitor open rates, conversions, and more through Salesforce's analytics dashboard. Salesforce also incorporates AI into its analytics tools to give you deeper insights into how to target customers and design campaigns. For example, emails and customers are scored based on their past open rates. This will give you a clear idea of what content resonates with different segments of your audience.
Other notable features within Email Studio include landing pages, audience surveys, and A/B testing. A/B testing enables you to send two versions of a campaign to your subscribers and evaluate which version leads to higher open rates and conversions. This test data can then be incorporated into your main analytics dashboard to further understand your audience and content performance.
It's also worth noting that Salesforce supports SMS marketing through a module called Mobile Studio. This works similarly to Email Studio, but one advantage is that you can use geofences as triggers for marketing messages. When a subscriber enters a physical area that you've geofenced—such as the area around one of your physical stores—they'll automatically receive a message from your business.
Social Media Marketing
Salesforce Social Studio enables you to monitor your brand's presence on major social media platforms, including Facebook and Twitter. You can create, schedule, and manage posts.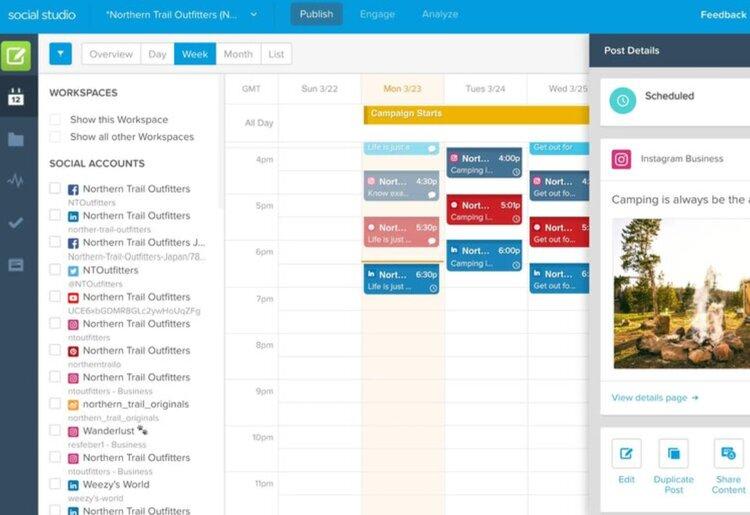 Social Studio is designed with teams in mind and offers a few features to make it easy for multiple social media managers to work together. For example, a calendar lets everyone on your team see all your past and upcoming posts across different channels. It's also possible to create approval workflows for posts and define user roles and permissions for everyone on your team.
Social Studio also enables you to monitor social sentiment around your brand and respond directly to social media users. The platform includes an analytics dashboard, so you can break down your content's performance by post or custom groupings like campaigns, labels, or tags. Social Studio incorporates Salesforce's AI tools to deliver deeper insights into your audience and what changes you can make to engage with them more effectively.
The other key feature of Social Studio is that it enables your business to advertise on social platforms like Facebook. You can buy ads directly through Social Studio and monitor their performance.
Digital Marketing
The Advertising Studio module also enables you to create ad campaigns across Facebook, Instagram, Google, YouTube, LinkedIn, and Twitter. What stands out about this tool is that it's integrated with Email Studio and Social Studio, so you can coordinate your ad campaigns across multiple channels.
Advertising Studio helps you create lookalike audiences based on the demographics and behaviors of your business's current social media followings. It also integrates with Salesforce Sales Cloud to generate ad targets with similar profiles to your company's highest-spend customers.
Leads generated through ad campaigns automatically flow into Sales Cloud so your sales team can reach out. In addition, you can use Journey Builder to automatically add leads to your marketing groups and send out welcome campaigns, such as promotional offers for new customers.
Pricing
Salesforce offers multiple editions of Marketing Cloud with varying degrees of analytical tools, Sales Cloud integrations, and AI insights.
The Marketing Cloud Engagement edition includes Email Studio, Mobile Studio, and Journey Builder, plus analytics for these tools. It has four pricing tiers: Basic, Pro, Corporate, and Enterprise.
The Basic tier costs $400 per month and only offers a limited set of features from Email Studio. You can create custom content and use dynamic content blocks, but you won't get automations or conversion tracking. You're also limited to five users.
The Pro tier costs $1,250 per month and unlocks all of the features of Email Studio, but does not include the Journey Builder tool for automating campaigns. It supports 15 users.
The Corporate tier costs $3,750 per month and adds Journey Builder for automating your campaigns. It also includes the Mobile Studio module for SMS marketing and AI-based performance analytics tools.
Pricing for the Enterprise plan is by quote only. This plan enables you to manage multiple businesses or brands.
Manage multiple businesses
Advertising Studio is offered separately through the Marketing Cloud Advertising edition. Pricing for this module is by quote and starts at $2,000 per month.
Salesforce offers a 14-day free trial of its Sales Cloud platform but doesn't offer a trial for Marketing Cloud.
Customer Service
Salesforce offers 24/7 customer support by phone, email, and live chat. We got in touch by live chat and were connected with an agent in a few minutes.
Salesforce also offers a ton of online documentation for Marketing Cloud's modules. The documentation is extremely detailed and takes some time to read through, but it covers a lot of ground about how to use Email Studio, Journey Builder, Mobile Studio, and Advertising Studio.
Salesforce subscribers also have access to Trailhead, the company's interactive learning tool. Trailhead has several courses that introduce users to Marketing Cloud modules and include quizzes to test your knowledge about these tools.

Salesforce Visit Site
Bottom Line
Salesforce Marketing Cloud is an extremely powerful marketing suite that includes tools for email marketing, SMS marketing, social media management, and online advertising. All of the tools are extremely customizable and well-designed for use by teams. Salesforce also supports automated workflows and campaign triggers, and it incorporates AI into its performance analysis tools. While Salesforce is pricey, it's a worthwhile investment for enterprise-scale businesses that want to create personalized customer journeys.