In a Nutshell
If you're looking to run a paid digital advertising campaign then you've probably thought about putting dollars into Google, Facebook, and LinkedIn. But what about Yahoo and Bing? These search engines continue to receive substantial search volumes—even if Google remains the undoubted king of the search engines. Microsoft Ads is a very capable platform for planning PPC campaigns over these networks.
pros
Create ad campaigns on Yahoo and Bing
Daily budget limitation option
Language targeting
cons
Not for creating ads on Google
Bing and Yahoo have lower search volumes

Microsoft Advertising Visit Site
Microsoft Ads Marketing Tools at a Glance
Yahoo and Bing digital advertisers
Free trial (or Guarantee)
Digital Marketing
If you're looking to run Pay Per Click (PPC) campaigns over the Microsoft Search Network, then Microsoft Ads is the administrative dashboard you will need to work with in order to plan and manage your campaign.
The Microsoft Search Network includes:
All Microsoft sites with enabled search
Yahoo sites featuring powered by Bing search
Bing
AOL sites in the United States
Although most digital marketers focus their digital advertising spend heavily on Google, Facebook, and LinkedIn, these alternative search engines continue to attract significant traffic volume. Bing, for instance, has an average monthly search volume of more than 6 billion searches. Although Google's figure is closer to 100 billion, there is clearly still a substantial amount of search traffic that can be captured by advertisers.
Microsoft Ads bring a lot of functionality to the table. Features include:
Google AdWords importer
For advertisers that want to populate their accounts with campaigns and keywords from Google Adwords, Microsoft Ads features a direct automatic importer. The tool will identify all keywords and campaigns associated with the account and populate them in Microsoft Ads for later use.
Specifically, the importer will carry over:
Full campaign history
Ad groups
Saved keywords
In market audiences
Language Selection
Microsoft Ads allows you to configure different languages for each search. When this option is selected during campaign creation, the network will only serve ads for searches made by users who have that language set in their locale.
Dynamic Ad Previewer
Microsoft Ads allows users to dynamically display the advertisements that they are configuring through the system. Users can view a top view, side view, and mobile view—allowing them to see how the ad will display on different device types.
Additionally, users can configure different mobile and desktop URLs—allowing campaign creators to create links with different UTM tags for each device type leading to more granular ROI tracking.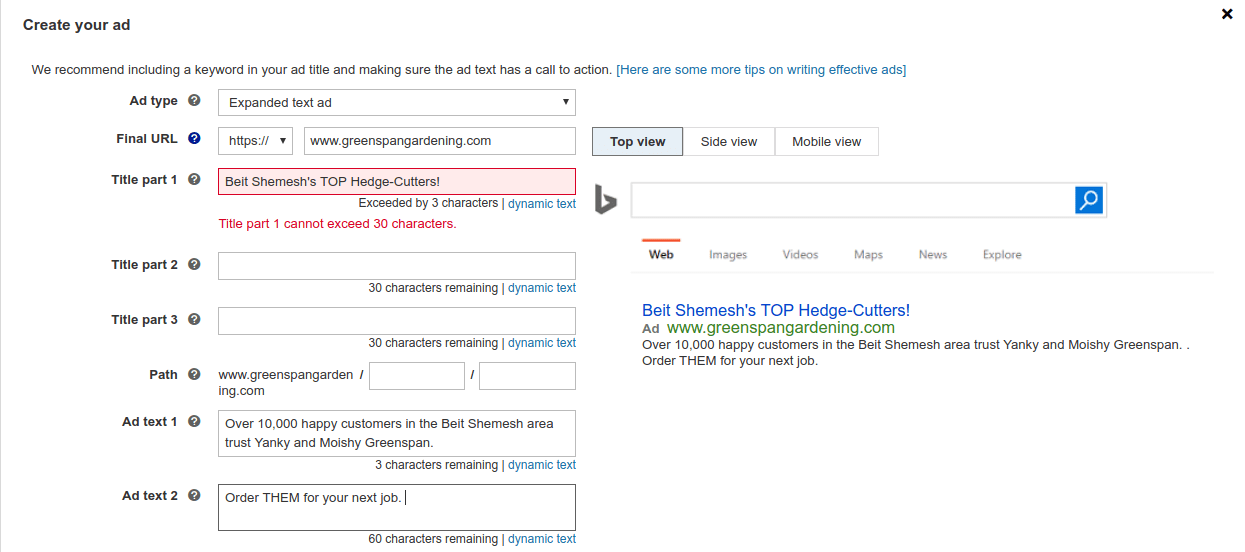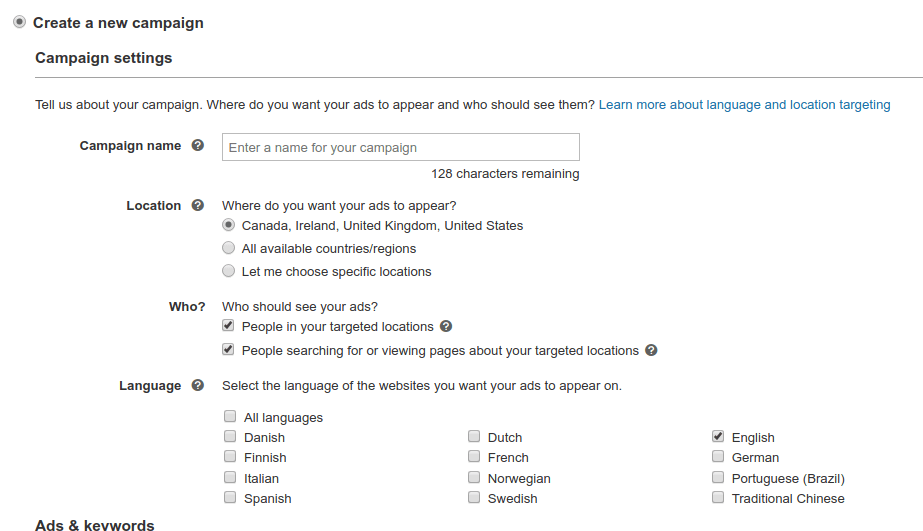 Alongside the keywords, the system will display:
Estimated monthly search volume
Average monthly cost per click
Detected competition level.
All information is aggregated from user data across all Microsoft advertising platforms. This functionality is ideal for first-time digital advertisers who lack the know-how or expertise to independently research search keywords.
Keyword Planner
Those that want to do their own keyword research can take advantage of the Microsoft Keyword Planner. This tool allows users to research keywords and receive the same information about cost per click (CPC) and search volume from across the Microsoft network.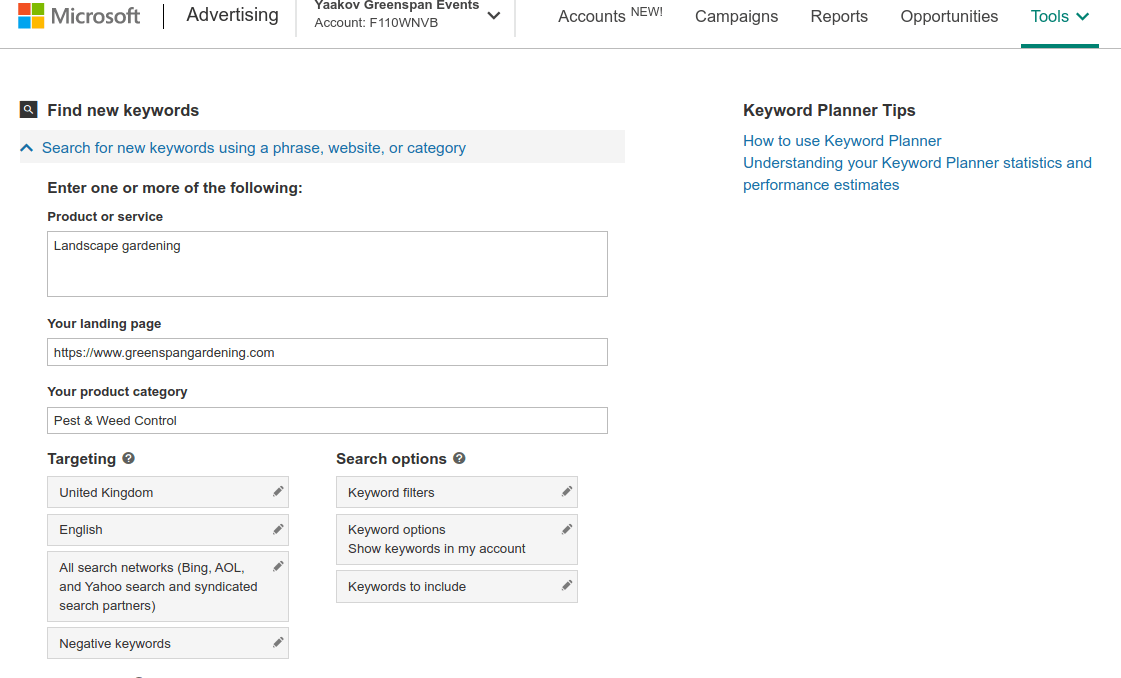 Users are able to configure a number of advanced features that the automatic keyword finder does not display. These include:
Geolocation targeting
Negative keywords (these are keywords that will not show when a search contains all of the these in one search)
Keyword filters which allows users to only display keywords within a certain range of monthly searches and bid ranges.
Additionally, Microsoft Ads have some unique features that are not found in other PPC-buying platforms. These include:
Action extensions: Actions extensions are Call to Action (CTA) buttons that appear on the search engine results page (SERP). They redirect to a landing page of the user's choosing. For instance, a landscaping service might have a "book now" CTA under their main advertisement body text with a calendar symbol. Clicking on the link can direct the user to a link to book a lawn mowing. The main link configured in the body text will work independently of the CTA link.
Review extensions: Advertisers can also choose to highlight positive third party reviews underneath their display advertising. The reviews extension is included free in the overall advertising budget. This feature is a major draw for PPC advertisers with positive online reviews. Given that Google sunsetted the feature a couple of years ago many advertisers continue to run ads on the Microsoft network solely for this reason.
Pricing
As in all PPC programs the total cost of the campaign is determined by the performance of the campaign and the CPC of each ad.
Of course, users are able to configure a daily spend budget. Once this is set, Microsoft algorithms will configure the display of the advertisements in the optimal method possible and then cut off display once the daily spend budget is reached.
Advertisers can either configure a unique budget for each campaign or else populate a budget library which can be shared internally. This is useful for large organizations that do not want to have to manually configure budgets ahead of recurrent campaigns with pre-agreed spend limits.
Using the platform and keyword planner themselves do not entail costs.

Microsoft Advertising Visit Site
Customer Service
Microsoft Ads offers comprehensive support for advertisers. Support is available through a dedicated Twitter account, by live online chat (operated 24/7) and by telephone support. Phone support is available Monday to Friday 6am to 6pm PT and between 8am and 6pm PT on Saturday.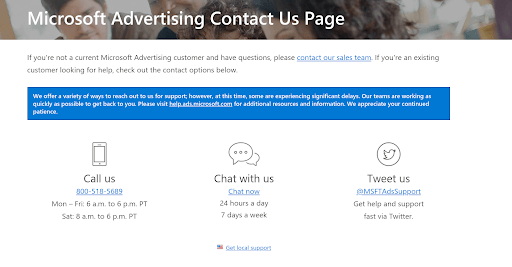 Microsoft also offers an excellent online learning environment including videos, worked through real life examples, and detailed how-to tutorials.
Bottom Line
Microsoft Ads allows advertisers to manage and plan PPC campaigns over the Microsoft Network—which continues to enjoy significant search volumes. This is a tool that should not be neglected in advertisers' quest to ensure good diversification in rollout across geography and platform.