In a Nutshell
With a full staff of professional logo designers, a full range of products on offer, and one of the coolest websites you'll find on the market, Craftive Logos certainly gives businesses a lot of good reasons to choose it. There's also a 100% money-back guarantee in case you're not totally satisfied. Let's see what else Craftive Logos has to offer.
pros
24-hour turnaround time
5,000+ professional logo design portfolio
cons
Pricey design packages
Can't choose a specific designer/know your designers

Craftive Logos Visit Site

Best for
Any business looking for a professional, quality logo design
Value for Money
One thing you have to know is that Craftive Logos isn't cheap, but the work these designers do is premium quality. What's more, Craftive Logos is a great value for money because of what you get from each of the packages offered. For example, the Business plan gives you unlimited revisions and concepts, 3 design teams, and an email signature. For serious businesses, an investment of $350-$500 for logo, website, social media, and corporate brochure designs is really a drop in the bucket.
If you just need a super-quick and simple job, you can opt for a cheaper logo provider, but if you're interested in making a more serious investment into your company's branding (recommended), then here are the Craftive Logos plan prices:
Regular plans:
Large plans:
All plans come with the following features:
24/7 chat support
Less than 24 hour turnaround time
Free color options
Print-friendly designs
Free grayscale format
100% ownership rights
And then, with each plan upgrade, you get more benefits and features.
For example, the Budget plan only comes with JPEG and PNG file formats, while all the other plans have a variety of them.
The Best Seller plan offers stationary design and favicon too, while the Ultimate plan throws in email signature and social media designs as well.
When you get to the really heavy-duty packages (Business Plus and up), you'll get even more goodies. You can get corporate brochure designs, flyer designs, and website designs. With the Enterprise Plus plan, you get the works including a year of free web hosting, website and landing page design, and blog theme.
So, which package is right for you really depends on what you're looking for from your design team. This could be as basic or as detailed as you want. If you're just starting out or have a tight budget right now, then the Budget plan is very reasonable and gives you a lot for your money. As you climb the tiers, things start to get pricey, but those plans are generally reserved for companies that have a significant budget and can spare the money to invest in a superstar design that will be consistent across all platforms.
Portfolio/experience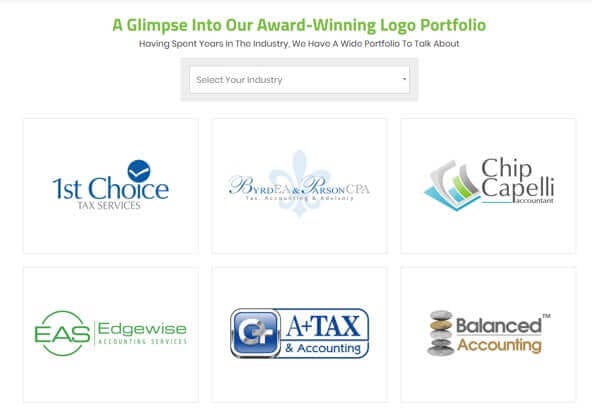 Just one look at the website will tell you a lot about the professionalism and experience that Craftive Logos brings to the table. With moving parts that bring just enough animation to grab your attention without being gaudy or cheap, beautiful logos and design elements sprinkled across the site, and an easy-to-use but professional layout, the site is just awesome.
Craftive Logos has over 5,000 designs, that cover more than 200 different industries, in its portfolio, so these guys definitely know what they're talking about. You don't get to meet the team of designers that you'll be working with, but, according to the company's website, all of the designers have years of experience under their belts (and the logo portfolio to prove it)!

Contract Terms
Craftive Logos has 6 packages to choose from, and payment is required up front. From there, you will not be required to make any additional payments (i.e., plans are all-inclusive of any expenses incurred for the entire project). In addition, Craftive Logos offers a 100% money-back guarantee. If you're not entirely satisfied with your logo design, you'll get a full refund, no questions asked.
Customer Service
Craftive Logos has a full-service customer support team. That means you'll be able to reach someone at all hours of the day or night, making this a great option even for international businesses that don't run on the same clock as US businesses.
Craftive Logos even has 24/7 live chat support. That's impressive. When we reached out to them, support answered us in less than a minute and had all the answers to the questions we asked.
You can also find a short FAQ section (though with 24/7 live chat, it hardly seems worth the scrolling).
Design Process
One of the coolest parts of working with the professional designers at Craftive Logos is the design process. For one thing, the turnaround time is unbelievable. In just 24 hours you can have your logo design in hand and ready to roll. What's more, the design process itself is fast, easy, and super flexible. After you've chosen a package and made the initial contact, here's what you can expect from your Craftive Logos design team:
Research stage: This is when the expert design team will dig deep to find out everything they can about your audience and industry, so they can deliver the most accurate, appealing, and effective logo design for your business.
Ideation stage: This is where the designers deliver several design concepts to you. You'll receive the concepts, and have the ability to nix or approve of each one until you get a design that speaks to you. How many concepts you get to choose from is based on the package you've chosen. See the chart above for more details.
Creation stage: Once you give the thumbs up on a design, the logo designers will draft a more detailed logo for your approval.
Revisions stage: Here's where you'll get to tweak your logo design so that it fits perfectly with your brand image, industry, and personality. This will include things like font, color, and shape. How many revisions you get depends on the package you choose, but all revisions are included in the price of your plan.
Finalization: Finally, the design team cleans up the logo design, formats it properly, and sends it off to you in various formats (again, depending on which package you've chosen). Your new logo will be ready to apply to whichever forum you want (ex. Stationary, social media platforms, email headers, etc.)

Craftive Logos Visit Site
Craftive Logos Wrapped Up
Craftive Logos offers customers a lot. With 6 feature-heavy packages to choose from, Craftive Logos caters to every business from one-man-bands to corporate enterprises and everything in between. Fast 24/7 customer support, beautiful logo designs that are professional and top quality, and a design staff that's flexible, courteous, and easy to work with are all reasons why you're going to want to give Craftive Logos a try today.