In the past, if you wanted to create a will you needed to enlist the help of a lawyer. The cost of hiring a lawyer to draw up a will starts at $300 for the simplest possible document, and can surpass $1,000 if your situation is more complicated. While some people still choose to go this route, today there are other, less expensive options. The past few years have seen a rise in online will makers, and the growing number of sites is testament to the increasing demand for online wills.
What Is an Online Will Maker?
Online will makers are websites that allow users to create their wills online, by themselves, without the assistance of an attorney. Online wills are almost always less expensive than hiring a lawyer to create a will for you, and they are also very convenient. No need for appointments or invoices, just pay a flat rate and create your document.
If you use a reputable site, the will you create will be totally legal and valid. Some of these sites offer consultations with attorneys as part of their price package, while others offer a bare-bones template that you simply need to fill in and print. Depending on your needs, you can choose the online will maker that's right for you.
These are the 5 top online will makers:
Nolo
Best for: People who need a simple, straightforward will
Pros
30,000 attorneys in the Nolo network
Unlimited revisions and 24/7 access
Competitively priced
100% money-back guarantee
Cons
Changes can only be made for up to 1 year
Attorney consults not included in cost
Nolo has been in the legal business for nearly 50 years, and its specialty is the DIY creation of legal documents. When it comes to creating an online will, it doesn't get easier than Nolo. Just follow the clear step-by-step instructions and you can complete your will in a matter of minutes. When you're ready to finalize it, print it out and follow the instructions for finalization that Nolo provides.
In addition to being one of the best online will makers, Nolo also offers a free legal encyclopedia with articles written by expert attorneys. The site can also connect you with any of the reputed lawyers in the Nolo network based on location and need.
Pricing
The cost for Nolo's online will is $59.99 (with coupons available) and once you create your will, you have access to it for a year. During that year you can revise it as much as you like. Nolo also offers a more comprehensive Will & Trustmaker for $89.99. It includes a customized estate plan, complete with a will, living trust, health care directive, financial power of attorney, and more.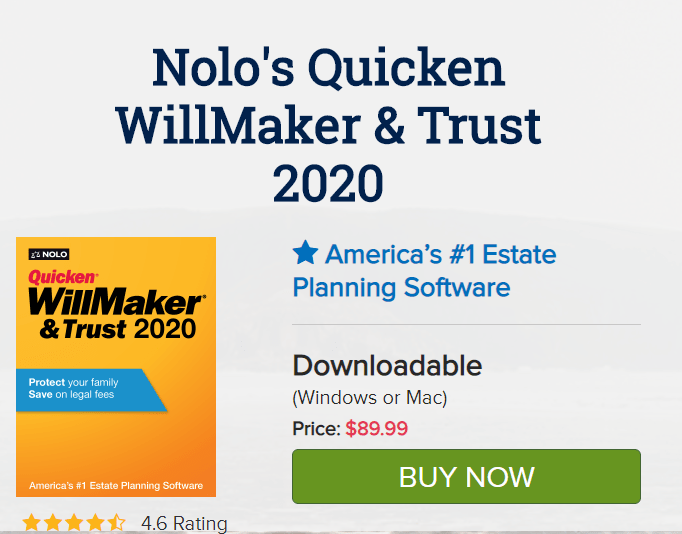 Nolo Visit Site
LawDepot
Best for: People who need a simple, straightforward will
Pros
Different pricing options
$100% quality guarantee + $10,000 legal guarantee
Free 1-week trial
Cons
No lawyer consults available
Only monthly payment plans, no option for a standalone will
LawDepot was founded in 2001 and is one of the best online will makers on the market. The company boasts over $10 million users and offers over 150 document templates suitable for use in all 50 states.
Creating LawDepot's online will is simple and easy, and LawDepot provides helpful explanations and insights as you go along. Once you finish, you can access it for as long as your membership allows (up to 10 years). LawDepot's $10,000 legal guarantee offers coverage for any damage suffered due to the site not keeping the will valid and up-to-date.
Pricing
For online wills, LawDepot offers 3 different pricing options:
Option to print as many documents as you need for 1 year
Free for one week, then renews at $33/month
Everything Pro has but extends will access and editing to 10 years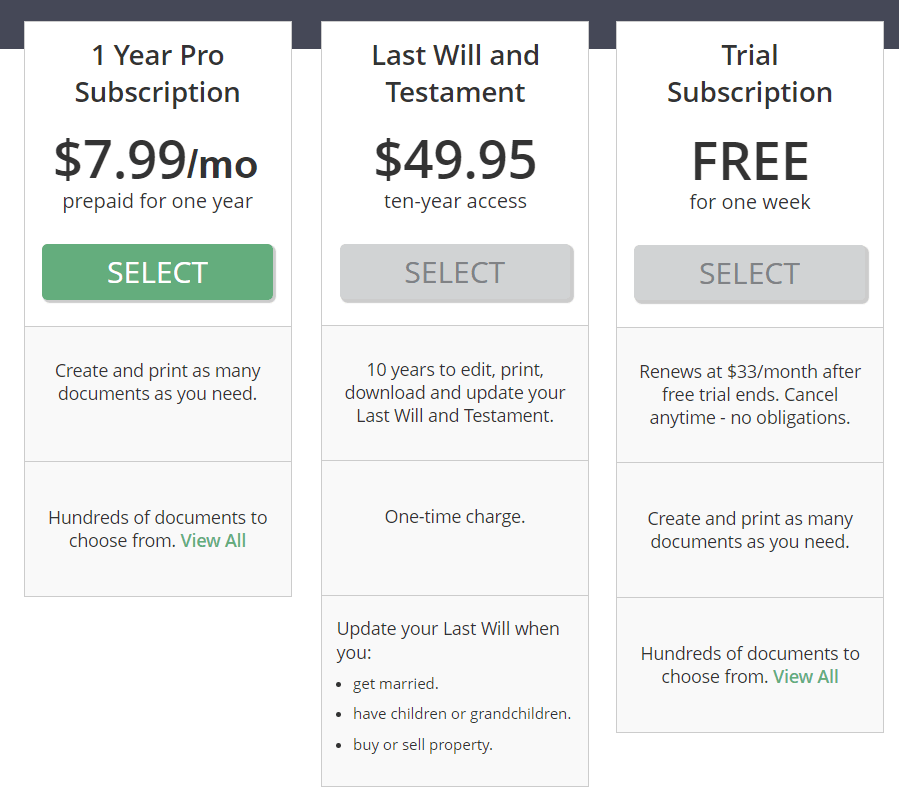 Law Depot Visit Site
RocketLawyer
Best for: People who require multiple legal services
Pros
Unlimited revisions and copies
Free 7-day trial
Free 30-minute consultation on each new matter
Electronic signatures
Cons
High prices for non-members
Can edit only up to 1 year or until membership expires
RocketLawyer offers comprehensive online legal assistance, including DIY documents, solutions for businesses, consultations with lawyers, and discounted lawyer services. One of the ways that RocketLawyer outshines its competitors is that it offers electronic signing, which makes the process of creating an online will easier and more efficient. It also offers DocumentDefense® protection, an incredible perk in which a lawyer personally reviews your situation and helps enforce your contracts.
Additional membership benefits include access to unlimited legal documents, free answers to legal questions, discounts for legal representation, and the ability to edit and share docs.
Pricing
While you don't need to be a member of RocketLawyer to avail yourself of its services, the cost for non-members is quite high. For example, making an online will costs $39.99, whereas 1 month's membership is also $39.99. If a will is all you need, it may be worthwhile to pay the 1-time fee. However, if you anticipate needing other legal documents for estate planning, or if you want to consult with a lawyer, membership is a good option.
Membership costs $39.99 per month, after a 7-day free trial.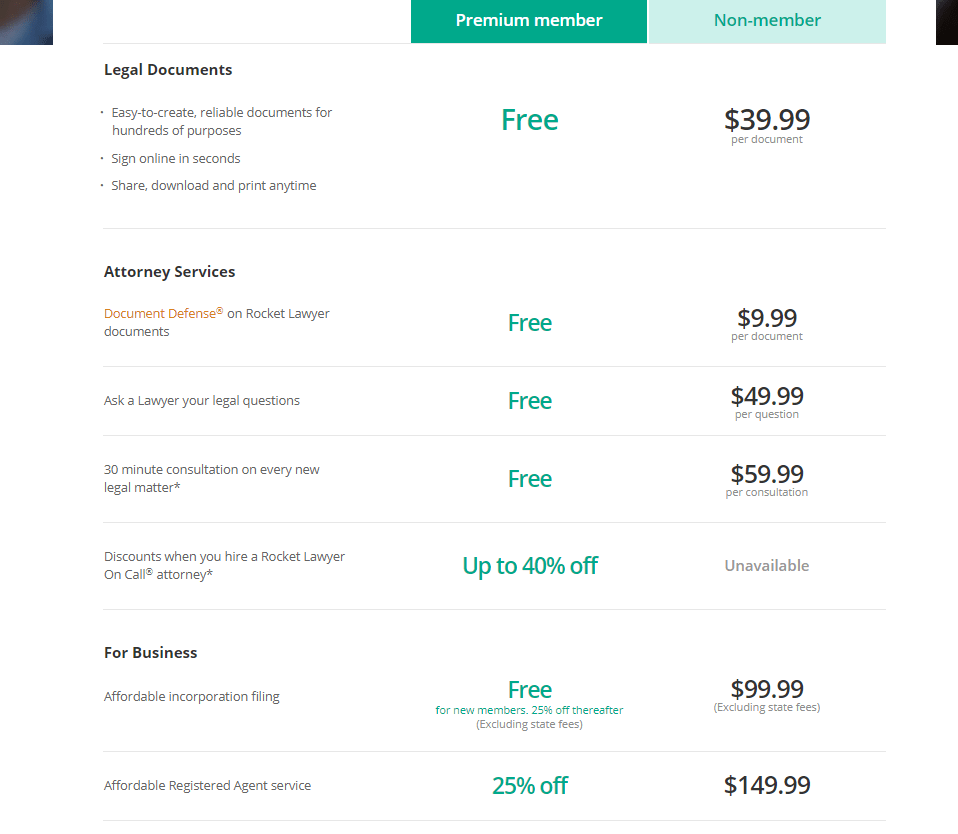 Read the full Rocket Lawyer review

Rocket Lawyer Visit Site
LegalZoom
Best for: People who need comprehensive legal advice/documents
Pros
Offers a standalone online will + estate planning package
Attorney consults and review of documents available
100% satisfaction guarantee
Cons
Under Basic and Comprehensive plans, will is only available for 30 days for revisions
Pricier than its competitors
LegalZoom offers self-guided services, attorney consults, and filing of necessary forms. Attorneys are vetted and accessible, and they speak and write in plain English so even those without a legal background can understand. LegalZoom's online will takes about 15 minutes to complete and comes with detailed instructions for every step of the way. All services come with a 100% satisfaction guarantee.
Pricing
LegalZoom is the maker of one of the best will writing software products out there, and its prices reflect the high quality and amount of services available. There are 3 pricing plans for LegalZoom.
All the basics of an online will, including a template that has been researched and maintained by attorneys and the ability to download it upon completion.
Everything in the Basic package plus a 14-day trial of Legal Advantage Plus, an additional membership that renews at a monthly fee of $14.99.
This membership includes:
30-minute phone consults with an attorney on an unlimited number of new legal matters
Attorney review of completed documents
Free revisions for the duration of membership
10% off future LegalZoom purchases
Free estate planning app with unlimited cloud storage
Everything the Comprehensive package offers, with these additions:
Financial power of attorney ($35 value)
Advanced Healthcare Directive ($39 value)
1 year of free revisions (as opposed to 30 days)
1 year of membership to Legal Advantage Plus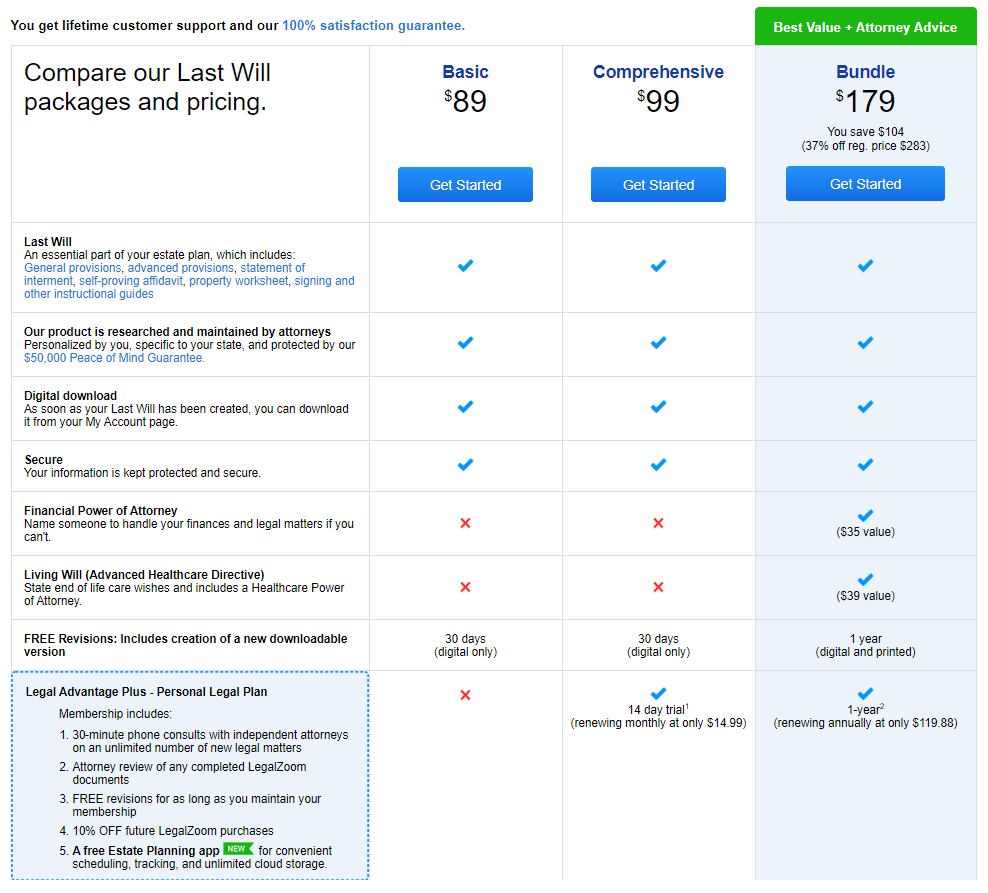 Read the full LegalZoom review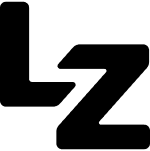 LegalZoom Visit Site
Willing
Best for: People who need a simple will or estate plan
Pros
Specializes in estate planning
Easy, straightforward form
Includes Help Center with informational articles
Cons
Pricey for homeowners
Doesn't include information about the attorneys backing it
Revisions for only 6 months
Unlike some of the other best will software companies that offer many types of legal services, Willing focuses exclusively on estate planning. As you fill out the document, you can read helpful information on the side so you can be sure you're including everything that is meant to be included.
Pricing
Willing offers 3 price bundles: Individual, Homeowners, and Ultimate Care. For individuals, the price is comparable to other online will makers, but for homeowners or people who want a more comprehensive package, the cost skyrockets.
Creation of a last will & testament, a living will, and durable power of attorney. Revisions for up to 6 months.
Everything that the Individual plan includes, with the addition of creating plans for you and your spouse, a pass on your home without court fees, and 2 additional legal documents.
Everything that Homeowners offers, with the additions of premium customer support, home delivery of documents.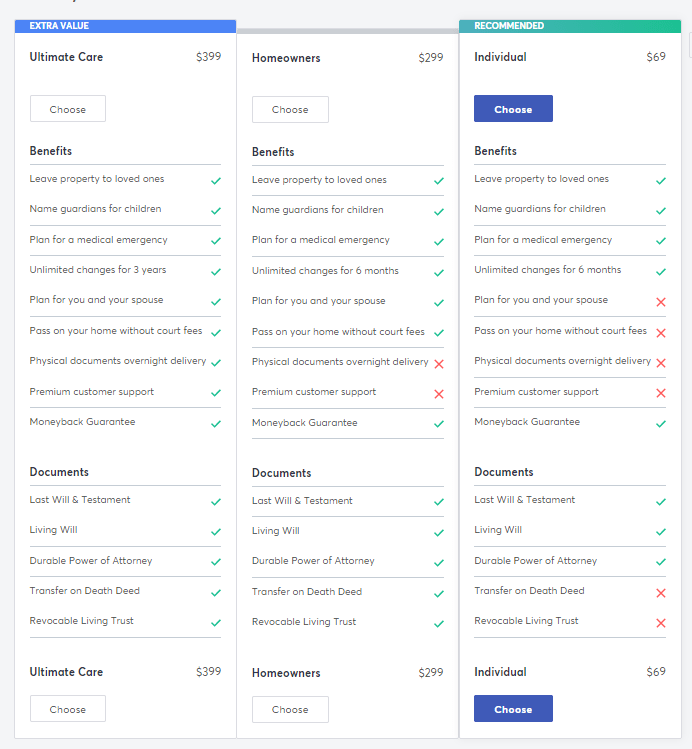 Are online wills legitimate?
Online wills are completely legitimate, as long as they are made with the correct template that includes all the necessary components of a legal will. This means that not every online will maker, and certainly not free will maker software, should be trusted. When choosing which company you want to create your online will, make sure that:
The template is attorney-reviewed
The components are customized by state
The site has good reviews
Bonus: Some sort of satisfaction guarantee.
Bear in mind that even if you use the most-trusted, highly-recommended online will maker, your will will not be valid unless you complete the following steps:
Print the will and sign it in front of 2 witnesses
Notarize, if necessary. Notarization is not required for a will to be valid, but it is required if you include a "self-proving affidavit" as part of your will.
Make sure that your witnesses meet the criteria of your state. Different states have different laws regarding the number of witnesses and their relationship to you.
What should you never put in your will?
While your last will and testament is a way to pass on your belongings after you die, there are certain things that your will does not cover, and therefore, should not be included. These things include:
Any property or account that has designated beneficiaries - Such as property held in a living trust, property held in joint tenancy, life insurance, retirement funds, and any other financial accounts that have a designated beneficiary. A will will not supersede these things.
Contingency gifts - Leaving assets to a beneficiary based on the performance of a duty or certain condition (getting married, taking over the family business, etc.) These things are usually illegal and will not be enforced by a court of law.
Provisions for someone with special needs - If you want to make sure someone with special needs is taken care of, creating a special needs trust is a better option than including instructions in your will.
Provisions for pets - Pets cannot legally own or inherit property or money, so if you'd like to leave something for your pet, it's best to do so through a pet trust fund.
Funeral instructions - Wills are not always read before funerals, so it's best to create a document with your funeral/burial wishes and send it to your loved ones separately (or tell them).
How much does planning a will online cost? Is there any free software?
Creating an online will can cost as little as $69 and can go up to a few hundred dollars. The exact cost depends on the website you choose and on the services you need. Standalone wills, of course, are less expensive than complete estate planning packages, which include additional documents like a living trust, health care directive, financial power of attorney, and others.
There are also free will makers available, but the caveat with any free service is always the same: Sometimes, you get what you pay for. While free will maker software doesn't necessarily mean you will won't invalid, they are not usually backed by the same professionalism and guarantees that for-pay sites come with.
How to Decide Which Online Will Maker is Best For You?
With so many free and relatively inexpensive options for creating an online will, it can be hard to decide which one is best for you. Choosing the least-expensive option can be pretty tempting, but before you do, make sure to carefully review your needs and what the site offers.
If being able to consult with a lawyer is important to you, it can be worth paying a little more. The same goes for being able to access your will for a longer period of time or getting a comprehensive estate planning package. Ultimately, only you can determine your needs and whether the cost is worthwhile.
One thing is certain though: The convenience and cost of online willmakers, when compared to traditional lawyers, cannot be beat.