In a Nutshell
LawDepot is an online site that offers DIY legal documents for a flat rate or a monthly/yearly subscription. There are over 150 legal documents on offer, including an LLC Operating Agreement, Partnership Agreement, Joint Venture forms, and more. All documents have been built by an expert legal team and are in compliance with individual state laws. Most documents take between 5 to 15 minutes to complete and come with a 100% quality guarantee.
pros
Different pricing options
100% quality guarantee + $10,000 legal guarantee
Free 1-week trial
cons
No lawyer consults available
Site advertises "free legal documents," but they are not free

Law Depot Visit Site
Best for
Any LLC or business whose legal needs are straightforward and uncomplicated
What Does LawDepot Provide?
LawDepot provides over 150 legal document and form templates that can easily be filled out online. All documents are created in compliance with the requirements and regulations of each state. If you have all the information you need, it can take just 5-10 minutes to fill out most forms. The entire template is already prepared, all you need to do is enter your information to create a customized legal document.
LawDepot offers virtually all the forms and documents an LLC needs to get started and operate smoothly. Popular business documents on LawDepot include:
LLC Operating Agreements
Purchase of Business Agreements
Confidentiality Agreements
Partnership Agreements
Business Plans
HR forms
In addition to the actual documents, LawDepot offers FAQ pages and basic explanations of what each agreement or form is, why it's necessary, and what details the user should include to make the document successful.
LawDepot also offers documents for individual use, such as:
Last Will and Testament
Living Will
Healthcare Directive
Real Estate Documents
Financial Documents
Any document that you create on LawDepot must be printed and signed by the appropriate parties, including witnesses if necessary. Documents will not be considered valid without the required signatures.
Family Law
Amongst LawDepot's 150-plus ready-to-fill legal documents, you can find family law paperwork pertaining to marriage separation, children consent laws, and more. Its marriage separation agreements are required when 2 spouses wish to declare that they plan on living apart, and can be the first step in the event of an eventual divorce. The paperwork can be filled out online in 3 easy steps and can be ready in as little as 10 minutes. LawDepot offers equally accessible forms for other family law matters including child travel consent, child visitation consent, and child health consent.
Last Will and Testament
Those who are planning their wills can use LawDepot's templates to create legally compliant estate distribution paperwork in a matter of minutes. The online software allows you to fully customize a document that defines the testator, names beneficiaries and executors, and designates guardians for children if necessary. The forms can be completed through LawDepot's online software in as little as 5 minutes. And since wills are often updated, the site will save the documents of all account holders, making it easy to revisit and update your last will and testament when needed.
Pricing Plans for LLC Operating Agreement
LawDepot offers 3 different pricing plans for LLC Operating Agreements: One Year Pro, a Free Trial, and a one-time charge for the single document. The first 2 options are available for all the documents and forms on the site, while the one-time charge for single-use differs based on document, with a range between $7.50 and $68.
$95.88 per year/
$7.99 per month
1-year access to hundreds of documents + allows you to update or create a new LLC Operating Agreement when you:
Change members
Get inflow of capital
Adjust financial contributions
Free for 1 week, then renews at $33/month
Everything Pro has. Can cancel at any time.
LLC Operating Agreement - Five-Year Access
5 years to edit, print,
download, and update your agreement.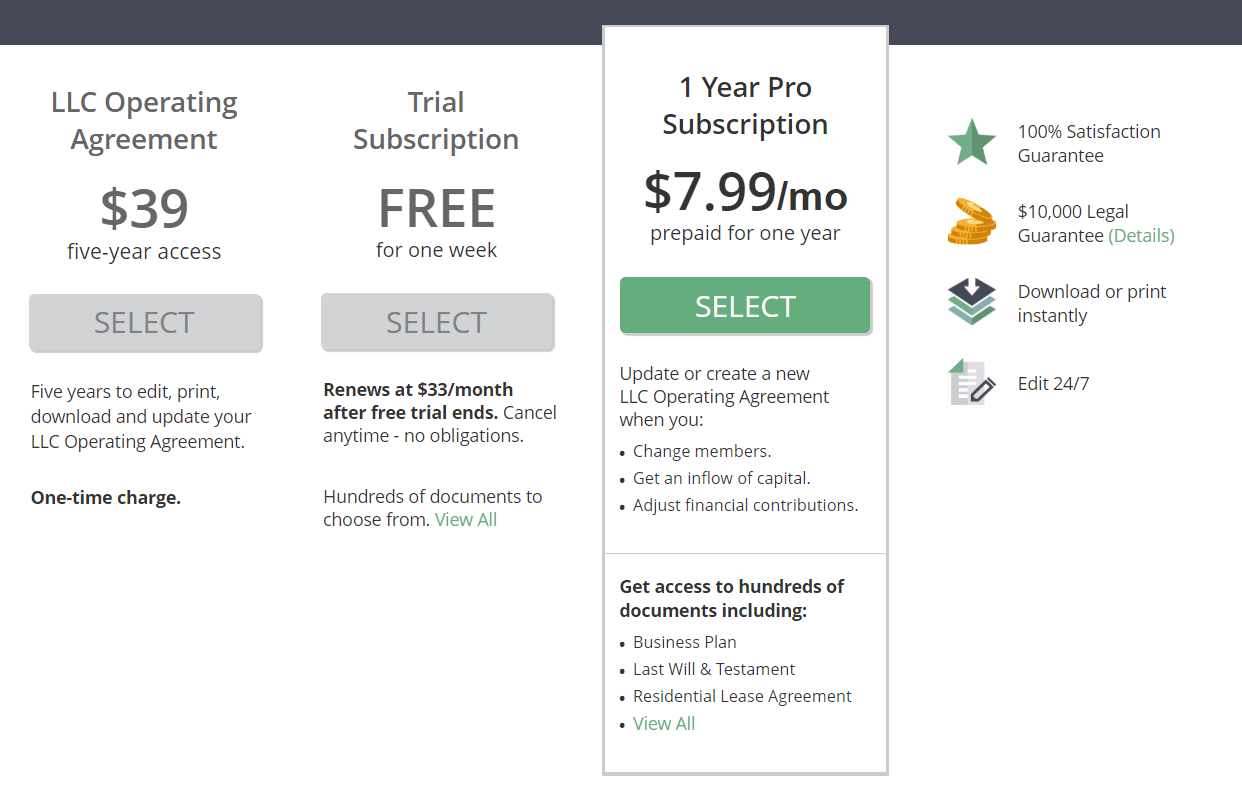 If you choose the free trial, it's important to note that when the trial ends, you will automatically be entered into the monthly subscription plan at a cost of $33/month. To avoid this, you must cancel before the 7 days are up. You can then choose One Year Pro, the single document option, or choose not to continue.
LawDepot Background
LawDepot started out in 2001 with a single document on offer: a Promissory Note. Upon seeing how popular that document was, the company decided to expand and offer more to meet consumer needs. Today, LawDepot has 150 legal documents, over 10 million users, and is known as an authority in the field of DIY legal documents.
LawDepot offers legal documents for Canada, the United States, the United Kingdom, and Australia.
LawDepot has an A+ rating with the Better Business Bureau (BBB) and a 4.3/5 rating on TrustPilot. The site is secured using Norton and SecureTrust.
What Customers Say About LawDepot
Very easy to use and I was pleased to find someone to advise me when I needed help.
- Real Lavergne
Great service, super easy to use.
- Brittany C
So easy to do! Didn't take any time at all!
- Kim Higgins
Customer Service
Customer service is available via live chat and email between the hours of 8am and 7pm, Monday-Friday ET. Customer service can assist with technical issues, sales support, and general information, but it is in no way qualified to offer legal advice.

Law Depot Visit Site
LawDepot FAQ
Can I consult with a lawyer through LawDepot?
No, LawDepot does not work with or recommend any specific lawyers and it does not offer legal advice or consultations. It only offers templates for the customization of legal documents and forms.
Are refunds available?
Customers must contact LawDepot's customer service team with regards to refunds. With regard to the free trial that has been converted into a paid membership, LawDepot has no obligation to issue a refund. The membership, however, can be canceled at any time.
What does the LawDepot Satisfaction Guarantee include?
LawDepot offers a guarantee of up to $12,000 if a customer incurs any damage due to a clear mistake on the part of the website. This guarantee is subject to limitations on specified LawDepot material.
Bottom Line
LawDepot offers a large selection of DIY legal documents and forms that are easy to fill out and comply with all state laws and regulations. Businesses and individuals that need straightforward, simple documents can get everything they need for a fair price. Businesses whose needs are more complicated may prefer a site that offers lawyer consults or guidance. LawDepot offers 3 different pricing plans for LLC Operating Agreements and comes with a free trial.