In a Nutshell
IdentityIQ's user-friendly mobile and desktop apps protect you from identity theft and data breaches. A range of monitoring functions will give you the peace of mind that there's nobody out there committing fraud with your personal information. It's available in four plans to suit different budgets and requirements, and even the most basic tier offers up to $1 million in coverage for ID theft and lost income.
pros
Up to $1 million identity theft insurance
Dark web monitoring
Family coverage on higher-tier packages
cons
No social media monitoring
Shares information with third parties for promotional use

Identity IQ Visit Site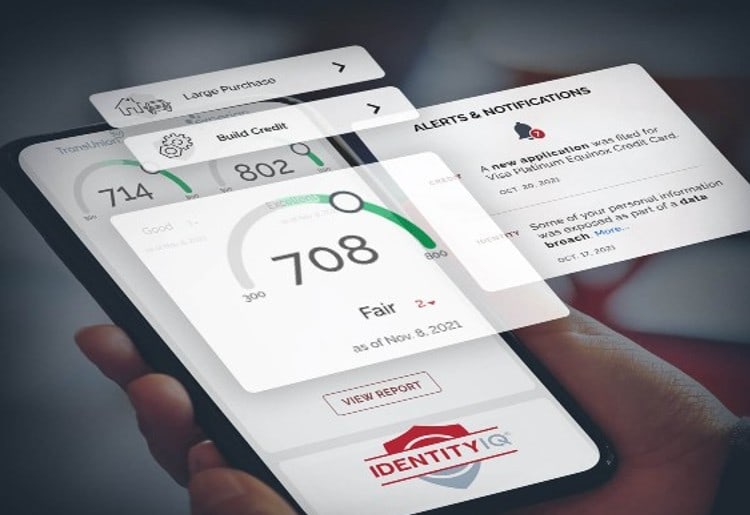 A Brilliant Solution For:
Anyone vulnerable to identity theft and fraud

Family members under 24, who can be covered under a parent's account

People who want to monitor their credit scores
How Does It Work?
IdentityIQ is a web-based desktop app or downloadable mobile app that monitors your personal online information to protect you from identity fraud. As well as checking credit reports with up to three different bureaus (depending on the package), it monitors the internet and the dark web. It can also monitor any change of address made with credit reporting agencies and the National Change of Address registry.
You can also add Bitdefender Premium VPN as an optional extra to cover your tracks while browsing the internet. In addition, Bitdefender Total Security anti-virus will protect the data and files on your devices from attacks by malware.
What Does This Service Watch Out For?
IdentityIQ monitors up to three credit bureaus for any changes to your credit profile. It also looks out for suspicious activity online, like new public records inquiries and new credit lines. IdentityIQ can also monitor credit cards that go above their limit and even notify you if any new users are added to them.
Besides monitoring your credit, IdentityIQ tracks your personal information on the internet to check for suspicious activity. For example, it searches the dark web to see if your data is available for sale and checks for any arrest records linked to your name and birthday.
Application monitoring is another way IdentityIQ can protect you from fraud. It searches applications for cell phones, payday loans, utilities, and more, so it can immediately pick up if someone is trying to open an account in your name.
In addition, the SSN Trace feature can alert you every time your social security number (SSN) is used. This is regardless of whether it's used with your correct or incorrect personal details. The app can monitor any address changes with credit agencies and the National Change of Address registry for additional protection.
Note that IdentityIQ doesn't include a social network monitoring app, so there's no way to tell if somebody is impersonating you online.
The standard features of IdentityIQ include:
Credit monitoring (Experian, Equifax, and TransUnion)

Credit alerts

Change of address notifications

Alerts for new authorized users on credit cards

Dark web surveillance

Public records monitoring

SSN monitoring

Financial account takeover monitoring

Daily reports
Recovery Services: What Can IdentityIQ Do if My Identity Is Stolen?
All four tiers of IdentityIQ offer up to $1 million in insurance coverage for fraud and identity theft. Each one also includes legal fees coverage, lost wallet replacement assistance, and personal expense compensation. If you're based in the US, you'll be eligible for identity restoration assistance, and if you're on the highest tier, you'll get identity restoration with limited power of attorney.
If there's any indication of identity theft, you'll get a dedicated US-based case manager to help resolve the issue. You can also phone IdentityIQ during working hours from Monday to Friday if you suspect identity fraud and need to take action.
The full range of restoration services includes:
ID theft insurance up to $1 million

Legal fees coverage

Dedicated identity restoration assistance for US-based customers

Personal expense compensation

Lost wallet replacement assistance
Ease of Use
IdentityIQ has a fairly straightforward dashboard, with an Alerts and Notifications menu on the left side. This has options to display Credit, Identity, and Score monitoring.
Opening up any of these will display simple charts in a large window on the right. The Credit and Identity charts will show you all the things that are being monitored in each case, with a status indicator to show what's currently active and any alerts that require your attention. Opening up Score monitoring will show you three circular charts with your credit score from each agency.

All the menus are user-friendly and easy to navigate with a clutter-free style. Each window clearly highlights the relevant detail and there's no information overload.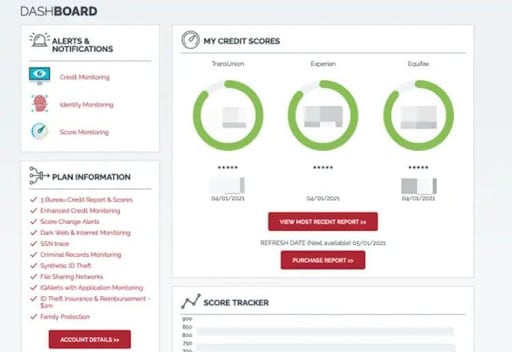 Pricing
The software comes in four tiers: Secure, Secure Plus, Secure Pro, and Secure Max. These range from basic to advanced features and functionality as you go up the list.
All four pricing tiers of IdentityIQ are available in monthly or annual billing, with annual billing offering up to 35% off. Note that there's no free trial available.
All the plans, including the basic Secure Plan, offer coverage of up to $1 million a year. It's underwritten by AIG, so you can have peace of mind about getting paid if you ever have to make a claim. Other standard features on all packages include lost wallet assistance, personal expense compensation, and legal fees coverage.
Despite all its features, the Secure Plan isn't the best for credit monitoring because it only gets results from one bureau.
The second tier, Secure Plus, has all the features of the entry-level plan and adds change of address alerts.
Secure Pro adds criminal record alerts, daily monitoring from three credit bureaus, enhanced credit report monitoring, and credit score monitoring.
At the top end is the Secure Max package. This includes everything from the lower tiers, plus identity restoration with limited power of attorney, a credit score tracker, and monthly credit reports from all three bureaus. In addition, family members under 24 years old and residing in the same house as you are eligible for up to $25,000 of coverage.
Monthly price (billed monthly)
Monthly price (billed annually)
Free family insurance coverage
Personal expense compensation
Identity restoration assistance
(US only)
Identity restoration with limited power of attorney
Credit bureaus daily monitoring
Enhanced credit report monitoring
Help and Support
The IdentityIQ help and support options are limited to a toll-free number, available during regular business hours from Monday to Friday.
There are no live chat or email options, and the company doesn't state how long it will take to get back to you regarding queries. However, most user reviews are positive, indicating IdentityIQ responded to their queries promptly.

Identity IQ Visit Site
Bottom Line
IdentityIQ is an excellent way to monitor your credit score and protect yourself from identity theft and fraud. It comes in four different tiers so you can decide how much protection you need. All of them, including the entry-level option, offer up to $1 million in coverage.
The app works on most smartphones and desktop computers, making it easy to use, but the only way to lodge queries is with a helpline number available during business hours only.