Aura Visit Site
How Aura Works
Aura's all-in-one solution actually comprises a suite of different tools that help protect your identity, finances, and devices.
Most of these tools work in the background and don't require you to do anything except keep an eye out for fast alerts to your phone or inbox (whenever Aura detects a threat) or check into your Aura dashboard whenever you just want some peace of mind.
In addition, Aura now also offers a password manager for all its digital security plans. The password manager lets you store all passwords and login information in one secure place, eliminating the headache of remembering dozens of different passwords. The password manager syncs your information across its browser plugin, web interface, and iOS and Android app, meaning you can safely access your passwords wherever you are.
Depending on which plan you choose, you may need to download a few tools, like antivirus software or VPN.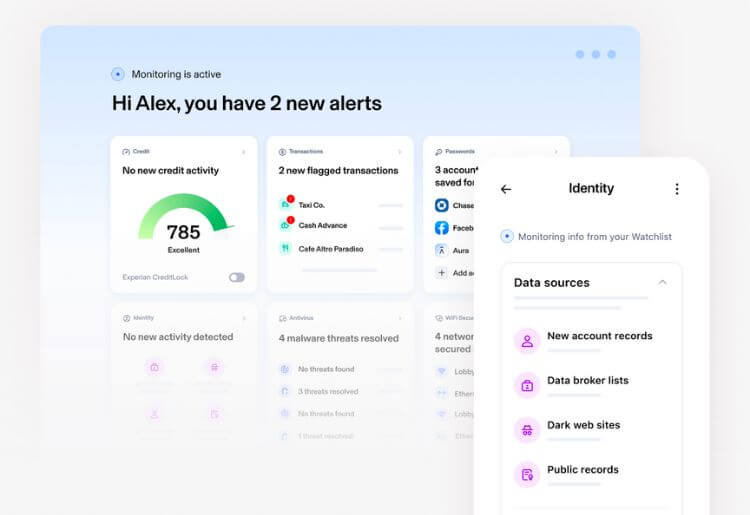 Aura Features
What does Aura monitor?
Aura monitors quite a lot across all plans and prices change based on the level of coverage. This includes various forms of credit monitoring, bank account monitoring, and ID theft monitoring – mostly in real-time with the added benefit of quarterly scores and annual reports for your credit files.
Here's the full breakdown of what Aura looks out for:
Credit monitoring. Monitors and alerts you to possible new inquiries or changes to your credit file across all three major credit bureaus (Experian, Equifax, TransUnion).
Financial transactions monitoring. Allows you to link your bank and other financial accounts and set alerts to detect early signs of fraud.
Bank account monitoring. Alerts you when new bank accounts are opened using your ID or when new account holders are added to your existing accounts.
Online account and dark web monitoring. Monitors and alerts you if your accounts and login credentials were exposed as part of a data breach.
SSN and ID authentication monitoring. Monitors and alerts you if your social security number is being used by someone else or if your identity is used in credit or non-credit transactions.
Criminal and court record monitoring. Monitors and alerts you if your identity is found in the public court or criminal records, including traffic violations, misdemeanors, and felony offenses.
Home title and address change monitoring. Monitors and alerts you to signs of home title fraud.
Recovery Services
Aura not only monitors for ID theft; it also provides recovery and protection services that kick into action whenever an issue arises.
Here's the breakdown:
$1 million identity theft insurance*. Aura covers you for up to $1 million in eligible losses and legal fees from identity theft. For plans with multiple members, each adult member is entitled to up to $1 million insurance coverage*.
Lost wallet remediation. If your ID is stolen, Aura will help you cancel any debit or credit cards in your wallet and work with you on a recovery plan to secure your ID.
Instant credit lock. Aura makes it easy to lock and unlock your Experian credit file to secure your credit from unwanted inquiries. (This doesn't apply to the Equifax or TransUnion credit bureaus).
24/7 US-based support. The support team can be contacted via phone and email.
White-glove fraud resolution. If you have become the victim of identity theft or financial fraud, Aura will provide a dedicated agent to help you resolve issues across credit bureaus and government institutions.
Ease of Use
Overall, Aura is fairly simple to use. You can access and control everything from your Aura dashboard at my.aura.com. Aura also has an iOS/Android app that includes all Aura tools except antivirus (although this is coming soon to the Android app). The Windows app offers device and network protection (antivirus and VPN).
Aura Customer Support
Aura offers 24/7 customer service support by phone and email. There is a comprehensive FAQ and an informative blog on its website as well. You can reach the Aura team at 1-833-552-2123 or email them at support@aura.com.
Aura Pricing
Aura offers three plans, each one containing the same features.
Plans can be purchased on a month-to-month or annual basis. If you select Aura, we recommend choosing a yearly plan due to the 17-25% discount compared to the monthly plan. Also, all annual plans come with a 60-day money-back guarantee.
Family Plans
Aura's Family plans allow you to add up to 5 family members, kids or adults, to the same plan. All adult members on your plan get their own account and share the same plan benefits as the Family Plan Subscriber who owns the main account.
Each adult member gets $1 million identity theft insurance, adding up to $5 million in identify theft insurance coverage, and Family Plan Subscribers can add children to monitor their Social Security Number and personal information to help protect them from identity theft and fraud. If you're looking for full family protection in one easy-to-manage dashboard, Aura's Family Plans are a good choice.
Aura Alternatives
How Aura Compares to Its Competitors
Here's a quick comparison chart that sets Aura's services against other Identity Theft services.
60-day money-back guarantee

Aura Visit site
Bottom Line
Aura offers an all-in-one solution containing pretty much everything you need to protect your identity, financial accounts, and devices from external threats. Although seemingly on the expensive side, Aura's plans bundle together a wide range of tools that – if purchased separately – would cost significantly more than what they charge. Better yet, you can control almost everything from your Aura dashboard.
* Identity Theft Insurance underwritten by insurance company subsidiaries or affiliates of American International Group' Inc. The description herein is a summary and intended for informational purposes only and does not include all terms, conditions and exclusions of the policies described. Please refer to the actual policies for terms, conditions, and exclusions of coverage. Coverage may not be available in all jurisdictions.
¹ The score you receive with Aura is provided for educational purposes to help you understand your credit. It is calculated using the information contained in your TransUnion or Experian credit file. Lenders use many different credit scoring systems, and the score you receive with Aura is not the same score used by lenders to evaluate your credit.