Even worse, your identity can be stolen, leading to years of headaches trying to recover your credit rating. The FTC reported 5.7 million online fraud reports in 2021.
The two most common complaints were identity theft and imposter scams. While you can combat ID theft with ID theft protection services, you should still take some precautions when shopping online. We've put together 10 tips for safe online shopping.
1. Use Reputable Websites
You might start online shopping for a product by searching on Google for the item you want. This can throw up results from lesser-known websites that seem to offer fantastic bargains. But how do you know these websites are legitimate? When you order a product from one of these sites, you could be handing over your personal details and credit card number to a stranger halfway around the world.
It's safer to use established websites and companies. Not only do you know you're buying from a well-known brand that won't attempt to scam you, these sites thrive on customer satisfaction, so they typically have robust return policies.
Beware of websites that pretend to be one of these legitimate sites, though. When heading to a brand's website, always double-check that the URL you go to is correct and not slightly misspelled or using a different top-level domain (e.g. .net instead of .com).
2. Only Use Secure Websites
Even if you trust the website you're browsing, you also have to worry about all the internet servers in between your computer and the website's server. If a website isn't secure, all of those intermediary servers will be able to see the details you send back and forth from the website, including your login credentials and credit card number.
Insecure website URLs start with HTTP://. Secure websites have URLs that start with HTTPS://. Your browser will also display a padlock symbol to the left of the URL when you're browsing a secure website.
3. Vet New Sellers
You can't always buy from a big name like Amazon, and you might not want to. Perhaps you want a local flower delivery, to purchase a car privately, or to pay someone for online tutoring. These types of services often require you to go to lesser-known websites.
In these cases, it pays to do your due diligence. You can check Yelp and Google for reviews of the retailer. The Better Business Bureau is an online directory of businesses you can use to check the reputation of a seller and see whether they've been reported for scams in the past. Remember that online reviews can be faked, though. Much of this comes down to intuition, so if it feels sketchy, walk away from the purchase.
To shop safer online, it's best to have a verified address and phone number of any business or person before you buy from them online. This way, you have somewhere to follow up with any complaint you may have after you've made the purchase.
4. Guard Your Important Personal Information
Avoid giving out personal information on websites unless necessary. There's rarely any need for a company to ask for your social security number, for example.
You may prefer to use a payment gateway like PayPal instead of handing over your credit card details, too. It's easier for a scammer to steal money from you if they have your credit card details than if you made a single purchase using PayPal.
There are further steps you can take to protect your personal information online. ID theft protection services like Aura, for instance, monitor your credit, social security number, and financial accounts and alert you when anything untoward happens.
For example, you'll receive an alert if anyone uses your ID to open a new bank account, your login details are leaked on the dark web, or your identity is found in criminal records. You'll be able to quickly recognize when someone is using your identity so you can contact the authorities immediately.
5. Don't Browse Important Sites on Public Wi-Fi
When you browse the internet on public Wi-Fi like at a coffee shop or library, other computers on the network may be able to see the traffic you're sending back and forth.
Public Wi-Fi stations often have the bare minimum of internet security, and you have little idea who might be recording all the traffic you send. It's best to avoid public Wi-Fi entirely, but if you must use it, don't go to important websites like your online bank or make purchases online.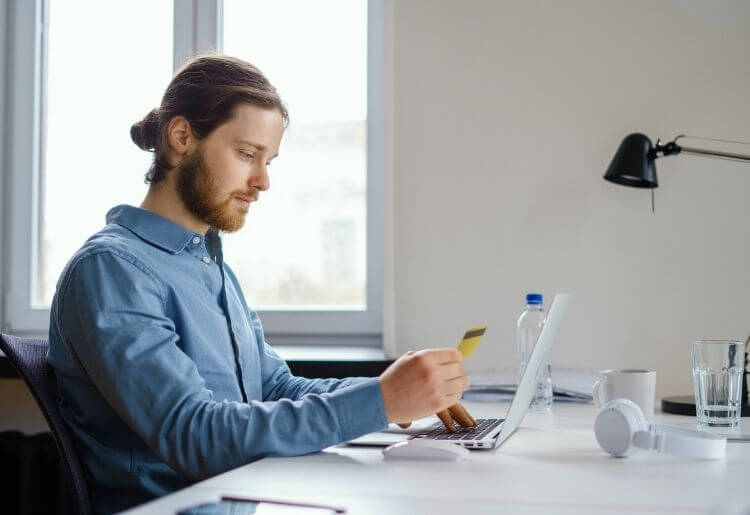 6. Use a VPN
One way to combat those who might monitor your internet browsing is to use a VPN service. With a VPN, all your browsing is routed through a 3rd-party server, and all the transmitted data is encrypted. So, even if someone monitors your browsing, they won't be able to see what you were doing or gain access to details you send like credit card numbers or passwords.
7. Don't Open Suspicious Email Attachments or Links
One of the most common cyber attacks scammers use is sending attachments by email. If you open an attachment in an email, particularly if it's a .exe file, it can install spyware, malware, and viruses on your computer.
Protect yourself from phishing attacks by being vigilant about checking who is sending you emails before you click on links or open attachments. Scammers often pretend to be from your bank, for instance, hoping you'll open up their fake website and enter your bank account details there.
8. Use a Malware Scanning Tool
If you have malware on your computer, hackers can read important data such as your website passwords or stored credit card details. It's important to run malware scanning software to ensure your computer remains clear of viruses and malicious tools.
Norton Antivirus is a popular anti-malware tool for scanning your computer for viruses, and it also includes the option of LifeLock, which offers identity theft protection. Not only will this service scan your computer for unwanted software, but it will also alert you if your credit report has any potential problems or your personal information is leaked on the dark web.
9. Use a Password Manager
If you use the internet regularly, you'll visit thousands of websites that all require you to set up a username and password. It's virtually impossible to remember thousands of different passwords, so many people resort to using the same password on multiple websites.
This is a major security concern, though. If your password leaks from just one of these websites, thieves can get access to all the websites you've reused that password on.
Password management software such as Dashlane and LastPass solves this problem. It generates a unique, hard-to-crack password for every website you visit, but you only have to remember one password to access them all. You still need to use a strong password with a mixture of letters, symbols, and numbers, but you only need to remember a single password.
You can also set up your password management software to require you to log in using your mobile device, ensuring only those who have access to your phone can log in to any of your websites.
10. Check Your Statements Regularly
It's easy to keep track of your bank statements, PayPal balances, and credit card statements. Virtually all banks have mobile apps for iOS and Android and online banking websites you can use to check your current balance.
Noticing quickly when there's an unexpected financial transaction is key to minimizing the damage that ID theft can have. If you report issues immediately to your credit card company, for example, they can cancel the card and send you a new one before the scammer has had time to make significant purchases.
Online Shopping Doesn't Have to Be a Risk
Identity theft, imposter scams, and online shopping scams continue to be a problem for consumers and businesses alike, with the FTC receiving nearly 75,000 reports of online shopping scams in the US alone in 2021.
To shop safely online, be smart about who you give your personal details to. Only use reputable, secure websites, and be wary of new sellers you know little about. To keep your connection to sites secure, use a VPN and avoid browsing on public Wi-Fi.
Keep your computer clear of malware and viruses with real-time scanning software, and don't open suspicious email attachments. Use a different password on every website or use password manager software.
The last of our online shopping tips is to keep tabs on your bank accounts and credit cards so you can report any irregularities to your bank as soon as they occur, minimizing any financial loss. If you think you've been targeted, read our guide on what to do if you are a victim of identity theft.