When I started my first website, I didn't know much about hosting services, and there were few online resources available.
So, take this guide as a starter pack—a gift from me to you. In it, I will discuss some of the most common web hosting mistakes and how you can avoid them.
» Need a reliable hosting service? Check out our top 10 picks for the best web hosting companies.
1. Avoid Free Hosting Plans
I get it. When thinking about free vs. paid web hosting as a beginner, you're probably on a budget.
Unfortunately, free hosting services typically have limited offerings that can restrict your website's capabilities, cause frequent downtime, and even reduce traffic to your site. And with the hosting provider's domain attached to your website, it's also harder to build a strong reputation.
Instead, choose a web hosting service with reasonable pricing and flexible offerings, like IONOS. That way, you get a budget-friendly package with the privileges of a paid web hosting service.
2. Avoid Shared Hosting Plans
When I opened my first website, I thought that shared hosting was the best fit for me because it was cheaper and served its purpose. But as time went on, the site grew bigger, and I realized that I should have opted for a different plan.
The reason why your website needs a dedicated server is that you get offerings that are tailored to your website requirements. Although pricier, they offer better security and support.
If you're running a simple site with very low traffic, shared hosting may work for you. But it's certainly not the best fit if you're expecting lots of daily visitors since the server can lag due to overload.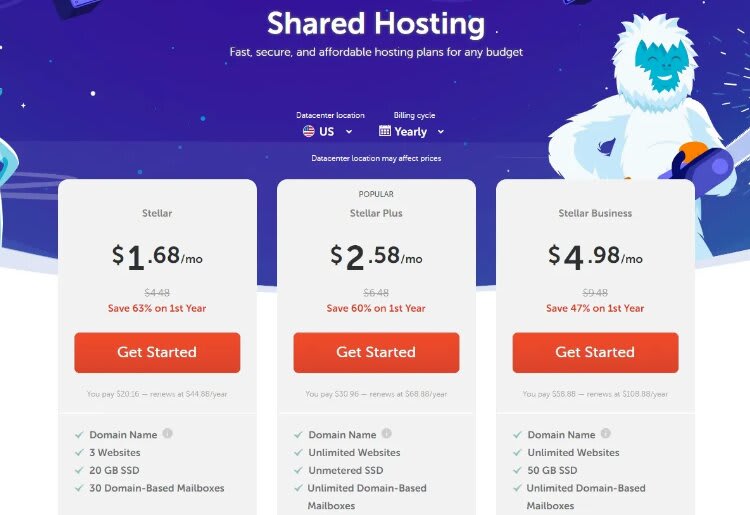 3. Avoid Falling for the "Unlimited" Gimmick
Many hosting providers offer what they claim are "unlimited" packages. But I can tell you from experience that there's often a catch. For example, the hosting provider may cap your bandwidth, or your site may crash once it receives a certain amount of traffic.
Rather opt for a hosting package will more flexible offerings that can accommodate your site as it grows.
» Need fast, cheap, and secure hosting? Try these Cloudways alternatives.
4. Avoid Neglecting Your Website's Security
One of the earlier blogs I built some time ago attracted a lot of traffic, but I didn't feel like it was a big deal. So in trying to save a few bucks, I didn't use an SSL certificate to keep the site secure. What's worse was that apart from using a strong password, I didn't try to introduce any other security best practices.
So in less than two months, the site suffered a major attack that brought it down.
An SSL certificate is one of the most important security tools to protect your website. So add it to your cart when paying for a hosting plan to protect your site from more dangerous attacks.
5. Avoid Using One Web Host for Everything
People often register their domain names with their web hosting provider because it's convenient. But I tell you, in this game, diversification is key, and your site is safer when you spread your risks across the board.
Now, this may come off as fear-mongering, but take it from me, you're better safe than sorry—and I've been sorry many times. I advise you register your domain on a separate server so you can switch to another and keep your site running when your service provider experiences downtime.
6. Avoid Losing Track of Contact Information
Another example of web hosting mistakes is not storing the contact information of your hosting providers. In my early days, the hosting provider I used offered email and live support, which at the time I believed was good enough.
Until one day, the server was down, and there was no way to reach them outside of the platform. As I didn't have their telephone number, I had to wait for the downtime to end, and my site suffered for it. This is a mistake that I don't want you to make. So, whichever hosting provider you use, find out how to reach them directly and keep this information safe in case of an emergency.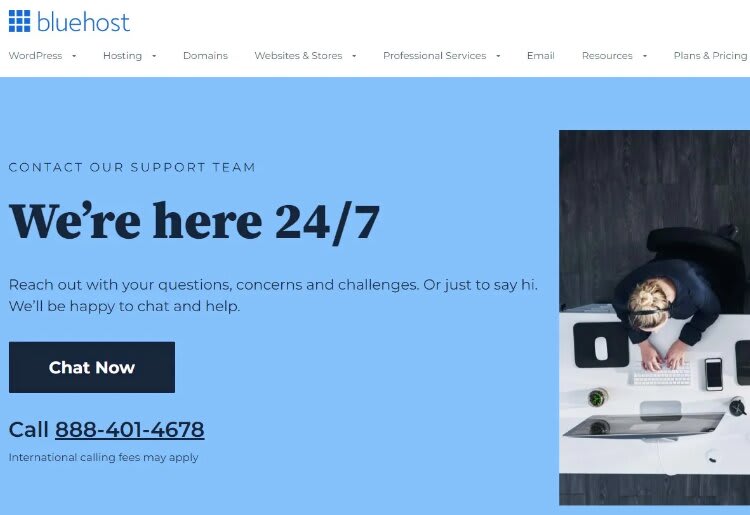 7. Avoid Checking Out Without Checking Features
If you sign up for a hosting plan you don't fully understand, you may end up with limited features and poor website performance. So, before committing to a service provider, check for storage space, bandwidth, backups, and the presence of SSL certificates.
I understand that going over technical terms can make proper research discouraging. But without this information, you'll make many of the web hosting mistakes I've highlighted here.
» Learn more about changing web hosting services without losing important data.
8. Avoid Buying the Cheapest Option
People go for cheap hosting plans for the same reasons they prefer the free option—they're cost-effective. But, in most cases, the fact that something is budget-friendly doesn't mean it's good for you.
These cheap plans often have poor services like low disk space and bandwidth, poor customer support, and frequent downtime. While pricing is a major factor to consider before picking a hosting plan, it's not the only one.
If you want to site to grow, you're better off with a better package with lots of other perks.
9. Avoid Depending on Your Best Host for Backup
Yes, many hosting providers offer backup services. But, depending on that alone is risky business. What happens if both their main service and its backup are down simultaneously?
Your website will remain offline until it is fixed, and you can't move to an external option if you don't have a personal backup.
10. Avoid Ignoring the Reviews
Refusing to read past reviews for any reason may mean walking head-on into an ambush.
You're reading this guide because you want to know about web hosting mistakes to avoid. Reviews work the same way, so it's a worthy investment to read testimonials from past users to help you decide on a particular hosting service. They'll give you first-hand information that the service provider may not want you to know, saving you time and money.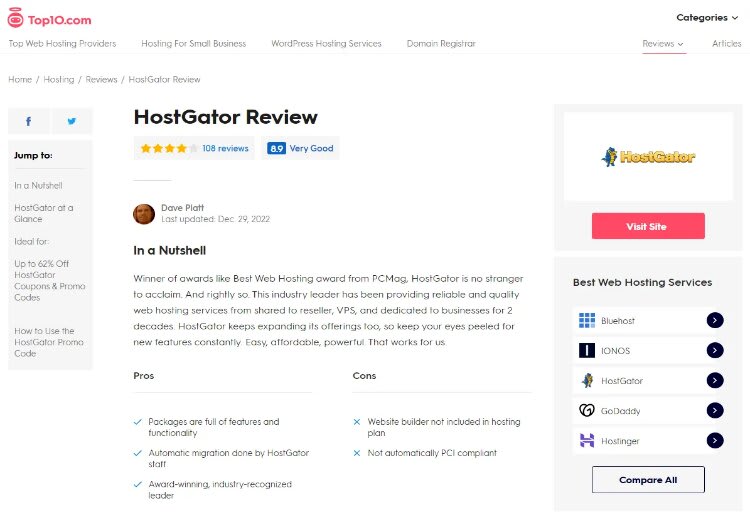 Choose Wisely
With many hosting providers in the market, it is easy to make a mistake, especially as a beginner. So, you must choose wisely, at least, for your business's longevity.
From the top of my head, I recommend HostGator as one of the best platforms I have used. But do your research and choose what works for you, making sure to avoid the mistakes highlighted above.
» Learn more about possible reasons behind a website crash.