Of course, there may be some home maintenance tasks better left to a professional, which is why purchasing a home warranty can be a great idea. Many home warranty plans cover your systems and appliances, including summer essentials like air conditioning and pool, so you've got peace of mind if anything breaks down.
Whether it's time for DIY fixes or updating your home warranty coverage, we've compiled our top 10 summer home maintenance tips to make sure you're ready to have a great time this summer!
1. Clean Your Whole Home
Cleaning your home inside and out is a great way to start the summer. Dust and dirt that have accumulated in your rooms throughout the year can become a nuisance once you switch your fans on, and can cause problems for your HVAC and other appliances. Dusting and vacuuming thoroughly is therefore a must.
Hopefully, you'll be spending time outside, too. Your yard may also need a wash-down to blow away any cobwebs, dead leaves, or other debris that may have gathered. Pay special attention to your home's exterior: organic material (like leaves) and inorganic material (like metal) can cause discoloration or damage if left in contact with your home.
A pressure washer could be useful for blasting your driveway, paved yard, or the exterior of your home. Just be careful when you use a power washer so as to not damage more delicate parts of your home.
2. Prepare Your AC System
Your central air conditioning system is likely to get a lot of use in the summer, so now is a good time to check it's all in tip-top shape and get it ready for the hot season. If you have a disposable AC filter, and it's not ready to discard, you can clean it with a vacuum and rinse (without soap) if necessary. A washable filter can be washed with soapy water or a vinegar solution.
Make sure you check your air conditioner vents and remove any debris that has built up, as these can prevent your system from working well and actually increase your cooling costs. Just in case you have any technical problems during the season, now might also be a great time to find a home warranty that covers your AC system.
For example, Choice Home Warranty covers AC systems in its Total Plan.

Call Now Visit Site
3. Clean Your Pool
A pool comes into its own in summer, so make sure yours is in top condition. Make sure your pool pump is functioning well so you've got good water circulation; this will help prevent dirt building up. You should also check your filter and clean out your skimmer baskets.
Scoop out any larger bits of debris and scrub both the walls of the pool and any steps or ladders. You'll also need to make sure the chemical level is right (through testing) and you may need to add more sanitizing chemicals (known as shocking).
Although there can be quite a bit of work involved in getting your pool ready for summer, it's worth it to know you've got a clean, safe swimming location to enjoy with your family.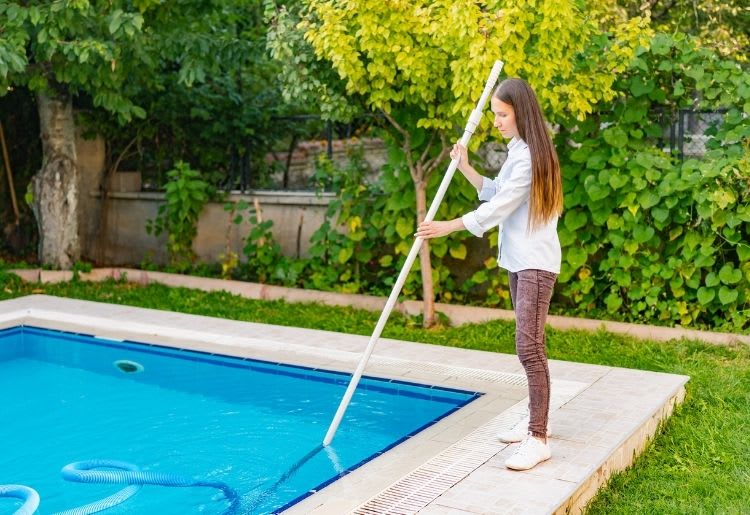 4. Check Your Attic and Basement
The hidden parts of your home might not see the light of day very often, but summer is the perfect time to check what's going on. Mold and mildew can easily fester in dark and damp corners, so inspect your rooms carefully and move any boxes or bulky items that might conceal problems.
You should also keep an eye out for pests like mice or wasps, and check for holes or leaks that may have arisen over the winter. If your existing home warranty plan includes roof leak coverage, you may be able to claim— although most home warranties don't cover pre-existing conditions, so watch out if you're buying a new one.
Additionally, check any plumbing units or pipes that may be tucked away in the attic or basement rooms. Your home warranty may also cover leaks or other damage to your plumbing systems, and it's better to find these sooner than later.
5. Clean Your Appliances
Your washer and dryer may need maintenance from time to time, so why not add these to your summer maintenance plan? It could be time to get a home warranty that covers these appliances, like the Bronze or Platinum plans from Select Home Warranty. This will mean that if your washer or dryer breaks down, a licensed tradesperson will come to your home to fix it.
In the meanwhile, wipe down the door and seal of your washing machine with a light bleach solution and clean your lint filter. Make sure the vents and filters for your dryer are clean and clear of any dust or debris.
While you're at it, give your refrigerator a full clean from top to bottom. This is a crucial appliance in the summer months, so consider adding this to your home warranty plan, too.
6. Clear Out Your Gutters
Guttering should be cleared out at least once a year, if not more often. Making sure your gutters and downspouts are clear of leaves and dirt will mean that when the wet weather of autumn comes, you're less likely to get overflow which can damage your roof and the exterior of your home, sometimes leading to water entering your home. You can remove clogged dirt and debris by hand or with a pressure hose.
7. Seal Your Home to Prevent Pests Coming In
Pests tend to multiply in summer, so sealing your home and undertaking some basic maintenance tasks can prevent them from entering and causing a nuisance. This could include caulking the edges of windows, filling in holes and cracks in your walls, chopping back trees that overhang your home, and keeping your yard clear of debris.
Check your yard for any sources of stagnant water that might harbor mosquitoes, and make sure that door and window screens are in good repair. Some home warranties may include pest control coverage, so make sure you look for a company that includes this in their plan if this is a major risk in your area.
8. Wash Your Windows and Doors
Windows and doors need special attention, and the summer sun will dry them quickly after a good wash. You can use soapy water, a special window spray, or a homemade cleaning solution to get external panes clean, and you'll probably also need a microfiber cloth and potentially a squeegee.
You can also use this opportunity to clean window screens, either with a vacuum or with soapy water, and sponge down each side of your doors. Once your screens and panes are sparkling clean, you'll be able to enjoy the sunshine even when inside your home.
9. Adjust Your Ceiling Fans
A home maintenance tip that's easy to overlook is setting your ceiling fan to run counterclockwise. During the winter it should turn the opposite way to help keep the home warm, so remember to switch it back for the summer months!
The counterclockwise motion pushes air downwards, creating a cooling breeze and keeping the room temperature more consistent so you won't need to run your AC system as frequently. This can, in turn, save money on cooling costs, because fans use a lot less energy than AC systems. You could also consider adjusting the angle of the blades to at least 12 degrees to make sure they are cooling efficiently.
10. Prepare Your Grill
There's nothing like a summer BBQ, so get your grill ready to go. Charcoal grills should be cleared of any dust or ash, then washed with soapy water and left to air dry.
For gas grills, turn them on and leave to heat with the lid down for about 30 minutes. After cooling, use a grill brush to sweep inside, then wipe the outside with cleaning spray and make sure any drip trays are emptied. You should also make sure your indoors cooker or stove is clean and in good working order, just in case your BBQ gets rained out! Most home warranties offer the option for including stove maintenance in your plan.
Conclusion
With these handy summer home maintenance tips, you'll be ready for a great time with family and friends this season. With your yard tidy, your home exterior and interior clean, and your pool and grill ready for use, you should be able to sit back and enjoy those warm summer months. Just draw up your summer maintenance checklist and gather your materials to make sure you don't miss anything important.