In a Nutshell
Puls Home Services membership schemes allow customers to choose whether they would like to protect their home's systems on a long-term basis or to receive discounts if and when items need to be repaired. With 4 plan types (Essential Protection, Standard Protection, Click & Fix Essential, and Click & Fix Standard), it provides a workmanship guarantee of up to 12 months and offers same-day repairs
pros
Repairs guaranteed for up to 12 months
Comprehensive app
Same-day repairs
cons
Refunds not available on cancelation
Automatic renewals

Puls Home Services Visit Site
Puls Home Services Plans
Puls Home Services divides its membership plans into 2 types: long-term protection, which acts as a standard home warranty plan, and Click & Fix protection, which offers access to discounted rates on appliance repair and handyman services.
If you would prefer long-term coverage, it offers:
Best for kitchen appliances
Best for all appliances types
Click and Fix Standard plan
If you would prefer coverage on a case-by-case basis, you can choose between:
Best for discounts on home services
Best for extended guarantees
20% discount on Puls services


Waived security and support fees
Access to member perks and special offers
25% discount on Puls services
12-month service guarantee
Waived security and support fees
Access to member perks and special offers
According to the provider's website, the benefits available to members are subject to change, so it recommends customers periodically check the website to ensure they have access to the most up-to-date information.
Optional Add-Ons
When we tested the site, we were not given the option to include additional features on the plan.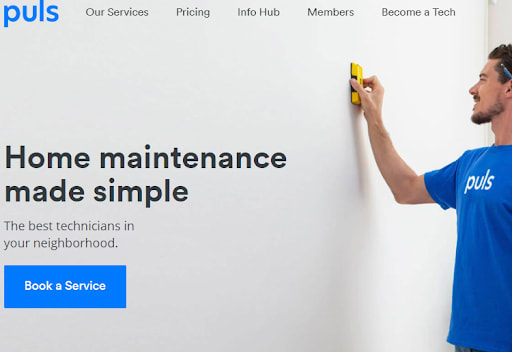 Plan Exclusions
If you take out a subscription, you won't be covered against:
Personal injury or death resulting from negligence resulting from a repair
Damage from floods, earthquakes, tornadoes, or other acts of nature
Refunds on special order parts
Addition of freon
Puls Home Services Plan Pricing
The provider offers 4 plan types with the following prices:
When you file a service request on a long-term plan, you'll also pay a service fee of $79.
If you take out a Click & Fix Standard plan, you'll also receive a single $129 fixed-rate service, which can be used any time after your first repair and cover costs of up to $400: this could theoretically save you $271. Once you book a repair on a Click & Fix plan, you'll see an estimate of the total cost for the visit online.
Although you can cancel your membership at any time, you won't receive a refund or credit for any remaining time and can continue to use your plan's features.
Your plan will automatically renew at the end of each term. If you do not wish to renew, you'll need to give at least 30 days' written notice.
Overall, we found these subscription prices cheaper than others in the market. If you take out a Click & Fix plan, however, you should note that the total cost you pay for your repairs (the subscription cost and the cost of the repair on the day) will depend on the severity of the issues.
How to file a claim with Puls Home Services
If you need to make a claim, you can do so online 24/7 and, if you're a Puls+ member, the provider will assign priority to your claim. In many cases, you can schedule an appointment on the same day that you submit your request. Once your appointment has been arranged, the technician will call or text you to let you know when they are on their way or you can receive real-time updates via the app.
As a Puls+ member, you'll also receive an extended guarantee on your repairs, which could be as long as 12 months, depending on the plan type you choose.
If you take out a plan, the following payout caps will apply:
Refrigerator: $2,500
Dishwasher: $1,500
Oven/cooktop: $700
Microwave: $750
Exhaust fan: $200
Garbage disposal: $100
Washer: $1,000
Dryer: $750
Is Puls Home Services Legit?
Puls Home Services has a B accreditation from the Better Business Bureau. As of September 2021, it has a rating of 2.55 out of 5, which is based on 102 customer reviews. It also has a rating of 3.2 out of 5 on Trustpilot, with 55% of reviewers rating the company as excellent and 41% reviewing it as bad. While satisfied customers praise speedy and friendly service, some unhappy reviewers claim their items were not repaired to a satisfactory standard.
What's Unique About Puls Home Services
As well as offering traditional long-term plans, the provider's Click & Fix coverage operates on a different business model by charging a low subscription fee and then providing access to discounted rates for the use of its services.
In another distinguishing feature, Puls Home Services offers same-day appointments, which is a rarity in the industry.
Help and Support
You can contact the company over the phone, via email, in-app or through its social media channels. Its phone support hours are 5 am to 7 pm (PST), although you can receive 24/7 support in the app. As a Puls+ member, you'll receive priority booking and customer support.
When we contacted the company through email and social media, we received a response after 3 working days asking us to call with our queries. We found the telephone support staff to be exceptionally friendly and helpful.
The website contains a thorough selection of FAQs, which provided the majority of the information we needed. The provider also operates a blog, which is updated frequently and covers topics such as appliance repair and managing projects in the home.
What about the Puls Home Services app?
The Puls Home Services app is available for download from the App Store and Google Play. Using its services, you can:
Book a home repair or install service
Manage booked appointments
Be matched with a technician
Receive upfront pricing
Receive 24/7 customer support
Watch this video for more information about the Puls Home Services app.
How to Get Started with Puls Home Services
If you'd like to become a Puls+ member, the first step is to visit the website, enter your zip code, and check whether the service is available in your area. You'll then need to select which plan type is most suitable for your needs and enter the following details:
Your name
Your address
Your phone number
After taking out coverage, you'll need to wait 30 days before you can file a claim.
We found the process of purchasing for a subscription extremely simple and were pleased to see all prices displayed clearly on the website at point of purchase.
How Puls Home Services Compares to Other Home Warranty Services
When we compared Puls Home Services to others in the market, we found its prices to be cheaper than those of its competitors. It is worth remembering, however, that the provider's Click & Fix plans operate on a different model to many other providers.
In-network (number unspecified)
In-network (number unspecified)
$85 (or cost of repair if less than $60)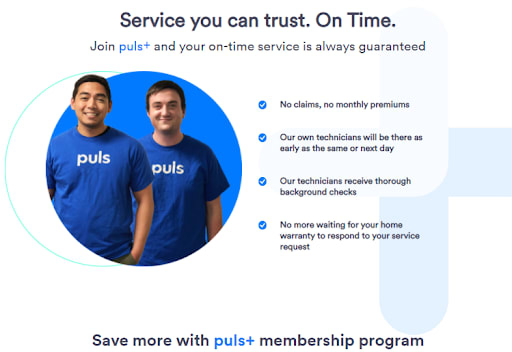 Puls Home Services vs InHome Warranty
If you're searching for low-cost premiums, Puls+ is the definite winner when compared with InHome Warranty, whether you choose a longer term or Click & Fix plan. As a Puls+ member, you'll pay between $78.96 and $499.08, whereas InHome charges between $510 and $660. In terms of service fees, InHome does come in slightly cheaper, charging $50 in comparison with Puls' $79 fee. When it comes to claims availability, the most suitable choice for you will depend on how you prefer to manage your finances, with InHome offering a 24/7 phone service and Puls+ allowing customers to file claims either online or in the app.
Puls Home Services vs Advanced Home Warranty
When comparing base premium levels, Puls Home Services has a distinct advantage over its competitor, although Advanced Home Warranty does offer a month's free coverage to new customers, which you should bear in mind when choosing a provider. Advanced has a potential advantage in terms of service fees, with customers only paying the cost of their repair if this amount is less than $60. Although Puls can offer same-day services, you may need to wait between 2 and 4 days for Advanced to contact a tradesperson on your behalf. For technically minded customers, Puls' major advantage over Advanced could be its full service app.

Puls Home Services Visit Site
Puls Home Services Select Home Warranty
While Select offers competitive annual premiums, you'll almost certainly find a cheaper policy with a Puls longer-term plan. Note, however, Select offers new customers who enrol online or over the phone a discount of up to $150 if they pay upfront. While Puls offers a network of more than 5,000, Select's customers have access to more than double this figure. If, however, speedy repairs are your priority, Puls provides access to same-day repairs, while it may take Select between 2 and 4 business days to schedule your appointment. One point in Select's favor, however, is that it offers free roof leak coverage on all its plans.
The Bottom Line
If you're looking for the flexibility to choose between long-term coverage and discounted access to repairs, Puls Home Services could be right for you. For many customers, the ability to book a same-day repair could be the company's most attractive feature, while its workmanship guarantee of up to 12 months is also a point in its favor. The most significant downside we identified is that your subscription will automatically renew at the end of the plan term. However, this may not be an issue if you remember to cancel or indeed if you wish your coverage to continue.