In a Nutshell
Although Landmark Home Warranty is only available in 6 states, if you're in a relevant region, you may want to consider this service if you're looking for pest control or termite treatment coverage, or if you have purchased a home in the last 30 days. Plans are not the cheapest on the market, but the service fee is adjustable. However, it's worth being aware of some poor customer reviews.
pros
Covers pest control
Flexible service fee
Real estate plans available
cons
Only available in six states
Poor reputation amongst customers

Landmark Home Warranty Visit Site
Landmark Home Warranty Plans
Landmark Home Warranty has 2 pricing plans for homeowners: the Home Systems Plan, which, as the name suggests, covers the major systems you may have in your home such as air conditioning or heating; and the Total Protection Plan, which adds coverage for appliances as well as systems. There are also optional extras you can add to your plan if needed.
Landmark Home Warranty also offers a series of plans for people who are purchasing, or have just purchased, a property. For this review, to allow comparison with similar warranty services, we have focused on giving details of the Homeowner plans.
Best for systems coverage
Best for systems and appliances coverage
Subterranean termite treatment
Optional Add-Ons
You can add the following to your plan if needed:
Built-in microwave
Central vacuum
Dishwasher
Exterior pipe leak repair
Freestanding ice maker
Freezer (stand-alone)
Garage door opener
Garbage disposal
Grinder pump
Guesthouse
Kitchen refrigerator
Oven/range/cooktop
Pool and hot tub (chlorine)
Roof leak repair
Saltwater pool and hot tub
Septic system
Washer/dryer
Water softener
Well pump
Wet bar refrigerator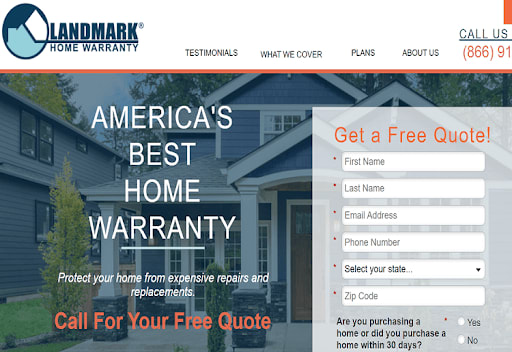 Plan Exclusions
Landmark Home Warranty only covers appliances and systems that are in working order when the cover begins, are located within the perimeter of the property or attached garage, and have broken due to normal usage. Malfunctions due to installations, repairs or modifications, or mismatched systems, are only covered up to $250 under the No Fault Coverage option.
There are a number of other exclusions, details of which can be found in Landmark Home Warranty's brochure. For example, fire and flood are not included as relevant causes of malfunction, and neither are mold, mildew, rot, or fungus. There are also exclusions specific to each system or appliance, which are important to check before you purchase your warranty. For example, water source heat pumps or humidifiers are not included in heating or air conditioning cover.
Landmark Home Warranty Plan Pricing
We requested quotes for a single family home in each of the 6 states to obtain pricing details for the Homeowner plans. Plans in some states are very slightly cheaper than in others. Larger properties are more expensive to cover. The prices are similar to those offered by competitors.
The service fee is $100, but you can choose to add $5.41 to your monthly premium for a service fee of $70. Termite treatment can cost $195. Add-ons range from $1.25 to $28.33 a month on top of the basic plan premium.
Real Estate plans range from $400 to $550 per year.
How to file a claim with Landmark Home Warranty
You can file a claim by phone or online (through your homeowner portal), 24/7. If filing online, you need to give details of the problem and pay the service fee online. Landmark will then connect you with a suitable contractor. You can only claim up to a certain amount, and limits for Landmark Home Warranty are on the low side for some systems and appliances. For example, the cap for air conditioning and heating is $500, and the limit for concrete-encased plumbing or gas is $1000. A kitchen refrigerator is covered for up to $1500.
Is Landmark Home Warranty Legit?
Reviews on customer opinion sites are mixed. On Consumer Affairs, Landmark Home Warranty has an average score of 3.6/5, with more 5-star reviews than any other category. Conversely, on Trustpilot, only 8% of reviews are Excellent and 92% are Bad. Reviews highlight poor customer service and difficulty in getting repairs completed. The Better Business Bureau (BBB) has not accredited the company due to unresolved complaints, and the average rating is 2.46/5.
Most importantly, the BBB highlights a government action by the Arizona Attorney General against Landmark Home Warranty in March 2021, on the basis of deceptive and unfair acts pertaining to coverage in extreme temperatures. Some customers had to wait more than 30 days for air conditioning repair in a heatwave. This action was settled and Landmark Home Warranty paid a fee.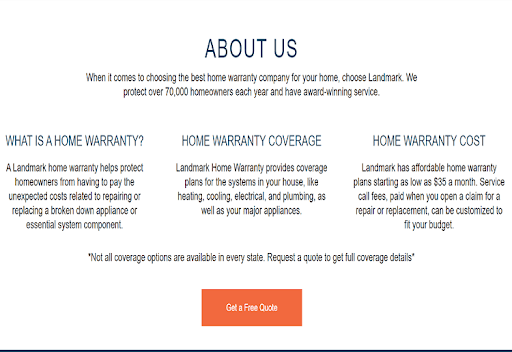 What's Unique About Landmark Home Warranty?
Pest control and termite cover is unusual in the home warranty industry, so if these are a particular concern for you, Landmark Home Warranty could be worth a look. Landmark Home Warranty also offers a set of plans specifically for those who have just bought a property in the last 30 days (real estate warranty).
Help and Support
You can contact Landmark Home Warranty by email or by phone, 24/7. When we attempted to contact them by email, there was no response. The website does, however, have a useful set of resources such as home repair tips. FAQs are somewhat hidden on the resources page, but answer the most common questions about home warranties and Landmark Home Warranty.
What about the Landmark Home Warranty app?
Landmark Home Warranty does not have a mobile app.
How to Get Started with Landmark Home Warranty
It's quick and easy to get an instant quote on the website. You'll need to give your location and contact details, as well as specifying the type of property and size. You can also select your plan and any additional add-ons. You can purchase the warranty instantly through the site. There is then a 30-day wait period, before the conclusion of which, claims cannot be made.
How Landmark Home Warranty Compares to Other Home Warranty Services
Landmark Home Warranty's plans are priced in line with those offered by most competitors, although it is possible to find cheaper on the market. Its standard service fee of $100 is at the higher end of prices, but it's possible to adjust this downwards to $70 by raising your premium.
Landmark Home Warranty vs American Home Shield
There's not a huge difference in pricing between American Home Shield and Landmark Home Warranty, although it's possible to obtain a slightly lower service fee from the latter. What makes American Home Shield's service stand out is its add-on plans, which simplify the process of customizing your coverage, and the range of deals and discounts available. Therefore, this might be a better choice for you, unless you're specifically looking for some of Landmark Home Warranty's unique features, such as pest control cover.

Landmark Home Warranty Visit Site
Landmark Home Warranty vs Global Home Protection
Although Global Home Protection's regular premium for its pricest plan is somewhat more expensive than Landmark Home Warranty's, with discounts applied it comes in at a much lower cost (just $499). Its service fees can also be cheaper (as low as $45). Therefore, Global Home Protection could be a better choice if you're on a budget.
Landmark Home Warranty vs AFC Home Club
AFC Home's quoted average premium is a little cheaper than that offered by Landmark Home Warranty, but its service fee is a little more expensive. However, a standout feature of AFC Home Club is its lifetime guarantee for repairs carried out under your plan, something Landmark Home Warranty doesn't match. This long-lasting guarantee could make AFC Home Club a more prudent choice.
The Bottom Line
Landmark Home Warranty is similar in price to many competitors, with a higher service fee than some. With the unusual option of pest control and termite treatment, Landmark Home Warranty might give you peace of mind when it comes to keeping your home pest-free. Additionally, if you've recently bought a home, the Real Estate options can help you cover your property quickly.
However, it's important to be aware of some poor customer reviews and government action against the company. Although this could be a home warranty service worth looking into if you are particularly interested in its more unusual features, bear its customer reputation in mind.