In a Nutshell
An award winning, regional home warranty company with very flexible policy options, Landmark Home Warranty is an industry leader in Arizona, Idaho, Texas, Utah, Oregon and Nevada. With a Better Business Bureau rating of A and excellent reviews across the web it would be difficult to find a home warranty company with more satisfied customers.
pros
A well respected company in the communities they serve
Works hard to ensure customer satisfaction
Provides extensive home maintenance 'how to' videos
cons
Limited coverage
General customer service only during business hours
Landmark Home Warranty Visit Site
Landmark Home Warranty Highlights
Over 97% of claims submitted to Landmark are approved.
Runs the Landmark Home Foundation to help families in the communities it serves.
A Better Business Bureau Accredited company with an 'A' rating.
Landmark Home Warranty Coverage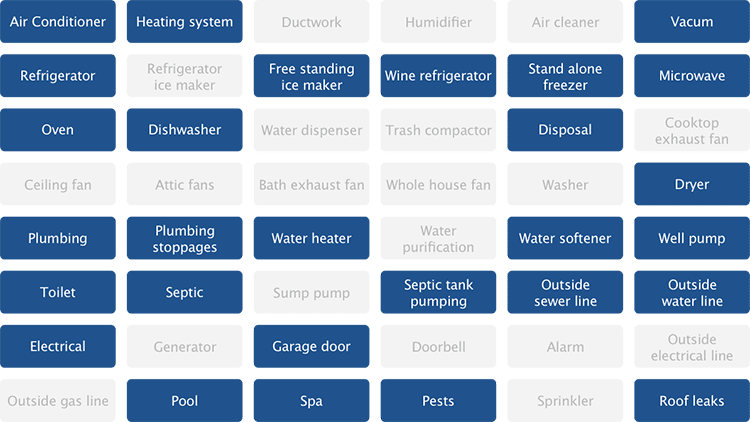 Landmark Home Warranty has four levels of coverage, each one more comprehensive than the last. With 'Standard', their most basic plan, you receive all of the service and appliance coverage that some other warranty companies only cover in their highest level plans. Exceptional value for money!
In addition to the prebuilt plans you can purchase many add-ons. Landmark Home Warranty offers items such as 'guest house coverage' or 'wet bar refrigerator' coverage and they also provide the option to remove items you don't need - like air conditioning.
Included in all plans is the re-key service that gives you six locks re-keyed and the 'air conditioning tune-up', each for the basic service charge of $60. In some states you also qualify for pest control and termite treatments for the same low $60 service fee.
As if all these extras and options weren't enough, Landmark Home Warranty also has a 'No Fault' upgrade. This covers failures caused by code violations, improper installation and mismatched systems and includes the costs of permits, haul away and cranes.
Terms and Conditions
The terms and conditions detailed in the Landmark Home Warranty service contract are in alignment with many other home warranty companies. Coverage begins 30 days after payment is received and Landmark recommends you use that 30 days to review your coverage and ensure you understand what can and can't be claimed.
Where Landmark excels is in their offering of additional coverage that will protect you in cases of failures caused by code violations, improper installation and mismatched systems and includes the costs of permits, haul away and cranes - items that are all excluded in regular home warranty contracts.
Transparency
Landmark Home Warranty has a first-rate website that not only provides information about plans and prices but also warranty coverage details, terms and conditions and a sample contract. As the coverage varies slightly from state to state you are asked to input your zip code and then information relevant to your location is displayed.
Reviews from customers and real estate professionals are simple to find and read on the website. A link to the Better Business Bureau is proudly displayed and further reviews can be found on the BBB website. Where customers have highlighted negative experiences Landmark Home Warranty has replied with details of the steps they have taken to resolve the issues.
Customer Service
Service requests and home warranty purchases can be made by telephone during business hours (from Monday to Friday, 8am to 6pm). Emergency calls can be made 24/7 and claims can also be made using their online claim form.
When you take out a warranty with Landmark you receive a welcome package that includes a very clearly set out copy of your contract, coverage limits and instructions on how to make a claim.
During business hours a contractor will contact the customer within four hours - sooner in an emergency situation.
Contractors
Landmark Home Warranty employs licensed, independent contractors and has local sales representatives in every state serviced. They strive to provide contractors for every trade in every community. Where a qualified contractor is not available Landmark will authorize payment to a contractor of your choice, up to and including the payment limits of your contract.
A $60 service fee is payable to the contractor at the initial call.
Landmark Home Warranty Visit Site
Conclusion
Landmark Home Warranty has an outstanding reputation for quality of service and customer care. Reviews across the internet sing their praises, highlighting the speed, efficiency and friendliness of staff and the high esteem in which the contractor's work is held.
Potential home warranty customers in their service area should seriously consider them and those not living in the service area should hope they expand nationwide very soon.
About Landmark Home Warranty
Landmark Home Warranty is a regional company based in Utah. Founded in 2004, Landmark has built a reputation for reliability and friendly service along with great flexibility in coverage.