In a Nutshell
Advanced Home Warranty provides top nationwide service and has a dedicated customer service team to personally deal with each claim. Advanced is best for those looking to enhance the resale value of their home by including a home warranty with the purchase.
pros
Limits of liability clearly displayed
24/7, dedicated toll-free customer service
Get your first month free as a new customer
cons
Site not comprehensive
Not liable for contractor work

Advanced Home Warranty Visit Site
Coverage
Advanced Home Warranty provides 2 plans; a Basic plan and a Total plan. Unlike many companies which provide one plan for appliances and another for systems, Advanced Home Warranty plans cover a mixture of appliances and systems. The Basic plan covers the majority of the appliances and systems in your home from the heating and the microwave (built-in) to the electrical system and the garage door opener. The Total plan includes all of the elements in the Basic plan but also includes air conditioning, washer, dryer, and refrigerator.
You can also add optional extras such as a central vacuum or septic tank.
Pricing
* First month free
Packages and Plans
Advanced Home Warranty offers 2 plans:
Basic Plan: covers a wide range of appliances and systems in your home, from the heating, electrical and plumbing systems to the dishwasher, built-in microwave and garage door opener.
$33.33/month or $370/year plus a free month
Total Plan: complete protection for your air conditioning system, refrigerator, clothes washer and clothes dryer.
$40/month or $450/year plus a free month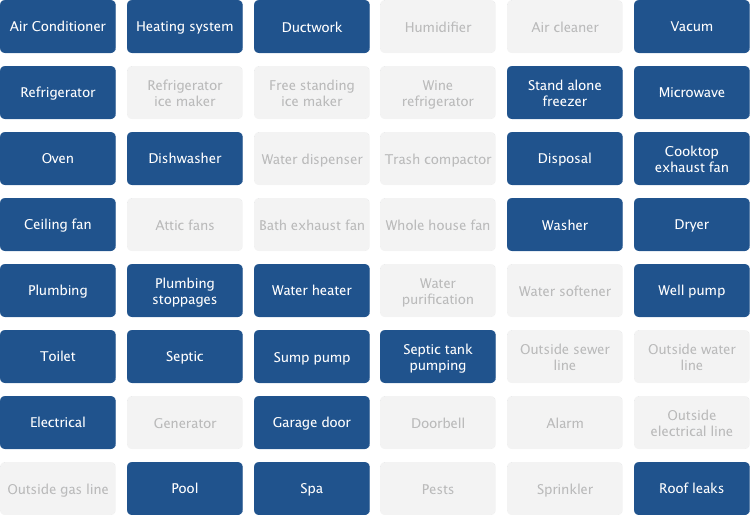 Terms and Conditions
Advanced Home Warranty terms & conditions are aligned with the industry averages. Coverage starts 30 days after Advance receives the, and if you cancel the warranty you can receive a refunds, depending on how long you have held your warranty.
As with most companies you are required to keep records to show your appliances & systems have been maintained and may be asked for these in the event of a claim.
Full limits of liability are published on the website, and are no different from the limits of liability of most other companies.
Your home will not be covered if you run a business, such as a home daycare, on the premises.
Customer Service
You can contact Advanced Home Warranty at any time via the 24/7 toll free customer service line. In the event of a claim you will be allocated a dedicated customer service representative who will assist you throughout the process.
Contractors will be contacted within 2 days (4 days on weekends and holidays) unless the company considers it an emergency. In those cases contractors will be contacted as soon as possible.
Number of Contractors
Advanced Home Warranty will contact pproved contractors, and the contractor will then contact you to arrange a mutually convenient time (during business hours) to visit. If a suitable contractor cannot be found you may arrange your own contractor and Advanced Home Warranty will reimburse you.
Service calls are $60 per service item and you are required to pay this to the contractor, at the time of the call. This fee will be payable if you cancel at the last moment when the contractor is on their way to your home.
Advanced Home Warranty is not liable for any of the work carried out by the contractors.
Transparency
Advanced Home Warranty clearly spells out its limits of liability on the website which is nice to see if you're a first-time visitor. Additional policy details are only available once you have requested a quote—but those are clearly stated. As a relatively new company, very little independent information is available.

Advanced Home Warranty Visit Site
Bottom Line
As a new company, Advanced Home Warranty has few customer reviews around the web. For this reason the quality of customer service and contractor repairs is difficult to assess, but the terms and conditions and limits of liability detailed show it to be very similar to other home warranty companies offering the same service.
About Advanced Home Warranty
Advanced Home Warranty is a relative newcomer to the Home Warranty market place and is using its 24/7 customer service & dedicated staff to set it apart from other service providers.
Founded: 2014
Regions served: Nationwide