In a Nutshell
Advanced Home Warranty is a sister company of Choice Home Warranty. It offers 2 service plans for your home's major appliances and systems, and optional features are available for an additional fee. Although its cover limits aren't as high as some providers, Advanced charges a competitive monthly premium. In addition, new customers can earn a free month of coverage when they sign up. However, Advanced doesn't offer 24/7 online support.
pros
Affordable premiums
All plans include appliance and systems coverage
New customers get a free month of coverage
cons
Low coverage limits
No 24/7 online support

Advanced Home Warranty Visit Site
Advanced Home Warranty Plans
Advanced Home Warranty's Basic Plan covers most major systems and appliances in your home. Pricing for the Basic Plan starts at $46.66 per month. In addition, the provider also offers a Total Plan. This adds coverage for your refrigerator, washer, dryer, and air conditioning system, starting at $55 per month.
Basic Plan: best for affordable coverage
Total Plan: best for major appliance and systems coverage
Water heater (gas or electric)
Optional Add-Ons
For an additional fee, Advanced Home Warranty provides cover for the following:
Pool and/or spa equipment
Septic tank pumping
Septic system
Well pump
Sump pump
Central vacuum
Roof leaks
Standalone freezer
Second refrigerator
Fees vary depending on the item covered, ranging from $30–$160 per year per item. To get a full pricing breakdown, you can contact a customer service representative or submit a request for a free quote on Advanced's website.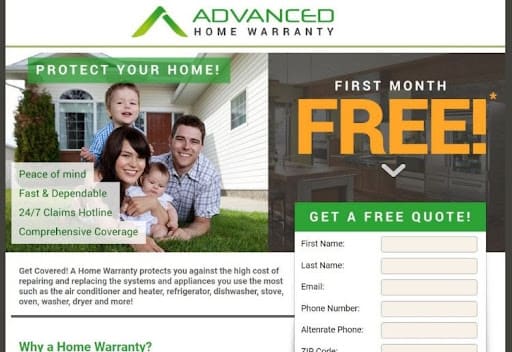 Plan Exclusions
Your home warranty covers the cost of repair and replacement parts for any covered items that fail due to everyday wear and tear. Except for exterior pools/spas, well pumps, septic systems, and air conditioning units, coverage only extends to systems and components located in your home or unit. If your residence is over 5,000 square feet, extra fees may apply. Commercial properties or business premises don't qualify for warranty coverage. And, unlike some of its competitors, Advanced Home Warranty doesn't cover pre-existing conditions.
It's also worth noting that service limitations apply to each covered appliance and system. The repair or replacement of excluded parts and mechanisms may incur additional fees. To find out which features are included with your plan, you can check the Terms page on Advanced's website or take a look at your service agreement.
Advanced Home Warranty Plan Pricing
Compared to the industry average, Advanced Home Warranty offers competitive plan pricing. With a 15% discount, its plans range from $39.66–$46.67 per month or $476–$560 per year. If you pay full price, its Basic Plan costs $46.67 per month or $560 per year, while the Total Plan costs $55 per month or $660 per year. In addition, Advanced charges a service fee of $85 for all service requests. If your repair costs less than $60, you'll only be responsible for paying the repair cost.
Usually $46.67/month or $560/year
Usually $55/month or $660/year
$85 (or cost of repair, if less than $60)
How to file a claim with Advanced Home Warranty
To submit a service request, you'll need to call Advanced's customer service team at 1-888-531-5403. You can submit a claim 24/7, 365 days a year. Upon receiving your request, Advanced will contact a service provider within 2–4 days to schedule an appointment for any necessary repairs. An authorized Service Provider must conduct all repairs in order for you to qualify for coverage. If an appliance or system can't be repaired, Advanced will replace it with a similar item of comparable value.
Advanced Home Warranty limits the amount it will pay per covered item under your plan. In general, it provides $500 of coverage per appliance, electric system, plumbing system, and ductwork, and $1,500 for your heating system. Optional features are subject to specific limits, so it's essential to check your service agreement to see how much Advanced is willing to pay to repair or replace your damaged appliance or system.
Unlike some companies, Advanced doesn't offer a plan or extra option to help you pay for the removal of old appliances or hauling charges. However, if any service work fails, Advanced will cover any return service fees up to 90 days for parts or 30 days for labor.
Is Advanced Home Warranty Legit?
Advanced Home Warranty is a sister company of Choice Home Warranty. If Advanced can not offer you a competitive quote, it will direct you to apply for coverage with Choice Home Warranty. At this time, Advanced isn't accredited with the Better Business Bureau. In addition, there are no verified customer reviews on Trustpilot or any other third-party websites.
What's Unique About Advanced Home Warranty?
For new customers, Advanced offers a free month of service when you purchase either of its plans. In addition, if you call to get a quote, you may be eligible for an additional 15% off of your monthly or annual premium.
Help and Support
Customer support is available over the phone 24/7 if you need to file a claim. During regular business hours, you can call to get a quote and request an application for service. Advanced doesn't disclose phone support hours on its website. Once you've submitted a request for a quote, a representative will call you within minutes to take information about your home and present you with a qualifying offer.
Advanced Home Warranty doesn't offer chat or email support. It also doesn't have any FAQs or blog pages on its website.
What about the Advanced Home Warranty app?
At the moment, Advanced doesn't have a mobile app.
How to Get Started with Advanced Home Warranty
You can sign up for a plan with Advanced either over the phone or online. To get a quote, simply visit its website and enter your contact information. Within minutes (during regular business hours), you'll receive a call from a customer service rep who can help you apply for service.
If you decide to cancel your contract, Advanced offers a full refund within 30 days of submitting your application. However, it does charge a $50 administrative fee for processing your cancellation. After 30 days, you'll receive a prorated refund based on the amount of service you used during your contract period. All cancellation requests must be made in writing.
How Advanced Home Warranty Compares to Other Home Warranty Services
Advanced Home Warranty vs. Choice Home Warranty
Given that Choice Home Warranty owns Advanced Home Warranty, the two companies feature similar pricing and products. That said, Choice features both online and phone service, while Advanced only offers 24/7 phone support. If you value a larger confirmed network of contractors and greater flexibility when filing a claim, Choice is the right option for you.
Advanced Home Warranty vs. American Home Shield
Compared to American Home Shield, Advanced could save you money on your monthly or annual premium. In addition, its flat $85 service is more affordable than American's fee of $75-$125. If you want to save money on service visits and premiums, Advanced is the better option. However, if you prefer having flexibility when scheduling a claim or access to a larger confirmed network of contractors, American is the better choice.
Advanced Home Warranty vs. United Home Warranty
When compared to United Home Warranty, Advanced cannot match its lower monthly and annual premiums. In addition, United charges a cheaper service fee of $65-$85 per visit. If you want to save money on premiums and fees, United is the better option. On the other hand, if you like being able to call 24/7 to file and check the status of a claim, Advanced is the company for you.

Advanced Home Warranty Visit Site
Bottom Line
Advanced Home Warranty, formed in 2014, is a sister company to Choice Home Warranty. It charges fair premiums compared to competitors in the industry. However, its coverage limit per item is lower than most other companies. Its plans offer fairly comprehensive cover for appliances and systems, but it lacks 24/7 online support.