In a Nutshell
Considered among the best in the industry, WhiteSmoke is a writing and language tool which provides services such as spelling and grammar checks. In addition it offers more complex features such as a translator and plagiarism checker. It covers a wide range of platforms and devices. WhiteSmoke delivers a high standard of service for affordable prices.
pros
Includes a translator for 55 languages
Can be used on multiple devices
Much more affordable than the competition
cons
Checking on the desktop app is limited
Customer service is slow
No free version

WhiteSmoke Visit Site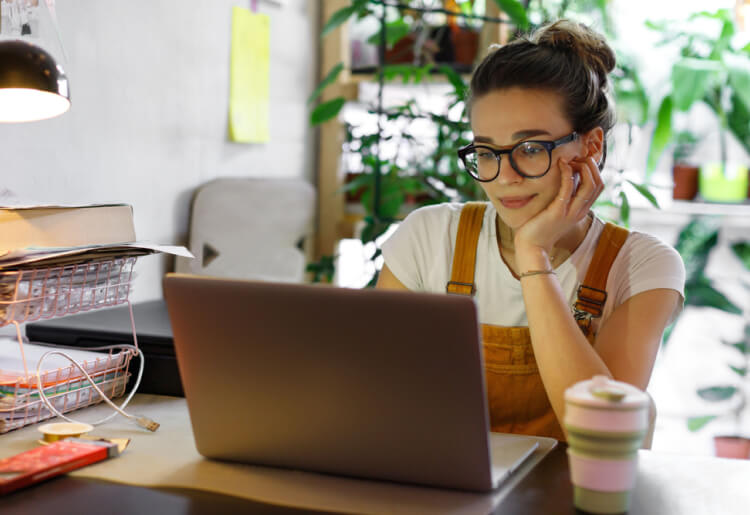 WhiteSmoke at a Glance
Price: $10.99-$22.99
Free Version?: No
Browser Extensions: All browsers
Integrations: All writing platforms
Main Features: Grammar checker, style checker, plagiarism checker and translator
WhiteSmoke in Action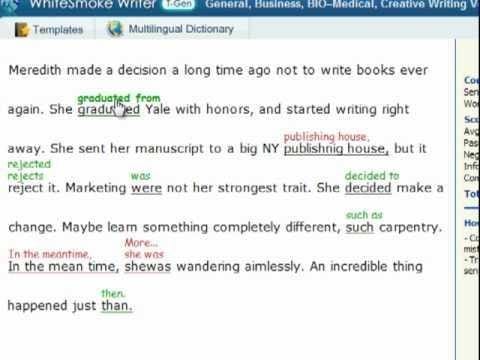 What Services and Features Does WhiteSmoke Offer
Even the most basic WhiteSmoke plan comes with a plagiarism checker and translator in addition to the basic spelling and grammar checkers. The more extensive plans don't add much in the way of features, but they do integrate with a wider variety of browsers, devices and writing platforms including Google Docs and even WordPress. WhiteSmoke's translator feature covers 55 different languages and includes a full dictionary and thesaurus.
WhiteSmoke also provides users with a variety of written and video tutorials to improve your writing skills and educate you about grammar and sentence structure. An app is also available if you prefer to use a mobile device. When using the application in Windows there is a 10,000 character limit - this includes spaces and punctuation marks. This means that if you are using the tool in Windows it's best to use it for shorter pieces.
Browser Extensions and Integrations
WhiteSmoke's most basic plan only covers web browsers, and you have to pay for it. Luckily it makes up for this by covering all browsers, so it can be used for social media posts. Even the basic plan includes a plagiarism checker and translator. The Premium plan claims integration with all writing platforms in addition to the browsers covered by the basic plan.
The Premium plan also covers Windows, Mac and Gmail. The Premium and Business plans both boast one-click instant proof-reading. What sets the Business plan apart is a 3 year computer license, in contrast to the Premium plan's one year warranty. The Business Plan also includes phone customer support and an extended download warranty.
WhiteSmoke Prices, Plans and Value for Money
Unfortunately WhiteSmoke doesn't have any free plans, although it does often have discounts available, special offers or free trials, which are worth looking into to see if any are around at your time of purchase. Currently they are running a 50% off deal on all plans.
Ease of Use
WhiteSmoke, unlike most similar programs, cannot be downloaded via the website. You can purchase your plan through the website, after which you will be sent an email which contains a download link and activation code. To download, click the link. You will then see a user license agreement. Once you press "agree" the download will complete. After the download is completed, enter the activation code you received via email.
The program works very simply and has a system which is easy to understand. If you are using the desktop app, copy your text and paste it into the editor, then press the "Check Text" button to begin the process. The program uses a color-coding system to underline errors- red for spelling, green for grammar and blue for style. To proofread your text in a word processing app, select it and press the F2 key and the corrections will appear above the error. Click the correction to implement it or select the error for further options.
What People Say About WhiteSmoke
"Great grammar checker! After checking other alternatives, I found WhiteSmoke the most trustable writing correction tool."
"I found WhiteSmoke very good grammar checking software, it fixed all of my grammar and spelling mistakes."
"I have used WhiteSmoke for many years. It is a very effective program to check all your documents, including emails and online submissions before you send them. Before I used WS, I would later review something I sent, and would be embarrassed, of some typos or poor grammar usage. I have also recommended this program to many of my family and friends. All who have purchased it, have been very glad they did. I highly recommend you try it."

WhiteSmoke Visit Site
FAQs
Is WhiteSmoke free?
WhiteSmoke is not free, but their prices are below the industry average and they often offer discounts on their plans.
Which is better: WhiteSmoke or Grammarly?
It depends what you're looking for. WhiteSmoke is more affordable and has a translation feature, Grammarly is more practical for longer texts and its plagiarism feature is better.
How do I use WhiteSmoke?
Open the word processor you are using and select the text you want to check , then press the F2 key and corrections will appear above the error.
Bottom Line
Overall, although limited, WhiteSmoke holds up in comparison to industry giants such as Grammarly. It is also much more affordable. It has an easy to use and reliable grammar checker, and its translation feature is unique and definitely puts it ahead of the game. If you are looking for a reasonably priced alternative to other premium spell checkers, WhiteSmoke will definitely provide you with your money's worth.