In a Nutshell
ProWritingAid is a writing tool which edits your work as you write. It provides detailed reports on grammar, readability and more. It not only points out possible flaws in your writing, but also provides suggestions for corrections. In this way ProWritingAid doesn't only correct what you're currently writing but helps you improve your level of writing in the long run.
pros
Detailed writing reports with pointers on how to improve
Unlimited word-count
Integrates with Scrivener
cons
Can be slower than other grammar checkers
Needs an internet connection to use desktop app
ProWriting Aid Visit Site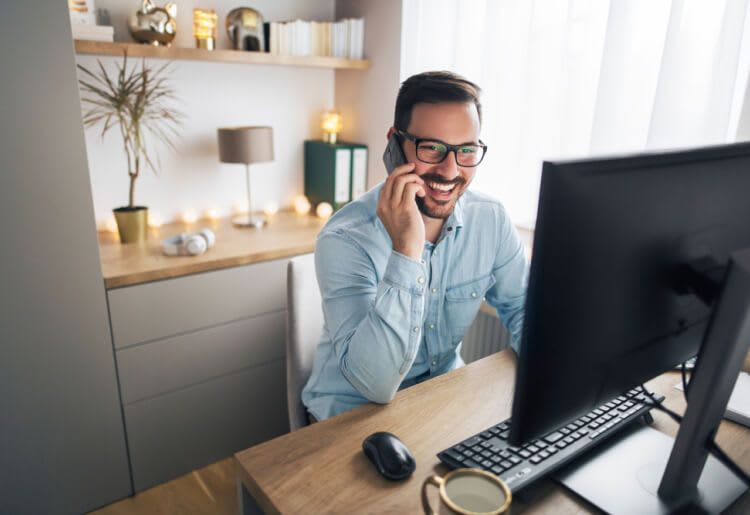 ProWritingAid at a Glance
Price: $20.00 per month
Free Version?: Yes, for Chrome only
Browser Extensions: Chrome, Safari, Firefox and MS Edge
Integrations: MS Outlook, MS Word, Scrivener, Open Office and Google Doc
Main Features: Grammar check, spell check, style improvements and detailed reports
ProWritingAid in Action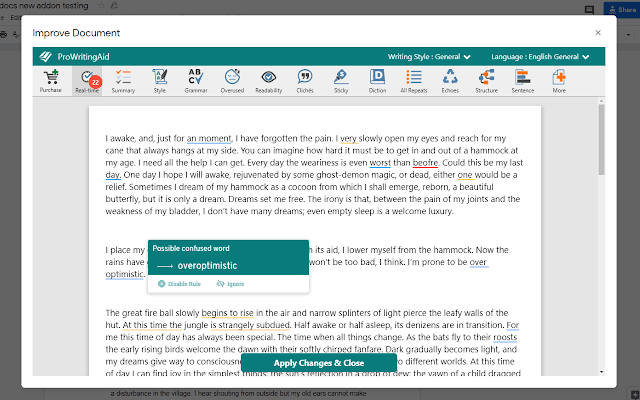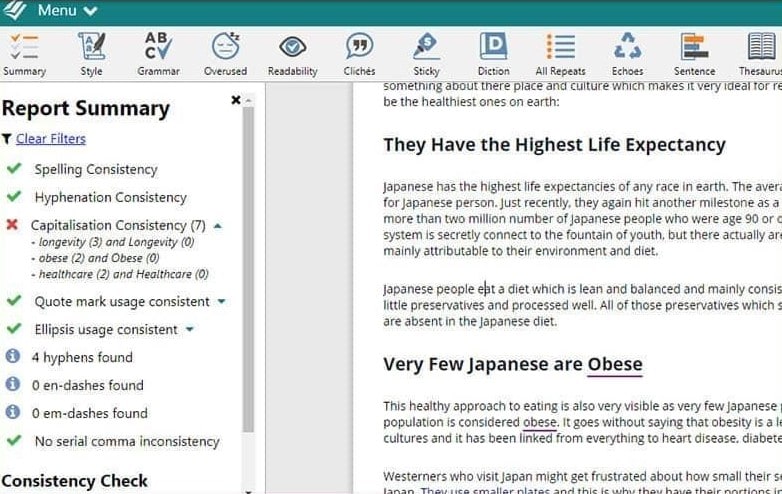 What Services and Features Does ProWritingAid Offer
ProWritingAid's biggest draw is its detailed user reports. With the Premium Plus plan you can get up to 25 of these. The reports cover many different issues including writing style, grammar, overused words, plagiarism and much more. The reports may come across as slightly preachy but you have the option of ignoring the suggestions if you prefer.
In addition to the reports it includes basic spelling and grammar checking as you type. The spelling and style checks can be customized to suit your writing style and requirements. Furthermore, ProWritingAid gives users access to visual data in the form of charts and graphs which analyze and breakdown the overall readability of your writing.
Browser Extensions and Integrations
ProWritingAid free can only be used on browsers and has a 500 word limit, which covers most emails and social media posts. Both Premium versions cover all the most popular browsers, including Chrome, Safari, Firefox and MS Edge. This means that you can use it to make sure anything you write online is accurate and readable.
The software integrates with MS Outlook, MS Word, Open Office and Scrivener, which makes it especially popular among indie fiction writers. It even covers Google Docs. You can use ProWritingAid with any of these programs without creating any formatting issues. The only downside is that ProWritingAid doesn't offer any mobile options.
ProWritingAid Prices, Plans and Value for Money
ProWritingAid offers a free version with a 500 word limit which is only available for Google Chrome. Although the free version is limited, the premium versions are quite reasonably priced. The premium versions range from an average price for the monthly subscription to an extremely affordable lifetime subscription. The Premium plan and the Premium Plus plans are extremely similar, although Premium Plus does include a plagiarism checker, and the difference in price is negligible.
ProWritingAid offers a money back guarantee for 14 days and offers week-long free trials of their premium services. In addition, it is extremely easy to find coupons for discounts online which can be used by entering the coupon code before paying. It also offers significant discounts on bulk purchases.
Ease of Use
The program is extremely easy to download as a desktop application, it can be done through the website by pressing the download button. After this you simply need to run the installer file and follow the instructions which will be given to you throughout the process. The website provides a simple guide on how to install and uninstall the software, as well as how to integrate it with other apps via an API.
ProWritingAid shows your errors as you type by underlining them, spelling in red, grammar in blue and style issues are underlined in yellow. Corrections can be shown by clicking on the error, and you are given the option of implementing the correction, ignoring the error, and, in the case of spelling mistakes, adding it to the dictionary.
In addition to these basic features there is a range of reports and critiques on style, grammar and the like, as well as a thesaurus which points out overused words and offers suggestions to use in their place. You can scroll through the suggested improvements and choose whether to accept or reject them.
What People Say About ProWritingAid
"ProWritingAid is my go-to writing coach and an essential tool for any writer – from beginning to bestseller. It integrates into my working day from emails to book drafts and I can't recommend it enough."
Mark Desvaux, Bestselling Author & Co-Host of The Bestseller Experiment Podcast
"ProWritingAid is an invaluable tool, especially for authors on a budget. I've seen huge improvement in the writers that use it and in my own books. Not only does the tool help you catch grammar and spelling errors, the reports really help improve your overall writing craft for a stronger piece of work. I recommend it all the time!"
Alexa Bigwarfe, Author, Editor and Publisher
"It's amazing. A literal AI editor. More than a simple grammar corrector. Made me revise many parts of my writing and it's impressively accurate."
ProWriting Aid Visit Site
FAQs
Is ProWritingAid free?
ProWritingAid has a limited free version and offers a free trial on premium services.
Is ProWritingAid better than Grammarly?
While Grammarly is more accurate, ProWritingAid manages dialogue and fragmented sentences more effectively, which makes it the better tool for fiction writers.
Is ProWritingAid safe?
Both the free and premium versions do not retain any text once the analysis is completed, which makes ProWritingAid an extremely secure tool to use.
Bottom Line
ProWritingAid is an excellent, if quite basic, text editing service. Its stand-out feature is definitely its detailed reports which can help users improve their writing style in the long run. It is reasonably priced and when compared to industry competition stands up as an accurate and helpful tool. Overall its particular accuracy with dialogue critique and customizable options make it an excellent choice of writing tool, particularly for writers of fiction.