In a Nutshell
Grammarly is a writing tool which checks your writing and lets you know if there are any spelling or grammar issues. In addition, it offers special features which can detect other linguistic elements such as tone and plagiarism, as well as analyzing and giving pointers on writing style. Grammarly can be used for emails, social media posts or any writing you want to have reviewed.
pros
Offers a selection of types of English, including US and British
Offers a keyboard option for mobile devices
Helpful for non-English speakers or new writers
cons
Higher priced than the industry average
Can't be used without an internet connection

Grammarly Visit Site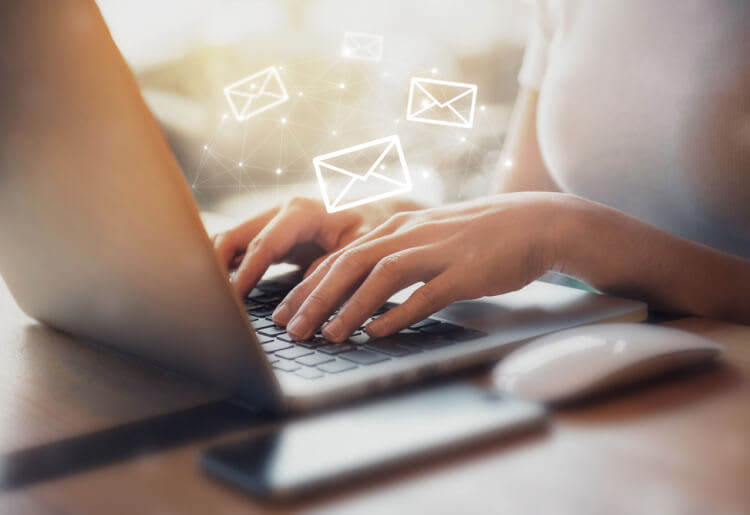 Grammarly at a Glance
Price: Premium starts at $11.66 per month while Business starts at $12.50 per member per month
Free Version?: Yes
Browser Extensions: Chrome, Safari, Firefox and Microsoft Edge
Integrations: Microsoft Word and Outlook
Main Features: Spell check, grammar, punctuation, readability, tone detector and plagiarism check
Grammarly in Action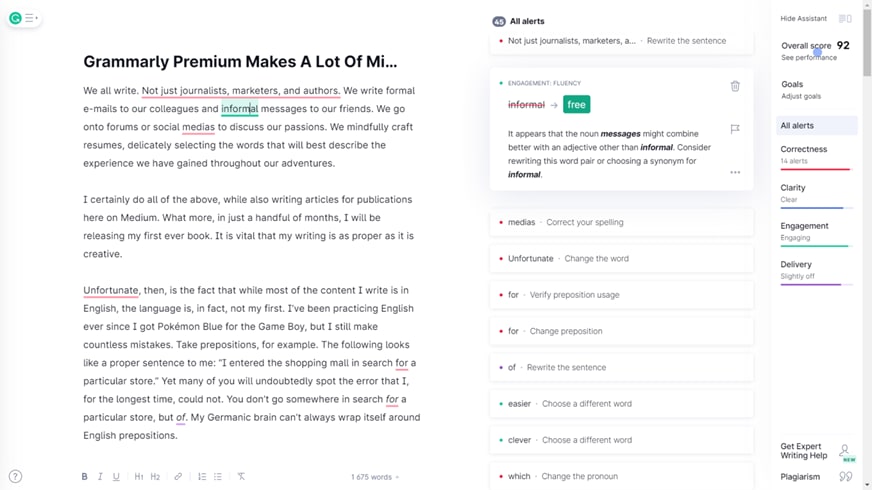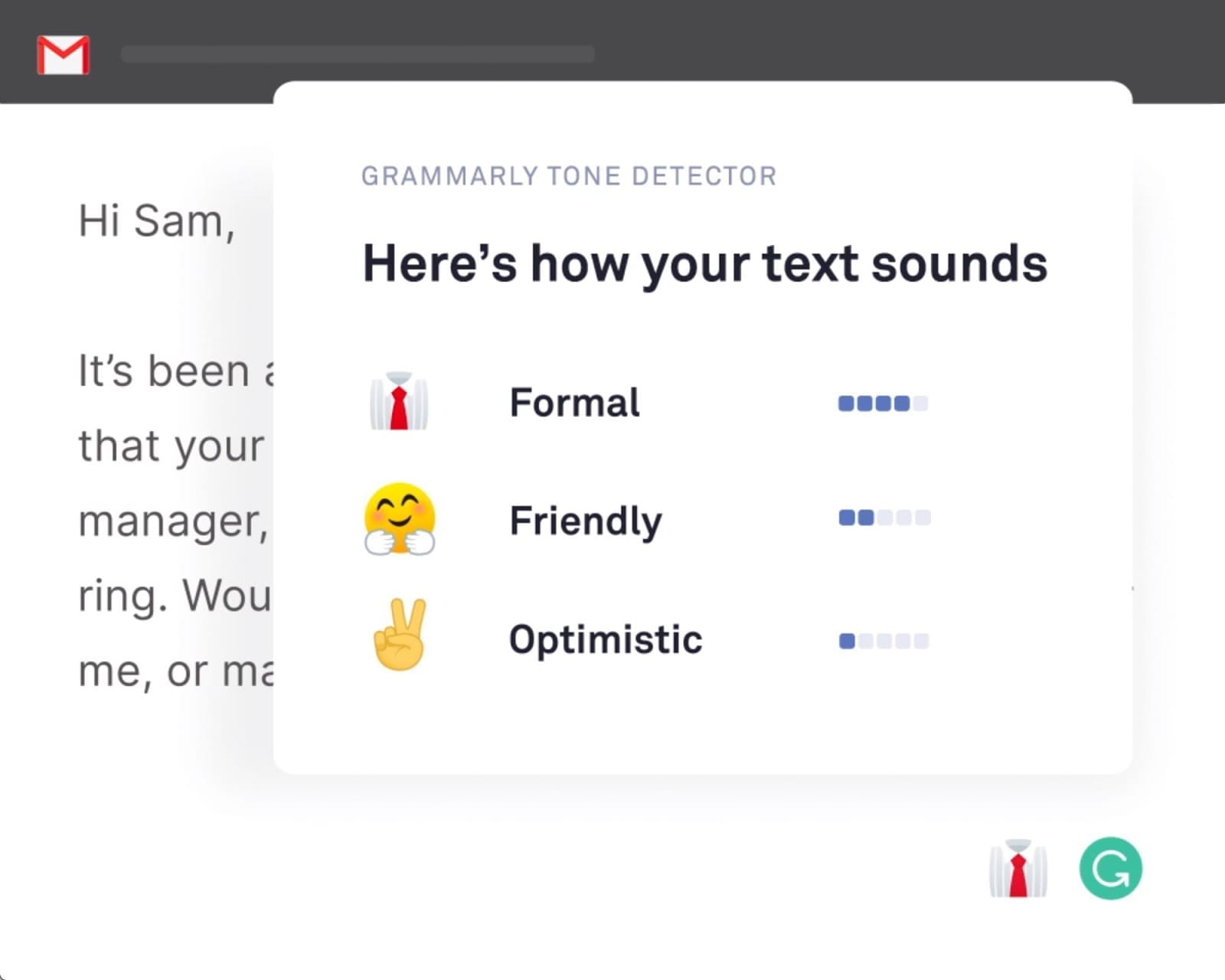 What Services and Features Does Grammarly Offer
Creating a Grammarly account is free, and once your account is created you have access to the Grammarly Editor, which can be found on the website and downloaded. The editor is a desktop app which can be used by copying and pasting your writing into the panel for grammar, spell checking and other general proofreading. Another option for using Grammarly includes selecting the import option, which will allow you to import a full MS Word document onto the site. You can even use Grammarly as a writing app, writing directly into the tool. Microsoft Office or Outlook users have the option of getting a plugin, which will point out your errors to you in real-time.
Grammarly can be used for a wide range of writing styles including articles, books, emails and academic papers. In particular, the tone checking feature takes away the uncertainty of typing an email and worrying about how it came across. Features vary between the plans, but the ones that stand out include checking for readability, tone, sentence variety and even plagiarism. The Business plan offers all the features included in the premium plan as well as specialized features designed to make it easier to monitor a team, e.g. an admin panel and team usage statistics.
Browser Extensions and Integrations
Grammarly offers a range of browser extensions which cover Google Chrome, Safari, Firefox and Microsoft Edge. In addition they provide the option of using a keyboard on mobile devices, which helps your social media posts become mistake-free and easy to input, no matter what device you're using.
Grammarly also integrates into Microsoft Word and Outlook, where it can correct your mistakes as you type. It has also recently updated its Google Doc support to include premium features in addition to the more basic ones. The tool works on both Windows and Mac systems.
Grammarly Prices, Plans and Value for Money
There are three options. There is the free plan which provides basic spelling, punctuation and grammar checking services. Then there is the Premium plan which adds fluency checks, readability, tone and plagiarism detection. Finally, there is the Business option which is specifically designed for companies who will use it for large groups of people and can accommodate teams of between 3 to 149 people.
The quarterly and annual plans are billed as a total made in one payment. The business plan is billed annually and is charged per month and per member. While Grammarly's prices are on the higher end for the industry, they often offer discounts and special offers.
$12.50 per month per member
Ease of Use
Grammarly is extremely straightforward to download from the website, and the Grammarly support tab provides detailed instructions on how to download it for each browser. It is designed to be used easily and even those who are less tech-savvy can get the hang of it within an hour. The simple interface and easy to understand instructions make navigating Grammarly a breeze. When errors are found they are underlined, and hovering over the underlined word will show options for implementing the corrections or offering an in-depth clarification of the error.
What People Say About Grammarly
"Grammarly is like a little superpower, especially when I need to be at 110%."
Jeanette Stock, Co-Founder of Venture Out
"Grammarly helped me catch some of my bad habits, recondition, and mature as a writer."
Alex Berger, Travel Writer & VirtualWayfarer
"Having something like Grammarly gives me independence, peace of mind, and the confidence to focus on my ideas."
Nicholas Barrett, Journalist

Grammarly Visit Site
FAQs
Is Grammarly good for academic writing?
Yes, Grammarly will check your writing for consistency in tone, spelling and grammar, and most importantly in academics-plagiarism.
Is Grammarly safe to use?
Yes, Grammarly ensures that they maintain privacy and encrypt any data that may be transferred when using their services.
Does Grammarly make mistakes?
While Grammarly does make a few mistakes every now and then, the amount of corrections it makes far outweighs the issues the mistakes may cause.
Bottom Line
Grammarly will give you the relief of not having to worry about potentially humiliating spelling and grammar mistakes again. The tone checking option relieves the anxiety of wondering if that email you sent your boss sounds right or not. Although an expensive option, Grammarly is reliable and its premium features make it worth the price. At the end of the day Grammarly is definitely worth the investment for anyone serious about their writing.