In a Nutshell
Ginger Software is a grammar app that works via your desktop, mobile device, or as a browser extension. This handy grammar app corrects your spelling and grammar mistakes as you type in social media channels, Gmail, Slack, and in other popular business tools. Ginger also features useful built-in writing tools like a sentence rephraser, text reader, predictive text, and more.
pros
Correct as you type
Enhanced writing tools: translations, definitions, synonyms, etc.
Create templates and save in favorites
cons
Cannot review footnotes, track changes
Doesn't work with Google Docs

Ginger Software Visit Site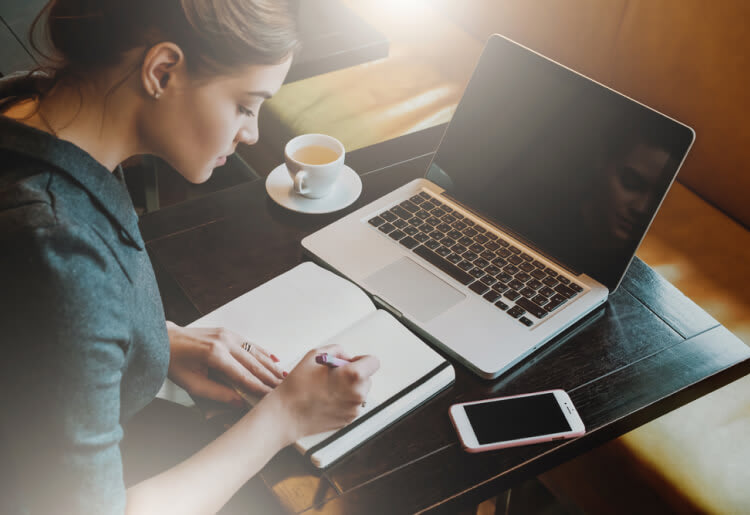 Ginger at a Glance
Price: Starts from $3.99 per month
Free Version?: Yes, with a weekly limit
Browser Extensions: Safari, Chrome, iOS, Android
Integrations: Slack, Gmail, Facebook, Twitter, LinkedIn, MS Word
Main Features: Correct as you type, thesaurus, sentence rephraser, translator, dictionary
Ginger in Action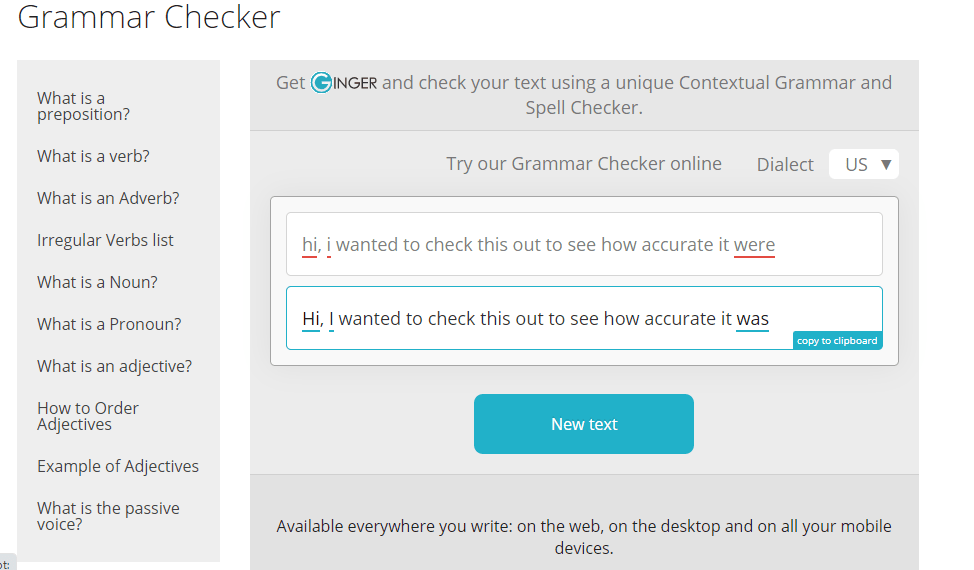 What Services and Features Does Ginger Offer?
Ginger is a refreshingly accurate online grammar checker. If you download the check writing software, Ginger will check your text as you type it. It will correct frequent grammatical errors, punctuation, sentence structure, and even style formatting. Ginger is good at catching misused words based on context, correcting subject-verb agreement, and other nitty-gritty grammatical issues.
You can use Ginger's grammar check tool without downloading anything, which is a real plus. Just type directly in the text box and click "Ginger it!" The software will correct any grammar, punctuation, and spelling mistakes it detects. Then, simply copy the text and paste it wherever you want.
Other writing tools Ginger offers include:
Dictionary – Get definitions for the words and phrases you're using on the spot.

Thesaurus – Find useful synonyms to say precisely what you want to say.

Translation – Automatically translate your text into more than 50 different languages.

Sentence rephraser – See several ways to rephrase your work for eloquent self-expression.

Text reader – Reads your work back to you so you can hear what your words sound like to others.

Personal trainer – One of the coolest writing tools out there, the personal trainer creates unique lessons based on your writing. The trainer helps refine your sentence structure and improve your writing skills.
Other useful tools Ginger offers include word prediction and customized themes.
Browser Extensions and Integrations
Ginger conveniently offers Chrome and Safari browser extensions. Once you install the extension, Ginger will correct any content you type in the browser window. It integrates seamlessly with Gmail, Facebook, LinkedIn, Twitter, Slack and MS Office, allowing you to type into any of these platforms and let Ginger do its thing. What's more, Ginger is available for PC, Mac, iOS, and Android.
Ginger Prices, Plans and Value for the Money
Ginger offers a freemium option so you can try out this grammar checker at no cost. The free version comes with very decent functionality including translations, definitions, and browser extensions. Upgrade to the premium plan to access more features with no text limits. Payment for the premium version can be spread out monthly, annually, or bi-annually as follows:
$4.99 per month ($59.88 total)
$3.99 per month ($95.76 total)
The premium plan provides a lot more bang for your buck. It gives you unlimited grammar checks, the sentence rephraser, text reader, and the trainer so you can improve your own mistakes. Ginger has a 7-day money-back guarantee for new members.
Ease of Use
We found Ginger simple to use. Clicking the big blue download button will install the grammar app onto your computer. To get the browser extension, just click "Add to Chrome - It's free," grant the app permission, and click install. The extension will automatically be added to your browser and will run whenever you're typing in a browser window. This is handy for content you type directly on websites like Facebook, Twitter, or LinkedIn. It also ensures that emails you send use proper punctuation, spelling, and context.
What People Say About Ginger
"It's the best English grammar and spell checker online to date - especially for online dispatches. I rate it A+++." - Jeffrey Lefaucheur, Feb. 15, 2020
"I've used two other well-known grammar programs over the past 2 years, but Ginger really stands out. Ginger finds more errors and lets you decide what to change. I'm a writer and I've written five books. I find that Ginger does a more complete job than others do." - Wayne Fox, Jan. 23, 2020
"Ginger edited my work perfectly and rephrased some of the sentences to provide a clearer understanding of the text." Alex Duomo, Dec. 10, 2019

Ginger Software Visit Site
FAQs
Do I have to register for an account with Ginger?
Yes. You can register via email, Facebook, or Google.
Can I install Ginger on multiple devices?
Yes. Download the software to any of your devices (PC, laptop, mobile) and log in.
Is the Ginger for Chrome extension free?
Yes. You don't even have to register to use the browser extension.
Bottom Line
Ginger is one of the best grammar checking software options on the market. It packs loads of functionality into a single service at a price that's affordable to boot. We loved the added features like translation, the sentence rephraser, and built-in dictionary. The text reader is another useful tool that helps refine written content. Ginger's freemium plan is good for those with small amounts of weekly content to check, and the premium plan is reasonably priced as well.