In a Nutshell
Linguix is a writing and editing tool which uses AI and machine learning technology to help users optimize their writing skills. In addition to a free version which includes a basic spelling and grammar check, Linguix also offers a premium option with tools such as templates and access to performance statistics, which allows users to ensure their writing reaches the right audience.
pros
Reasonably priced
Very fast
Access to a library of writing templates
cons
No mobile options and limited browser extensions
Unclear which programs it integrates with
No plagiarism checker

Linguix Visit Site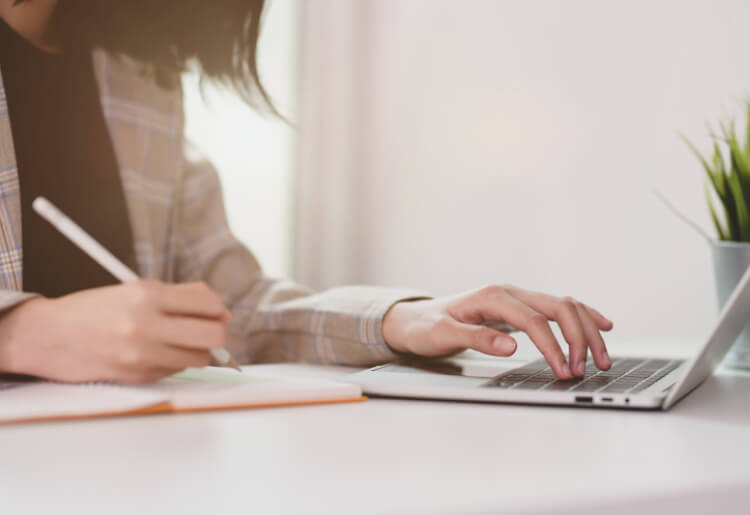 Linguix at a Glance
Price: Starts at $8.00 per month
Free Version?: Yes
Browser Extensions: Google Chrome, Mozilla Firefox, and Microsoft Edge
Integrations: Google Docs, Gmail, WordPress, Medium and more
Main Features: Grammar and spell check, personalized language learning, vocabulary enhancement suggestions, online handbook and content templates
Linguix in Action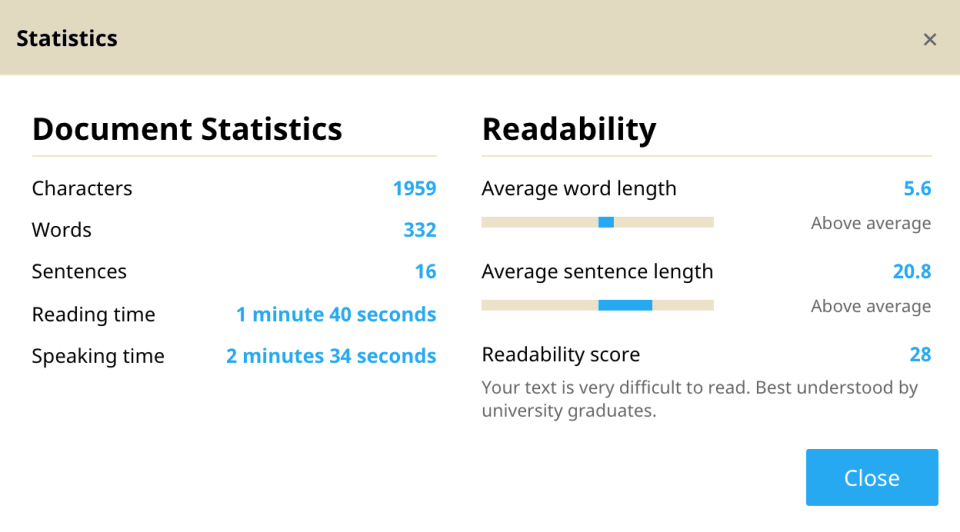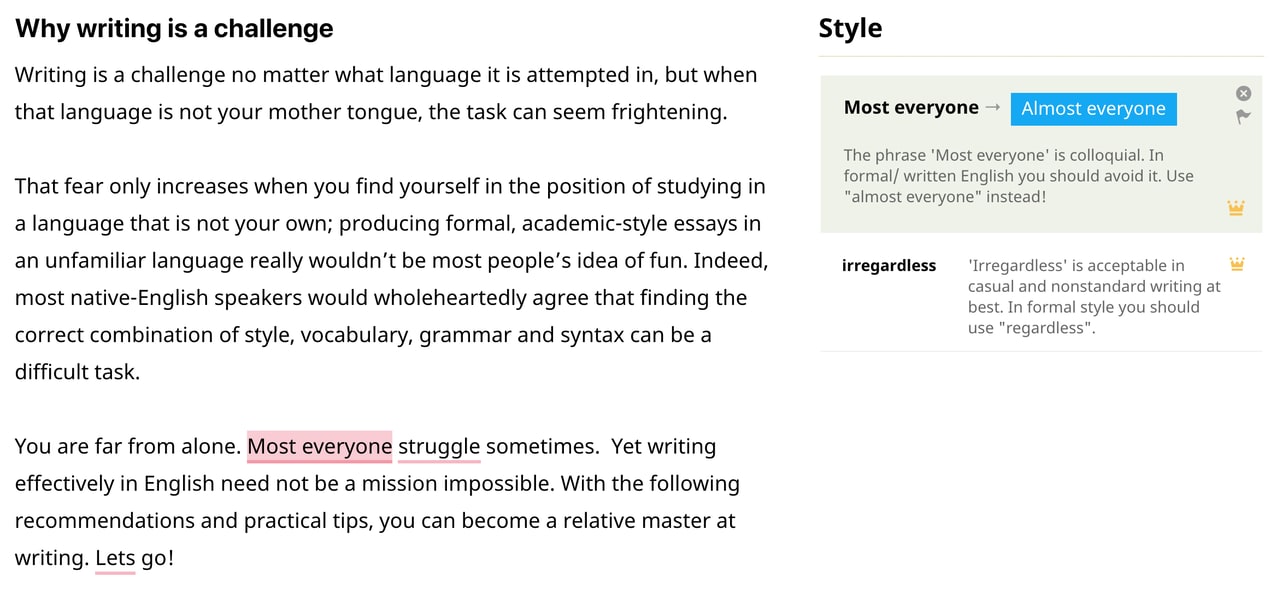 What Services and Features Does Linguix Offer
Linguix has a basic free version available which includes just a basic grammar and spell check feature. The Premium plan offers a much wider range. Its standout features include vocabulary enhancement, synonym suggestions and personalized language learning resources. The language learning resource is in the form of an online handbook, which provides users with writing advice, so they can take their writing to the next level.
Another prominent feature is the library of templates, with a selection of over 20 emails, essays, press releases and other content available to premium subscribers. This allows new writers to start out with guidelines which will assist their writing. Linguix also provides its users with detailed performance statistics on their articles, allowing writers the opportunity of knowing their audience.
Browser Extensions and Integrations
Linguix only offers extensions for a very limited list of browsers. Although only three are covered, they are the most commonly used ones. Chrome, Firefox and MS Edge are all covered by Linguix - this means that when using these browsers to post on social media, your posts will be checked for spelling, grammar and style errors. Very little information is available online about Linguix's integrations. However, I did find one source which claimed it could integrate with Google Docs, WordPress, Gmail, Medium, and even more.
Linguix Prices, Plans and Value for Money
Unfortunately, Linguix does not offer a free trial but it does provide a free version which is just an extremely basic spelling and grammar checker. The Premium plan offers a wide range of added features. The pricing is ranked by subscription length, with the cheapest per month being the annual subscription. This comes to $8.00 per month, saving over $130.00 per year. The quarterly subscription comes out to $12.00 a month, which saves you over $80.00 a year, and the monthly subscription costs $18.95. All of these options are cheaper than many comparable products such as Grammarly, but the annual subscription definitely offers the best value for money.
Ease of Use
You can upload documents onto your Linguix account and use the dashboard to edit them, or you can download a Linguix browser extension by just clicking on one of the download options via the website. With Linguix's browser extension you will be able to have it check your grammar in real time and suggest improvements as you type. You can use the templates and snippets to get a pre-made framework for emails, social media posts, essays and more.
Linguix's layout is clear and easy to understand, with errors being underlined and explanations and corrections shown by allowing the mouse to hover over the error. It doesn't just hand users options for correcting their errors, it also provides detailed explanations which allow users to understand their mistakes and improve their writing and English language skills.
What People Say About Linguix
"It's an awesome app for me as a business owner for constant communication with customers. Premium subscription fully pays for itself."
Stanislau Sakharchuk, Co-founder & CEO at AMS
"It is a very easy tool to use. It works effectively against typographical errors, my biggest problem as I write fast. In addition, it corrects grammatical errors and works as a Chrome extension resulting in something super convenient. Cons: I use it regularly and it seems a very complete tool, I have nothing negative to say."
Juan G., head of graphic design and photography agency
"I like the following: - great usability - price (it is much cheaper than Grammarly) - content templates library (useful when you do not know how to write a press release or smth [sic]) - secret mode (content is not stored) – they also have nice blog with grammar and content creation tips."
Alex Peterson, Smile Bright Media Inc

Linguix Visit Site
FAQs
Does Linguix have a free trial?
While Linguix does not offer a free trial of their Premium version they do have a version which is completely free.
How does Linguix pricing work?
Linguix premium charges by subscription, with a monthly subscription being the most expensive per month at $18.95, and the cheapest being the yearly subscription at $8.00 per month.
Does Linguix support languages other than English?
Unfortunately Linguix only supports English currently, although it does support all forms of English, including UK, New Zealand and more.
Bottom Line
Linguix's speed and overall quality is comparable to most writing tools in the industry. It offers unique and helpful features such as templates. The extensions it offers cover the more popular browsers, if only to a limited extent. The lack of information on app integrations is a downside, but there is always the option of sticking with the basic free version. Overall, despite the lack of information, Linguix Premium's special features and affordable prices make it definitely worth a try.