If you're looking to set up an online store, choosing the best Ecommerce platform is imperative. Two of the biggest names in Ecommerce website builders are Wix and Shopify, both of which are cutting edge platforms with good reputations for service. Which of these platforms can best help you set up and promote a successful online store? Like just about everything in life, it depends.
We tested out each of these platforms and we'll tell you how each measures up in a number of key categories. To cut to the chase, Wix gives you slightly better value for money and is more user-friendly for inexperienced retailers who are setting up relatively small online stores.
However, if you plan to build an Ecommerce empire, which requires more expertise and a bigger investment across multiple sales channels, then Shopify is probably the better choice for you. If you fall somewhere in the middle, or you want a deeper explanation of which platform offers which features, keep reading—we're really going to nerd out on Ecommerce platforms.
Store User Experience (UX)
Rather than start out with a discussion of how easy it is to set up a store, let's start by talking about the finished product: what your store will look like, and what your customers will see and interact with when they arrive at your online storefront: the user experience.
Why? Because a great many business owners opt to have a professional designer build their online stores for them, using either Shopify or Wix. Upon signup to both platforms, you'll be asked if you want to build your store by yourself, or with the help of an expert that they provide. Shopify experts start at about $500, but many range much higher, while Wix experts charge $1,000 and up.
These experts will help you with everything you need to start your store, from choosing a template, customizing it, adding products and helping configure payment methods, to teaching you to maintain your store on a daily basis thereafter.
For those of you who are already selling products at a physical location and want to get going online, this is a serious option to consider. However, those just starting out, who may have a smaller budget, can probably figure setup out on their own if they're willing to invest a little time. We'll get into what that entails a bit later.
Template aesthetics
Both Shopify and Wix work with templates, or themes, which are different pre-made website designs you choose and then customize for your own needs. The template you choose will go a long way in determining what your online store will look like. Both platforms have a modern and high-quality selection of templates to choose from, however, Wix has more variety, and all of its templates are free. Wix has hundreds of website templates, about 80 of which are specifically designed for online stores.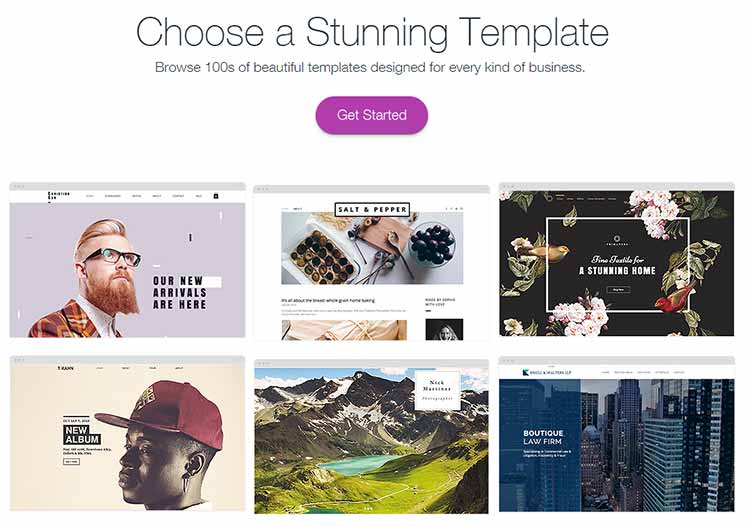 Shopify, on the other hand, has some 70 themes, but only 10 of them are free. For one of Shopify's 60 paid themes, you'll have to pay $180. Luckily both platforms let you see a preview of all of their templates, both the desktop and mobile versions, so you can browse what's available before making a choice. However, based on variety alone, Wix has the edge here.
Customization capabilities
A good-looking template is all well and good, but you're going to want to give your customers a more unique experience that fits your brand, and your brand only. And, you'll want to make sure that not only your homepage, but your product pages also showcase your merchandise in the right way. This is why the ability to customize your theme is so important.
With Wix's drag-and-drop editor, you can click on any element of your pages and change its color, font, position, or any other aspect of it. You can add sections freely, and crop and change photos as you see fit, as well as adding or taking away fields on your product pages. Wix has also added an extra level of customization that it formerly didn't offer: the ability to code in changes to site behavior. While Wix was started as a do-it-yourself platform for non-techies, they have recently launched Wix Code to answer the needs of those who want no limits on the changes they can make to their sites. This is relevant to you if you who want the option to pay a developer to build your Wix online store for you.
Shopify also allows you to customize templates, either through code or with its editor, however, the do-it-yourself editor does not quite give you the level of flexibility that you get with Wix. If you're hiring a developer to set up your store, then it's a wash, but if you don't know code, and you plan to use the DIY editor, Wix lets you customize a bit more freely.
Blogging features
Why are blog posts important for your online store? They help boost your store's SEO and they help increase customer engagement.
Both Wix and Shopify have blogging platforms built right into their left-side control panels, that are self-explanatory and relatively easy to use. But Wix's blogging platform has 2 features that Shopify lacks: 1) You can insert your own images, images you have uploaded, free stock images that Wix provides, or Shutterstock images that you can purchase; 2) You are prompted to maximize the blog posts' SEO potential directly from the page where you create the post. This pushes Wix over the top in this subcategory as well.
Multilingual capabilities
If part of your target audience speaks a language other than English, and you want your customers to be able to choose which language they wish to see from the navigation bar, then Wix is the better of the 2 options for you. Some Shopify themes have multiple languages available with automatic translation, which is great, but you can only have one active language on your site.
Wix Multilingual, on the other hand, creates another version of your main page for each language you choose—from a choice of some 80 languages—rather than a duplicate page. This makes updating changes to your site much more effective. Every design change you make will automatically be enacted on your other language pages, and you simply have to add the translation. You can put language selection on the navigation bar with the flag of your choice next to each language. Shopify has third-party paid apps that give you similar functionality, so it shouldn't be a deal-breaker if you prefer that platform's store capabilities and themes.
While Shopify's store UX is solid, Wix's variety of free templates, wide customization options, SEO-friendly blogging platform and built-in multilingual capabilities make it the clear winner in this category.
User experience winner: Wix

Wix Visit Wix
Store Setup
For those who want to set up their online stores themselves rather than hiring an expert to do so, the usability of the platform's editor is of the utmost importance. Both Wix and Shopify feature editors that are made to be friendly to those with no coding experience and limited technical knowledge.
Wix: When creating your Wix online store, you can opt to use the standard drag-and-drop editor, which lets you choose from dozens of templates that you can then customize. Or, you can use Wix's patented ADI system, which automatically generates a website for you after asking you just a few questions about your store and your style preferences.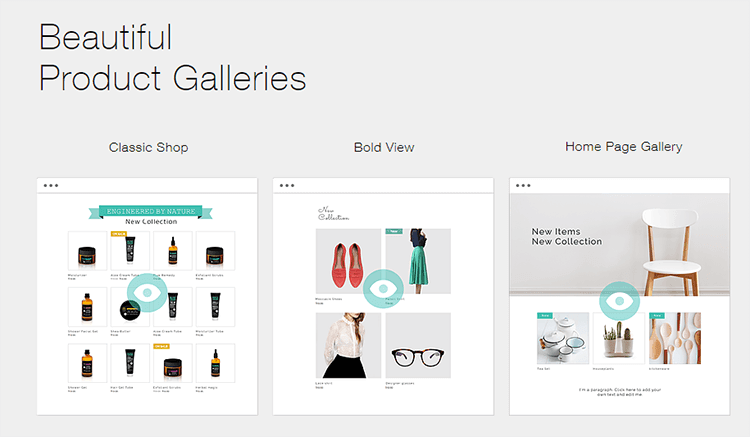 You can still customize your ADI-created page, or you can opt to choose a template, which gives you far more customization options. While ADI may be a great solution for some websites, an online store requires greater customization and you may be better off sticking with a template and customizing it yourself. This only affects the design of your site, while all other aspects of setting up your store, such as adding products and setting up a payment gateway, remain the same.
Wix's drag-and-drop editor fully embodies "what you see is what you get" simplicity. To edit any element of the page, you simply click on it and you'll get a pop-up edit box that lets you know what your options are. To change an image, for example, you click on it and are given the option to upload an image, use an image you've already uploaded, or use an image from a social account, Dropbox, Google Drive, Google Photos or Flickr. This can save you a lot of time when you have to upload many images for products. You also have access to a bank of free images from Wix, or Shutterstock images that you can pay for.
Changing text and background colors is similar, and every element you click to change includes a help button to walk you through it if you don't understand something.
Shopify: While Shopify's themes are customizable, you don't physically drag elements with your mouse like you would with a traditional drag-and-drop editor (like with Wix, for example). Instead, each element of the page is controllable from a panel on the right side of the page. There you can make adjustments to colors, fonts, centering, images, text and which product collections appear on a page. It's pretty easy to get the hang of, but it doesn't allow the same degree of flexibility that you get from Wix.
If you are selling physical products, than you will more than likely want to upload your own images to use on the site, but you can also easily access free stock photos from Shopify's partner Burst to use directly from the editor.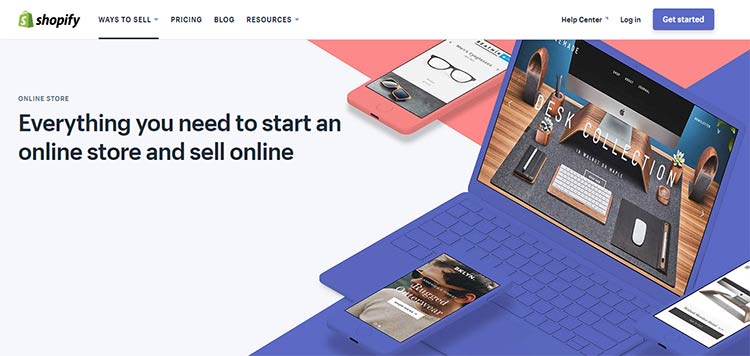 Like with Wix, you can toggle between desktop and mobile view to see how the changes you are making will look on both computer screens and cell phones.
You can also connect your social media accounts from the editor, and choose an image for your favicon.
You can customize the look of the checkout experience from the editor, which also includes a link to the admin checkout settings where you can determine if customers must have accounts to checkout, which information they must provide, and what automatic processing will occur on your end when an order is placed.
Both platforms' editors are pretty easy to use for the layman, but Wix's drag-and-drop functionality gives you a little more flexibility.
Store setup winner: Wix

Wix Visit Wix
Estore Capabilities
The ease and effectiveness with which you can manage the backend of your store is obviously a key factor to consider when choosing an Ecommerce platform. If you're a bigger, more complex operation, then you'll have different demands than a smaller retailer.
Inventory and order management
Adding products to your store is similarly simple on both Shopify and Wix, but Shopify excels at helping you manage your orders and inventory. This is particularly important for high-volume sellers with bigger stores.
On Shopify, adding a product entails giving an item a title, description, images, price, shipping and customs information, inventory data, such as SKU and barcode, and if there are variants of the product like different sizes or colors. You can also adjust SEO metadata and see a preview of how your item will appear in search engines.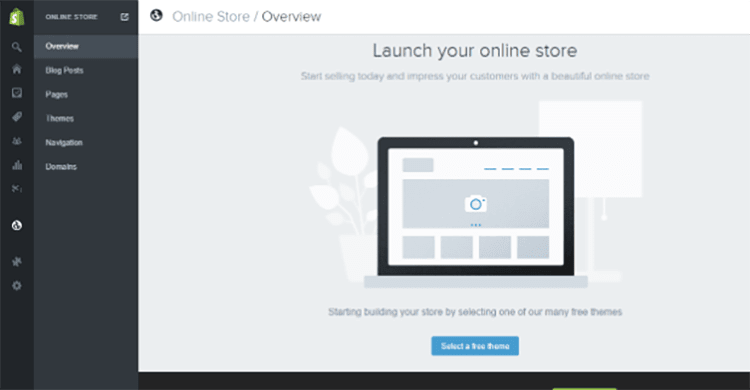 Shopify features an order section where you can manage orders placed from the checkout on your site and you can manually add in phone orders as well. You can also see abandoned checkouts to look for patterns as to when customers are leaving. This can help you optimize your site. You can also set up rules for when customers who have left their information, but not completed their checkout, get sent an automatic email. Of course you can also choose to send such follow-up emails manually.
You can also manage your store's inventory through Shopify, with the stock being updated automatically when a product is sold, and new inventory amounts updated when you get a shipment from a supplier. You can enter new products manually or import them via CSV file. The CSV option is good for bulk changes to inventory or if you are transferring your store from another platform to Shopify.
Much like Shopify, Wix makes it easy to add products to your store, either individually or in bulk, through a special CSV template. All of the elements you can add about a product are the same, although Wix does allow you to add sections for extra information, such as "return policy," or "care instructions." You can also add a custom text field for buyers to fill out, for instance, they could add text for what they would like engraved on a watch. In addition, Wix allows you to add either physical products or digital products, such as eBooks or digital albums.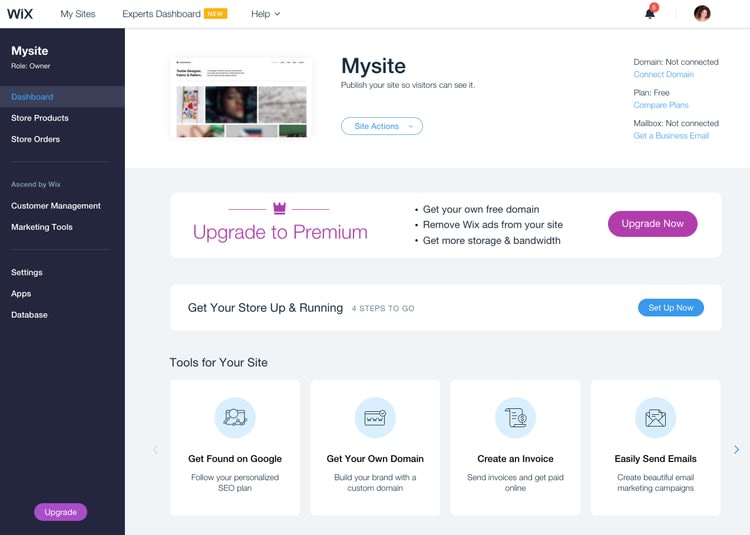 For businesses that aren't consumer-facing online stores, but something more akin to manufacturers, there are a couple of useful tools that Wix offers: price quotes and invoices. There is an easy to fill out form to create price quotes that you can send to customers, a chat function for discussing the quote with them, and the option to have quotes automatically turn into invoices if they are accepted. You can also create invoices separately and track them from the Wix invoice manager to see who owes you what and when.
Receiving payments
On Shopify, to receive payment for your goods you'll have to sign up with one of the long list of credit card and other types of payment providers that Shopify works with. There are both direct and external providers. Direct providers allow customers to complete the payment without leaving the site, while external providers require your customers to pay for their orders on the provider's website. The cost of these payment gateways are not included in your Shopify subscription price. You'll have to pay a monthly price, plus a small per-transaction fee for such a service.
Wix will automatically connect you with the most suitable credit card payment provider in your area, plus you can sign up with close to 20 other payment gateways. This isn't bad, but it's not as good a selection as Shopify offers. However, Wix does not charge transaction fees, whereas Shopify will charge you a 0.5%-2% fee.
Syncing with other Ecommerce channels
This is perhaps where Shopify enjoys its biggest advantage over Wix for sellers who are active on multiple platforms. You can link your Shopify store with your Amazon and eBay stores so that your inventory is synced for all your platforms. That means you won't accidentally double-sell an item on 2 different platforms. You can control your whole Ecommerce operation from Shopify. Wix does not offer this functionality. However, if you only wish to sell on your online store, then this wouldn't be an issue.
Shopify has the advantage in Estore capabilities, because of its advanced order management, such as abandoned cart recovery, its greater variety of payment gateway options, and its ability to sync all of your selling platforms. However, Wix has taken great strides in this area and isn't far behind, even offering perks like no transaction fees. For a smaller store that doesn't require advanced functionality, Wix provides a good solution.
Estore capabilities winner: Shopify

Shopify Visit Site
Data and Strategy
Building a great store and stocking it full of well-displayed products is just the beginning. You also want to make sure people are visiting your store and making purchases. This is where data and strategy come into play. Your platform must give you insights into how your store is performing, and give you tools to effectively promote it.
Marketing tools
You don't need experience running online marketing campaigns to promote your Shopify store because the platform's marketing tools guide you through the process. The wizard asks you what your objective is, be it a new product launch, an end of season sale, or even Black Friday, and it helps you create a campaign to reach this objective. It will help you set up Facebook Marketing and Google Shopping, and find customers relevant for your products. You will have to pay for your ad campaigns (they aren't included in the price of your Shopify account).
Wix's Store Manager app will give you a lot of the simple yet effective functionality that you get from Shopify. Chief among these useful tools is the marketing dashboard that is included in the Store Manager app. It includes a free email marketing wizard, an SEO wizard, a social post wizard, a promotional video wizard, automations and coupons. In addition, Wix's app store features a number of third-party apps that help you improve your marketing campaigns in areas where you want to focus.
Analytics
Shopify's analytics suite is easy-to-understand, yet it's also comprehensive. There's an overview dashboard that shows you graphs for data such as total sales, returning customer rate, average order value, top products, online store conversion rate, what traffic source, what country, what device type, and what campaign your customers are coming from. You can get more in-depth reports on any one of these KPIs if the wider view doesn't suffice. You don't have to be an analytics expert to understand the data. It's presented for the layman to understand what's selling well, where his traffic is coming from, and how the various marketing campaigns are working. You can also see live data for any given moment, which we can tell you from experience, is so much fun that it becomes addictive.
Wix doesn't have a built-in analytics suite like Shopify, but you can install Google Analytics on your Wix store. This will give access to similar data as Shopify, although in not quite as user-friendly a fashion. However, by installing a third party analytics app from Wix's app store, you can get all the stats you need in an easy-to-use format.
SEO
Wix features an SEO wizard that is designed to help the layman get good Google search results quickly. It walks you through picking keywords and gives you a personalized SEO plan for your website. All you have to do is answer the wizard's questions about your business and it will move you along the path to better Google rankings.
Shopify allows you to enter in metadata when adding new products to your store, so if you are already knowledgeable in SEO, it will get the job done, but it doesn't match Wix's comprehensive and simple SEO tools.
It's pretty hard to pick a winner between these 2 platforms in the data and strategy category. They both give good solutions for launching your marketing campaigns, Shopify has better analytics, and Wix takes the prize for SEO. All-in-all Wix and Shopify are dead even in this category.
Data and strategy winner: Tie

Wix Visit Wix
Customer Service
Shopify offers 24/7 customer service by email, live chat and phone. It also features an extensive help center with step-by-step instructions of how to carry out various functions on your store.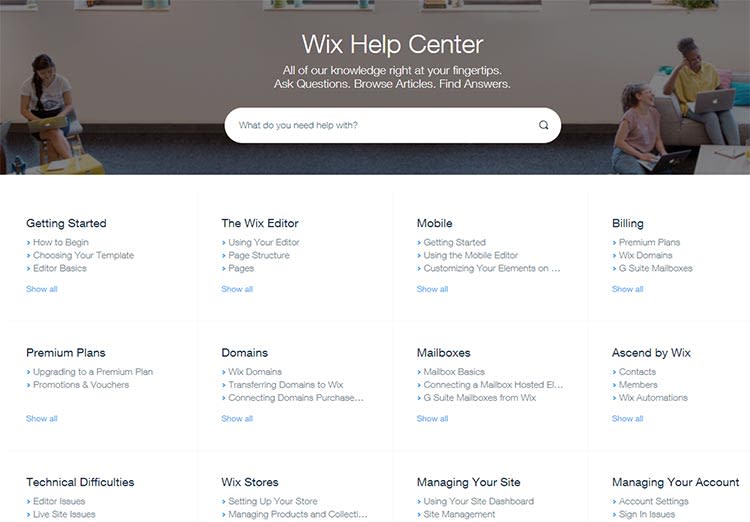 Wix also has great tools to help you set up and operate your store, that you can access directly from the screen where you're trying to carry out an action, or from the help center. For person-to-person customer support, Wix lets you submit a ticket or request a callback. Callbacks generally come within 5 minutes during business hours: 5am to 5pm PT. If you opt for one of Wix's 2 upper tier Ecommerce plans, you get VIP support.
Wix's help tools are a bit more accessible and easy to find, but Shopify offers 24/7 availability if you need to person-to-person service.
Winner: Tie
Value for Money
If you're starting a small online store, then the minimum amount you'll have to pay monthly for Shopify is $29. Wix's bottom tier plan is about half as much, and it should suffice if you're just getting started.
*Prices are per month
If you want advanced features, like the ability to sell gift cards, then Shopify will cost you at least $79 per month, which is significantly more expensive than Wix's top tier plan, which is just $39.91 and includes full Ecommerce functionality plus unlimited email campaigns, a review of your site by a Wix SEO expert, a professional store review by a Wix expert that can help you optimize sales, and VIP support.
The monthly subscription amounts might not tell the full story, because Shopify does include some features that you may have to get on Wix through a third-party paid app, but still Wix is the better value for most small businesses that wish to sell online.
For bigger stores that wish to sell across multiple platforms, the higher price of Shopify may be worth the extra cost.
Value for money winner: Wix

Wix Visit Wix
Overall Winner: Wix
Wix wins the majority of the category comparisons in this battle of Ecommerce giants due to its great looking stores, easy-to-use editor, highly customizable templates, and its excellent value for money. However, for bigger Ecommerce businesses, Shopify offers some functionality that Wix can't give you. It will cost you much more, but some may deem the benefits worth the extra cost.