In a Nutshell
GoDaddy is best known for its hosting services, but it has broken into the Ecommerce industry as well with its GoCentral Online Store. It's easy to launch your online store, there are zero transaction fees and over 1,5000 design combinations to choose.
pros
Easy-to-use platform
Wide range of selling options
cons
Limited customization options
No integration with GoDaddy site builder
GoDaddy Visit Site
Features
While there are many different features and tools included with the GoCentral Online Store, it basically all boils down to choosing your design, adding and organizing your products and then starting to sell.

The first step to using this easy shopping cart is deciding on your design. There are over 1,500 design and color combinations to pick from, including 14 category page styles and 11 product detail pages. Play around until you find the perfect matches for the layout of your site. You can even add your own logo and other images and even navigation elements.
Adding products should be done carefully. You have the option to specify category and subcategories along with other product details like description, SKU numbers, pricing and much more. You can also create featured products, sale prices, coupons and even up-sells and cross-sells. Establish your shipping, tax and payment options and you are good to go.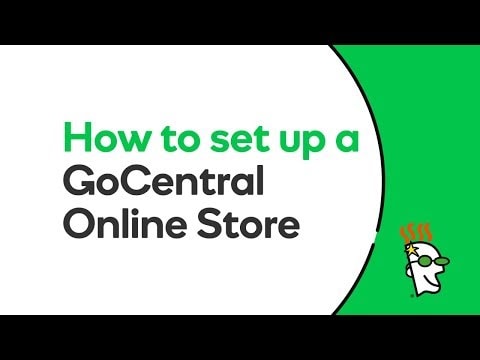 You will have the option to preview your store before publishing and going live. Once you are satisfied, you will also have a number of back office tools to help. There are a ton of reports that enable you to view and track orders, revenue and even the performance of your site. The ability to accept credit cards is already integrated through PayPal Express Checkout. There is also an easy to use customer checkout (and also registration).
In short, everything is here to make it easy for both you as an Ecommerce store owner and your customers.
Value
One of the things to remember when comparing the value of any type of Ecommerce provider is to always consider the transaction fees which are charged. In the case of GoDaddy, there are no transaction fees, nor are there any setup fees. Each plan also comes with free hosting along with a 99.9% network uptime guarantee. As an added bonus, you can also add your products to eBay and Google Products searches, which helps potential customers find your items much more easily.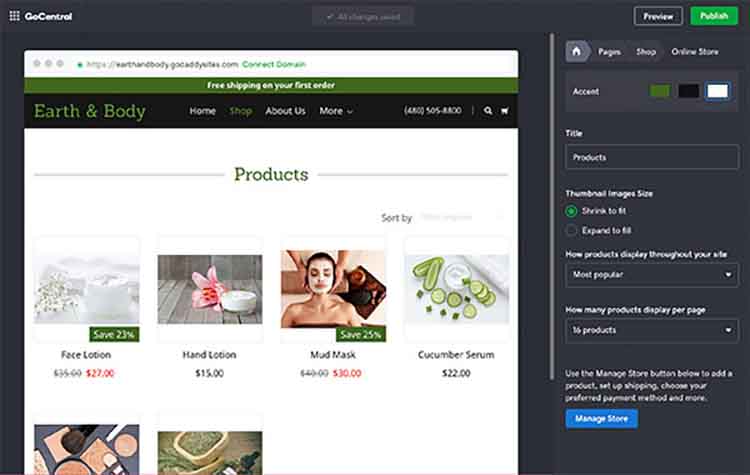 This service also includes a number of additional free credits, including advertising credits good for Google and Bing / Yahoo search networks. This is another big help in getting customers to find your site more easily. There are also Facebook advertising and Fotolia credits for anyone who opens an account.
There is also a service called Site Scanner available, which is a top of the line security product. It scans your site regularly and notifies you of any potential weaknesses that hackers might be able to exploit, then gives suggestions on how to fix them.
Safety Options
One of the best safety measures with GoDaddy is that since you are able to integrate with PayPal, you will basically be taking orders through its network. This gives you the benefit of a world recognized and trusted brand that stands behind your Ecommerce store.
Another excellent security feature is the Secure Socket Layer (SSL), an encryption method that ensures that private information sent through your site cannot be accessed by unauthorized visitors or hackers. It is one of the most secure methods available today. Additionally, all customer credit card purchases are transmitted using this encrypted data. This makes it almost impossible to hack. All credit card orders also use the PCI DSS system which Visa and Mastercard recommend in order to ensure totally safe ordering.
The servers used by GoDaddy are themselves state of the art. They are physically located and held in very secure data centers that are protected from any intrusion. The company itself also goes to great pains to ensure that regular backups and restores are performed. This means that all of your site information is held and never lost or destroyed.
GoDaddy Visit Site
Customer Support
Sales and support staff are available 24/7 and can be reached through a number of methods. You can call over the phone, which usually has a very short wait period. If you prefer, send an email. The response will normally take just a few hours and it will be handled by a knowledgeable and friendly staff member. There is even a Quick Shopping Cart group that provides support and help.

Conclusion
With GoDaddy you can launch an online store in just a few steps, for free. There is a very flexible store setup and you can add up to 1,500 products, with 10 images per product. This helps you promote your store and makes buying easier for your customers. Plus, there are a variety of payment options available for customers, ranging from PayPal to Apple Pay and Square. Get started today with your free trial by creating an account or linking your Facebook profile.