In a Nutshell
Square Online is an Ecommerce platform. It comes with no monthly fees and takes a low commision on sales of just 2.9% plus $0.30 per transaction. Online stores built through the platform are only available for customers based in the US, Canada, UK or Australia. But for merchants living in those countries, Square is an affordable and reliable provider.
pros
Low commission structure
Supports syncing with internal inventory-tracking systems
Online store only supports domestic ordering
cons
Online documentation could be a lot more extensive
Loading times can be slow depending on inventory

Square Visit Site
Ideal for
Square Online is a great choice for US and Canada-based online merchants that want an easy to configure platform but who don't ship internationally.
Why Go With Square Online
Square Online has some advantages over other Ecommerce providers. These include:
Its cost structure, which is based upon a small commission and fixed fee

The fact that it can seamlessly integrate with an externally managed inventory management system
Features
Easy Inventory Management
With Square, it's easy to quickly add items to the store catalog. Users simply need to input the item name, assign it to a category, add a product image, and assign it a price. They can also configure low stock alerts and assign a Stock Keeping Unit (SKU).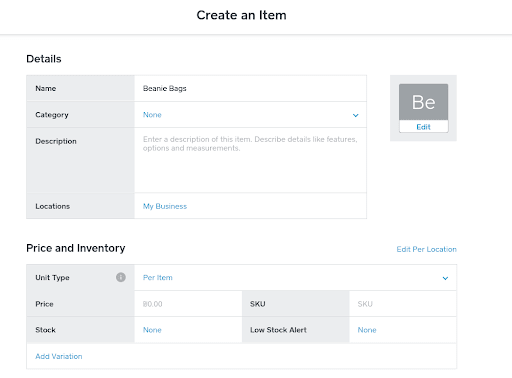 Discount Code Creator
If you want to incentivize your marketing contacts by offering them a promotional code, then Square makes it easy to do so. Shop owners can either create percentage-based discounts or fixed-priced discounts.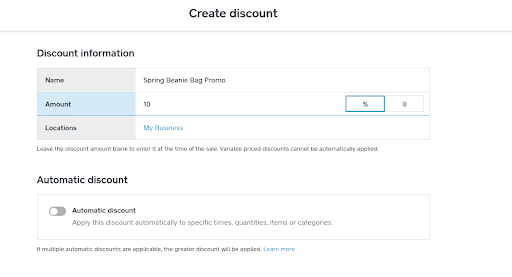 POS Hardware
Square Online also sells a range of Point of Sale (POS) hardware devices. These can either be purchased upfront or bought over a payment plan. These can be up to 12 months in duration. Store owners that are satisfied with the online selling experience and who want to also sell retail can deal with the same company for all their needs. Additionally, Square POS hardware integrates seamlessly with stores built on Square Online. The Transactions dashboard can display a hybrid view of purchases conducted directly online and in a bricks and mortar institution.
Online Store Builder
If you're based in the US, Canada, UK or Australia then Square Online also includes everything you need to build and deploy an online Ecommerce site. Since Square acquired Weebly, it has integrated all of that tool's online features to create pixel perfect store environments with just a few clicks.

Square Visit Site
Customization
Square Online lets users customize many details of their online stores.
For instance, users are able to apply their preferred color scheme for their digital receipts and invoices.
Additionally, users can add custom logos and locations to their automatically generated documentation as well as text annotations about return programs.
Finally, users are able to add contact information, including their store's website and social media accounts, to all receipts and invoices produced through the system.
For those that want to take things further and pull out customized reports based on activity in the online store, Square Online also integrates with a number of analytics platforms such as IFTTT. For those managing large inventories, the tool also integrates with Shopventory, Stitch Labs, and DEAR Systems.
Using these tools, stores can freshen and customize their displayed inventory without having to manage everything directly through the Square Online backend.
Of course, merchants are also able to edit the appearance of their online stores themselves. This can be achieved by selecting from one of the themes on offer and altering header image sizes.
Payment Processing
As well as offering an Ecommerce online store builder, Square Online is also a payments processing gateway. This works with all major credit cards—so merchants can take these directly via their Square websites.
Additionally, Square Online offers a Payments API, which can be used to integrate with third party systems
SEO Tools
Square Online doesn't include out-of-the-box SEO features. However, it encourages store owners to optimize their pages to make them as visible as possible for search engines.
Secure Hosting
Square Online takes care of everything that is required to get the store on the internet—including hosting. Merchants receive a free SSL certificate so that they can verify to customers that connections to the store are encrypted—as well as their payment details when they send them.
Users get up to 500 MB of space included, so it's really best suited to online retailers with a modest online inventory.
If users do not have a domain name to use with the tool, they can opt to have the domain hosted on a subdomain of square.site for free. In order to make this work, users should have a basic knowledge of how to set up and configure DNS records.
Customer Support Services
The Square Support Center is the one stop shop for support for all Square products, including Square Online.
Community forums, an extensive collection of FAQs and tutorials, and videos are all available to answer any questions Square clients might have. Square has built a well rounded online support center to cover all their customers needs.
Customers can also get support by opening a support ticket. The average estimated waiting time is in the region of 24-48 hours.

Square Visit Site
Bottom Line
Square Online is a great platform for online sellers that are based in the US, Canada, UK or Australia. For those selling internationally, this mightn't be the best fit on the market. Since Square acquired Weebly it has been able to integrate its drag-and-drop functionalities into the builder, allowing users to easily create pixel perfect product listings. Additionally, users can integrate third party inventory management tools with the product, although it's not the ideal Ecommerce platform for large international merchants. The one downside is its support documentation, which is currently quite limited.
About the Company
Led by CEO Jack Dorsey, Square's mission is to simplify access to Ecommerce. The company now has more than 3,000 global employees and is headquartered in San Francisco, California.