In a Nutshell
Squarespace's all-in-one platform empowers people with creative ideas to build an online store and optimize it with best-in-class marketing tools and analytics.
pros
No transaction fees
24/7 support
SSL security included
cons
Can be a bit pricey
Chat support only on weekdays

Squarespace Visit Site
Squarespace Commerce is the most recent addition to the unique Squarespace platform. It's a toolkit of features that allows you to turn your site into an Ecommerce store and sell items online. You can accept secure payments by way of Apple Pay, Stripe, and PayPal, create sales promotions and easily manage your products, SEO, inventory, and marketing. The platform allows you to sell unlimited products—with no transaction fees when you sign up for the commerce tier plans—and sell them through Instagram, and helps you create discounts and gift cards for customers. These are only a few of the many features for Squarespace, which also provide 24/7, award-winning customer service. It's easy to use Squarespace and can have even the smallest business running an online store in no time.
Ideal for
Businesses of any size that want to create an online store and also be able to track their sales and inventory, as well as take advantage of marketing tools like coupons, which can increase customer outreach and boost word-of-mouth for your company. Users don't need to have any prior experience in web design or running an Ecommerce site.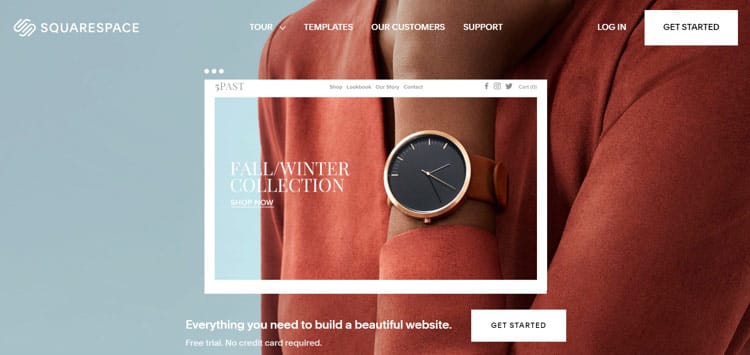 Why Go With Squarespace Commerce
Squarespace Commerce is easy to use and doesn't require any special know-how to set up an online store. The company doesn't charge any transaction fees and doesn't put a limit on how many items you can sell. It also integrates with a large number of Ecommerce programs, as well as social media accounts and helps you run customer outreach and loyalty programs, and everything is defended by SSL security. Also, the company's award-winning customer support representatives are available 24/7 to help you.
Features
Powerful Ecommerce metrics
Abandoned cart autorecovery
Label printing available
Mobile-optimized website
Order APIs (for advanced users)
Social media integration
Analytics data
Email campaigns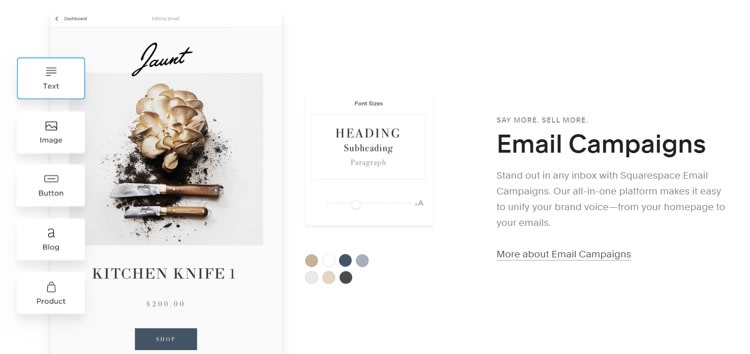 Customization
Squarespace's customizable website layouts allow you to easily drag & drop images onto your site, and move, add, or delete sections of a page. Further customize with specific settings including fonts, colors, and page configurations.
On Squarespace Commerce you can easily customize your site's checkout page. You can add a custom product form as well as a custom checkout form which customers can use to fill out when and where they want to receive their order. You can work in a referral survey for customers at checkout, and a spot where customers can fill out messages which can be included in their purchases—ideal for customers who are purchasing gifts. In addition, you can add a spot where customers can agree to subscribe to a newsletter or your company's email campaigns. All of these features help you build an online store with a more welcoming and engaging experience that can help increase your chances of success.
Beyond checkout, there is a wide range of Ecommerce programs that can integrate with Squarespace, and it's up to you which you decide to incorporate into your site. You can also manage your payment options, including Apple Pay, PayPal, and other options. You can also decide how much you want to integrate your site with your social media accounts. This includes synching your products with Facebook's product catalog, or tagging them in your Instagram posts.
Payment Processing
Squarespace makes closing sales easier with it's single-page, mobile-optimized checkout, which features abandoned checkout recovery, and flexible payment options.
You can connect PayPal, Stripe, or Apple Pay to your Squarespace Commerce site to take payment after simply setting them up in the payment settings section of the site. You must be based in a country where these platforms are supported, and you will be required to pay their processing fees.
SEO Tools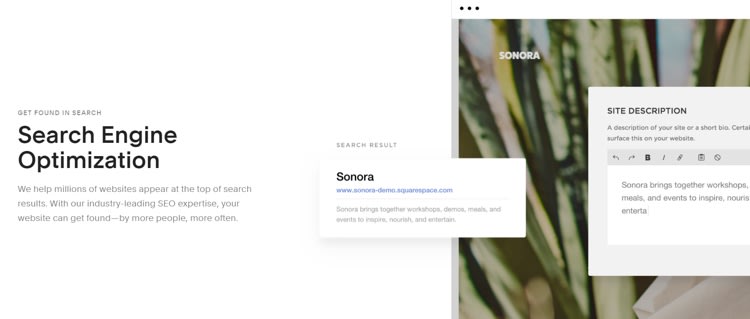 Squarespace builds SEO directly into every site. Squarespace automatically creates a sitemap for every website, which is good for Google rankings. The site's pages have clean HTML and URLs and use automatic tagging and redirects. You might not know what these terms mean (you're not alone there), but they can definitely help with your search engine rankings. This is no small thing—your position on search engines can have a big impact on your sales and in how many people see and engage with your website.
You can also have your products come up in Google search results with the name, image, description, price range, availability, and URL. In addition, Squarespace comes with automatic mobile optimization.
What does it cost?
Personal and Business package prices
Ecommerce prices
All packages offer a free domain and 24/7 customer support.
Some competitors' packages do have lower prices than Squarespace, but at only $18/month, the business package gives you a wealth of features that competitors don't have for that low a price, including unlimited storage and contributors, customer accounts, shopping on Instagram, and checkout on your domain, just to name a few.
Customer Support Services
Squarespace provides 24/7 online support via email and Twitter and has live chat with real live customer service representatives on weekdays between 4am and 8pm Eastern Standard Time. The company does not provide a phone number for customer service.
Squarespace has won multiple "Stevie Awards" (also known as the American Business Awards) for its customer support, including the Gold Stevie in 2013 for Customer Service Department of the Year, in addition to Silver and Bronze Stevie Awards for its customer service department. The company also has an extensive online knowledge base where you should be able to find answers to most questions.

Squarespace Visit Site
Review in Short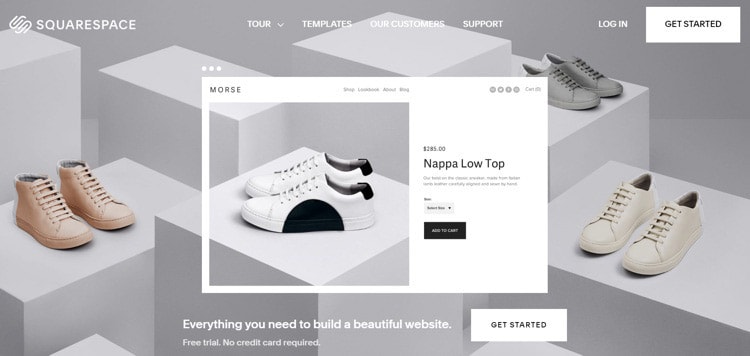 Squarespace has earned an industry-wide reputation for quality in web hosting and the Squarespace Commerce package has the infrastructure to help Ecommerce stores succeed. The Squarespace Commerce package includes features for customers to make secure, easy, and quick purchases online. It's a good platform for featuring your products, it integrates easily with social media and Ecommerce programs, and is highly customizable and secure.
About
Squarespace was founded in 2003 in a dorm room at the University of Maryland. It has helped create millions of websites, has received a string of awards, and has offices in New York City, Portland, and Dublin.