In a Nutshell
Wix provides small business owners with plenty of valuable site building tools and services in order to create an online store. More specifically, it provides retails with a variety of template options, SEO strategies and payment options.
pros
500+ professional templates
200+ apps for your site
cons
Not ideal for complex Ecommerce
Free service includes ads

Wix Visit Site
Pricing and Plans
Wix has Ecommerce plans that start at $23.00/month. This plan comes with built in SEO tools, and even a suite of APIs that give you complete control of your online store. Considering the perks this plan comes with, it's no surprise that Wix eCommerce has become one of the most ground-breaking Ecommerce builders on the market.
*Prices last updated January 2021
Customization
In the Ecommerce world, appearances matter. When it comes to building an Ecommerce site, one of the biggest issues that retailers have is creating a website that manages to look professional without breaking the bank. Having a sleek, polished storefront can be that little extra push that turns that potential customer into a paying one.
If you're a first-time retailer, you probably don't have much coding/website design experience. Fortunately for you, Wix eCommerce basically allows you the freedom to be as complex with your storefront design as you like. If you're ready to start selling products today, Wix eCommerce has more than 500 templates to choose from.
Now, if you're interested in building a truly unique storefront, you'll have access to Wix eCommerce's innovative drag-and-drop feature, which gives you near unlimited freedom when it comes to building your site from scratch.
Again, this site builder is ideal for retailers looking to keep things simple. If you're interested in editing the HTML or CSS code of your site, you'll have to go somewhere else. Still, if you're looking to build a good-looking storefront quickly, Wix eCommerce is definitely worth checking out.
Payment Integration
Let's face it: running a business is far from easy. Running a 24/7, international business like an Ecommerce store? Well, that can be a downright nightmare if you don't have the right tools at your disposal.
One of the most effective tools in your arsenal is the simplification of transactions. Considering how hard it actually is to get a potential customer to convert, it's in your best interest to make the transaction process as smooth as possible.
How does Wix eCommerce do when it comes to handling payment integration? From a processing perspective, they do a respectable job. With the 7 most popular payment options covered, 90% of your customers won't be inconvenienced.
Are there other Ecommerce builders with more payment processors? Absolutely, but keep in mind that Wix eCommerce goes far beyond just giving you dozens of transaction options. In addition to the standard payment processors, Wix lets you add Afterpay, ClearPay, and LayBuy, which give your customers the option to make purchases now and pay later in installments.
Other fun options that can help you maximize your sales include gift cards and subscription services. Through the Gifted app, customers can purchase gift cards for your site to give others, and with a subscription service you can include recurring products, curated boxes, and subscription packages on your storefront.
Payment integration is about more than just checkout processing. At the end of the day, it's about making the entire transaction process as painless for you as it is for your customers. For example, Wix eCommerce provides you with automated customer email notifications and order fulfillment tools. Instead of having to send out a purchase confirmation yourself, Wix eCommerce instantly handles it. And by connecting your Wix page to Shippo or Shipstation, you can streamline the shipping process with pre-printed shipping labels, advanced tracking tools, and pre-negotiated shipping rates through carriers such as UPS and FedEx. When those orders do go out, your Wix page can automatically update your inventory so it's easier to stay on top of stock levels.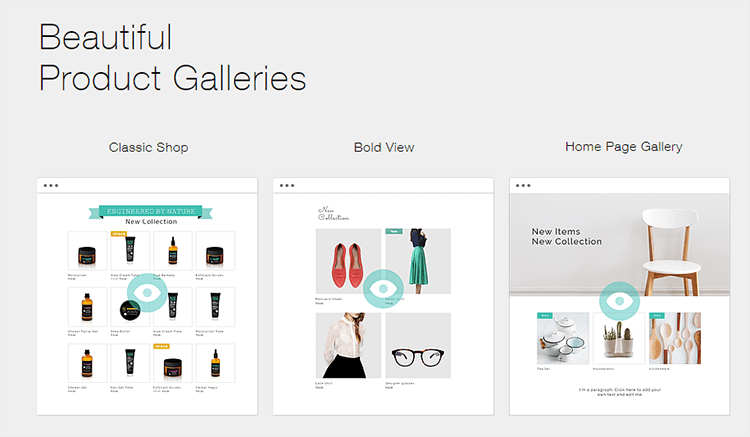 As if that wasn't enough, Wix eCommerce offers you a free mobile-friendly storefront (crucial for getting recognized by Google's search algorithm) with no ads. Through a combination of different services, Wix eCommerce has managed to create a layered integration system that gives you more time to focus on what really matters.
SEO Tools
If Google doesn't know who you are, no one does. For better or worse, we live in a world where being on the second page of Google's results can have a pretty negative effect on your revenue.
Even with the constant changes in the digital marketing landscape, SEO remains a vital part of digital marketing and Ecommerce as a whole. So, how can you tap into the power of SEO? By working with a site builder that understands its value.
Right off the bat, Wix eCommerce helps you cover the most basic SEO techniques. When it comes to titles, descriptions, and keywords, Wix eCommerce makes the process as simple and straightforward as possible. It may not be revolutionary (most Ecommerce site builders offer this to some degree), but it's important to give credit where it's due.
Beyond typical SEO practices, Wix eCommerce also gives you the option to create a more seamless experience on your storefront. If you choose, you can integrate your social media feed directly onto your site. By creating a more cohesive, immersive experience, you're able to positively reinforce your customers decisions while building a community in the process.
Having a community means positive word of mouth/social media presence. This reassures Google that you're a worthwhile site and makes the race to the first page of Google all the more winnable.
Secure Hosting
While your potential customer's focus is on presentation and ease of use, your mind should be considering the overall stability of your storefront. Website design is a crucial part of building a site, but so is having a solid infrastructure behind it.
Wix makes a point of offering free hosting on all of their payment plans. No matter what plan you choose, Wix eCommerce will provide you with the same level of security. Beyond the free hosting, it offers the Basic Business plan members 20GB of storage (more than enough for the average small business Ecommerce retailer).
Something to be aware of before using Wix eCommerce is the fact that its sites lack export options. The site building technology is just too fundamentally different from other sites. Essentially, if you start a business with them, your storefront as you know it can only be accessed through them.
That being said, if you try Wix eCommerce out and like what you see, you shouldn't run into any issues with hosting.
Customer Support Services
In the world of Ecommerce retail, there's always going to be some kind of issue. Ideally, you've decided to work with a site builder that puts a premium on being there for you in your time of need.
This is where Wix eCommerce shows a bit of room for improvement. The 24/7 support phone line is only available for VIP and Enterprise customers, which is surprising, considering the size of this company. That being said, it offers plenty of online support resources (user guides, tutorials, etc.) and access to a support forum that can help you in 9 different languages.

Wix Visit Site
Scalability
Wix eCommerce works for businesses that are scaling up by providing users with an all-in-one management system to track orders, promote sales, manage shipping, and most importantly, get paid quickly and easily. All of these features are on top of the beautiful, customizable templates and flexible store design that has made Wix eCommerce famous. Users will find it easy to optimize for mobile devices so customers can browse your store anytime, anywhere.
Conclusion
Wix eCommerce has had an interesting reception in the world of Ecommerce site building. On one hand, it's been heralded as one of the most innovative and customizable services online. Other people have claimed that the lack of customer support and hosting stability detracts from its value.
Frankly, there's no denying that Wix eCommerce can do better. Still, it's important to recognize what it does well and (more importantly) what it aims to achieve.
Wix eCommerce is building a cost-effective alternative to the more expensive site builders on the market today. If you're just getting started as an Ecommerce retailer, make sure to check out Wix eCommerce. With a focus on design and accessibility, it's no wonder that Wix is considered one of the best Ecommerce builders money can buy.