In a Nutshell
ShopSite offers an intuitive interface and superb Ecommerce software, enabling you to place your business online in as little as 15 minutes. Designed to grow with you, ShopSite offers a rich feature set with catalog software and a fully functional cart that works perfectly without the need for costly add-ons.
pros
Cloud-based Ecommerce solution
Free online demo available
cons
Hosting not included
Limited features

ShopSite Visit Site
Features
One of the most noticeable aspects of ShopSite is that it stands head and shoulders above the crowd in its simplicity and ease of use. You do not have to dig to find the information you want; instead, everything is presented in a clear, easy to understand format that allows you to base your visit to the site on your experience level. If you're a web designer or a hosting company, you'll find just what you need; if you are just starting out, or if you're established but need to add Ecommerce, you'll make your way to the information you require without stumbling over a lot of unnecessary clutter along the way.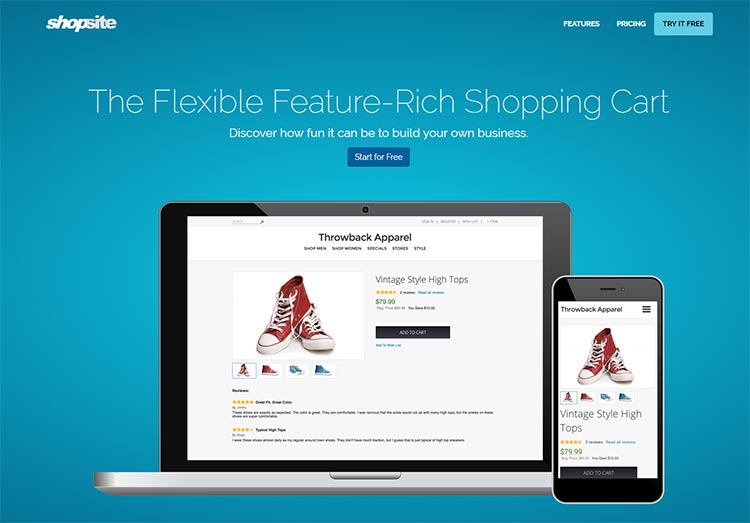 With ShopSite, you can build a store that's priced appropriately for your business needs, plus you can configure it in as little as about 15 minutes. If you've got an existing website, you can add order buttons without making a lot of complicated changes, and you can add the functionality necessary for accepting PayPal, credit cards, checks, Google Wallet, and more. Finally, you can choose a shopping cart that matches your store's personality. Try the free demos before making a decision—unlike many other sites offering similar carts, this one lets you experience the cart from the merchant's point of view and from the shopper's point of view.
Value
ShopSite is sold through ShopSite partners, or resellers. Trained to sell and support the software, they are available in different regions. As ShopSite partners are independent, they offer a variety of services; some host software, while others are experts in the fields of commerce design and consultation. Some perform multiple functions; what is important though, is that all of them are capable of getting your business all set up with ShopSite. When you visit the ShopSite website, you'll be able to click on a map of your region and select a partner who suits your needs best.
As ShopSite partners set their own prices for web hosting and additional services, prices will vary slightly from one to the next. In general though, starter pricing begins around $9/month, while pro pricing begins at closer to $70/month. To save money, managers and pros can pay a one-time price rather than going with the monthly fee structure.
*Prices last updated May 2018
Again, these prices are approximate and will vary depending on the bundle you choose. Any way you look at it though, you're going to get a great value.
Safety Options
ShopSite offers its customers a secure buying experience and its independent web hosts offer a number of popular safety and security features; again, you've got to look for the independent ShopSite partner who suits your needs. As for shopping cart security, when you work with ShopSite, you'll need to set up independent security, meaning you'll need to buy a security certificate elsewhere. For this program to work, you must own a digital security certificate that corresponds with your own domain name, or you must use a digital security certificate that is shared among multiple users utilizing the same machine.
Don't worry - ShopSite will walk you through security measures so that your cart and your customers will be protected. For your safety, and for the security of your clientele, your cart will not work unless you have a functioning security certificate.

ShopSite Visit Site
Customer Support and Overall Service
ShopSite offers separate support areas for customers and for affiliates, plus a huge knowledge base packed with useful information and extensive FAQs. All of this information is neatly categorized, so it's simple to find the answers you are looking for. There are several ways to contact customer support if you need to; you can either call, send an email, or leave feedback with suggestions for improving service, in the event you don't need to talk to anyone directly.
Conclusion
All told, this is a great Ecommerce site with plenty of information and some outstanding shopping carts that work right out of the box. It has won several awards for its online store builder and is a great place to start with a free demo and 3 different packages available.