ShippingEasy Visit Site
Overview
ShippingEasy at a Glance
What Is ShippingEasy?
ShippingEasy is an automated shipping tool for Ecommerce business owners. It's designed to make it easy to get the best rates for shipping your products with major carriers and print shipping labels for your open orders.
ShippingEasy can import orders from most major Ecommerce platforms, including Amazon, Shopify, WooCommerce, and eBay. It offers commercial shipping rates from USPS, UPS, FedEx, and DHL. Rates for UPS shipping are as much as 86% lower than the carrier's standard rates.
In addition, ShippingEasy offers automated email marketing tools to help you follow up customer leads. You can request product reviews, remind a customer about their abandoned cart, or nudge customers to become repeat shoppers at your online store.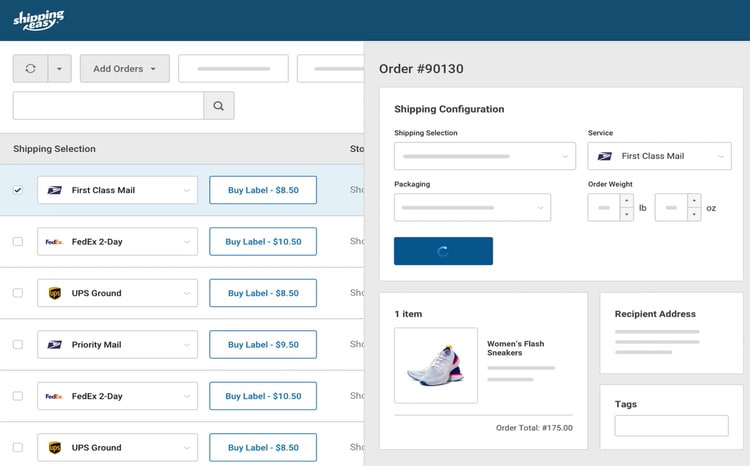 Who Is ShippingEasy Ideal For?
ShippingEasy is a huge help for Ecommerce businesses that are going from a handful of orders per month to several per day. If you're in this growth phase, I can't overstate how important it is to use an automated shipping solution like ShippingEasy. It will not only reduce the cost of shipping your products but also free up valuable time you'd otherwise spend creating shipping labels.
One of its key advantages is that ShippingEasy enables you to coordinate shipping for orders from multiple online storefronts in a single dashboard. If you have more than one Ecommerce platform, this is a huge time-saver.
ShippingEasy is very affordable for small businesses, with packages starting at just $19.99 per month. In my experience, you'll save that amount of money with ShippingEasy's discounted shipping rates after sending just a couple of packages.
The service is also scalable enough to work for established Ecommerce businesses. With ShippingEasy's Enterprise plan, companies can send up to 10,000 shipments per month. All paid plans allow you to import orders from an unlimited number of online stores.
ShippingEasy features
ShippingEasy offers a variety of features to make it easier to ship orders to customers.
Automated order import
ShippingEasy can import orders from all of your online store platforms in real time. It integrates with most major Ecommerce platforms, including Amazon, Shopify, WooCommerce, eBay, Magento, Etsy, BigCommerce, Wish, and more. You can also upload order data using a CSV file.
Shipping rules
You can create custom shipping rules to allow ShippingEasy to automatically choose the best carrier for each shipment. Rules can be based on a package's size, weight, destination, desired delivery speed, and more.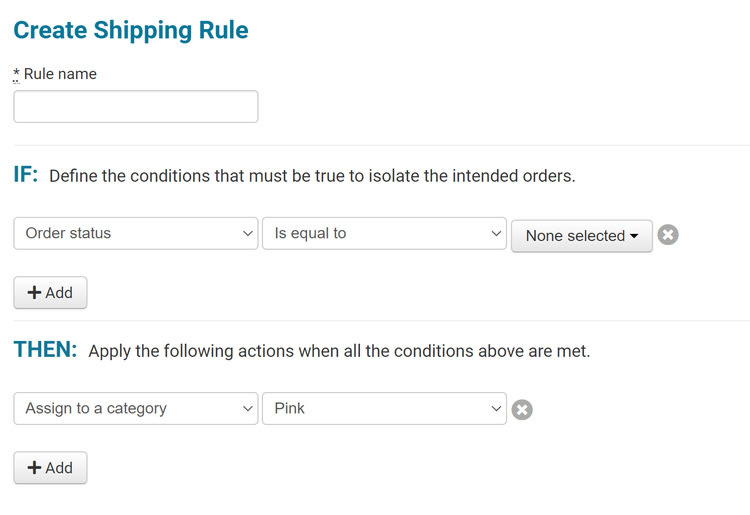 Discounted shipping rates
ShippingEasy offers discounted commercial shipping rates from USPS, UPS, FedEx, and DHL. You can generate customized shipping labels and packing slips with one click.
Return labels
If customers need to make a return, you can generate a return shipping label for them using ShippingEasy. You'll get the same discounted shipping rates for return shipping.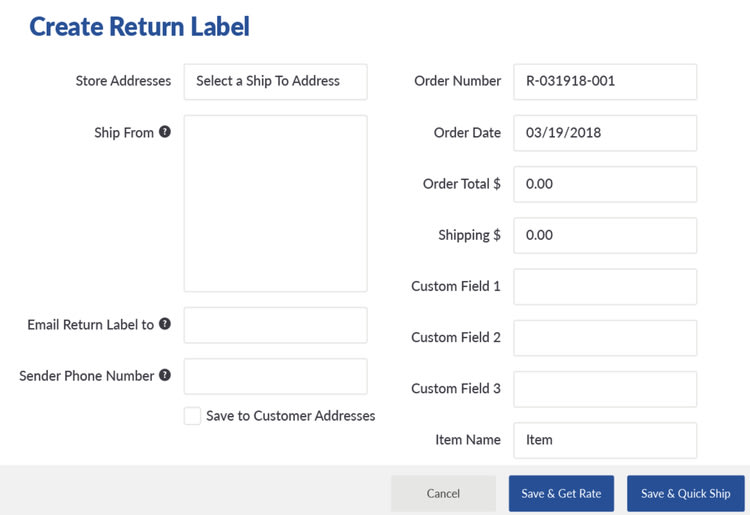 Shipping analytics
ShippingEasy offers customizable reporting tools to break down your shipping costs by carrier, destination, product categories, and more. You can also view reports about your open orders and shipments in transit.
Email marketing
ShippingEasy's email marketing tools enable you to automatically send shipment tracking information to customers, as well as emails asking for product feedback after your shipment arrives. ShippingEasy includes dozens of email templates that you can customize using a drag-and-drop campaign builder.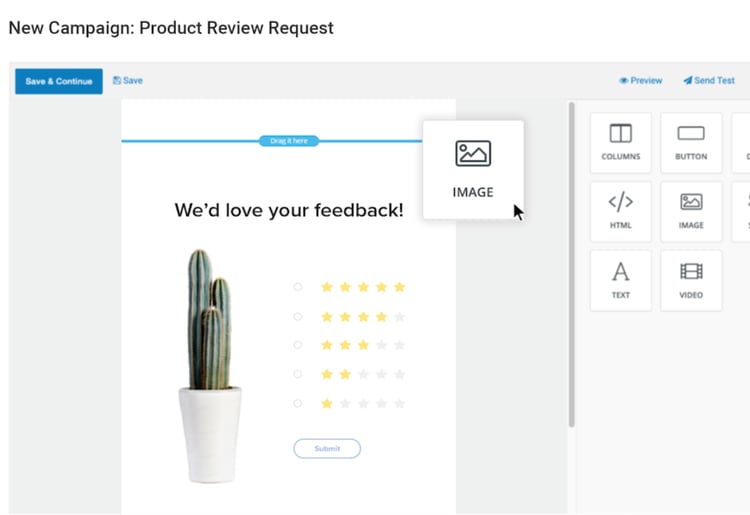 Is ShippingEasy Reliable?
I've found ShippingEasy to be very reliable. In my experience, the platform has always worked properly and has imported orders from my online stores within a few minutes. Some user reviews have noted that ShippingEasy's site can be glitchy, but I've never had an issue with the platform's responsiveness.
How ShippingEasy Works
ShippingEasy starts by importing new orders from all of your online stores and organizing them in a database. Based on the shipping rules you can create in ShippingEasy, the platform will automatically choose a suggested carrier and show you the estimated rate for your shipment. You can accept the rate and create a shipping label in just one click.
Once your order is out the door, ShippingEasy can send a custom email with the tracking number to your customer. You can also use the platform's email marketing tools to follow up with your customer after they receive their order. If the customer needs to make a return, you can use ShippingEasy to generate a return label.
How to Get Started With ShippingEasy
To get started with ShippingEasy, you can sign up for a free plan or a 30-day free trial. You'll need to enter the name of your company, your email and phone number, your primary online store platform, and the number of shipments you expect to make each month. You'll also need to enter the address you'll be shipping from.
Next, you can integrate your online stores. You just need to log into your merchant account through ShippingEasy to complete this step.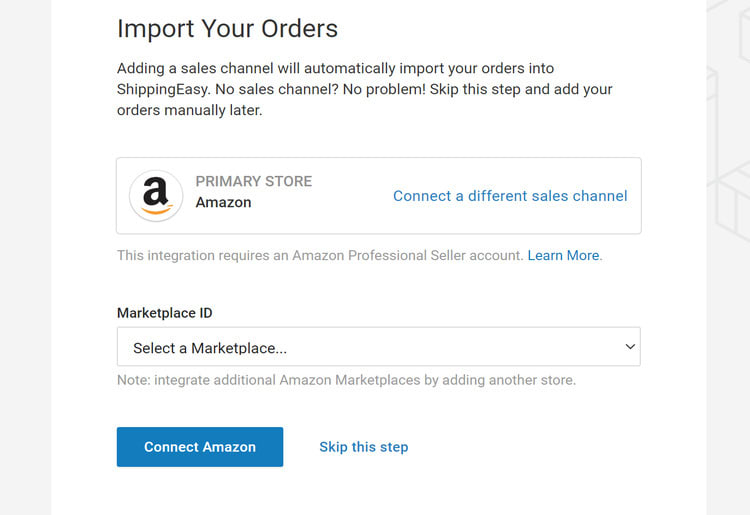 Finally, add a payment method for shipping labels. ShippingEasy accepts all major credit and debit cards.
Now, as orders are placed in your store, they'll be imported automatically to ShippingEasy. The whole setup process took me less than five minutes.
ShippingEasy Customer Service
ShippingEasy has outstanding customer service. The support team is available by phone, email, and live chat from 8am to 6pm (CT), Monday-Friday. I called and was connected with a pleasant and helpful agent in less than a minute.
ShippingEasy's website also has a very detailed online knowledge base. You'll find guides to everything from integrating your online stores to setting up custom shipping rules and creating return labels. I found ShippingEasy to be intuitive enough to start using it without consulting the guides, but it's nice to know these are there if you need help.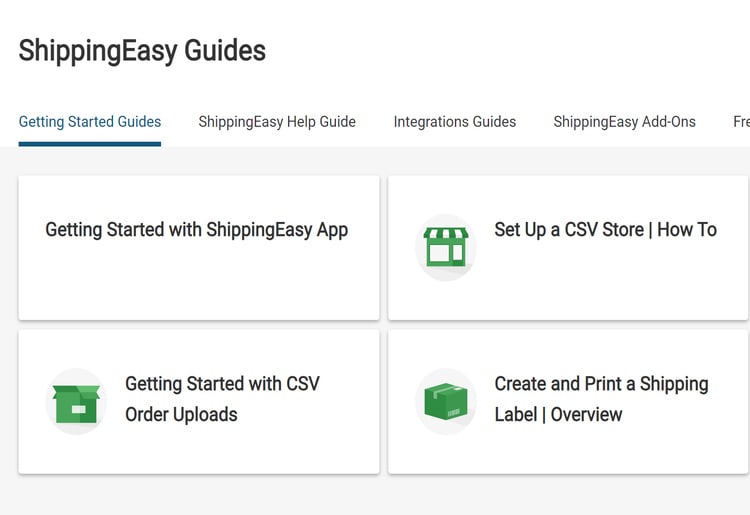 Phone: (855) 202-2275
Email: assistance@shippingeasy.com
How To Cancel or Pause a ShippingEasy Subscription
If you want to cancel your ShippingEasy subscription, it's really easy to do. You'll see all of your subscription options in your account settings, and you just have to click a button to cancel your subscription.
There's no refund if you cancel mid-month, but you can continue to use ShippingEasy until the end of your subscription. The platform doesn't save any of your shipping data after your account is closed, so be sure to download all of your data.
You can also downgrade your plan before renewal if you're shipping fewer packages than anticipated.
Is There a ShippingEasy App?
ShippingEasy doesn't have a mobile app. You can access your ShippingEasy dashboard from your smartphone's browser, but I found it a little difficult to navigate on a small screen.
ShippingEasy Pricing
How Much Does ShippingEasy Cost?
ShippingEasy offers a free plan and six paid plans. The paid plans only differ in how many shipments you can make each month.
Otherwise, all paid plans offer the same features. These include the ability to connect an unlimited number of online stores and access to ShippingEasy's support team. You can also upload orders from a CSV file, add your business's logo to shipping labels, and access all of ShippingEasy's reporting tools.
ShippingEasy's plans are very affordable compared to other Ecommerce shipping tools. All ShippingEasy plans are billed month-to-month, so it's easy to start with the plan you need right now and upgrade as your business grows. I really like that ShippingEasy allows you to upgrade for a few months around the busy holiday shopping season and then downgrade when business slows down.
What can you do with ShippingEasy for free?
ShippingEasy offers a free plan and a 30-day free trial for all of its paid plans.
The free plan lets you ship up to 25 packages per month. However, you can only connect up to three online stores. You also don't get to add custom branding to your shipping labels, upload orders via CSV, or generate custom reports. Free users also won't get access to ShippingEasy's customer service team.
Optional add-ons
ShippingEasy's email marketing tools require a paid add-on, which starts at $14 per month for up to 5,000 emails per month.
ShippingEasy Alternatives
How Does ShippingEasy Compare to Other
Ecommerce Builders?
$19.99-$159.99/month or free plan
$10-$200/month or free plan
Stripe, credit cards, Apple Pay, PayPal
Most major Ecommerce platforms
Multichannel with Facebook, Instagram, eBay
Fully integrated for multichannel
Most major Ecommerce platforms

ShippingEasy Visit Site
ShippingEasy vs Shopify
Shopify is a major Ecommerce platform where you can create an online store and coordinate shipping for your orders. It offers a lot of the same automated shipping features as ShippingEasy, including discounted carrier rates and streamlined order tracking.
The catch is that Shopify only handles shipping for orders placed through your Shopify store. ShippingEasy can help you ship orders from Shopify and any of your other online stores in one central platform. So, you may want to use ShippingEasy if you have multiple storefronts.
ShippingEasy vs Squarespace
Squarespace is another Ecommerce storefront platform that offers discounted shipping rates and order tracking for customers. However, like Shopify, Squarespace only handles shipping for orders placed through Squarespace. ShippingEasy can help you ship orders from Squarespace and any of your other online stores.
ShippingEasy vs Shippo
Shippo and ShippingEasy are very similar in terms of their automated shipping tools and Ecommerce platform integrations. ShippingEasy is a little bit cheaper and offers add-on email marketing tools that Shippo lacks.
On the other hand, Shippo has an application programming interface (API) that allows large businesses to import orders from a custom Ecommerce platform. This makes it possible to integrate Shippo with virtually any online store, whereas ShippingEasy can only be used for platforms with existing integrations. Unless you need Shippo's API, I'd recommend ShippingEasy because of its cheaper pricing.
Bottom Line (Is ShippingEasy Worth It?)
ShippingEasy is an outstanding tool for business owners who operate multiple online storefronts. You can automatically import order data from all of your online store platforms and use straightforward rules to assign the right carrier to each order. In addition, ShippingEasy gives you access to steep shipping discounts that can more than pay for the platform's subscription fee.
ShippingEasy brings even more value with its email marketing automations. You can automatically update customers with their order's tracking information and encourage first-time customers to become repeat buyers.
Overall, I think ShippingEasy is a must-have tool for any business that has more than one storefront. It's affordable, easy to use, and saves a ton of time that you can spend on other aspects of your business.