In a Nutshell
Salesforce Commerce Cloud is an extensive, highly-configurable Ecommerce platform for enterprise users. With a wealth of analytics, AI, and SEO tools available, Commerce Cloud can help you rank highly in search engines and maximize revenue. The marketplace feature enables you to onboard other sellers, manage commissions and provide more variety for customers. However, getting started with Commerce Cloud can be complex and expensive.
pros
Enterprise-ready Ecommerce platform
Advanced AI-powered features
Extensive customization options
cons
Expensive
Steep learning curve

Salesforce Visit Site
Ideal For
Salesforce Commerce Cloud is ideal for enterprise users and large businesses looking to sell at scale. The flexibility and customization options available make it a great choice for those willing to invest in optimizing their site, or who have niche requirements for an Ecommerce platform. The marketplace feature is a key feature for those looking to include other sellers on their Ecommerce platform.
Why Go With Salesforce
Comprehensive set of features

Powerful AI Analytics

Extremely flexible and customizable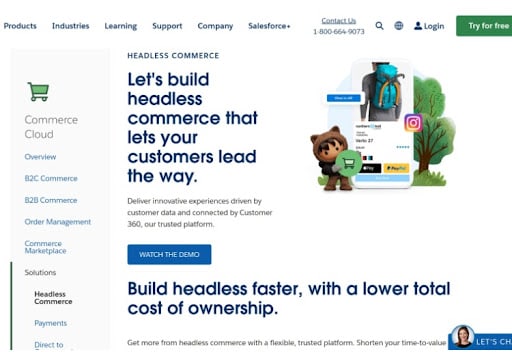 Features
Business-specific tools
Salesforce provides different options depending on whether you are engaging in Business to Consumer (B2C) commerce, Business to Business (B2B) commerce, or Business to Business to Consumer (B2B2C). The variety of options enables the platform to fit your needs.
Order management
The order management feature enables you to view order history and records on a single page to provide better customer support, while its omnichannel inventory enables you to ensure each sales channel is connected with your inventory in real time.
AI-powered features
Commerce Cloud is packed with intelligent tools, such as smart searching options for customers and an Einstein tool for personalized product recommendations and customer insights.
Omnichannel integration
Omnichannel integration enables you to fully integrate with social media and sell directly to consumers through all channels. Mobile-first capabilities, social extensions, and simplified ordering and payments make it easy for consumers to buy products in ways that suit them.
Sell worldwide
Salesforce's globalization options allow you to manage different storefronts across locations worldwide, all using the same sole backend platform. You can manage your product dataset for each store and manage billing, pricing, and product availability for each country.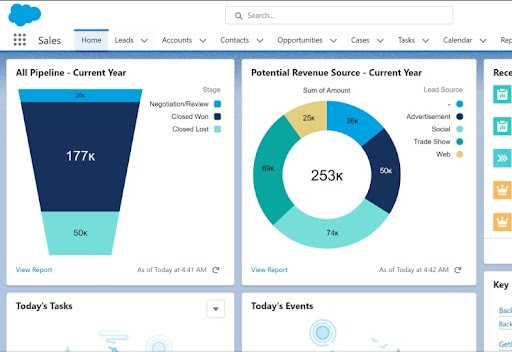 More Reasons to Choose
Commerce Cloud has a marketplace feature that enables you to build your own Ecommerce marketplace. It lets other sellers register and trade on your site, with options for self-registration, seller onboarding, and commission management.
Alongside the seller management tools, the marketplace can group similar product categories from different sellers to show customers a choice of relevant products. Customers can order from multiple sellers using one cart, and each seller can update the shipping status independently.
Customization
Salesforce Commerce Cloud is as flexible and customizable as you are ever likely to need, whereas other Ecommerce providers restrict flexibility to keep their service simple. With Commerce Cloud, it feels like you need a full-time Commerce Cloud expert to keep on top of the options and configurations available to you.
For example, templates combine HTML with a proprietary language extension called Internet Store Markup Language (ISML) to generate dynamic storefront pages. This gives you a level of personalization beyond most other platforms, but the price for such freedom is the additional complexity within the product.
Payment Processing
Payment processing is done by choosing which payment gateways your site should use. A payment gateway is simply an external platform acting as a bridge between your Ecommerce site and your customer's bank during the payment transaction process. A choice of payment gateways is standard across the top Ecommerce platforms and Commerce Cloud offers a wide range here.
Salesforce Billing provides payment gateway packages for Authorize.Net, Cybersource, Payeezy, and PayFlowPro. If those don't appeal, you have the choice of over 60 integrations from the Commerce Cloud Partner Marketplace. Options include Klarna, Paypal, Stripe, and Worldpay, so you have the flexibility to provide payment options that work for both you and your customers.
SEO Tools
Organic searches form the majority of site traffic, sales, and conversions. This means that an array of SEO tools are necessary to maximize your site's ranking in search engines—leading to a boost in organic traffic and sales. Salesforce Commerce Cloud provides a range of SEO tools to help you grow traffic and improve conversion.
With Commerce Cloud, you can use metadata to control how pages should be indexed and served across search engines and social media. You can also use SEO-friendly custom URLs to define a product's attributes, descriptions, or geography.
SEO tagging of products, categories, titles, descriptions, keywords, and URLs can be imported in batches by uploading an XML spreadsheet.
Other Commerce Cloud features include:
Image optimization,

Configurable image alt tabs,

Customizable 404 pages

Custom robots.txt file

Broken URL analyzer

Mapping rules and 301/302 redirects to predefined locations
These tools give you an array of options to ensure your Ecommerce site is optimized for search.
Secure Hosting
Salesforce Commerce Cloud powers some major brands, which means that Salesforce takes the security features of its hosting seriously. Security is built into the platform, with its infrastructure including backup and disaster recovery planning. Statistical and machine learning methods are used to detect threats and protect your site from malicious agents.
A security guide is available to ensure that you follow best practices when configuring and managing your Ecommerce site. You can use the Health Check tool to identify and fix potential vulnerabilities in your security settings on a single page.
Any login attempts are logged with the history page showing up to 20,000 records of user logins for the past six months. You can set up audit trails to monitor any setup changes that you or other administrators make. Field tracking ensures that any changes made to any object are retained and tracked for a minimum of 18 months. These features help to ensure that no malicious changes are made to your site.
Customer Support
Salesforce provides a range of options for customer support. Its Commerce Cloud Support Team is available 24/7, excluding regional holidays, and can be contacted by submitting a ticket from the Salesforce web page, by giving them a call, or through live chat.
There is a vast breadth and depth to Salesforce's comprehensive online documentation. Its YouTube channel provides talks and demonstrations of new features as well as explanations of jargon and technical aspects of the product.
Its online learning platform, Trailhead, provides several Commerce Cloud-specific modules to ensure that you learn the specific ins and outs of the product. Trailhead covers topics ranging in difficulty from order management to headless implementation strategies, suited to those looking to decouple the front and back ends of their Ecommerce application.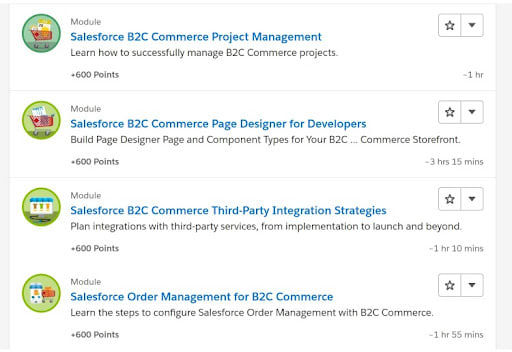 Salesforce Visit Site
Bottom Line
Salesforce Commerce Cloud is a highly configurable Ecommerce platform aimed at enterprise users. Commerce Cloud caters to B2C, B2B, and B2B2C cases and provides order management facilities, a digital marketplace, and a wealth of AI-powered tools and analytics. It feels as if there are endless customization options and tools to tweak. While this flexibility makes Commerce Cloud such a powerful platform, the array of features and tabs on the dashboard can feel overwhelming when starting out.
Salesforce Commerce Cloud is expensive when compared to other Ecommerce platforms in our list. When you start to consider development and configuration costs and add-on features within the Salesforce ecosphere, it becomes difficult to know exactly how much you will pay each month. While this is not an issue for established enterprise-scale businesses, it is a factor to consider for smaller businesses.
About the Company
Salesforce is an American company founded in 1999 which specializes in cloud-based customer relationship management (CRM) software. It acquired Demandware for $2.8 billion in 2016 and rebranded the Ecommerce platform as Salesforce Commerce Cloud. Salesforce works with over 150,000 companies, including Adidas, American Express, Philips, Spotify, and Toyota.