Ecwid Visit Site
Ecwid at a Glance
What is Ecwid?
Ecwid—eCommerce Widget—is an eCommerce platform providing a straightforward way for non-tech-savvy individuals to quickly market and sell products online. You'll access free templates and an instant site builder to help you create a beautiful website on multiple content management platforms like WordPress and Wix.
You can also integrate Ecwid with a pre-existing website or connect it to social media platforms like Instagram to sell on those sites. Ecwid connects with various third-party payment providers—such as Stripe, PayPal, and LightSpeed—enabling you to receive payments from your customers.
The company is now part of the Canada-based commerce platform LightSpeed, which sells POS systems and e-commerce software for customers to manage all aspects of their businesses. This partnership means Ecwid will have more resources for research and development (R&D), thereby improving its service for small businesses.
Ecwid features
Ecwid comes with some notable features, which we outline below.
Design options
Ecwid provides multiple design and customization options. For example, the Instant Site Builder helps you design a beautiful and complex website quickly without needing any programming skills. It also offers free templates to help you achieve your design goals.
Ecwid admin panel
To manage your eCommerce store, Ecwid offers a control panel where you can connect to integrated apps, enable payments, manage subscriptions, handle orders, and more.
Payment processing
Ecwid offers more than 40 payment processors to make it convenient for customers to pay you and ensure you get your money safely and quickly. Ecwid uses PCI DSS (Payment Card Industry Data Security Standard) to secure your data and protect customer information.
Marketing tools
With Ecwid, you get access to SEO tools, email marketing, Facebook and TikTok advertising, Google Ads, and social media content sharing. You can access various reports and analytics to make data-driven decisions for your business.
Inventory management
Ecwid helps you manage your inventory, add products to your store, track quantity limits, accept pre-orders, show/hide products from the storefront, receive automated stock alert messages, and more.
Is Ecwid Reliable?
Ecwid has a website uptime of nearly 100%, and its online stores are located on Amazon servers. The servers provide automatic load balancing, meaning your store will receive more resources automatically to keep it running smoothly when it's experiencing a lot of traffic.
There's no official "uptime guarantee" statement, but you can report any incidents and Ecwid's customer support will assist you. Ecwid has a Status page that provides updates about how the platform is functioning. Based on the page's historical data, Ecwid's software is stable and the service is reliable.
How Ecwid Works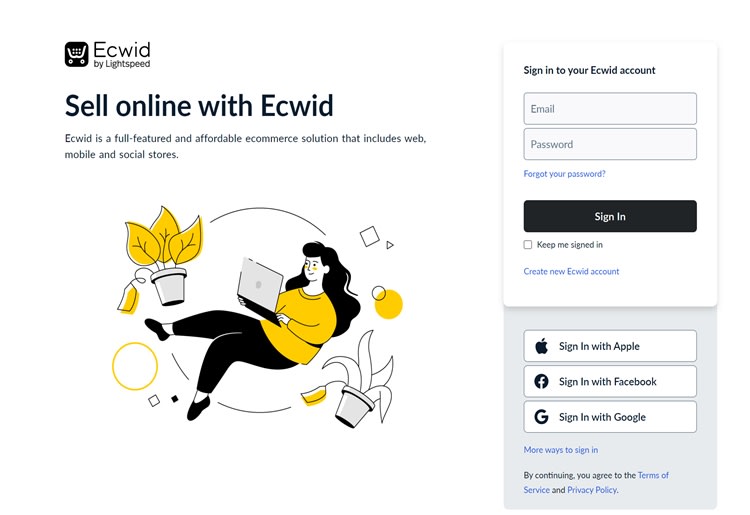 With Ecwid, you can create an online store or embed Ecwid into an existing website to promote and sell your services, physical products, or digital downloads. Once your site is ready, you can begin selling and receiving money through one of the payment processing providers you've authorized to handle your transactions. You can also set up a cash-on-delivery payment method.
To ship and deliver products, you may need to rely on external providers like FedEx. You may offer your customers free shipping services if possible or charge them a delivery fee. All your orders will be available for processing in your admin panel, and you'll receive notifications as they come in.
How to Get Started With Ecwid
Getting started with Ecwid is straightforward, and I was able to finish the process in a few minutes. You can sign up for Ecwid on desktop, providing your email address, full name, and password, or by clicking the Sign Up with Google/Apple/Facebook buttons. Alternatively, you can sign up via the iOS or Android apps.
Next, Ecwid's control panel will open with four steps to complete your registration. In step one, you'll write your store name, country, and the currency you'd like to use. For step two, you'll add a company address to receive payments.
In step three, you'll mention your experience in sales, the types of products you plan to sell, and whether you're setting up the store for yourself or for someone else. The last step will be to choose a website address or mention if you have your own website where you want to set up the store.
Confirming this last step will take you to a pricing plan page to select either the Free plan or one of the paid ones. Once you select an option, you'll be directed to your dashboard, where you'll get some pre-launch tips for customizing your website and storefront, adding products, and setting up payment options.
Ecwid Customer Service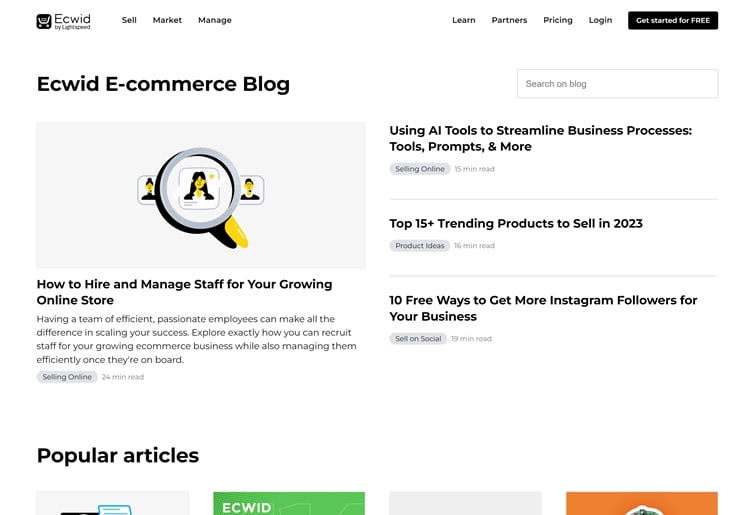 In my view, Ecwid provides very comprehensive customer support through various contact methods and resources. Depending on your plan, you can contact customer care Monday to Friday via email, phone, or live chat. Only paid subscribers can use live chat or book a call. Free plan users only have access to live chat for 30 days after signing up.
Email responses are within 24 hours, and chat support is available the whole day. Call back is only available for the Business and Unlimited plans, and you can expect a call from 2pm-10pm PDT.
Ecwid's other support options include a knowledge base, eCommerce Academy, video tutorials, live webinars, status updates, eCommerce blog, guides, and an online web form. Unlimited plan users can also get priority customer care support.
How to Cancel or Pause an Ecwid Subscription
There are no long-term commitments with Ecwid subscriptions. Plans are month-to-month, meaning you can upgrade or cancel the subscription at any time. Ecwid doesn't offer refunds.
In addition, if you have a seasonal business or need a break from it, you can pause your store at any time and switch to a Suspension plan, which costs $5 a month.
You'll need to send your pause request to billing@ecwid.com. Placing your store on hold won't prevent you from accessing the Ecwid admin panel or continuing to set up your store.
Is There an Ecwid App?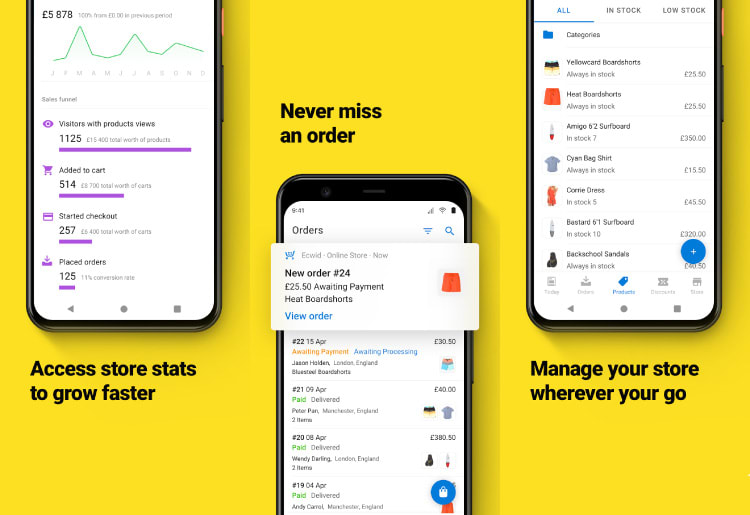 Ecwid has an iOS and Android store management app available for download on the Apple app store and Google Play. While the Android app works on Android 6.0 or later, the Apple app works on devices with iOS and iPadOS 14.0 or later, macOS 11.0 or later, and Apple M1 chip or later.
The Ecwid app enables you to manage orders, design, and launch an eCommerce business through your mobile device, sell directly on your website, make in-app purchases, and update your inventory. You can also market your business, speak to customer support, and subscribe to the Ecwid pricing plans.
Both the iOS and Android apps have a 4.6 out of 5 rating. Reviewers praised the app for being user-friendly, performing well, and having adequate features to manage your eCommerce business via your phone rather than the website. Even though the app can get buggy at times, Ecwid provides periodic updates to fix performance issues.
Ecwid Pricing
How Much Does Ecwid Cost?
Ecwid offers four monthly and annual plans—Free, Venture, Business, and Unlimited. There are no setup, transaction, or storage fees on Ecwid, and you can save 25% by purchasing an annual plan.
There is also the $5 per month Suspension plan for pausing your business temporarily. Customers will still be able to browse your store and review products, but they won't be able to buy anything because Checkout will be disabled.
The Free plan is free forever, but it has limited features compared to the other plans. Nevertheless, it enables you to open an eCommerce store, market your services on several social media channels, and sell on multiple sites.
If you select a higher-tier plan, you'll receive all the features from the previous tiers. Each plan has an online store, email support, free website templates, an instant site builder, one-tap checkout with Apple and Google Pay (via Stripe), unlimited bandwidth, and a mobile-responsive shopping cart. In addition, each supports various content publishing platforms, such as WordPress, Wix, Squarespace, and Weebly.
Here's a breakdown of the pricing, excluding taxes for US states where sales tax is required by law:
Email, chat, phone, priority support
Mailchimp and automated email marketing
The Venture plan is the best for starting out because it has many features for small businesses and lets you sell your products on Instagram and Facebook. The Unlimited plan has point-of-sale (POS) integration—Square, Clover, Alice, Vend—enabling you to sell in person, but this feature is not available in all countries.
If you want to start accepting in-person orders, you can import products from Ecwid's online store into the POS system LightSpeed Retail POS (X-Series). This feature is available for the Business and Unlimited plans.
You can move up to a higher-tier plan at any time to get more customization and advanced features, such as selling on Amazon and eBay via Codisto or maintaining a multilingual store. Ecwid will apply a prorated credit on the remaining part of your subscription, enabling you to pay the difference for a higher plan.
If you downgrade to a lower-tier plan, you'll immediately lose access to the higher-tier features, and the remaining subscription will be converted into credit to enable you to pay for the new subscription.
Standard industry pricing for eCommerce platforms is much higher than with Ecwid. They may charge subscription costs as high as $700 per month, website design fees, payment processing transaction fees, storage fees, add-ons and plugin costs, and more. Overall, eCommerce costs may go as high as $250,000.
What can you do with Ecwid for free?
Ecwid doesn't offer a free trial version. Instead, it has a forever free plan, which enables you to build an online eCommerce store without paying setup fees. You'll receive free Facebook, Google, Snapchat, and Pinterest advertising. Furthermore, you'll get a mobile responsive shopping cart, instant site builder, customer support via email, free templates, checkout with Apple Pay (via Stripe), and other free features.
If you've signed up for the annual Unlimited plan, you'll receive 12 hours of free customization service. This means that Ecwid experts will design a custom solution for you if one is not available through Ecwid's in-built features.
Optional add-ons
You can get your own branded iOS and Android shopping app—ShopApp—for a one-time fee of $590, but you'll need a paid developer account on Google and Apple to publish it. For the Unlimited plan, you can get ShopApp free if you pay for an annual plan.
Customers can download the ShopApp to access your Ecwid store, with a fully synchronized product catalog, and conveniently shop for items through their smartphones.
Ecwid Alternatives
How Does Ecwid Compare to Other eCommerce Builders?
Stripe, PayPal, credit cards, Apple Pay

Ecwid Visit Site
Ecwid vs Squarespace
Squarespace requires you to pay for a plan before building your store, whereas Ecwid enables you to start with a free store and upgrade when ready. Squarespace offers a 14-day free trial to test its service while Ecwid offers a forever free-to-use plan. In addition, while Ecwid doesn't have any transaction fees, one of Squarespace's subscriptions—the Business plan—charges 3% transaction fees.
Ecwid vs Shopify
Shopify has features available in all its plans that are only available in select Ecwid plans, such as abandoned cart recovery, marketing automation, and unlimited products. However, it costs more than Ecwid and charges transaction fees if you use third-party payment gateways rather than Shopify Payments. Furthermore, it offers a three-day free trial, whereas Ecwid offers a free plan instead.
Ecwid vs Woocommerce
WooCommerce offers to design a website for you, whereas Ecwid provides ready-to-use themes to build your website quickly. While WooCommerce is built for WordPress, Ecwid integrates with multiple content management platforms to deliver its solutions. Moreover, WooCommerce has a 30-day free trial, while Ecwid offers a free plan instead.
Bottom Line
Ecwid can help you to quickly build your eCommerce store on a new or existing website, with no setup fees to worry about. I liked Ecwid's comprehensive customer support options and the myriad of eCommerce features available at an affordable price compared to its rivals.
While the lower-tier plans give you access to some useful features, they are a bit limited compared to the higher-tier plans. Regardless, if you're looking for a low-cost, user-friendly eCommerce platform, Ecwid is worth considering.