In a Nutshell
1ShoppingCart has long been considered one of the leading web-based companies. It makes it easy to launch an Ecommerce site with your online product catalog, a secure shopping cart and extras like social media integrations.
pros
All-in-one Ecommerce solution
Reliable, secure shopping cart
cons
Free domain name with premium package only
Help center is fairly limited

1ShoppingCart Visit Site
Features
1ShoppingCart provides you with everything you need to start selling online. For starters, there are several professionally-designed templates to choose from. Of course, these may be edited and are fully customizable to allow for numerous options. This includes things like fonts, colors and layouts. If you are comfortable working with HTML, you may even customize the templates to include your own code. There is also a checklist which ensures that you go through each phase of the process in a step-by-step and systematic fashion, without skipping anything.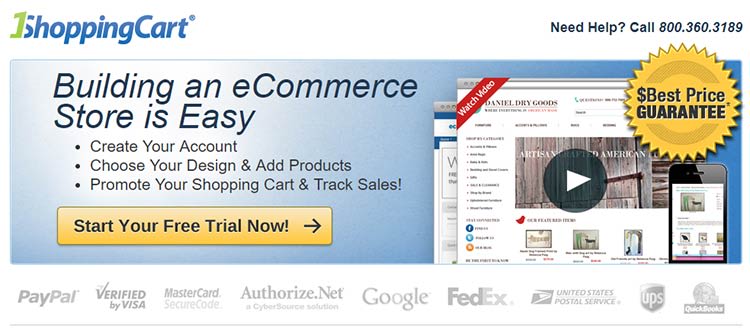 As a customer, you also have the ability to create a product catalog. Unlike many other so-called Ecommerce solutions, you can sell both physical and digital (downloadable) products in your store. In fact, depending on the package you choose, this can be as many as 100,000 different products. The top of the line package even allows for bulk uploading of your product data.
Receiving payments from customers is also simplified. This system is able to integrate easily with most payment solutions, including PayPal. This allows for the use of highly trusted brands to enhance your own credibility with your customers.
There are even some great marketing tools provided. The Search Engine Optimization (SEO) tools are a great way to make your new site stand out and rank higher in the search results. You may also create coupons, discounts and special promotions. Include customer comments and reviews and even create featured items to stand out.
Pricing
When evaluating prices of business services, it is important to remember that this should be looked at more like an investment, rather than a cost. You know that you need to have an online presence, and using an Ecommerce solution is one of the best (not to mention easiest) ways to do this. 1ShoppingCart offers different plans to accommodate any level of business.
All of these plans also include hosting. Additionally, there is also a small set-up fee to get everything started. This is just $49 for the starter and standard plan and $99 for the premium plan. The hosting plans include storage space ranging from 1GB to 5GB and monthly bandwidth between 5GB and 25GB.
The premium plan gives you the most options. This includes having your site built as a mobile friendly design. Now your customers will be able to check out your offerings and make purchases while they are on the go, right from their mobile phones. You will also be able to add up to 100,000 products to your online catalog.
Of course, all of the plans offer full access to the marketing and SEO tools. They also all offer full service 24/7 live customer service over the phone.
*Prices last updated May 2018
Safety Options
Both you and your customers should feel especially safe when using the services of 1ShoppingCart. For starters, your files are stored on state of the art computing equipment which are physically located in a secure data center. There is 24-hour security and all data is protected from any type of intrusion.
A core element of the security options offered by 1ShoppingCart include SSL, or Secure Socket Layer data encryption. It is also what allows the https to be displayed in the browser window when your customer is about to place their order. The standard solution offered is 128-bit SSL, which is very strong security. Most customers are very sensitive to these issues and having this is one of the first things they will look for. You will also be able to display the padlock symbol on your site, guaranteeing a safe and secure ordering environment. The site also is in full compliance with the PCI and DSS standards that Visa and Mastercard insist upon.

1ShoppingCart Visit Site
Customer Support
Every 1ShoppingCart customer has access to 24/7 live telephone support. If you ever have any kind of question, even if it is technical in nature, rest assured that a live agent is only a phone call away. Best of all, these agents are highly trained and actually knowledgeable and helpful.
There are a number of additional support tools. You will have access to email support, which is usually answered within an hour or two. Then there are training videos online which show how to do almost anything. Finally, search the online community forum for help or support.
Conclusion
More than 3 million users are already using 1ShoppingCart to sell, promote and grow their online web presence. It's easy to integrate a shopping cart or create an online store with 1ShoppingCart, and all sites launched with the platform include extra security measures. You can try it free for 4 weeks risk free, and see for yourself if this the best software for your needs.