In a Nutshell
1&1 has been providing premium ecommerce website building tools and ecommerce hosting support since 2008. This online store builder–from one of the best known names in hosting–makes it easy to build and manage your ecommerce store. With hundreds of website layouts, you simply select the one you like, and customize! Its drag and drop site-design interface is accessible and fun to use, and its hosting services are second to none.
pros
Well-priced plans
24-hour phone support
99% uptime
cons
Domain-pointing not intuitive
Backend setup may be difficult
Visit Site
Website Design Features
Begin building your online store with 1&1's easy to use design wizard, which walks you through the process step-by-step. First, choose from hundreds of pre-designed website templates, each optimized for a different business industry. Once you've chosen your template, customize the design completely. Add your logo, change the color scheme, modify fonts, and move around the layout.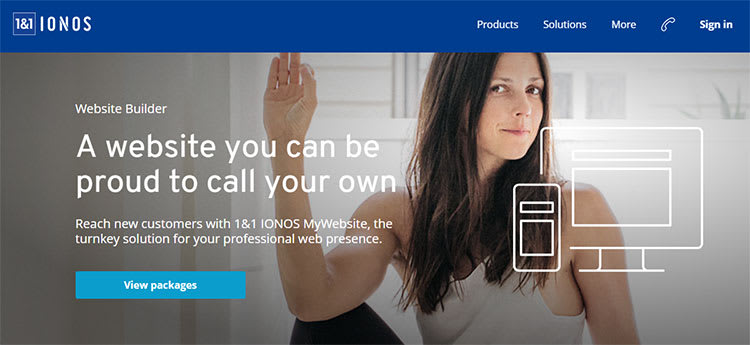 Store Management Tools
Once you've customized your website design, you can start setting up your online store. Upload an inventory of products automatically with easy import or export. This already means that your store set-up and management can be easily integrated with your other systems. 1&1 also sets itself apart by supporting up to 20,000 different products in as many as 2,000 different categories in your store. This ensures that your business can flourish, without you having to worry about out-growing.
Website Marketing Tools
1&1 also throws in a number of additional marketing tools to help your business run smoothly and attract more customers. Integrate your product items with eBay, including free image hosting, multiple selling and listing options, cross-selling abilities and even re-activating and listing expired offers. You also receive a $100 Google Adwords voucher for free marketing.
Your 1&1 ecommerce site easily integrates with PayPal. This is an great way to facilitate online payments and provide users with the safety and security of a recognized and trusted brand.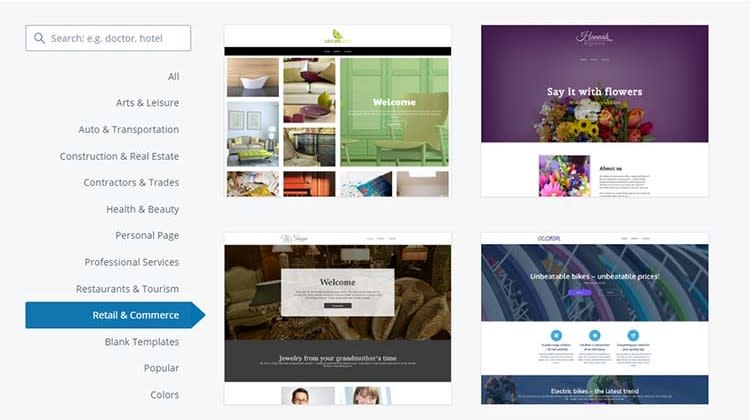 Ecommerce Hosting
1&1 is one of the most well-known names in hosting across the globe, and it's no surprise that it provides top-notch e-commerce hosting options to customers who want to build an online stores. All 1&1 eShops packages come with powerful hosting included. The basic package supports unlimited bandwidth to your site and 5GB of disc space. Upgrade to a more advanced eShops package for up to 80GB of disc space. Moreover, 1&1 gives you the reliability of "Dual Hosting". This means that your website files are stored across multiple servers in two different data centers, and in two geographic locations allowing for extremely high reliability. If one server fails, you've got several others to back it up.
Value
In comparison with most ecommerce website support, 1&1's prices are extremely affordable. Kick off a small website for only $9.99 per month. Don't forget that this includes site-design tools, product management tools, automated customer communication tools, hosting and even more. When it comes to value, 1&1 ranks very high here too.
Best Value Package: The Advanced Shop for 1 year.
Why? Because you can list an incredible amount of products and categories.
Visit Site
Website Security
you can feel safe knowing that 1&1's servers are physically located in secure facilities monitored 24/7/365. In addition, all data and transaction information that is processed over your site is encrypted. The highest standard for this data encryption is called SSL, or Secure Socket Layer.
As far as the actual credit card details of your customers, it's important to make sure that these details are never stored by your site. With 1&1 you can be sure that these details are never stored, protecting your customer identity. Additionally, transactions are not processed directly by your shop, but by a third party processor such as PayPal (or another of your choosing) which provides their own top-notch security.
Customer Support & Overall Service
As a customer, you have a number of ways to reach out to the 1&1 support team. For starters, there is an 800 number phone line, which is available 24 hours a day. If you ever need an immediate answer to a question–even if it is technical in nature–this is where you should go. They also offer email support around the clock.
Another nice option for support is looking through the online frequently asked questions. These should provide answers to almost all of your basic questions.