Wix:
$12.50 for Ecommerce package
$24.50 for VIP Plan
Facebook store app: $6.99/month

Wix Visit Site
BigCommerce:
$29.95/month
Easy interface
All plans accommodate Facebook stores
Synchronized inventory tracking

BigCommerce Visit Site
Shopify:
$9/month (for Shopify Lite)
Assistance with boosting store visibility
24/7 customer service
The first thing you need to do is set up a Facebook page dedicated to your business, which is separate from your personal profile page. Once the page is set up, you can install a shop, so that customers can purchase directly through the Facebook page. There are a number of Ecommerce platforms that can be used to set up and run a Facebook store, and the best options we found are Wix, BigCommerce, and Shopify.

Shopify Visit Site
Features
You'll need an Ecommerce platform that will quickly and seamlessly link up to your Facebook store. Look for a platform that allows for instant, simultaneous updating on the Facebook store. In other words, when you make a change to your Ecommerce store, say, by moving a product listing or changing a price, it should instantly make the same change to the Facebook store.
This saves time and ensures consistency across platforms.
You might also prefer an option that charges low—or even zero—transaction fees. In addition, a site that doesn't charge extra to run a Facebook store or require the purchase of an outside app could help save a little money.
Finally, having your products on a Facebook store is a good way for your company to increase revenues— if people see the store. Look for an Ecommerce platform that will give you ad credits or assistance in promoting your store.
Features to look for:
Easy setup
Changes to Ecommerce store automatically updated on Facebook store
Low transaction fees
Help promoting page on Facebook
1. Wix
Requires purchase of outside app
Outside app (Facebook Store by Sopial) powers over 165,000 merchants worldwide
App uses an "advertising optimization engine"
Clear and personalized reports of Facebook add performance
Wix has become one of the world's most popular site builders, based largely on its intuitive interface and rich assortment of templates. It's easy-to-use and the first choice for countless small businesses.
Anyone looking to set up an Ecommerce store on Wix will first have to sign up for one of 2 paid, premium plans. The company calls its "Ecommerce" plan "the best for small business." This plan costs $16.50/month and comes with an online store, as well as $75 in ad vouchers, a form builder app, and a site booster app. The VIP package is a bit pricier at $24.50/month, but it includes 10 email campaigns a month and a professional site review, both of which have the potential to help a small online business grow.
Both of the plans are for running an Ecommerce site on Wix, so if you want to sync that online store to a Facebook store, you need to purchase the Facebook store app, which costs $6.99/month. The app—developed by 3rd party company Shopial—is available for free, but the free version only allows you to display up to 9 items.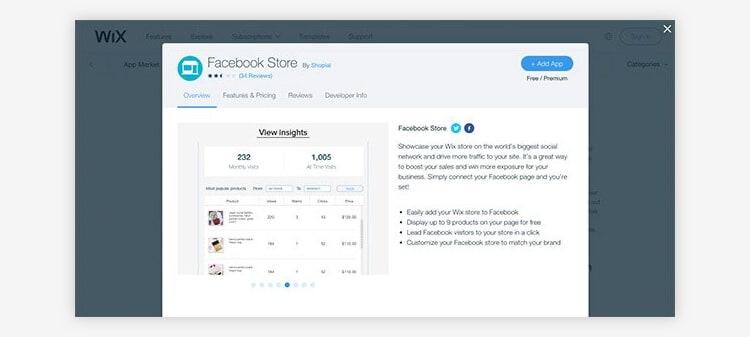 Unlike many of the other Ecommerce platforms available, Wix takes zero commission on your online sales, no matter which plan you choose.
Once you've got your online store set up with Wix, you can choose from a massive selection of templates to select the one that suits the type of business you're running.
After your Wix and Facebook stores are synced, any changes you make on your Wix site are automatically applied to both.
Today there are more than 165,000 merchants in 142 countries using the Facebook store app created by Shopial. The app can be used in 7 languages and it has 99.99% uptime and SSL encryption.
With this app, you can advertise your items at any time simply by clicking "promote" on the product. The items are put through a "powerful advertising optimization engine." It also automatically imports all product information from your site to Facebook and regularly updates product information.
The Shopial app also provides users with clear and personalized reports for their Facebook advertisements. Bottom line, the app does the legwork for you and gets your site onto Facebook to help connect you to a far wider audience.

Wix Get Started
2. BigCommerce
Easy interface
All plans accommodate Facebook stores
Synchronized inventory tracking
BigCommerce is a major leader in the Ecommerce field, and it offers 4 separate service packages, all of which accommodate the creation of a Facebook store.
With BigCommerce you can simultaneously list products on your Facebook storefront (and on Amazon and Pinterest), and take advantage of synchronized inventory tracking to keep an eye on your sales.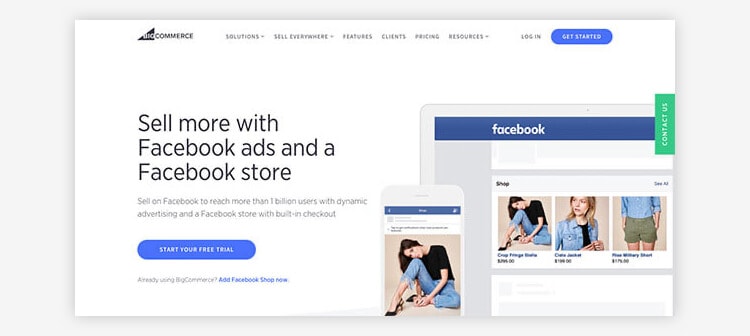 You can sell more with Facebook ads and a store
How Do You Create a Facebook Store with BigCommerce?
First, you set up a BigCommerce store and then create a Facebook business page that coincides with it. Once you've signed up for the Facebook business page, go to the configuration page on BigCommerce and fill out all the relevant details of your Facebook business. You can then select whether or not you want customers to be able to checkout directly on Facebook or for their purchases to be redirected to your BigCommerce store.
Facebook will review your catalog to see if it adheres to the requirements, and once approved, your products will begin appearing on the Facebook page automatically within a couple hours.
You can then decide how often to promote the page on Facebook and also use the Facebook "insights" feature to see which products customers are viewing and engaging with in your shop.
Once you're up and running, BigCommerce offers a "Facebook Ad" extension that helps you create targeted ads for your products, to increase their visibility and boost your sales.

BigCommerce Get Started
3. Shopify
As cheap as $9/month to have a Facebook store, if you already have an Ecommerce store elsewhere
Low transaction fees
Assistance with boosting store visibility
24/7 customer service
Shopify is one of the top Ecommerce platforms on the market and focuses mainly on small/medium-sized businesses. While you can purchase a fully-functioning Ecommerce site on the Basic Shopify plan for $29/month, if you want just a Facebook store, then the Shopify Lite plan is available for $9/month.
The company also charges a 2% transaction fee for every purchase if made with an external payment gateway. Otherwise, payments can cost 2.9% + 30 cents each, or 2.7% if made in person.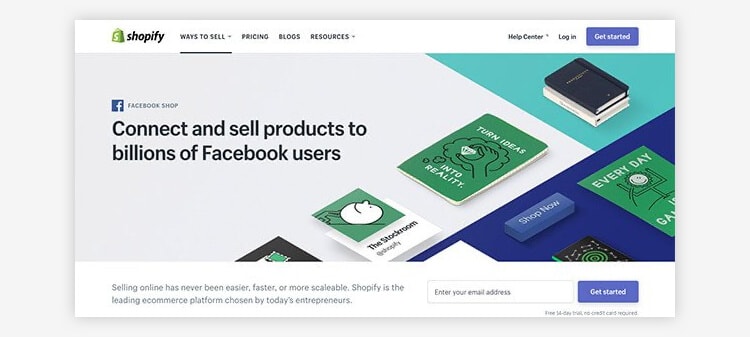 Shopify Lite is for users who already have an Ecommerce store of their own elsewhere, and want a means to link it with a Facebook store.
With Shopify Lite you get a fully-integrated Facebook store that is designed for mobile devices.
Customers can easily browse all of your offerings and make a safe, secure purchase without ever leaving Facebook. You can also connect with your customers through messenger chat, and customers can use messenger to make purchases.
Shopify offers a number of "smart" extras that can help an online business increase its revenue on Facebook. It allows you to boost your timeline posts to segment and target customers based on their location, age, and interests. The site also provides you with an in-person point of sale mobile app.
In addition, Shopify Lite helps you create giveaways and promotions for customers to help increase business and word of mouth.

Shopify Get Started
Bottom Line
Setting up an Ecommerce store is an essential step if you're looking to increase the visibility of your brand and bring it fully into the digital age. Once you're online though, if you're not putting it on Facebook you're opting out of some serious exposure and revenue opportunities. Getting your business onto a Facebook store requires a small monetary investment and after a simple setup, you'll be up and running and using social media to work for you.
The 3 sites listed above are all reliable Ecommerce builder options that can get your business onto Facebook, and put the world's biggest social media network to work for you.