Well, thanks to a new study we've conducted on this very subject, you no longer have to wonder. We've found the answers to each of these questions for cities across the US.
Interested to know how much you have to spend on dates with 'the one' before knowing that they're, well, 'the one?' Read on.
How We Made Our Calculations
We paired survey data on the average number of dates people go on before meeting 'the one' and other related findings with a cost of date night by city calculation and crunched the numbers from there.
Our cost of a date night calculation includes 4 assumed date night expenses: dinner, a movie, a rideshare, and alcoholic drinks. The rideshare cost was based on Uber's published rates for each city and the average length of a rideshare trip. The dinner for 2, movie tickets, and drinks were based on Expatisan's cost of living resources.
What We Found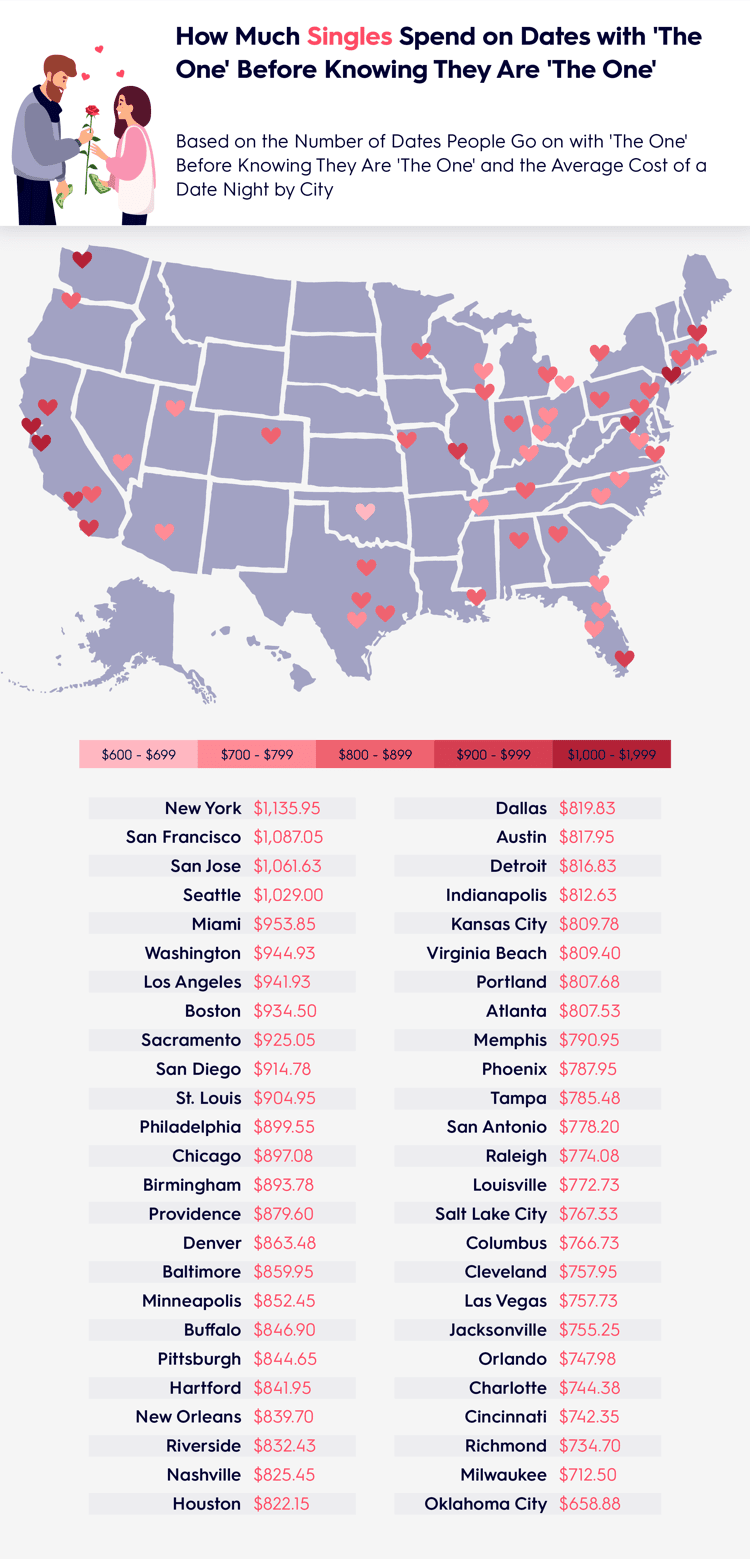 Did you know that, in some cities, singles spend upwards of $1,000 on dates with someone before knowing they're the one? It's true.
If you're from San Francisco, San Jose, Seattle, or New York, you can expect to shell out more than the rest of the country while trying to determine whether that special person in your life is really 'the one.' In other words, if you're from one of these cities and you haven't met your soulmate yet, it might be time to start saving because you'll need a pretty hefty dating budget to power through your single years.
On the other end of the spectrum, Oklahoma City, Milwaukee, Richmond, and Cincinnati are among the least expensive cities in the country when it comes to the costs you'll incur while getting to know your soulmate. In all of these cities, you'll spend less than $750, which may still seem like a lot, but it's really a bargain compared to dating costs in other parts of the country.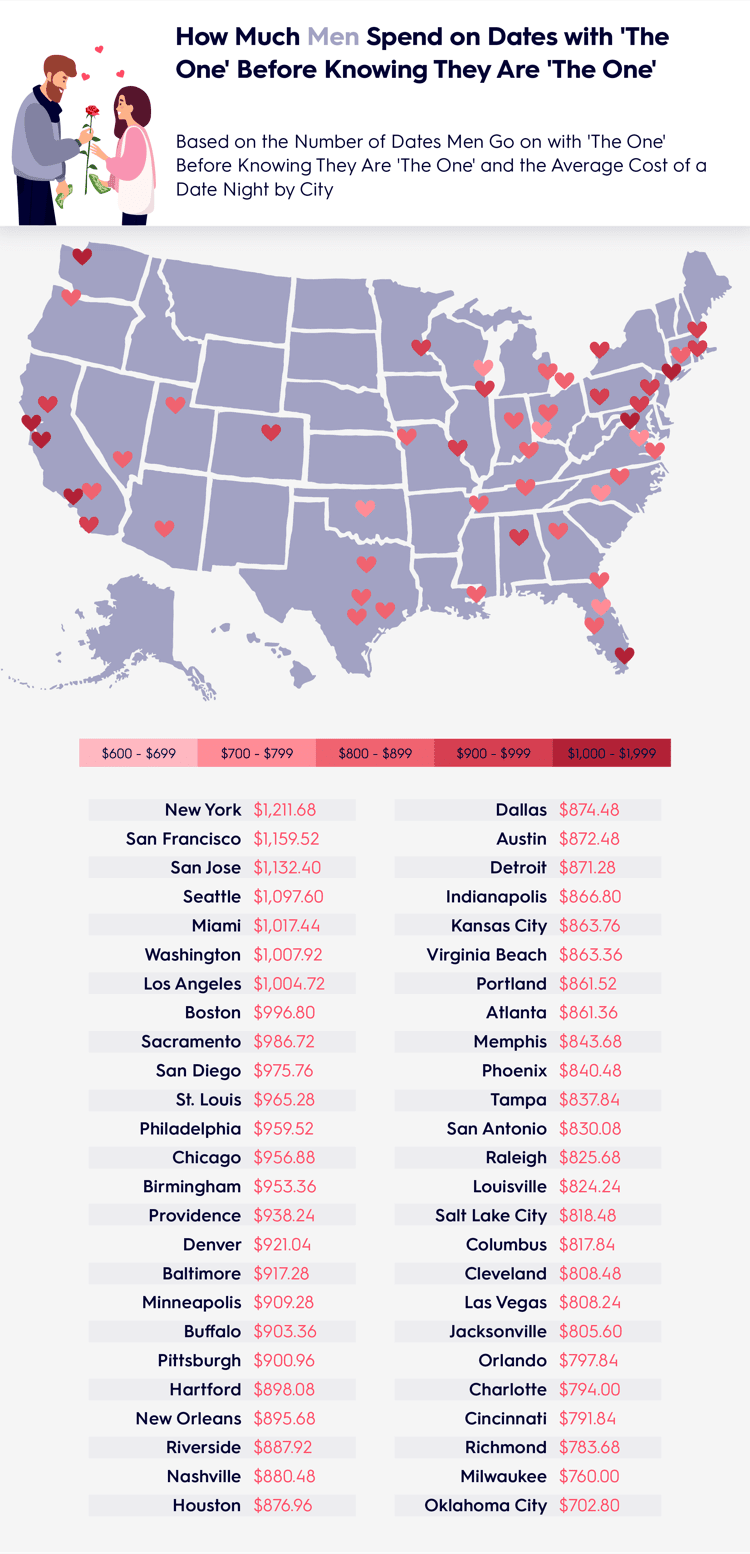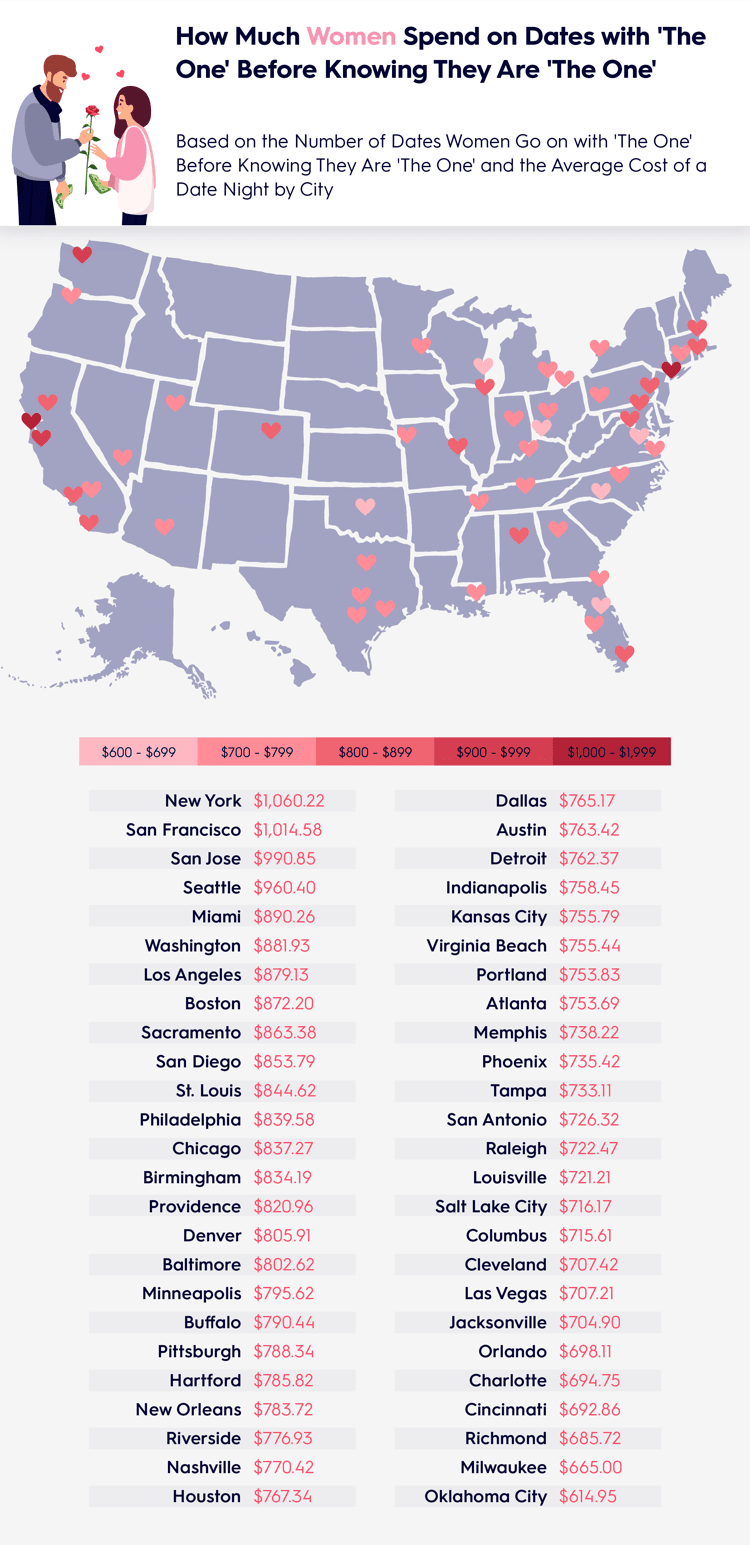 Interestingly, we found that men typically have to spend more than women do on their path to meet 'the one.' This is likely due to the fact that men go on more dates with 'the one' before realizing it's a fit.
In pricier cities like New York, San Francisco, and Seattle where men can expect to spend $1,211, $1,159, and $1,132, respectively, on dates with 'the one' before realizing the person they're seeing, is 'the one.' Women in these cities, on the other hand, typically spend less: $1,060 (New York), $1,014 (San Francisco), and $990 (San Jose).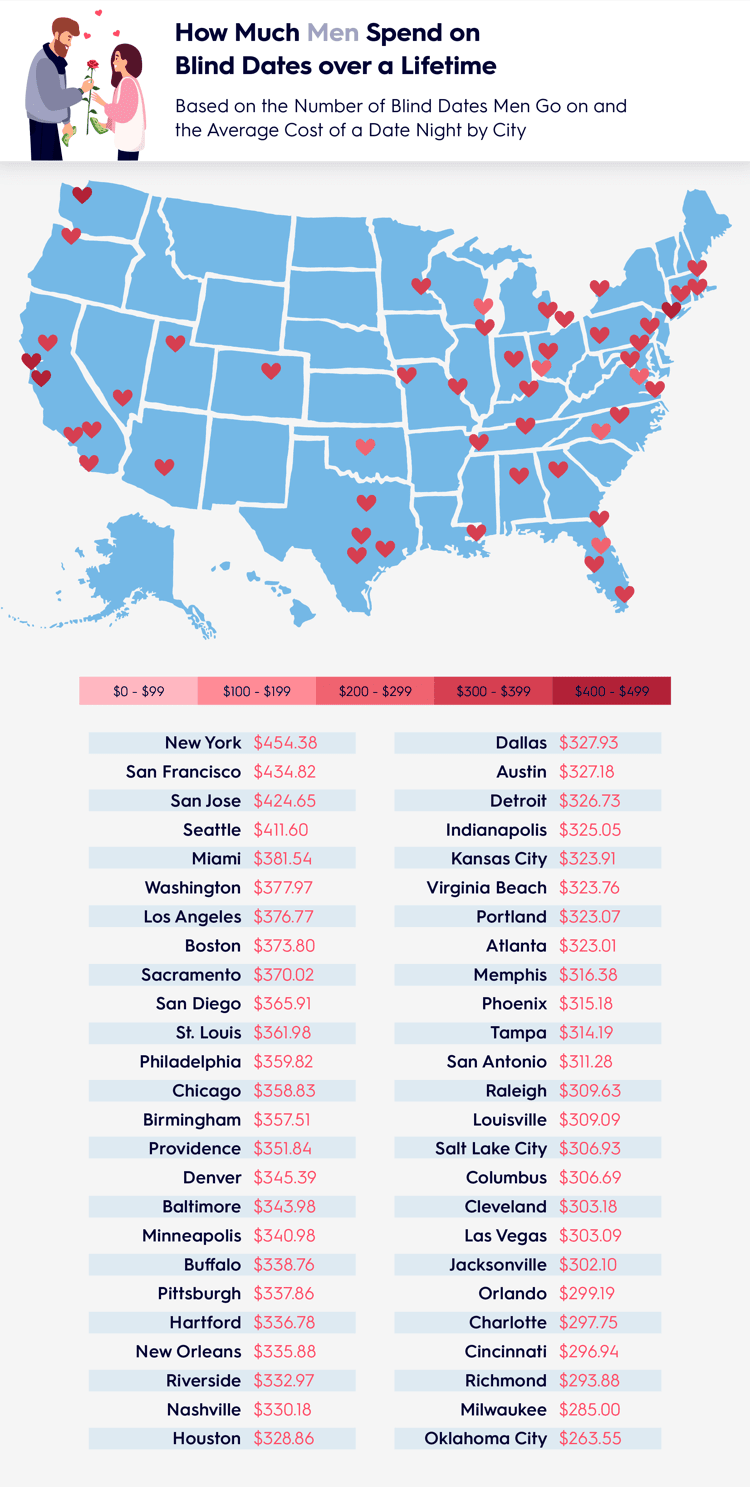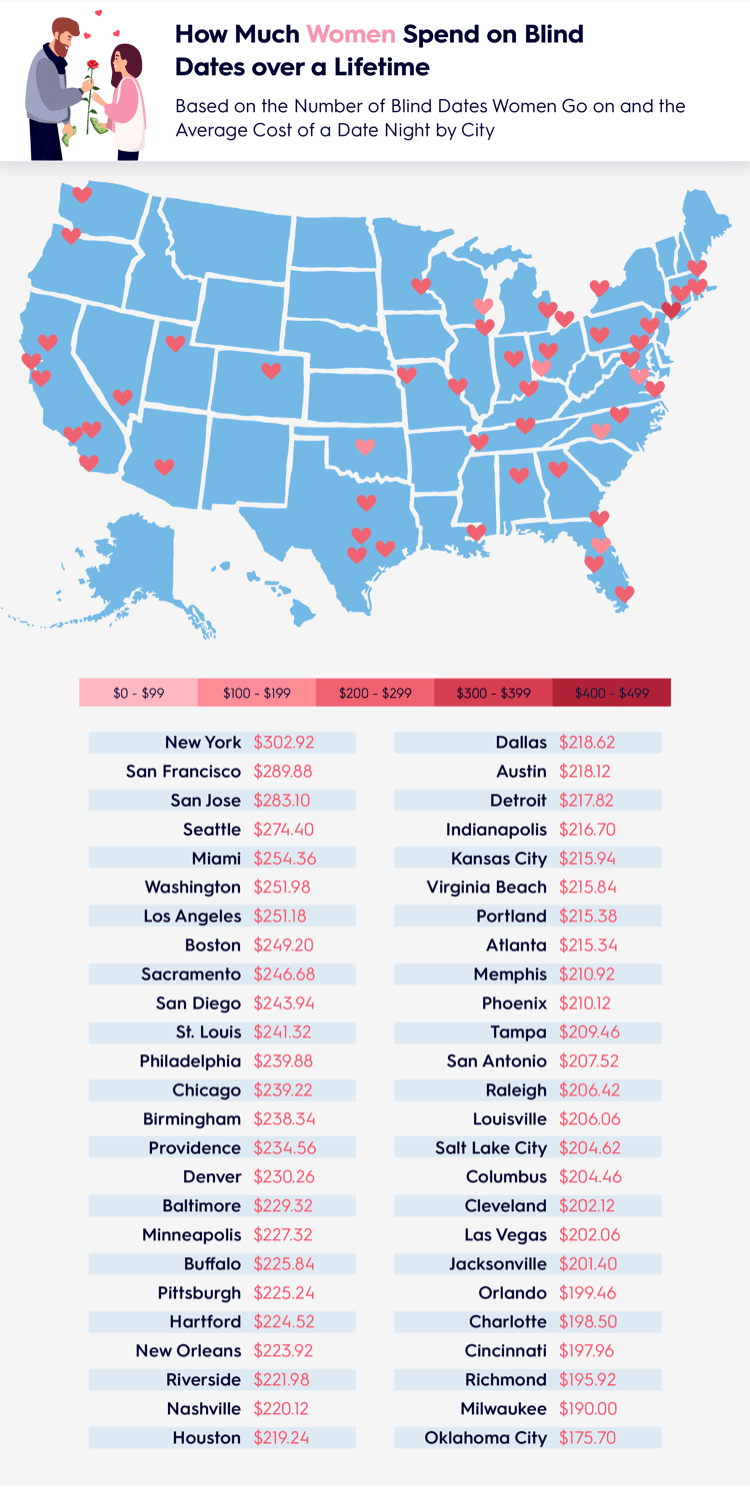 Fortunately, when it comes to blind dates, Americans don't spend nearly as much as they do on typical dates.
But men do continue to shell out more than women on blind dates. In the least expensive city (Oklahoma City), men spend $263 on a lifetime's worth of blind dates, whereas women in Oklahoma City spend only $175. And in larger, pricier cities like New York, men spend about $150 more than women do on blind dates over a lifetime.
The spending gaps in other major cities like Las Vegas and Boston are also worth mentioning. In Las Vegas, men spend about $100 more than women on blind dates. And in Boston, men spend nearly $125 more than women on blind dates throughout their life.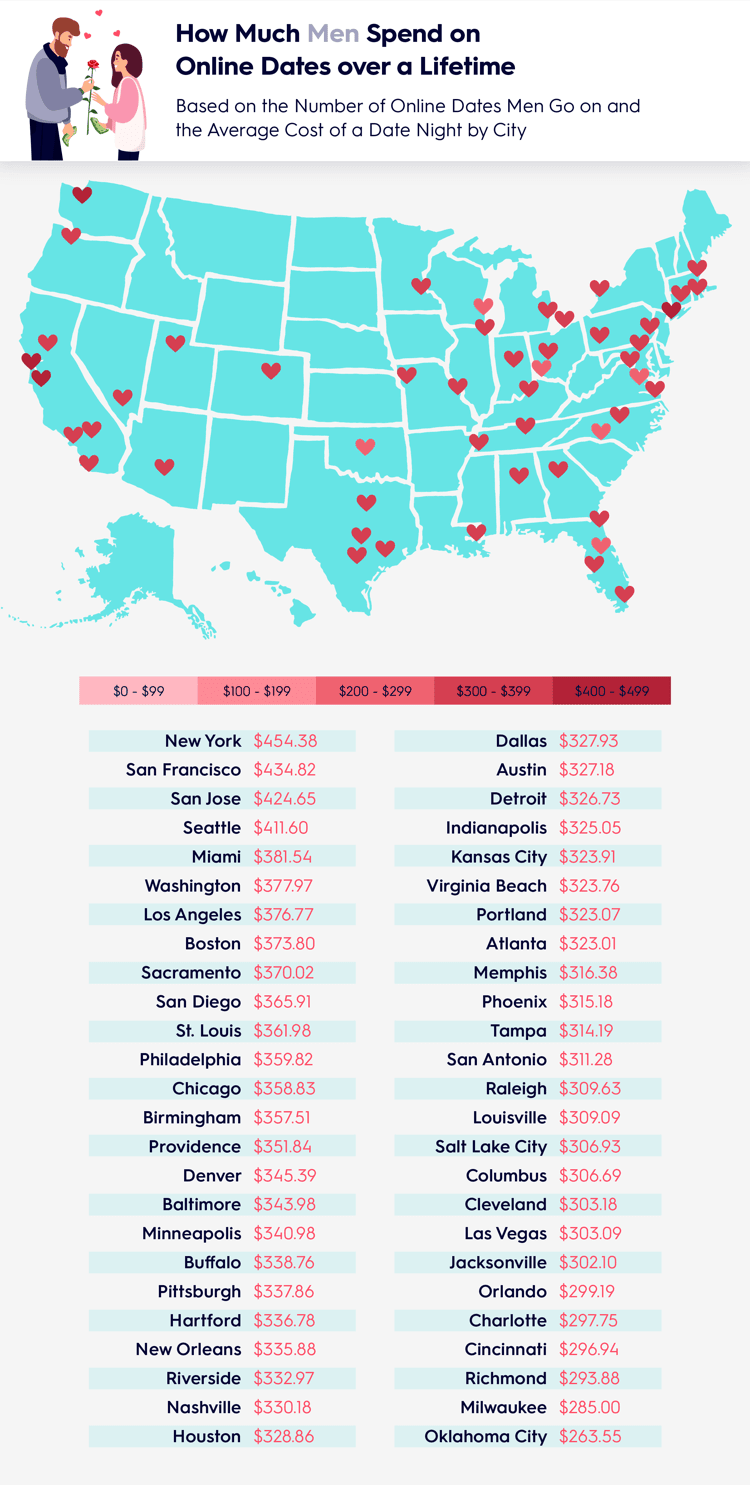 New York, San Francisco, San Jose, and Seattle continue to be the priciest cities for dating. Men in these cities typically spend $454, $434, $424, and $411, respectively, on online dates over a lifetime.
As was the case with blind dates, women spend less than men on online dates over the course of their life. Unlike men, women from every city, with the exception of New York, spend under the $300 mark on online dates before meeting 'the one'. In cities like Orlando, Charlotte, Cincinnati, Richmond, Milwaukee, and Oklahoma City, women spend less than $200 on online dates over a lifetime.
What This Means For Your Next Date
Unsurprisingly, New York is the most expensive date night city for both men and women. This holds true for general dates, blind dates, and online dates.
While New York is the priciest date night city in the country, Oklahoma City is the least expensive. No matter the type of date they're on, singles in Oklahoma City spend significantly less than the rest of the country as they date their way to 'the one.'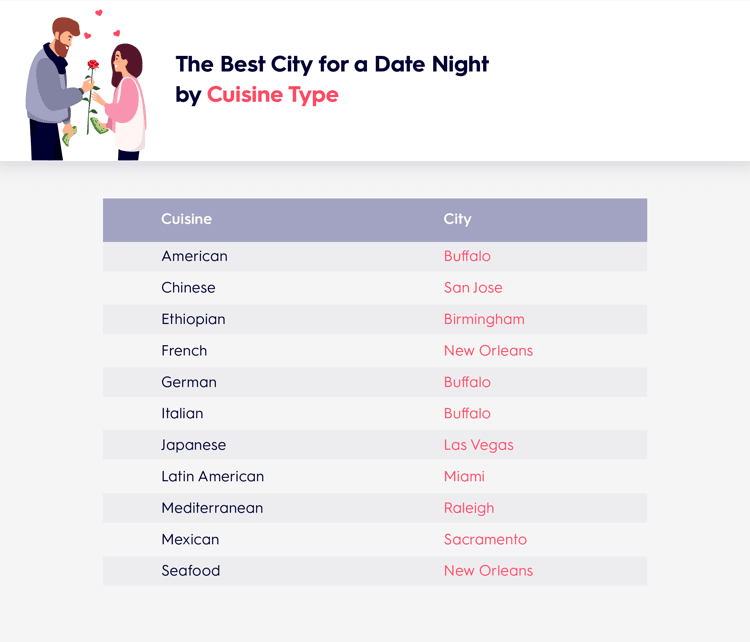 We were also curious about the best city for a date night based on cuisine type, so we analyzed Yelp listings and reviews to get the scoop.
As it turns out, if you're looking for American food, there's not a better place than Buffalo, NY. Funnily enough, Buffalo is the top city for Italian and German food date nights, too.
Other than that, San Jose is the place to be for Chinese cuisine as is Sacramento for Mexican, Raleigh for Meditteranean, and New Orleans for seafood.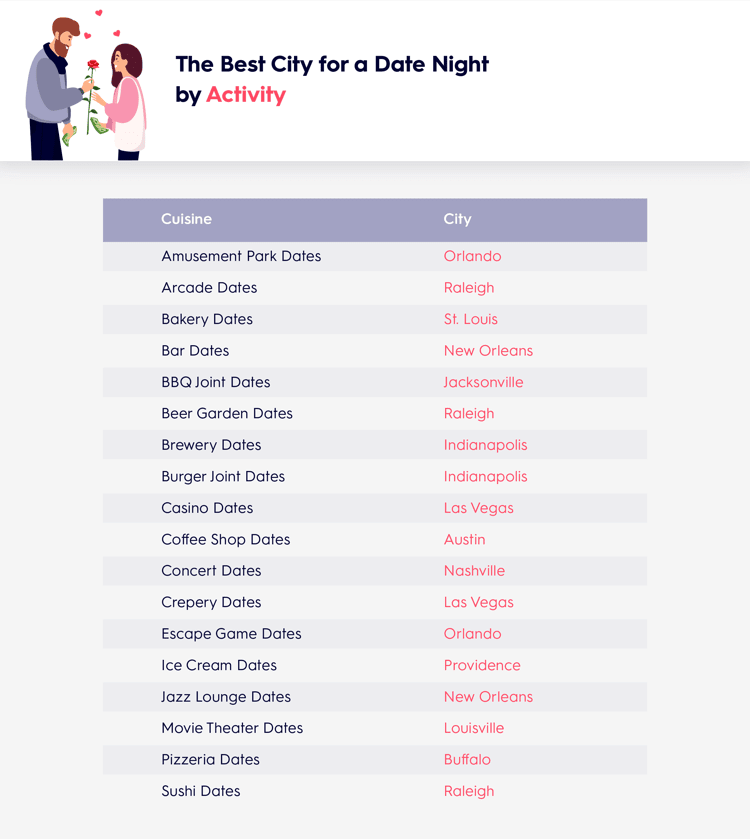 These days, dates can mean so much more than just dinner. That's why we also decided to look into the best cities for date nights based on the type of activity you wish to partake in.
Interested in a more adventurous date? We say go for an amusement park date in Orlando, a casino date in Las Vegas, or an arcade date in Raleigh.
Or, if you'd prefer an evening that's more laid back, a coffee date in Austin, ice cream date in Providence, or brewery date in Indianapolis are also great options.
Does all this date night talk have you thinking it's time to start dating again? Good news. We've put together a list of the best dating sites in 2020 just for you! Happy dating!