In a Nutshell
SoulSingles is an online dating platform designed for black singles looking for a long-term relationship. With thousands of members aged 25-40 years, there are lots of like-minded singles to connect with. Once you register, you'll answer a few personality test questions to ensure you're matched with compatible partners. If you're tired of playing mind games and want to find real love or genuine friends, SoulSingles is a great choice for you.
pros
Clean and easy-to-use interface
Fast signup process that takes less than ten minutes
Ability to make your profile hidden or searchable
cons
Only paid members can boost profile for higher visibility
Mobile app only available to Android users

Soul Singles Visit Site
Best For
Long-term relationships
Number of Members
Over 250,000 members
Favorite Features
Boost profile

Unlimited messaging

Optional visibility
Video Chat
SoulsSingles doesn't have video chat features.
How Much Does SoulSingles Cost?
SoulSingles' pricing depends on the length of your membership. If you subscribe for six months, the cost will be $9 per month. A three-month membership is $13 per month, and one month costs $19.
The first time you sign up for a premium membership, you'll be charged a one-time fee. This will be followed by recurring period charges unless you choose to turn off auto-renewal on the payment page, or deactivate it before your subscription expires.
Compared to other similar dating platforms, SoulSingles' membership is affordable and comes with great features to increase your chances of finding lasting love.
What Can You Do with SoulSingles for Free?
With a free basic membership account, you can use the platform to create a profile, search and view profile photos of active members, receive partner suggestions, like other users' profiles, and see who's viewed your profile.
However, you won't be able to chat with other users, read their messages, or boost your profile with a free account. To fully enjoy the dating experience and meet with potential dates, it's best to upgrade to a premium membership.
Premium Features and Upgrades on SoulSingles
When you upgrade to a premium membership, you'll get access to unlimited instant messaging, advanced search filters, and notifications when a match reads your messages. You'll also be able to boost your profile to achieve higher visibility in search results.
How SoulSingles Works
SoulSingles makes it easy to connect with African American singles to see if you're a good fit for each other before meeting offline. Whether you're looking for friendship, romantic love, or marriage, you'll find like-minded black singles to connect with on the platform.
How to Sign Up for SoulSingles
To sign up for SoulSingles, visit the platform's website and input your basic information and the gender you're looking for. You don't have the option to register with a Facebook or Google account. Once you enter your details, you'll have to take a short personality test. This shouldn't take more than ten minutes.
Next, you'll be asked to upload a selfie from your device. While you don't need to upload a profile photo right away, SoulSingles says you're much more likely to get likes or personalized messages from other users if you do so. After signing up, you'll be able to see your dashboard and enhance your profile even more.

Setting Up Your Profile on SoulSingles
The platform has a clean and simple interface that's easy to navigate. When you log in to your new account, go first to the navigation menu and click on Edit Profile.
Then, fill in the sections labeled Appearance, My Lifestyle, Favorites, Interests, Personality, and Insights. Next, you can upload more profile photos directly from your device.
You don't have the option to import photos from your social media accounts, but you can add up to 20 pictures from your camera or photo gallery. Note that all photos are reviewed and may be removed if they don't meet the requirements.
If you're not ready to start mingling with people and want to stop your profile from appearing in other members' search results, you have the option to hide your profile or deactivate it in visibility settings.
Now that you've completed your profile, it's time to find the person of your dreams!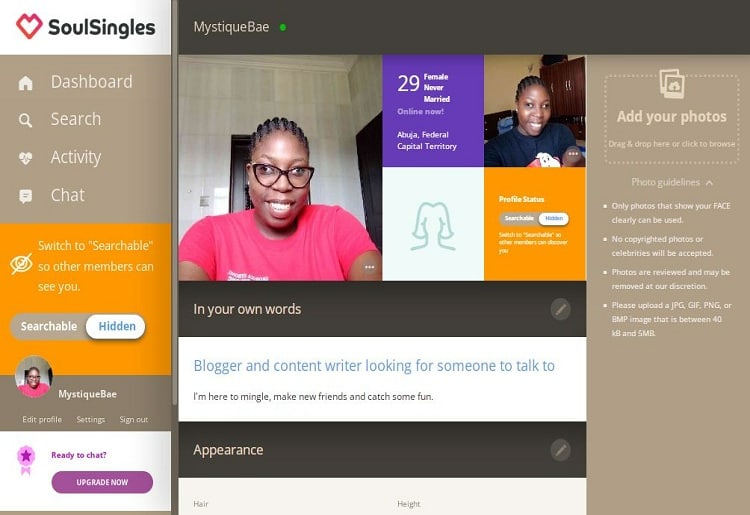 How to Find Matches on SoulSingles
Finding a match on SoulSingles is straightforward. To reach more members on the platform, click on the Search icon and filter results by age, location, religion, physique, race, family roots, and profiles with photos. You can further sort the results by distance, activity date, age, and recency to narrow your search. The results are displayed in a grid view layout to make it easy for you to scroll down and view other users' profiles.
To find more matches, swipe through the navigation tabs labeled Your Matches, Newest Members, Online, and Who May Like You. Additionally, you can click the heart icon on the left sidebar to see the users you've interacted with and people who liked you or viewed your profile. You'll get an email or push notification when someone likes you, views your profile, or sends you a message, and when you receive new matches.
When you get a potential match, you can see their photos, read their personality test results, and like their profile. They'll be notified immediately of your show of interest by email. To communicate with anyone through messaging, you'll need to be a paid member.
Now that you've familiarized yourself with the platform and some of its features, let's take a look at how your personal data is kept safe.
Safety & Security
SoulSingles takes the security of its users seriously and uses a double-blind system to ensure your real identity is protected until you decide to reveal it. As long as you don't include personal details such as your last name, place of work, home address, phone number, or email address in your profile or messages, you'll be safe.
SoulSingles also reviews all profile photos manually to ensure everyone has a real face attached to their profile. This enables you to have an idea of the individual on the other end of the screen while viewing potential matches or chatting.
Additionally, the platform uses high-level encryption and has a dedicated page to give you tips for safe and successful dating.
To prevent a user from contacting you, you have the option to block them. Visit their profile, click the icon with three dots and select Block Profile. This will automatically make your profile unavailable to them. In addition to blocking a user directly from their profile, you can contact the SoulSingles team for assistance via email or phone.
If you feel that a user is violating the Terms of Service, you may report them by clicking on Report Profile at the top of their profile. This will definitely come in handy if you ever have to deal with harassment, inappropriate behavior, or disrespectful comments from a user.
Each time you visit the platform, SoulSingles automatically collects your personal information, IP address, and the previous web page you visited. This information is used to optimize the site, identify you, and gather demographic information about you. You can contact the customer support team and request for your data to be deleted from the platform at any time.
SoulSingles App
The SoulSingles app is clutter-free, easy to use, and has the same features as the website. It's only available for Android users, so if you're an iPhone user, you will have to access your account and interact with others on the main website.
SoulSingles Customer Service
SoulSingles offers phone support from 7am to 5pm PT on Monday to Friday, and during weekends from 7am to 3.30pm. Due to the number of inquiries being handled by the customer support team, you may not get an immediate response. However, if you leave a voice message someone will get back to you within 24 hours.
Although SoulSingles doesn't offer live chat support, you can reach out to a customer service representative by filling out a contact form on the platform. You'll get a reply within a day.
Alternatively, there is a comprehensive FAQs page available on both the website and the app if you ever get confused about any features or encounter technical issues. Note that all sales are final and non-refundable, so make sure to choose a membership plan that perfectly suits your needs before subscribing.
How to Cancel or Pause a SoulSingles Subscription
You may cancel or pause your subscription at any time in the subscriptions section on Google Play, in your account settings, or by sending an email to info@worldsingles.com, with the words "Cancel Service" in the subject line. Note that if you terminate your subscription, it will remain active until the end of your current subscription period.
How SoulSingles Compares to Other Dating Sites and Apps
Casual dating and hookups
SoulSingles vs BlackPeopleMeet
Both platforms cater to a variety of black singles looking for a romantic relationship. They have similar pricing, search filters, and messaging features. However, BlackPeopleMeet gets the upper hand with its icebreaker conversation starters and voice/audio greetings.
SoulSingles vs BlackMatch
While SoulSingles and BlackMatch both make online dating fun and easy for black singles, there is a huge difference in pricing. BlackMatch looks appealing because it has cool features like preset messages and videos in profiles, but it's a bit expensive compared to similar dating sites.
SoulSingles vs EbonyFlirt
SoulSingles and EbonyFlirt are comparable platforms that provide premium dating services to the black community. However, EbonyFlirt is geared towards casual dating and hookups, which could be a drawback for black individuals looking for long-term relationships.
Does SoulSingles Work?
SoulSingles provides a safe and fun environment where single black people can meet for dating, marriage, and romance. Compared to other dating websites out there, it's good value for money and worth the price you pay for additional features. Even though it's not ideal for hookups, you can have a lot of fun, make new friends and find lasting love on the platform.