BlackMatch Visit Site
Overview
Best For: Black singles seeking romantic partners
Number of Members: Thousands
Favorite Features
Promote My Account feature
Live chat option with paid membership
Like Gallery to review daily favorites
Video Chat: Unfortunately BlackMatch online dating doesn't have a video chat feature.
How BlackMatch Works
BlackMatch is designed to help gay and straight black singles find their soulmate. Local and long-distance options are available. Interracial dating options are also possible on BlackMatch.
How to Sign Up for BlackMatch
To sign up for an account, select your gender and whether you prefer a male or a female partner. Bisexual and pansexual options are not available. Next, select any age from 18 to 78 and enter your email. Choose a site password, select your location, and then click Join Now.
Setting Up Your Profile on BlackMatch
To set up your profile, click on your profile photo in the upper righthand corner of your screen, and then click on My Profile. Next, under My Photos, you'll select the "+" and then Upload Photo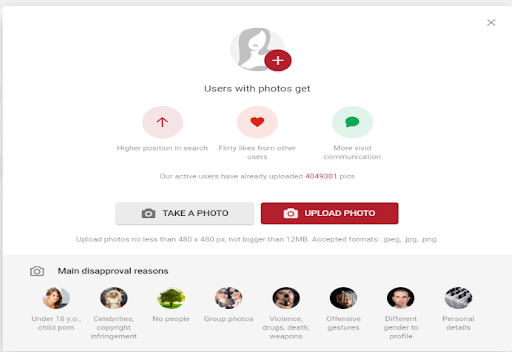 The site does not specify a limit to the number of photos, but note that images cannot be uploaded from social media. The site specifies that images may not include child pornography, copyright infringement, offensive gestures, depictions of violence, drug references, and/or any revealing personal details. Photographs that do not meet site standards will be denied.
After taking or uploading a photo from your computer, you'll have the opportunity to update the rest of your profile. Your Status indicates how you're doing or what you're thinking about at the moment. You can specify the gender, age range, and location of the type of person you're looking to match with.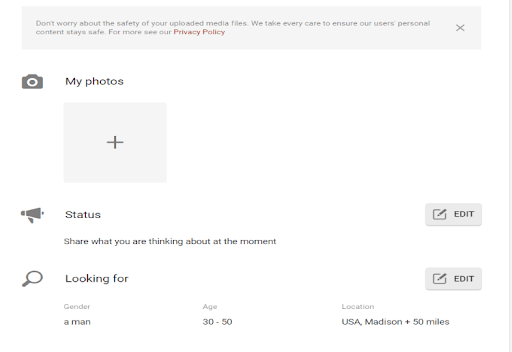 Next, you can share your eye color, height, education, preferred drink, and whether you have tattoos and piercings. You can also indicate if you're a smoker and if you have children. Information in this section is optional.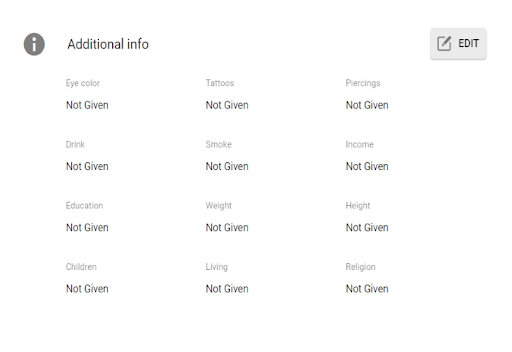 Once you've completed your profile, you'll be ready to find your match.
How to Find Matches on BlackMatch
BlackMatch has a user-friendly interface that makes it easy to search for potential matches. You'll be shown algorithm-generated prospects based on your profile specifications, which can be filtered by popularity, age, distance, and date of last activity. You can click on "X" to decline a match or select the heart emoji to accept one.
You can also use the Search tab in the upper lefthand corner of your screen to search the system for matches based on sexual orientation, ethnicity, eye color, body type, hair color, piercings, and tattoos. Alternatively, go to the Like Gallery and review individual matches, past matches, and any members who have liked your profile.
Notifications of any likes, matches, or messages can be found in the upper righthand corner of your screen each time you log into your account. Email notifications are also sent. You can communicate with your matches through unlimited messages and live chats if you are both paid members.
As you communicate with members, you'll want to make sure to have a "safety first" mentality.
Safety & Security
BlackMatch has an email verification process during registration. The site also clearly states it will reject photos that violate safety standards.
BlackMatch also offers 15 Great Date Tips under Safe Dating, which helps members protect themselves both on and offline. You can also access safety tips about consent, safeguarding personal and financial information, and the reporting process for inappropriate conduct by other members. Contact information is provided for sexual assault hotlines, suicide hotlines, LGBT hotlines, and even emergency numbers to report child or sex trafficking.
You can opt-out of marketing consent by going to My Account and changing your preferences, or you can email support@blackmatch.com to decline third-party advertising. User data is collected for the purpose of providing products and services. It is stored on a server in Canada while you are an active member and for up to 9 months for inactive members.
BlackMatch App
BlackMatch does not offer a mobile app on iOS or Android.
BlackMatch Customer Support
BlackMatch has a range of options for Customer Service. On your profile, you can complete a contact form with a 24-hour turnaround time for any questions you may have, including billing management, account management, functionality, photos, profile changes, and technical issues. You can also send an email to support@blackmatch.com or call 1-800-935-0634.
The toll-free number is available 24 hours a day, 7 days a week according to the customer service representative who answered during business hours. BlackMatch has an automated system to help direct your call and has no wait time to speak to a representative.
How to Cancel or Pause a BlackMatch Subscription
To cancel your membership, contact BlackMatch by phone, email, or by updating your account online. To delete your profile, go to My Settings, select Remove Account, enter your password, and choose one of the following options: Take me off the mailing list; Hide my profile; Hide my profile and take me off the mailing list; or Remove my profile, contacts, and personal information completely. You'll be able to select a reason for removing your profile, and you'll receive a request by email to finalize and confirm your cancellation.
BlackMatch has clear refund policies listed in the Terms of Use, located at the bottom of the screen. The site asks that you contact them first before disputing a transaction with your credit card. The charges must have been within the last 3-month period, and refunds will be granted on a case-by-case basis. Refunds will be returned to the original payment method. For recurring billing, refunds will only be granted for the most recent charge. BlackMatch further states that requests for a refund could result in your information being added to negative databases for any third-party billing or fraud agencies.
BlackMatch Pricing
BlackMatch offers a free membership option, but many of the website's features require a paid membership. The cost is listed as a daily charge, but automatic billing renews monthly. The first month is prorated at the daily rate, but after that, monthly charges accrue based on the membership duration chosen. Discounts are available to members who opt for weekly or monthly plans.
At the daily rate, BlackMatch costs $38.70 a month on average. The lowest monthly fee is the 3-month membership, which averages out to around $29.70 each month. This is slightly more expensive than the industry average and competitor pricing.
What Can You Do with BlackMatch for Free?
The free membership allows you to peruse the site. You'll be able to see a profile picture and a partial profile, and to search and like matches. However, you'll need to upgrade to a full membership to message or chat with your matches or to access the "Looking for" profile section. While you'll easily find matches using the free membership, it might be difficult to arrange a date.
Premium Features and Upgrades on BlackMatch
By upgrading to a full paid membership, you'll have access to several premium features. You'll be able to see the full profile, including what your potential match is looking for, and view all their available photos, including full-body photos. You'll also have unlimited messaging capabilities and will be able to participate in live chats. These benefits make it easier to find and connect with compatible matches.
Some of BlackMatch's premium features include "Promote My Account" and the Like Gallery. The former offers an easy way to prominently display your profile to members, while the Like Gallery offers a convenient place to store all the members you'd like to know better.
BlackMatch Alternatives
Casual and serious relationships
Casual and serious relationships
Casual and serious relationships
Casual and serious relationships
BlackMatch vs Soul Singles
Both BlackMatch and Soul Singles cater exclusively to Black singles looking for love online. Soul Singles is the more affordable option with monthly rates starting at $9.99 per month. While neither site offers video options, Soul Singles offers "Ask Truman for Advice," a love and relationships column for Black singles looking for dating guidance.
BlackMatch vs BlackPeopleMeet
While BlackMatch and BlackPeopleMeet target the same demographic, BlackPeopleMeet edges out the rest with competitive pricing, millions of members, and a mobile app that's available on iOS and Android. BlackPeopleMeet also offers easy conversational icebreakers to help members connect and offers more benefits to the Black single looking for a relationship.

BlackMatch Visit Site
BlackMatch vs EbonyFlirt
EbonyFlirt and BlackMatch are both exclusive to Black singles looking for romantic partnerships. Both have comparable pricing for paid memberships, 24-hour support, and promises of data protection. However, EbonyFlirt has the advantage of site moderators weeding out fake profiles to minimize the opportunities for scammers to connect with you.
Bottom Line
BlackMatch appears to be an ideal dating website for gay and straight Black singles and those looking to date them. However, the free version is limited and unlikely to be sufficient for dating purposes. Online reviews of BlackMatch further indicate that canceling your subscription could take up to a 72-hour delay, which is important for members on the daily rate to understand before committing. It offers competitive pricing but less inclusivity for other genders and sexual orientations.