This might sound like a risky idea to you – perhaps you're worried about some website losing your sensitive financial information or feel that it's easiest to just keep reordering from the same bank you've always used. But, before you dismiss the idea, consider these great reasons to order your business bank checks online.
Price
The biggest and best reason to order business checks online is to save money. When you order from your bank you'll be paying anything from $0.15-$0.28 per check. Ordering from an online check printing company can bring the cost down to as low as $0.02 per check. For personal use the price difference might not be a big deal, because you aren't going through that many checks on a regular basis. However, a big business that writes several checks every day can experience real savings by switching to an online check printing service. That said, not every online check printing company charges less than the banks. Have a careful look at the pricing for the checks you want to order before you jump in.
Security
The biggest reason why businesses avoid ordering business checks online is the fear of security issues. Ordering from your bank feels safe and reliable, while ordering online seems a bit more risky. This could be true if you order from a sketchy website, but business checks from a reputable company are just as secure and safe as those from your bank. Most online business check websites use the exact same check printers as your bank, they just cut out the middleman of the banking firm to save you money.
Of course, you do need to check that a business check company is secure before you order. Look for a padlock icon on the right-hand side of the check, below the "amount" box. This verifies that the check has been approved as secure by the Check Payment Systems Association (CPSA), which is the same association that assures the security of your bank checks. The CPSA only gives this symbol to check printers who have included a minimum number of security features to protect your check from being easily altered or duplicated. You should also look for a good rating from the Better Business Bureau (BBB).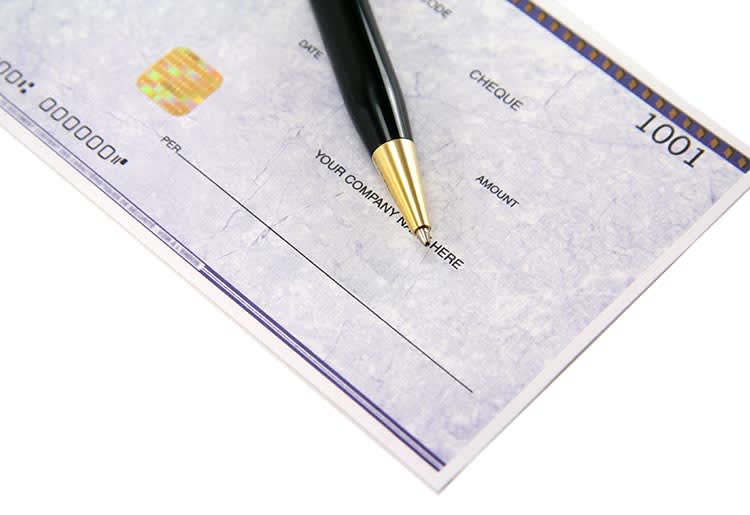 Checks bought online can be even more secure than your bank's checks. Many check printers offer the option of buying an extra-secure check that has additional security features integrated into it, like thermocon imaging, micro printing, and chemically reactive paper. You'll pay extra for this, of course, but some businesses find the extra security is worth the extra cost.
Every online check printing site has to have a secure server for you to send your vital financial details securely. Look at the site's security policy before you order to see if your details will be encrypted and kept secure from hackers and identity thieves.
Integration
If you're a large company or a small to medium business (SMB), you're likely not doing your accounting by hand. The days of manually recording expenses and income in a large book are long gone. Many accounting software platforms include the option of printing your checks, but your bank checks aren't always designed to accommodate the software.
Checks ordered online are made to be compatible with every accounting software platform and can usually be formatted according to your software's specifications. This way you'll be able to seamlessly integrate your business checks into your accounting process, saving time writing checks by hand and saving money on checks that were messed up because the software printed in the wrong boxes.
The option of ordering blank checks that are prepared with security features and using paper that doesn't allow for alterations is another useful way that online business checks integrate with your accounting software. Blank checks allow you to use your accounting software to print exactly what you need on the check in your business; inkjet or laser printer, speeding up the process while also giving you a more secure check.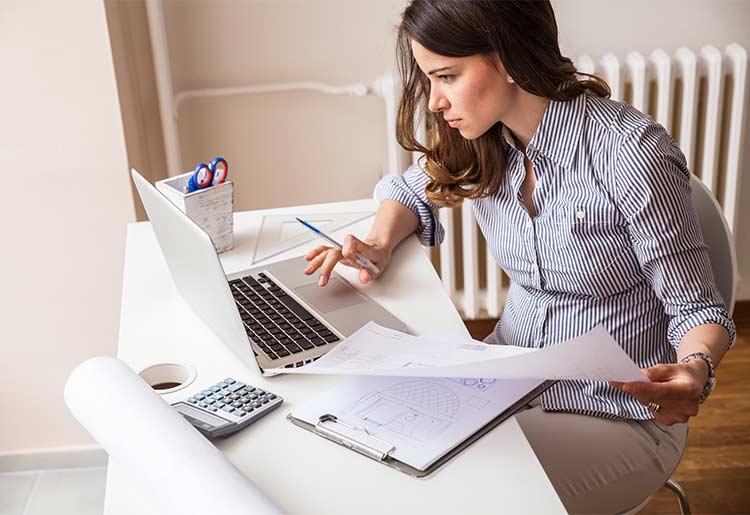 Ease of Ordering
Ordering bank checks from your bank is easy because the bank already has all of your financial information and you don't need to look up your routing number or any other detail. But, ordering checks online doesn't take much more effort. After your first order, many check printing sites hold your information so that you can reorder as quickly as when you go through your bank. Most companies ask you to send a voided check so that they can verify that all of your information is correct. Generally, you can reorder by email, mail, or over the phone, as well as through the website's secure server.
More Customization
When you order your business checks online, you'll get a slew of extra check customization options that your bank doesn't offer. For starters, online check printing companies have a much larger range of designs to choose from. For an individual this can be a chance to have fun with checks that show your interest in sports, fluffy kittens, or jazz music. For businesses, it's a great opportunity to extend your branding onto your checks and add an extra touch of professionalism.
Ordering online allows you to choose a check design which reflects your industry, such as a barbershop, fruits and vegetables, or heavy machinery. Often you can add your business's custom logo, a custom monogram, and choose the color that matches your brand's color scheme.
You can usually customize the formatting of your business checks when you order them online. This means options like adding extra signature lines to the check to allow for 2 or 3 counter signatures or choosing extra text above the signature line.
Being able to order checks with double stubs, formatted for itemized invoicing, accounts payable or payroll, and prepared for recording accounting items like hourly salary calculations can also be a big time-saving assistance for businesses.
Buy Business Checks Online to Save Time and Effort
Online business check websites use the same security features and are verified by the same assurance associations as your bank checks, but they offer the added benefits of lower costs, a wider range of designs and customizations, and easy integration into your business's accounting software. Once you've made your first order, reordering is as simple as ordering more checkbooks from your bank, so there's really nothing stopping you from trying it out.
Learn more about the best business checks in the industry today.