Though most vendors and suppliers may prefer direct deposits and other digital payments, there are still very many people who will prefer to have a hand-written, physical check that they can take to the bank and this is especially the case with business-to-business transactions.
This means designing and ordering checks for your business that are directly linked to the business checking account. While you can procure business checks through your financial institution, more and more people these days are going to private companies to craft the checks for them. Check companies can be much cheaper and more customizable, but how safe are they?
View the top business checks providers here.
Most business check providers include a host of security features that provide you the same level of security you'd expect from your bank. That said, not all business check providers are created equal. Before you start shopping around, take some time to learn about the security issues you need to watch out for, and how safe privately-ordered business checks are.
What Is a Business Check?
While a personal check is linked to your personal bank account, in order to set up a business check account, you must first set up a checking account for your business and present your bank with the filing documents of your business and all relevant permits, tax documents, and proof of ownership. After you've set up the checking account you can order business checks for the account from the bank, or look for a private supplier who can give you a better rate, with the same level of security and possibly better customer service.
Personal checks typically are smaller than business checks, which often appear 3 to a page in order to be organized in a company binder or ledger. Business checks also tend to have a more staid, professional appearance, and are loaded with more security features than personal checks.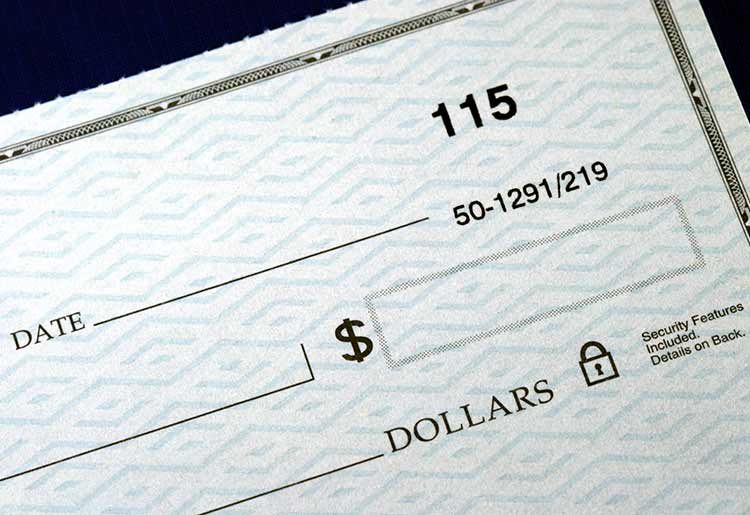 Types of Business Checks
Manual checks: Manual checks are filled out by hand and serve as a pre-printed template of sorts that you fill out for each payment. These checks can be personalized in a variety of ways.

Laser/computer checks: These are checks that you can print yourself and since they are typed up on your computer, they can have a more professional appearance than manual checks. Typically these are paired with accounting software on your computer in order to help with bookkeeping.

Register checks: These are checks that come with a register booklet so you can keep track of things. They can be ordered to come 3 to a page, bound to a pad with a register booklet, so you can keep everything ordered in one spot. Desk register checks tend to be smaller, and can fit in a wallet.

Payroll and voucher checks: These are ideal for bookkeeping. They typically come 3 to a page with invoices on the side of each check which you can use to fill out your tax and payroll information.
All of these types of business checks can be ordered to include extensive security measures, and most private business check ordering companies include a basic set of security tools in every order.
What is Check Fraud?
A number of financial organizations and researchers have found that a downward trend has reversed and that check fraud has been steadily on the rise since 2010. In 2016, some 74% of organizations were victims of some form of check fraud, according to JP Morgan chase. Check fraud costs companies and individuals billions each year, and part of what makes it so common is that it's easy. Every check you print out is full of information - your name, address, bank name and account number, routing number, signature - that can easily be used to commit check fraud.
Check fraud can fall into a number of categories. It can be simple forgery - signing or endorsing a check without the owner's approval, or filling out stolen checks to make transactions. Check washing is similar to forgery, in that the offender uses chemicals and other methods to "wash" (remove) the details of the check and then fill them out to a different recipient and/or a different amount. Counterfeiting on the other hand, is more extensive - it involves using the account owner's details to fraudulently create entirely new, illegal checks which are then used to make transactions.
In addition, advancements in technology have arguably made check fraud much easier. While a generation ago you would have needed a highly-expensive printer, now anyone with a laptop and a printer with an eye for graphic design can make very convincing fraudulent checks. Also, it's much easier to use search engines to find the personal and business details needed to make fake checks.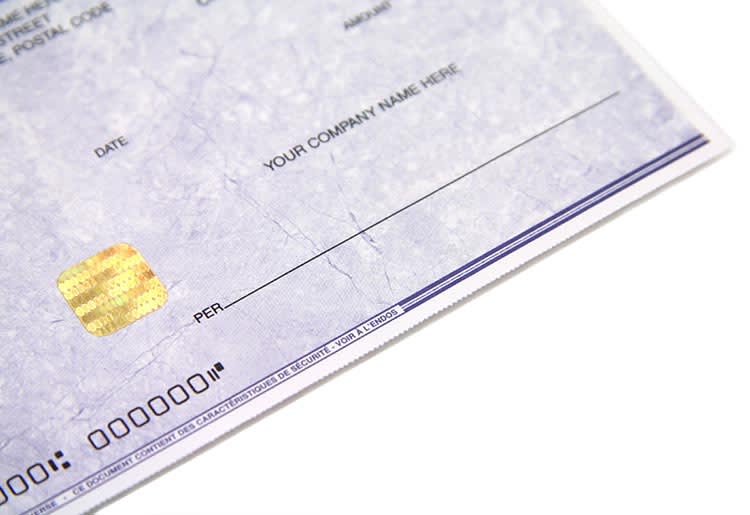 What Can You Do to Protect Yourself?
Now the good news - there is a long list of security measures that check providers include in checks these days, which can help protect you from fraud. Most of the security features are printed directly on the check, for instance these 3 measures:
Chemically sensitive paper: This prevents your check from being washed by scammers using chemicals. Typically checks with this feature will change color when treated with chemicals, in order to make them void.

Microprinting: To the naked eye these appear to be simple lines, but in fact contain very small writing which is very difficult for forgers to duplicate with a printer or copier.

Holograms and ultraviolet paper: These are difficult features for a forger to duplicate and ultraviolet paper and watermarks can easily be checked by bank personnel using a black light or holding the check up to a light.
In addition, a number of providers include seals from check security companies showing that the company has taken ample measures to meet safety requirements or the provider will charge an extra fee for the services of an outside security company that specializes in check fraud. You'll also want to make sure that the company you pick maintains a high level of security on the company website, so that your payment details are kept secure. Some also include a guarantee that they will refund your money if you are a victim of fraud.
What Features Do Check Providers Include?
Let's take a look at some industry leaders, to see what security features they can provide you.
Checks Unlimited
Membership with EZshield pro: for an extra fee ($2.45 per box) this company provides award-winning check fraud protection and ID restoration for Checks Unlimited customers. Protects against forgery and altered checks, and can replace lost funds within 72 hours, in addition to comprehensive identity protection.

Securiguard checks: These checks feature a hologram, chemical protection, erasure protection, and microprint signature line.

Checks Unlimited Get Started
Checks For Less
Optic features on the check: Checks for Less includes a number of security features printed directly on the check. These include a thermochromic heat sensitive image, micro-printed lines, security pantographs, and more. When scanned or photocopied, a "void" pantograph appears.

Padlock on check: This symbol on the check indicates that it has met the security requirements of the Check Payment Systems Association.
Costco Checks
All Costco provided checks include a host security features, but the company's high-security checks feature more than 25 features, including chemical wash detection, watermarks, pantographs, fugitive ink, thermochromic heat-sensitive icons, the padlock icon, and toner adhesion, among many others.

Costco Checks Get Started
Conclusion
The use of printed checks has remained steady despite the digitalization of so many other aspects of modern life. If you operate a business you will need to print personalized checks for your business to pay vendors and employees. You may find that going to a private business check provider is cheaper than your bank, but you'll want to make sure that the security measures in place can keep you safe. The bottom line - private check producers can save you money without you having to compromise on security, just make sure to read the bottom line before deciding on a provider.
Ready to learn more? See the top business checks providers here.