Check printing companies can also offer you more customization options so they can really reflect your company vision.
See the top business checks available today.
But how do you make sure that you're safe and that the company you've hired will match up to your bank when it comes to security?
Security Features
Scammers have all types of new, digital avenues to make money. But check fraud remains a tried and true favorite. Checks include your personal details and those of your business and bank, which can expose you to fraud. Before ordering checks online, make sure to check that the company provides the type of security you can count on.
Anti-Forgery and Anti-Counterfeiting Tools
There are more sophisticated scams out there, but when it comes to check fraud, one of the main routes for scammers is to directly alter the check itself. They can do this through what's known as "check-washing," using chemicals to wash out the writing on a check and enter new details. Another method is to use the owner's details to create new, fraudulent checks that they print themselves.
How Do Check Printing Companies Fight This?
Largely through a number of secure features which are printed directly on the checks and can make them far more difficult to counterfeit. Most check companies will print on chemically-sensitive paper as a deterrent. If a forger treats the check with chemicals it will change color or the word "void" will appear, indicating that it can't be accepted as payment. Microprinting is another method - it's a series of words and letters that appear on the check. This writing is very hard to duplicate with a printer or scanner and while it can't be seen by the naked eye, it can be spotted by banks when accepting your checks as payment. Holograms and ultraviolet paper are additional visual features that are difficult for scammers to recreate, which can help you safeguard your checks.
A number of check providers also provide extra security through third-party companies that specialize in fighting check fraud. These are companies like EZshield pro, which can be added to check orders with some companies and provide additional protection against forgery. This is all in addition to guarantees that they can return funds in event you are the victim of fraud.
Before placing an order with a check printing company, you also want to ensure that the company has strict security protocols in place on the company website. Look for an SSL certificate or other certifications that show the company is using serious cyber security software. After all, you're giving the company your personal details, so make sure they take security seriously.
Types of Checks
Manual checks: These are checks that you fill out by hand each time. They come already printed up in books, unlike computer checks.

Computer checks: Also known as laser checks, these are checks that you can type up and print out yourself, giving your checks a neater, and typically more professional appearance. These checks can be integrated with business software programs like QuickBooks and Microsoft Money, to help you keep things organized efficiently.

High security checks: While most check companies provide standard security measures, many offer checks with extra security measures added in for an extra fee. It's a little extra money, but you can definitely get a little more peace of mind with these checks.

Payroll checks: These checks come ready to go with pay stubs for payroll and tax purposes. They often come as part of a bound ledger so you can keep your check bookkeeping in one spot to keep things clear and easy to organize.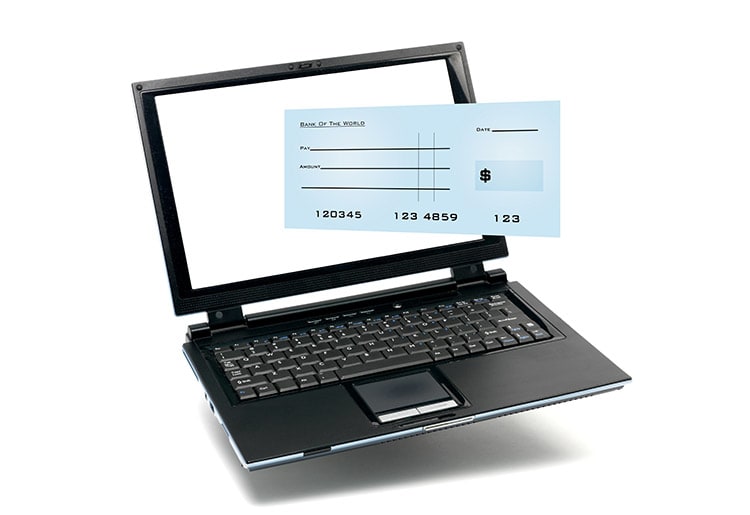 Buying in Bulk
If you write a large amount of checks for your business, you may want to consider buying in bulk as a way to save you money. For example, with Check Advantage, a box of 100 computer checks costs $19.45, while a box of 500 goes for $85.85. That's a difference of $12 over the course of the purchase. This might not sound like much, but with check printing companies, shipping can often cost almost as much as the checks themselves. For instance on Check Advantage, 3-day select shipping costs $12.95 if you're ordering a box of 100 or a box of 500. Ordering in bulk in a single shipment can save you a good amount of money.
So how much can you expect to pay? Here's a quick look at what some industry leaders charge, using 3-on-a-page computer checks as a barometer:
Customization
Business checks have fewer customization options than personal checks, though you can still have some fun and put your own special touch on your checks while still retaining your professionalism. These typically include custom fonts, color schemes, and the inclusion of special logos which the company provides.
On Checks in the Mail for example, you can choose from 1 of 3 special fonts for $2.50 per box. There are also special slogans and logos you can select for $2.50 per box. The company will also allow you to upload photos, as long as they don't violate company regulations or trademark issues.
With most companies, the slogans and photos must adhere to certain guidelines dealing with profanity and trademark issues.
Conclusion
So the question remains, what do you look for in a business checks provider? You first need to decide what your needs are as a business - do you need a large number of checks and does it make sense to buy in bulk? Do you want to simplify workforce accounting with payroll checks? Would you prefer printing your own computer checks? Do you need a provider who can allow more customization in check design?
All these answers are up to you to figure out, but regardless of which company you choose, security should be a top priority. Make sure that the company has enough security measures in place that you feel cofortable and then start looking at the prices and customization options.
Once you've picked a company then take a deep breath, and get back to the rest of your daily business operations.