In a Nutshell
PeopleSearch123 is an intuitive, user-friendly site that enables you to search for information about people. It boasts a database of billions of public records, and its search tool enables you to carefully refine your search. The reports are neatly compiled and contain a surprising amount of information, confirming that this is a tool worth using.
pros
$1 5-Day Trial that includes 25 complete reports
Easy to use
Searches billions of records
cons
A little high in price for the monthly service after trial
No knowledge base or support center

PeopleSearch123 Visit Site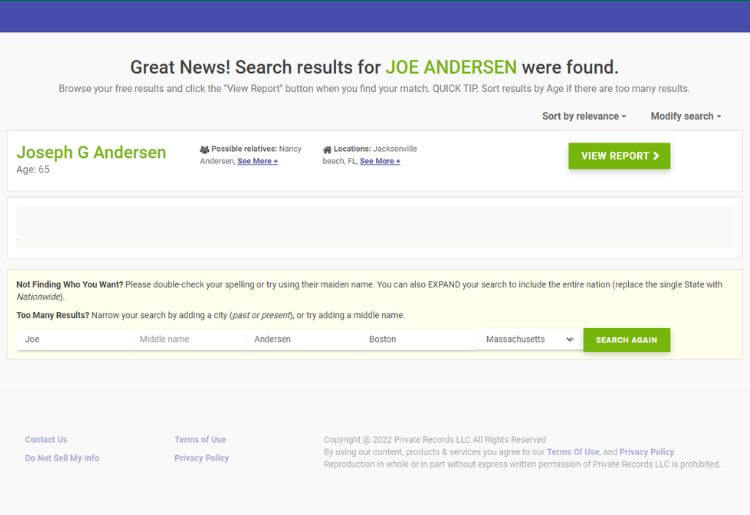 Ideal For
If you need to check a person's criminal history
Those looking for contact information for estranged friends or relatives
Reports Offered
People search
Sex offender status
Background search
Criminal records
Marriage/divorce status/history

Personal information

Contact information

Social media

Household composition

Financial details

Family members

Life events

Properties

Neighbors

Court records
Is PeopleSearch123 Legit?
Yes, PeopleSearch123 offers legit background and people search services. It has a large database of publicly available information that's used to put together comprehensive reports. In fact, it claims to have over 12 billion public records in its database.
One thing I like about PeopleSearch123 is that it's very discreet and essentially anonymous. The people about whom you're searching for information won't ever know about your interest.
On the downside, the company's privacy policy states that it may use any information collected about you in a commercial manner. The site's security is solid, though, so at least you don't have to worry about your personal data being leaked.
Another thing worth noting here is that the PeopleSearch123 website has a clear disclaimer stating that its reports may not be 100% accurate. These reports can be useful for information gathering out of interest but shouldn't be relied on in more serious situations, such as lawsuits.
Why Go With PeopleSearch123
PeopleSearch123 is an attractive tool for finding out more about people online, and it has a lot going for it.
First and foremost is the number and detail of public records that it has access to. Its huge database contains information about everything from a person's financial status to their address, contact details, and family, and this is all available at the click of a button.
What's more, PeopleSearch123's main dashboard is well-designed and attractive, and its reports are full of useful information. The customer support team is friendly and happy to chat, and it was surprisingly easy to cancel our account when we had the results we wanted.
How it Works
To get started with PeopleSearch123, enter a first and last name in the search window on the company homepage. A search will start, and you may be asked to provide more information if too many results are found.
For example, my search for "John Smith" revealed thousands of results, as expected. I was asked if I knew what state he lives in, how old he is, and what his middle name is. The search I did only took a minute or two to complete, and the results list contained several potential matches.
These results pages include information about each person's age, location, and possible relatives, and you can use this to select the correct profile for the person you're looking for. The search tool draws these from the company's public records database, which is regularly updated.
However, you will be asked to pay just $1 for a five-day trial to view the full report. You will be automatically upgraded to a premium plan at the end of this (if you don't cancel).
You can run unlimited searches with a premium subscription and view full reports for each of them.
What Does PeopleSearch123 Watch Out For?
PeopleSearch123 provides a wide range of information about individuals. You can search for and find data about the following:
Current contact info
Family members and relationships
Social media accounts
Criminal records and arrest history
Location history
Wealth information
Other information may also be available for a selection of people. Searches can also be filtered if you know someone's current city or state, phone number, email address, or age.
Pricing
The first time you use the service, you can access a five-day trial for just $1, which is a pretty decent value if you want to perform up to 25 complete searches and obtain reports on all of those people. After that, you will be billed $39.97 per month for ongoing service.
There are no lock-in contracts or other hidden fees, and canceling is straightforward.
Ease of Use
One thing that's great about PeopleSearch123 is how easy it is to use. The website is simple and informative, and virtually anyone should be able to use the interactive search window.
The search itself is fast and efficient, and the results are presented intuitively. And once you've created an account, you will have access to all of your past searches and reports on your main account dashboard.
The reports themselves are also quite tidy. They concisely present useful and relevant information, and they are neatly broken down into logical sections. You can also create ongoing monitoring for people you're interested in and receive streamlined notifications when new information is found.
Overall, PeopleSearch123 does great on the ease of use front, and you shouldn't have any trouble figuring everything out.
Help & Support
PeopleSearch123 offers email, phone, and online contact form support. The phone support hours are from 8am to 11pm EST, seven days per week. The team is responsive and helpful, and we received a response to our email questions within 24 hours.
This is good to see, as PeopleSearch123 requires you to open a support ticket to cancel your membership. We had no issues here.
Bottom Line
All things considered, PeopleSearch123 is a pretty attractive tool that has plenty going for it. On the most basic level, it enables you to run simple searches for information about specific people.
But it also enables you to fine-tune your searches via various filters, and its database contains billions of public records. The user interface is tidy, and the reports are presented in a neat, easy-to-understand format.
The main downside of using PeopleSearch123 is its price, but canceling your account is super easy, and you won't be locked into a contract. Overall, we'd suggest giving it a try if you want to find out more about a specific person or people, especially if you can take advantage of the five-day trial.
About PeopleSearch123
PeopleSearch123 is a Florida-based information searching company that enables you to find out more about people you're interested in. It has a decent reputation for providing comprehensive search results, but it shouldn't be used to perform employment-related background or criminal record checks.

PeopleSearch123 Visit Site
Physical Address
1317 Edgewater Dr #1255
Orlando, FL 32804, United States
Contact Details
Phone: (833) 710-0305
Email: support@peoplesearch123.com
FAQs
Is PeopleSearch123 legit?
Yes, PeopleSearch123 is a legit tool that enables you to search for information about people. It boasts a database containing billions of public records, and it offers comprehensive, information-rich reports.
Does PeopleSearch123 work?
Yes, PeopleSearch123 works. It scours publicly available information and compiles it into a neat, readable report. However, note that there's a clear disclaimer that its reports may not be 100% accurate or up to date.
Does PeopleSearch123 charge on credit card?
Yes, PeopleSearch123 charges recurring subscription fees to your credit or debit card. These are billed monthly until you cancel your subscription.