We conducted a two-part survey to find out where the differences lie between what job seekers want and what hiring managers offer. First, we asked managers about their current hiring practices. Then, we asked job seekers what's most important to them when looking for a new opportunity.
Our survey showed that social media and the way people interact online both play a significant role in the hiring process. For example, when considering a new hire, 66% of hiring managers say that a severely inappropriate (profane language, inappropriate images, etc.) social media presence is more concerning than a misdemeanor.
Beyond social media, managers find most information about job candidates through conventional means, such as background checks. According to the survey, 78% of hiring managers run a traditional background check when considering a new hire, which includes criminal status check, searching for traffic offenses, and calls to references.
Read on to learn more about what candidates want to see during the hiring process and what managers look for when reviewing potential new hires.
Key Findings
During the hiring process, 30% of Americans are most worried about a hiring manager looking into their employment history. 29% are most concerned about their social media presence. Only 6% said they're most concerned about background checks.

66% of hiring managers say their company has a hard and fast rule regarding background checks.

When recruiting, 78% of hiring managers are likely to run a background check, 59% are likely to research a candidate on social media, and 42% are likely to conduct a drug test.

Two-thirds (66%) of hiring managers say that a severely inappropriate social media presence is more concerning than a misdemeanor offense.
Methodology
To gain a better understanding of what recruitment looks like in the age of information, we conducted a survey of 1,000 Americans over a three-day period in March 2023. Our survey population consisted of equal parts hiring managers and employees, who were asked a different set of questions about their experiences.
The managers surveyed all had decision-making responsibilities regarding hiring where they currently work. Most have hands-on experience with the recruitment process steps we asked about. To get a holistic view of practices in this field today, both populations included respondents across the U.S. who work in industries such as education, healthcare, IT, retail, and financial services, among others.
The questions for hiring managers included which parts of the process they put the most stock in, the impact social media has on how they vet candidates, and what they think employees are most likely to value in a new position. For employees, we got insights into the parts of the hiring process they're most concerned about, how much they would pay to avoid certain parts of it, and how their social media usage is affected when looking for a new job.
The Disconnect Between Hiring Managers and Employees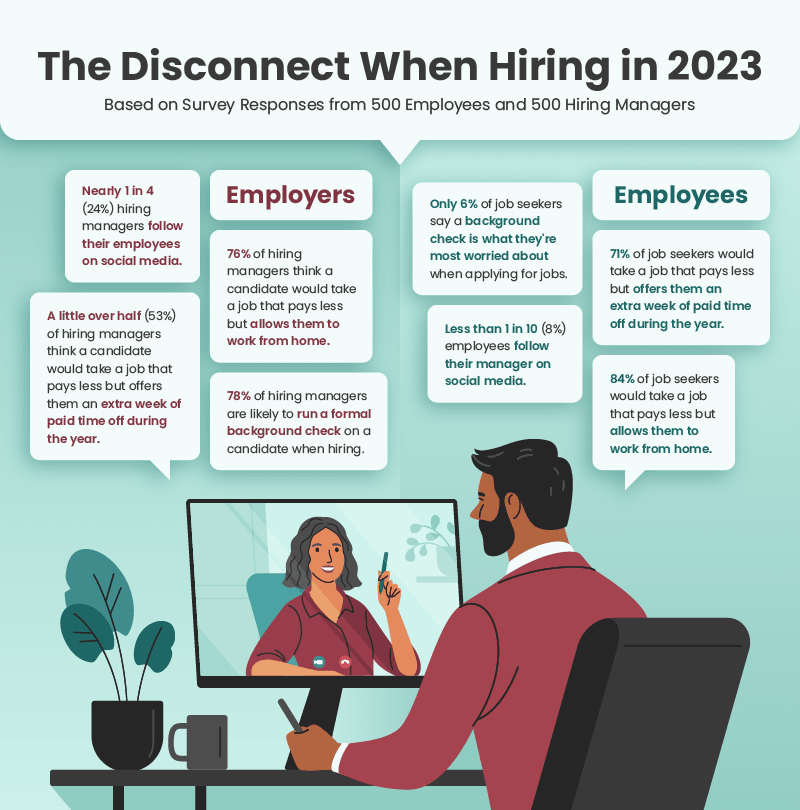 While only 36% of job seekers are concerned about the controversial content they engage with online, 70% of hiring managers say a candidate's interactions with inappropriate subject matter could be a reason not to hire them.
Interestingly, drug screenings are now a point of contention in the business world, but remain a relatively common practice among hiring managers. 42% of recruiters are likely to administer a test when filling a position.
We asked job seekers how much money they would pay to skip different parts of the hiring process, and found that Americans would pay the most to avoid a drug screening. The average amount they would pay to skip one is $86.97.
Of the managers surveyed, 78% said they're likely to run a traditional background check on an applicant during the process. These remain the most popular methods to research potential hires.
Ensuring your job applicants are authentic during an interview is a crucial part of finding the best employees for your team. Many organizations rely on background checks to learn the basics about new hires, protect themselves from imposter scams, and corroborate any information they uncover when doing a deep dive into their social media.
How Social Media Impacts Hiring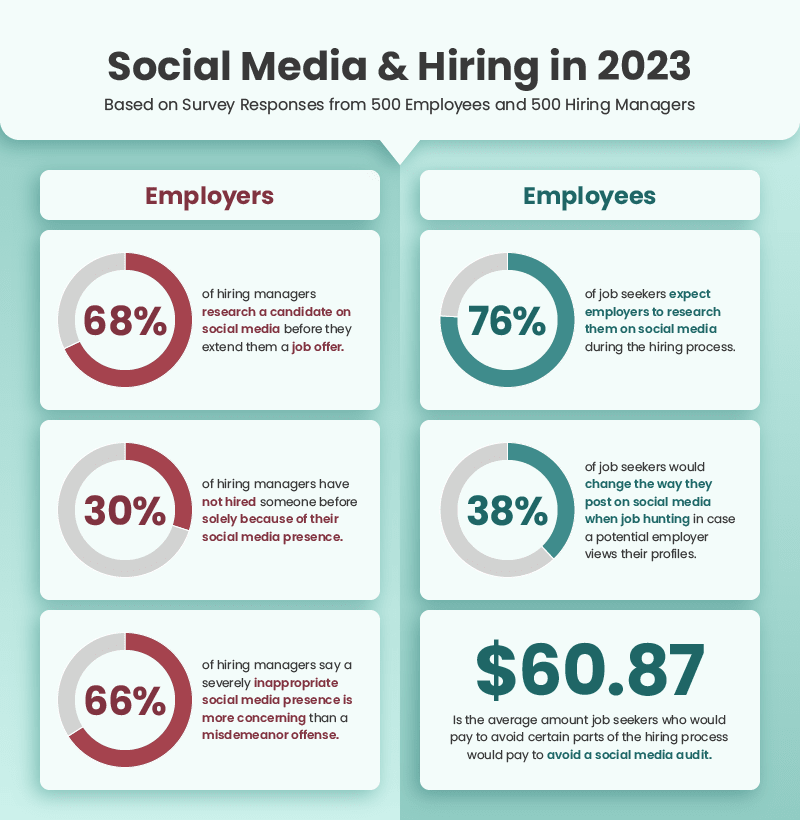 Social media has become an integral part of our daily lives, and according to Statista, that figure is only increasing. We found that a significant majority of Americans, approximately 76%, expect hiring managers to look at their social media presence when considering them for a position.
However, only 59% of managers admit to actually researching a candidate on social media during the initial stages of the hiring process. This increases to 68% before extending an offer. There are a lot of excellent resources online that are helpful when thinking about how to effectively use social media to screen candidates, such as this one from The Society for Human Resource Management.
While social media can help managers learn more about a candidate, it can also have a negative side. We found that three in 10 hiring managers have decided against giving someone a job solely because of their social media presence. This highlights the significance of being mindful of the content we share online, as it can negatively impact job prospects.
Survey outcomes: social media has a real and immense impact on hiring
Our survey revealed that despite the changing landscape of work, traditional hiring practices still hold significant importance in the recruitment process. As social media continues to play an increasingly prominent role in job hunting, job seekers must be mindful of their online presence and understand its potential impact on job prospects.
Employers trying to get more information on an applicant or looking to vet someone for any other reason, should use traditional research in conjunction with social media. You can use services like BeenVerified and CheckPeople to get started.