1. Monday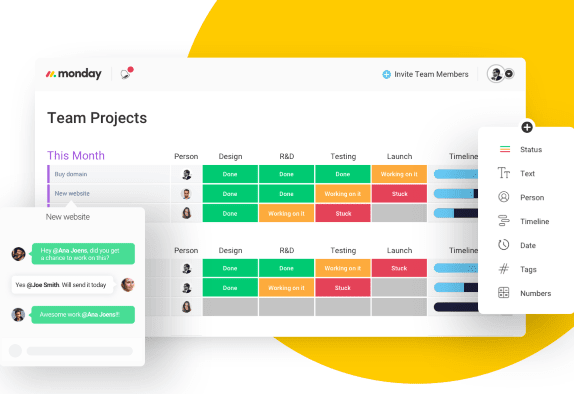 Monday's clean and clear interface is unparalleled among project management tools, and you'll be able to transition your team into using it for all project updates and task management immediately. With Monday, companies can organize all of the tasks pertaining to a project on boards which everyone can add to and collaborate on. These boards are templates which are highly customizable, allowing you to easily change columns to categories that are pertinent to you, such as due date, status, and who a task is assigned to.
Monday is also highly collaborative, allowing you to assign tasks, comment on tasks, add documents to tasks, and @mention other team members so that they get the comment sent to their email. Monday is a highly visual project management software with multiple views allowing you to see the progress of a project at a glance. Monday doesn't have a free plan, but it does offer a 14-day free trial on all of its paid plans, which start at $25/month for 5 users. There are significant discounts for annual and 2-year plans and the platform is ideal for growing companies that plan to scale up.
Try Monday's 14-day free trial
2. Wrike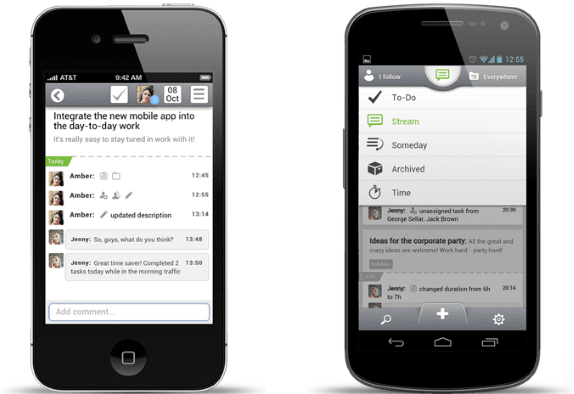 Wrike is a full-featured project management tool that is ideal for companies juggling multiple projects. Features such as drag-and-drop Gantt charts that automatically update dependant tasks, and offline time tracking make work more efficient and better organized. It integrates with third-party apps, such as Salesforce, Jira and GitHub, to give you a comprehensive solution to all of your business needs. Wrike has a free version for up to 5 users and a free trial for all of its paid tiers.
3. Zoho
Zoho is a company with an entire suite of business software products, including Zoho CRM and Zoho Books. One of the great advantages of its project management software, Zoho Projects, is that it can integrate with its other apps, as well as many third party apps, to give companies of all sizes a comprehensive solution to all of their business needs. Zoho Projects is affordable, easy-to-use, and offers a wealth of features, including built-in live chat. Zoho has a limited free plan and a free trial for its paid tiers.
4. RingCentral Glip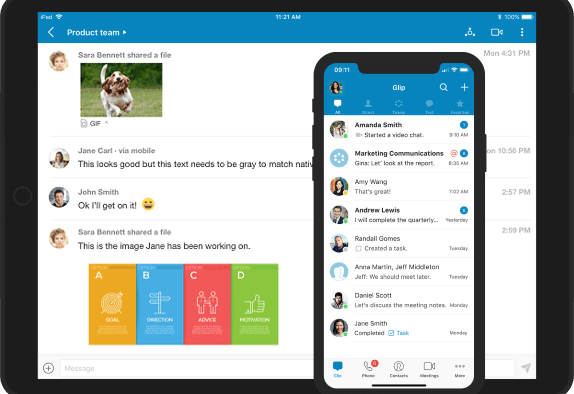 Glip by RingCentral is an enhanced business messaging app that allows team members to collaborate on tasks, share and edit files and cut down on inefficient email use by putting communications all in one unified space. You can create teams who can chat in real-time about projects, or even carry out advanced functions like sharing screens during video calls. Glip's free plan is among the most generous of any team collaboration tool, although there is also a paid plan for $5 per month per user.
Try RingCentral Glip's free plan
5. VonageFlow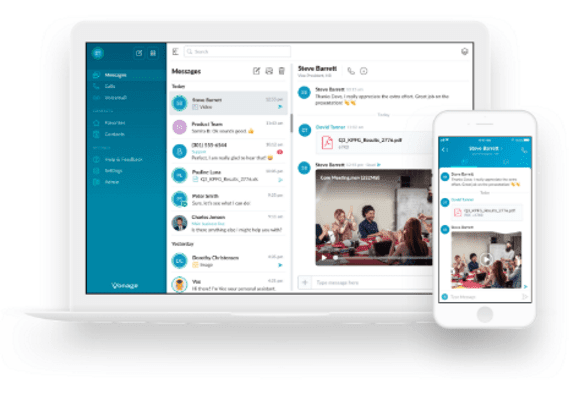 VonageFlow is an internal team collaboration tool that is part of Vonage's Business Cloud phone system. Having a team collaboration tool that is fully integrated with your phone and SMS systems is particularly valuable for companies that need multiple team members to collaborate in real-time on tasks such as customer service queries. SMS messages, chats, and calls related to a task are all on one interface, so you can see how an issue is being handled. You can also share files and videos on either the mobile or desktop apps. If you're looking for both task management and VoIP service rather than a more traditional project management solution, VonageFlow is a good option, starting for as little as $19.99 per month per line.
Try VonageFlow's 14-day free trial
How an App Can Help You Be More Productive
Being productive starts with making sure that tasks get done on time and nothing falls between the cracks. Having all of the tasks pertaining to a project in one easy-to-view portal, which every relevant member of the team can see and collaborate on, is a major step in making sure this happens.
Project management apps can allow you to see the status of the tasks that make up a project, which team members are overloaded, and which have free time, and what resources were used for the completion of a project. This allows you to maximize efficiency and get the most out of your team members.
With the mobile apps that project management platforms like Monday and Wrike include, team members can collaborate on the go, and important work processes won't be held up while you wait for an answer.
Project Management App Features
Every project management app is different and has its own unique features. When choosing an app, think about the needs of your business and which of the following features are important to you.
Task Management - Every project management app has some degree of task management built into it because the way to most effectively manage projects is to break them down into manageable tasks that can be assigned and tracked. Having tasks listed all in one place, with a clear due date and status is at the heart of effective project management.

Team Collaboration - Most projects are carried out by multiple members of a team who need to stay on the same page to effectively carry out their work. The ability to have everybody share the same interface, get tagged with important updates, and communicate in real-time with built-in live chat functions, or integrations is key. Such collaboration is all the more challenging with remote workers, who can constantly stay in the loop with the right project management app.

Time Tracking - Being able to automatically track how much all of the members of your team spend on the tasks that make up a project can make you more efficient and give you key insights into work processes. It can also help you properly bill clients for work hours and even integrate with your payroll software in Zoho's case. Wrike's time tracking is unique in that it lets you continue to time tasks on its mobile app while you're offline.

Dashboards and Reports - Dashboards give you a real-time look at the status of a project. You can choose the parameters that are important to you and customize your dashboards to show you this information for a useful bird's eye view of where a project stands. Reports can be automatically generated when you set up a project to give you key information on data that lets you analyze efficiency, profitability and other key factors of your choosing.
Wrap-Up
Effective project management apps should unify your workflow and make it more efficient, whether your team is all in one place or spread out across the globe. Depending on your needs, and the type of tasks on your plate, you may need a comprehensive project management tool like Monday, Wrike or Zoho, or a simpler real time team collaboration tool, like RingCentral Glip or VonageFlow. A wealth of features is important, however, if you want your team to buy in and embrace the product, it should make things easier for everyone. We think Monday strikes a good balance between being full-featured, and being easy-to-use. However, each business has its own individual needs and one of the other products on our top 5 may suit you better.