Proggio Visit Site
Overview
Best for: Companies that want easy-to-use project management tools
Key use: Visual, easy to manage projects
Price: Free plan available, $30 per user per month for 5-20 users, custom prices for larger teams
Storage: Unlimited
Free trial: 14 days
Features and Functionality
Project Planning
Based on the GANTT charts, Proggio allows for a highly visual project planning experience. You can sketch out your project timeline using the Whiteboard Sketch, build a Project Map, and create multiple charts and timelines using the colors, shapes, and metrics that you prefer. Proggio makes it easy to see the entire project at a glance or to zoom in on the details and make sure they are not forgotten.
Tracking Tools
To help you keep on top of your project, Proggio includes all of the tracking tools you need. Budget tracking, time tracking, completion tracking, and the dynamic tracking of tasks and assignments all make it effortless to keep abreast of progress. It also makes it a lot easier for your team members to follow the tasks assigned to them, what is completed, and what remains to be done.
Multiple Views
Multiple view options allow you to slide smoothly between them at a glance, a high-level overview on project map level, and a detailed low-level view. You can easily switch between board view and list view according to your preference. Board view shows virtual cards pinned to a board, organized according to your chosen categories. List view is more compact.
Collaboration Tools
Proggio offers in-app collaboration tools that include resource loading, in-app collaboration through live chat, and shared project views. Real-time syncing between all accounts means that each team member is always up to date.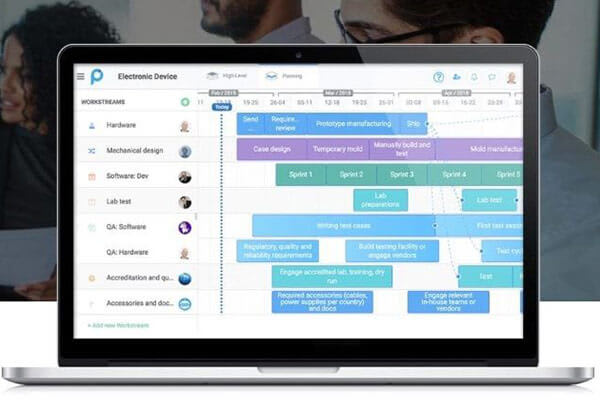 Proggio makes it easy to view your tasks
Proggio's real-time collaboration tools add a lot of value to the project management tool. Its main focus is on keeping all team members updated about the progress of the project. To this end, the platform is constantly syncing and updating. Whenever someone makes a change to the project timeline, project planning views, or marks a task as completed, that information is instantly shared across the board. Every participant can access the same view of the project, high-level or low-level.
Proggio doesn't include in-app phone calls or video calls, but there's a Discussion tab that allows all project collaborators to discuss issues in real time, in-app. You can upload and share resources too, such as email, documents, and images, which are instantly synced across all views and accounts.
Data Privacy
Proggio is clear and upfront about how it uses your data. It gathers only very basic personal data in order to improve its own services, and won't share your data with any third parties without informing you first. There's not a lot of detail about the security measures that Proggio takes to protect your team data from external threats, just a reassurance that Proggio takes "reasonable and appropriate measures" to secure your content.
Proggio App
Proggio is an entirely SaaS project management tool, so it can be accessed from any device with an internet connection. There's nothing to download, and no software to configure or connect to your business systems. It's light, intuitive, and easy to master.
With the recent addition of a mobile app, users can now view project plans on-the-go.
Proggio Customer Support
Proggio offers customer service only through an online web form. There's no live chat and no phone number for telephone support, but customer reviews show that the customer support representatives are available 24/7, and are overwhelmingly positive about the level of service provided. There is an email address and phone number for support buried at the end of a page of fine print.
Proggio Pricing & Special Offers
Proggio offers 3 levels of plans, from a starter plan for 3 users and one project, up to an enterprise plan with unlimited users, storage, and projects. Because Proggio is designed for collaboration and team project management, it's not intended for use for a solo project.
There's a free 14-day trial without any commitment, and you won't have to share your credit card details. Once you subscribe to Proggio, you can cancel your account at any time, as long as you give 30 days notice.
Proggio Alternatives
How Proggio Compares to Other Project Managers
Dedicated account manager
Jira, GSuite, Zapier, and more
BigCommerce, Magento, WooCommerce, and dozens more
Slack, GSuite, Trello, Asana, Jira, Dropbox, and more
✔ (with Enterprise package)
with Pro and Enterprise plans
3, 5, or unlimited (with Enterprise)
5-25 (more requires custom quote)

Proggio Visit Site
Bottom Line
Proggio is a powerful visual project management tool that is ideal for projects of any size, with few or many team members. Since it's SaaS, it can be accessed anywhere and doesn't place a drag on your system requirements. It's easy to use and intuitive, with a short onboarding time, so you can get started without delay.
Proggio doesn't have as many metrics and report options as some other project management platforms, although you can share progress with clients and managers through the 'feedback' and 'viewer' tools. It's not designed for individuals to track their own progress through solo projects, and although it can be used for short and simple projects, it really comes into its own when you have to plot out, grasp, and actualize a large, long-term, complex set of tasks.