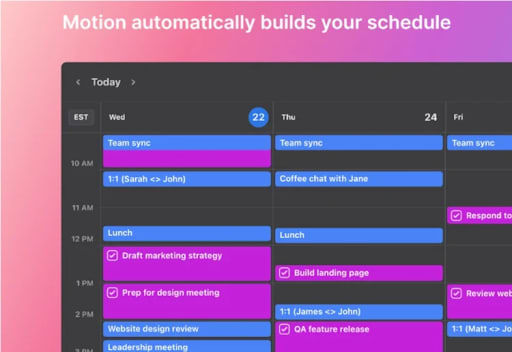 Motion Visit Site
Overview
Best for: Individuals and small teams
Key use: Scheduling & time management
Price: $12-$34/user/month
Storage: Unlimited
Free trial: 7 days
How Motion Works
Motion comes packed with useful automated features to help manage your schedule and projects.
Calendar
Motion's schedule integration begins with calendar sync. You can synchronize your Google and Outlook calendars with Motion's built-in calendar. When I set Motion up for the first time, it automatically pulled all the upcoming events from my google calendar. My google ID is also my Apple ID, and Motion found and offered to sync my iPhone's calendar as well. Calendar sync was simple and took only a couple of seconds.
Project Management
Motion automatically syncs project tasks with your schedule when planning projects, avoiding conflicts with other tasks and calendar items. All the projects you are involved in will communicate with each other, automatically ordering tasks by priority and avoiding conflicts. This makes project management with Motion easy: simply add tasks and projects, indicate their priority level, and let Motion's automatic scheduler do the rest. This system works for individuals or teams of any size.
Task Manager
When you create a task in Motion, you specify the priority level of that task, the due date, whether it can be done in chunks or if it has to be done in one go, and the approximate time it will take to complete the task. Motion's task manager will find the optimal time to book this task for you. It will also consider other commitments, including tasks and events on synced calendars outside Motion.
Meeting Assistant
Motion's meeting assistant is similar to the task manager but specific to meetings. It will schedule appointments for you in accordance with synced calendars and preset preferences. For instance, you can select preferences such as morning meetings, back-to-back meetings, no meetings on certain days, etc. Motion will provide attendees with a range of available times based on your preferences and the free slots in your schedule. You can also book recurring meetings with a flexible time range to make room for pressing tasks or other potential conflicts.
Collaboration Tools
Motion does not have dedicated collaboration tools. Instead, it has two subscription types: Individual and Team. In Team mode, you unlock access to advanced collaborative project, task, and meeting management tools dedicated to teams.
Motion is able to sync your schedule and with your teammates' schedules across different projects and automatically plan tasks and meetings that fit everyone's schedule and workload. When you book a task in teams mode, you can assign it to different team members. You can also configure Motion to auto-assign tasks to teammates based on their availability and whether or not they are qualified for the task. You can set which teammates are available for automatic scheduling on any given task.
Motion also integrates smoothly and automatically with email. When I added a team member and assigned them a task, Motion immediately notified the team member via email.
Data Privacy
Motion pledges to never share your data with anyone unless compelled to do so by law. If it must share your data, Motion will attempt to notify you before the disclosure with enough time for you to file a legal objection. Motion will never sell, rent, or otherwise profit off your data, including anonymous data. This goes above and beyond the industry standard, as many apps will sell data, especially anonymous usage data, for profit.
Motion takes its customers' online privacy and security seriously. It has passed several third-party security audits, including the AICPA Service Organization Control (SOC) 2 Type I. This audit demonstrates that NexusBird Inc, Motion's parent company, manages your data with the highest level of security and compliance. I was impressed with the level of security and privacy it provides.
Motion Apps
Motion Desktop App
Setup and onboarding with Motion are easy and require an existing Google or Microsoft Account. As a G-suite user, I appreciated how Motion worked with my existing Google Account from the beginning. In a few clicks, I created an account with Motion and imported all of my meetings and events from Google Calendar. If you use a Microsoft Account, you can do the same with your Outlook Calendar.
Right after setup, Motion provides a brief, three-minute introductory video explaining how to use all of its essential features. Afterward, it will guide you through creating and scheduling tasks, project management, and calendar imports using tooltips in the program interface.
Between the tutorial video and the support site, I was able to get my bearings in about five minutes and was reasonably comfortable with the program. Some processes do not feel intuitive at first, like having to switch tabs to delete or add tasks, but once I got used to it, this became second nature.
Motion Mobile App
The Motion mobile app for iOS and Android appears to have all of the functions of the desktop app. Like the desktop app, I found the mobile app slightly unintuitive for the first few minutes, but quickly got used to it.
Tapping on the calendar and dragging, which I assumed would create a task for that timeframe, created a one-off event instead. To create a task, I had to manually tap into a menu and enter details. That said, it took only a few minutes to get used to the interface, and after that, I encountered no issues.
The calendar syncs perfectly across mobile and desktop and can draw events directly from Google's or Outlook's calendar, just like the desktop version. The app is functional, but I would have preferred to see an interface that is more mobile-friendly, focusing on gestures and drop-down lists.
Motion Customer Support
Motion has a comprehensive self-service support site that will be enough to help you with most common questions.
Online Ticketing
For anything beyond the scope of the support site, you can reach out to the Motion team via their online ticket form. Motion promises to respond to any inquiry within two business days.
Motion Pricing
Pricing & Special Offers
Motion offers two plans, one for individuals and one for teams. The team plan offers everything in the individual plan, plus collaborative work tools for team members.
$34 - Monthly
$19 - Annual (44% Discount)
$20 - Monthly*
$12 - Annual* (40% Discount)
Auto-assign tasks to team members
Sync calendars across team
*Requires at least two users, for a minimum of $40/month on the monthly plan and $24/month on the annual plan.
Motion Alternatives
How Motion Compares to Other Project Managers
Dedicated account manager
Salesforce, Microsoft Teams, and more…
Outlook, Microsoft Teams, Slack, and more…
Unlimited (additional cost per user)
Unlimited on Premium Plans
Unlimited on Premium Plans

Motion Visit Site
Bottom Line
Motion's advanced automated time management features are great for busy people. You can set Motion up to be a fire-and-forget system. You create events, tasks, and even entire projects, feed them into Motion, and watch your various commitments schedule themselves according to deadlines and preset priority rules. Better yet, you can run your entire team on Motion, booking tasks and planning their day alongside your own. The whole system integrates with your Google and Outlook Calendars and runs on desktop and mobile platforms.