Jira Software Visit Site
Overview
Best for: Small and large businesses
Key use: Project management
Price: Starting from $7.75 per user, per month and from $790 per year, depending on user tiers
Storage: 250GB-Unlimited
Free trial: Seven days
How Atlassian Jira Works
Atlassian Jira software comes with a ton of features and over 3000 integrations to make your work seamless:
Agile boards
Scrum boards break down complex projects into manageable sizes, whereas Kanban boards enable teams to visualize their workflow, boosting productivity and efficiency.
Reports and insights
Jira software provides reports and insights to help you visualize the company's current status and ensure the teams are up-to-date with the information they need to succeed.
Time tracking
Jira integrates with many time-tracking apps available in the marketplace. These time trackers provide worker time logs, response and resolution times, timesheets, time spent on projects, etc.
Drag and drop
The Drag-and-drop automation feature enables you to set the "What if…Then" rules in Jira, whereby specific tasks will be automated, saving your team time.
Roadmaps
Using the Roadmaps feature, teams can see everything they're working on, as well as all the projects, keeping them and the company in sync.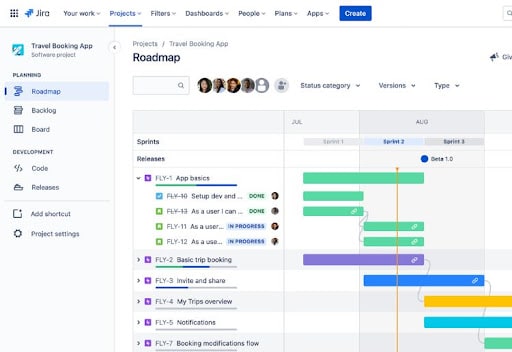 Collaboration Tools
Atlassian Jira offers collaboration tools, such as Confluence and Team Calendars in Confluence Premium. Confluence is a remote-friendly team workspace where everyone can make announcements, collaborate on tasks, get actionable meeting notes, and tap into the team's collective knowledge to solve problems.
Team Calendars in Confluence Premium unites calendars and schedules, enabling team members to align their plans for meetings, project delivery, or availability. You can share your calendar with other colleagues and customize recurring events.
Other collaboration tools include integrations for Slack for communication, Google Drive for file storage and access, and Outlook for handling your group's emails, etc.
Data Privacy
Atlassian Jira's privacy policy explains how the company collects customer data and what it does with it. The company stores account and profile information, plus any other content you provide through its products or services, including feedback. Other collected content includes uploaded files and links, billing information, support channel information, and content that goes through its websites, such as social media comments.
When you use the services, Atlassian Jira tracks your visit and interactions, device and connection information, third-party integration and service information about you, and information from related partners or related Atlassian companies. The company will ask for your consent before using your publicly identifiable data in testimonials or customer stories.
The information is used to personalize your experience, conduct research and development, communicate with you, provide security, offer customer support, protect Atlassian Jira's legal rights, and for marketing purposes. The company doesn't host, collect or transmit data from your server if you're using their self-managed solutions.
Atlassian Jira Apps
Atlassian Jira offers desktop (macOS) and mobile (iOS, Android) apps. A Windows app doesn't exist, but you can open the software through Google Chrome. According to Jira community reviews, this solution is very buggy and unresponsive at times.
The software supports third-party integrations, which enhance the functionality of the apps. Jira software integrates with various apps from Atlassian's marketplace. These are HubSpot, Todoist, Clockify, Asana, Outlook, Microsoft 365, Trello, Slack, Google Drive, and others.
Desktop app
Jira's desktop app integrates well with macOS, providing access to features like push notifications, drag and drop, and more. It's very simple to set up—just download the app and install it on your device. The desktop app has a nice interface and is easy to use, with all menus clearly displayed.
Mobile app
Jira's mobile app is convenient because it provides mobility, improved customer support agent communications, and customizable Jira dashboards. Setup is straightforward as you only need to download the mobile app from one of the smartphone stores, install it, and sign in with your email address. Then, you can invite other team members to the site. The interface has a mobile-friendly design, and you can operate it almost like the desktop version.
Atlassian Jira Customer Support
Atlassian Jira offers customer service through an online form that leads to an email response. Support also comes through product guides, a blog, a knowledge base, and FAQs.
Online form
Atlassian Jira's online form is not intrusive, asking only for your email address, the topic of your question, and a short message about your query. Upon completing the form, customer support automatically sends a response showing they have received your request and that it will be addressed as soon as possible. You will then be directed to view the customer FAQs page while you wait for the email response.
Email
I emailed the Atlassian Jira customer care agents, but they didn't respond. They had stated that there were a lot of requests coming in, which would lead to a delay in response. Since the request was made on the weekend, it appears the company's claim of 24/7 support only applies if you pay for the higher-end plans.
Product demos
Atlassian Jira provides product tours and demonstrations on the company's YouTube page. It has product designers, managers, and engineers talking about the software, giving tutorials, and responding to customer queries.
Atlassian Jira Pricing
Pricing & Special Offers
Atlassian Jira software has four plans: Free, Standard, Premium, and Enterprise. The Free plan is always available for up to 10 users, but due to additional business demands, you may need the advanced features in other plans.
The Standard and Premium plans are billed per user, per month at $7.75 and $15.25, respectively. However, the prices reduce for every user after you cross 100 users. For example, if you reach 110 users on the Standard plan, your rate reduces to $7.65 per user, per month. This means you'll pay $841 for the month instead of $852.
Annual plans are priced per user tier—a predetermined range of users. For example, User Tier 26-50 users will be charged $3,900 per year, whereas User Tier 51-100 will be charged $7,750 per year. The feature-filled Enterprise plan is only available on annual billing, and it becomes active when you reach 801 or more users.
Teams that don't want to use Atlassian Jira's cloud software can opt for a self-managed solution. The server and data center products cost $42,000 per year for a minimum of 500 users.
$7.75 per user, per month, billed monthly
From $790 per year, depending on user tiers
$15.25 per user, per month, billed monthly
From $1,525 per year, depending on user tiers
No monthly billing
From $134,000 per year, only available with 801+ users
Assign user roles and advanced permissions
Atlassian Jira Alternatives
How Atlassian Jira Compares to Other Project Managers
Atlassian Jira is in a project management industry filled with other top solutions. Here is a breakdown of how they compare:
Dedicated account manager
HubSpot, Todoist, Clockify, Asana, Outlook, Microsoft 365, Trello, Slack, Google Drive
Dropbox, Hubspot, LinkedIn, Zoom, Mailchimp
Tableau, Discord, Miro, Calendly
Atlassian Jira vs. monday.com
The Free version of Atlassian Jira's software has top features that are unavailable on monday.com. The former has 10 users, while monday.com only has two. Pricing is much cheaper than on monday.com, and monday.com has a predetermined number of seats that you have to pay for, even when you don't need them.
Atlassian Jira vs. ClickUp
ClickUp is an award-winning task-management software and it fares well against Atlassian Jira. While its monthly pricing is slightly higher than Atlassian Jira's, its yearly prices are much lower. It has a free option that's better than Jira's as well, with more features and functionality.
Jira Software Visit Site
Bottom Line
Atlassian Jira is a feature-filled software for project management with sufficient tools and integrations to boost collaboration, track employees, and manage tasks. While its pricing can get confusing, you can still make savings on some of its plans. Overall, it's worth considering for your task management needs.