In a Nutshell
Freshconnect by FreshDesk is a powerful project management solution that is aimed specifically at customer support projects and helpdesk collaboration. It offers a range of collaboration, communication, and productivity tools to help customer support departments streamline, manage, and resolve cross-channel customer conversations faster and easier.
pros
Designed specifically for customer service projects
Powerful tools to streamline ticket management
cons
Not suitable for other types of project management
The number of features can be overwhelming

FreshConnect Visit Site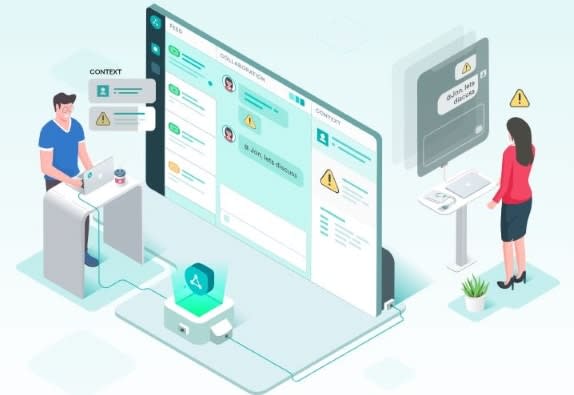 Collaboration Tools
FreshConnect eases collaboration on customer support tickets by offering a shared inbox, communication tools to help employees ask each other for assistance, the option to share ticket ownership, and the capability to link related tickets or split a ticket into multiple smaller issues. FreshConnect also ensures that two agents don't end up replicating each other's work on the same ticket.
Unify Multichannel Conversations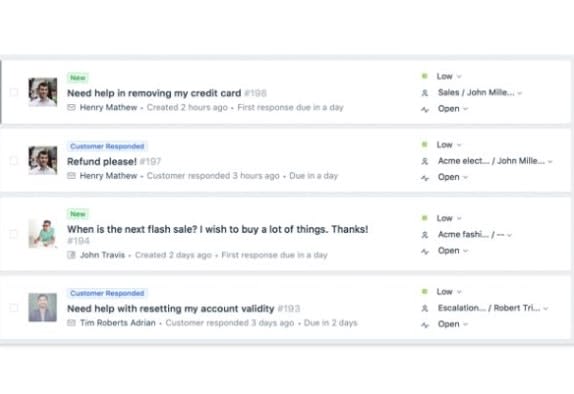 With FreshConnect, you can convert emails and recorded phone conversations into trackable tickets and manage live chat and social media interactions from within the platform.
Automation Tools
FreshConnect speeds up customer support management with a number of automation features. These include time-triggered and event-triggered automated responses, smart ticket assignment based on keyword, requester, or an employee's workload or skill, and automated email notifications. Customer service representatives can use FreshCoonect to repeat actions or create canned responses.
You can also use FreshConnect to save time by automatically converting ticket replies into knowledge base articles, suggesting relevant solutions to customers, setting up moderation workflows within support forums, and opening a support ticket in response to critical discussions on your support boards.
Analysis
With FreshConnect by FreshDesk you can monitor and analyze customer support progress and satisfaction based on a whole range of metrics. In-platform dashboards and customized, automatable reports provide insight into your customer support success. You can also set SLAs for ticket responses according to business hours and customized categories, and track the results.
Security Tools
FreshConnect users can ensure a secure process by creating custom SSL certificates, setting up advanced identity authentication procedures for employees, and establishing whitelist IP ranges, secure remote access, or external access restrictions to protect your customer support data.
Collaboration Tools
FreshConnect's collaboration tools help customer service representatives share tickets, request assistance, and request information from other departments within the FreshConnect platform, without losing visibility into the context of the ticket request.
A shared inbox makes it clear who is responding to each ticket, avoiding the risk of having employees waste time replicating each other's efforts. It also makes it easy for workers to consult with colleagues for help in resolving a ticket. Agents can split a ticket into multiple issues so that they can be resolved simultaneously by a team, or invite a colleague to join the discussion within a ticket.
The FreshConnect integration allows agents to chat in real time in a window alongside the ticket so that everyone can share and view responses in context.
Another useful functionality is Linked Tickets, which enables agents to link multiple tickets on the same issue. When one ticket is updated, the information is immediately copied to all linked tickets, so all agents can access the same information instantly and ensure a consistent response.
Plans and Pricing
Agent collision prevention
Skill-based ticket assignment
Basic phone, social and chat channels
As well as offering a basic free plan, FreshConnect allows you to enjoy a free 21-day trial of any priced plan. To sign up, you'll just need to provide your full name, company and helpdesk name, email address, and phone number—no credit card is required. All of FreshConnect's plans include 24/7 email support and 24-hour phone support from Monday to Friday. Cancellation is free, although you'll be billed for the rest of that month.
You can add more agents temporarily without having to increase your monthly fee, by purchasing Agent Day Passes. These allow you to give an extra customer service representative all the functionality of a regular agent, for just one day. Each of the paid plans comes with 3 free Day Passes per account, and you can buy more for between $2 and $5 per pass, depending on your plan level.
Apps

Desktop App
FreshConnect doesn't offer a downloadable desktop app – instead, you'd access the FreshConnect Portal through your internet browser. There's nothing to set up or configure, which makes it very easy to get started with FreshConnect. All you need to do is create your company account and log in.
Once you've created an account, and depending on your plan, you can set up access restrictions and permission levels, requiring agents and employees to authenticate their identity, or whitelist or block certain IP address to protect your security. The FreshConnect dashboard and controls are quite intuitive, with plenty of help and guidance for a fast onboarding experience.
Mobile Apps
FreshConnect offers both an Android and an iOS app. These apps are intended for agents who are on the go and need to manage and respond to ticket inquiries while away from their desk. That's why the mobile apps don't have the full functionality of the web-based portal, but they do allow you to view and respond to tickets, receive customer service calls via the app, and configure FreshConnect mobile notifications.
Setting up your mobile app is simple—you just need to download it from the relevant app store and enter your login details. If your company's account is using IP whitelisting or requiring an SSO (Single Sign On), you'll need to comply with those requirements.
Data Privacy
FreshConnect uses SSL encryption and offers all users SSL certificates for their vanity domains, to ensure that all data is kept confidential. All of your FreshConnect data is hosted on AWS world-class servers, which are kept fully maintained and updated, and protected from hackers or viruses by a double firewall and high-level encryption.
FreshConnect is transparent about what data it collects and how it is used. Your basic personal information, contact information, and credit card details are retained but are not shared with any other party. FreshConnect itself has no access to your company data. The company is GDPR, TRUSTe, and PCI compliant.
Customer Service and Support
As a platform for customer service project management, you'd expect FreshConnect itself to offer strong customer support. There is an extensive and well-organized knowledge base, and FAQ section, both of which are easily searchable. There are also active FreshConnect community forums, and plenty of ways to get personal support—live chat, email, phone support, and an online web ticket system.
FreshConnect has offices in 5 worldwide locations—San Francisco, London, Berlin, Chennai, India and Sydney. Each location has its own local support phone line which is manned Monday through Friday, and there are also separate email addresses for customer support in Germany, Denmark, the Netherlands, Sweden, and Finland.
Live Chat
Live chat opens automatically when you visit FreshConnect and is manned 24/5.
Phone
All telephone support lines are manned around the clock from Monday to Friday.
USA: +1 (866) 832-3090
Germany: +49 305 683 7121
India: +91 44 6667 8040
UK: +44 800 808 5790
Australia: +61 2 8188 4692, or +61 1800 861302 toll-free.

FreshConnect Visit Site
Email
Email support is manned 24/7
support@freshdesk.com
dach-sales@freshworks.com
netherlands-sales@freshworks.com
sweden-sales@freshworks.com
denmark-sales@freshworks.com
finland-sales@freshworks.com
Bottom Line
FreshConnect is a strong choice for customer support and helpdesk teams who need powerful, multi-featured project management tools. It provides plenty of collaboration options as well as multiple tools to streamline and simplify customer support projects, but it's not surprising that it's not well suited to generic project management purposes.