We've decided to take a look at 2 of the big names in the industry—ShopKeep and Square - in a head-to-head match up. May the best POS system win.
Pricing
Pricing varies based on customers needs
2.75% per card transaction
3.5% + $0.15 per manual transaction
No monthly register charge
Card reader $29
When it comes to pricing, ShopKeep puts the customer first and offers a personalized pricing program based on each business's individual needs. It also offers a free 14-day trial so you can give it a test run for free. The charge per transaction averages around 1.9-2.4% of the transaction total, lower than industry rivals. Depending on the volume of your sales, this could offset the higher price, and translate into savings.
Square has a radically different pricing structure to ShopKeep. There is no fee to download the app and you don't have to pay per "register," in that it runs off your own mobile device. Instead, Square makes money off transaction fees. Square receives 2.75% of any transaction involving a swiped card, and 3.5% + 15 cents for any transaction entered manually. It also charges $29 for the plug-in card reader.
Square users who have a friend join the service by way of a referral link, will receive reimbursements on processing fees up to $1,000 in sales.
Though the lack of a setup fee or per register charge with Square is appealing, whether or not the company makes good sense for a business depends on how successful the business is. Due to the lower processing fees for ShopKeep, a high volume business could save more money per month than the cost of a single cash register at ShopKeep (once they get above around $25,000/month).
Winner: ShopKeep
While Square's no-monthly fee is appealing, the commission on each charge has the potential to become pricy as a business grows, impacting scalability.
Ease of Use
ShopKeep boasts that users can learn the ins and outs of its system in a matter of seconds, or within the time that it takes to watch a short YouTube tutorial.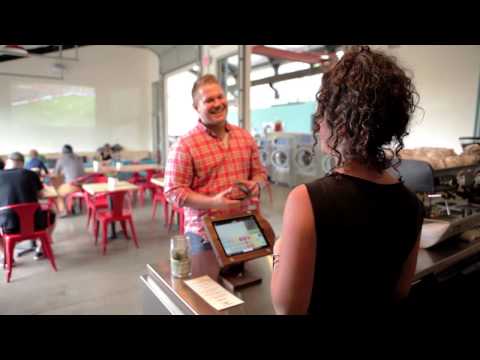 It has an easy touch screen interface that runs through an iPad with an attachable credit card swipe. All inventory and customer and employee data can be easily managed online, part of what ShopKeep says makes it "the simplest way to make smarter business decisions."

Unlike ShopKeep, Square doesn't require you to have an iPad. Setup is quite simple and the small, square plug in card swipe can be inserted into a variety of tablets and phones and will be on air in moments and ready to take orders on the go. The setup is quick and free and requires no purchase of additional hardware besides the card reader.

The register and dashboard are synced on Square, so all changes made to either one will appear on both, saving you time.

Winner: Square

Setup of Square's small square chip reader and the app are as easy as it gets, and since you have the option to run it through an iPad, you can have all the feeling of a register-based POS system.
Features
Keeping track of company data is essential. Square's customer database feature tracks customer behavior such as sales and purchase frequency and allows you to organize your repeat customers accordingly. You can create real-time reports by the hour, day, week month or year, and reports can be broken down to focus on specific items or employees, payment options, and more.
Square also accommodates its own email marketing service at $15/month, allowing you to reach out to customers and improve your company's word of mouth and customer outreach.
With Square, you can make "digital punch cards," much like the punch cards you get at your local sandwich shop, only that these are actually likely to get used.
And for those times when WiFi simply isn't available, it's good to know that Square can handle transactions even when offline.
ShopKeep touts the ability to generate some of the most detailed, comprehensive sales reports of any POS on the market. The "ShopKeep pocket" app allows you to access any details of your ShopKeep registers and account no matter where you are from any mobile device.
ShopKeep can send electronic receipts by email and can be integrated with MailChimp, allowing you to expand your customer outreach.
The interface is easy-to-use, and by simply touching selections of the screen you add items to an order, change the sales tax or apply discounts instantly. Like Square, ShopKeep also has an offline mode, meaning your business will never lose any sales just because of a loss of internet access.
Winner: ShopKeep
Both companies have a vast array of features, but ShopKeep pulls ahead thanks to its top-notch comprehensive sales reports.
Integrations
ShopKeep can be integrated with BigCommerce, one of the top Ecommerce programs on the market. For customer mailings and outreach, ShopKeep integrates with MailChimp, one of the best email marketing companies in the market. It can also accommodate Intuit QuickBooks for managing sales, as well as Ambur – an app for managing restaurants – and clear spider, and inventory management app.
For Square, the list gets longer, and then a bit longer still. There are dozens of programs and apps that can be integrated with Square, including accounting apps like Xero and Intuit QuickBooks, over a dozen ecommerce apps from Magento to OpenCart, POS apps like TouchBistro, and a wide array of apps devoted to reporting and analyzing sales.
Winner: Square
When it comes to integrations, Square simply has many more options than ShopKeep.
Customer Service
ShopKeep operates an extensive knowledge base on its website that includes hundreds of articles and should easily answer most questions. If that doesn't solve your problem, you can easily open a support query on the online form on the ShopKeep website.
ShopKeep takes pride in its 24/7 customer service live chat, and help can also be reached by way of company Facebook Linkedin, and Twitter pages.
ShopKeep also has a phone line and a customer service email at your service. In addition, it offers the services of a point of sale specialist, who can advise you on how ShopKeep can work for you and how you should use it. All this adds up to why in 2014 ShopKeep won a sales and customer service award at the Stevie Awards – the premier business award event.
In addition to its knowledge base, Square offers a customer service phone line (open during office hours) as well as email and social support.
Winner: ShopKeep
ShopKeep simply has more customer service options available.
Analytics and Reporting
Square runs real-time analytics on all the minutiae of your businesses from across the board sales to individual items, allowing you to keep a handle on things at all times. You can instantly see what's selling well and what's a dud, as well as update your stock and your employees. Square analytics will break down what percentage of sales are to new or returning customers, and how much they spend on average. The insights can be applied for single days, as well as weeks, months, and years. You can also arrange for daily email reports to get sent automatically. Furthermore, with Square's mobile app, you can check your analytics any time, and make changes on the go.
ShopKeep makes analytics into something of an art form, allowing you to break down everything about your business from the macro level to the most minor details. All different types of charts are at your disposal and can help you plan out when to expand your offerings of which items and to who, and check the performance of each individual employee on your payroll. The ShopKeep pocket app lets you take this information with you.
Winner: ShopKeep
While Square has extensive analytics offerings, ShopKeep appears to go deeper, and presents information on a richer variety of charts and graphics.
Bottom Line
Both Square and ShopKeep are great POS options for business owners looking to get away from the tired-old cash registers of yesterday, and incorporate a platform that can also help business grow. And while Square and the small, plug in card sweeper are highly convenient, it simply doesn't have the same wealth of features or unsurpassed customer service of ShopKeep. In addition, while Square's pricing structure is appealing for small businesses especially, for ones that expect to grow into a high or very high revenue bracket, the commission-based payment could get easily exceed ShopKeep's monthly fee.