In a Nutshell
Shopify is a leading Ecommerce company offering a point-of-sale (POS) system which integrates with its online retail platform. Whether or not you sell online through Shopify, you get access to the same intuitive interface through which you can manage orders, inventory and staff. Using Shopify's own hardware makes accepting payments simple, while the POS app works on both iPad and Android and can be customized to meet your needs.
pros
Easy to get started and intuitive to use
Integrates with your online Shopify store
Good customer support
cons
High per-month costs if operating from multiple locations
Can only take cash payments without an internet connection

Shopify Visit Site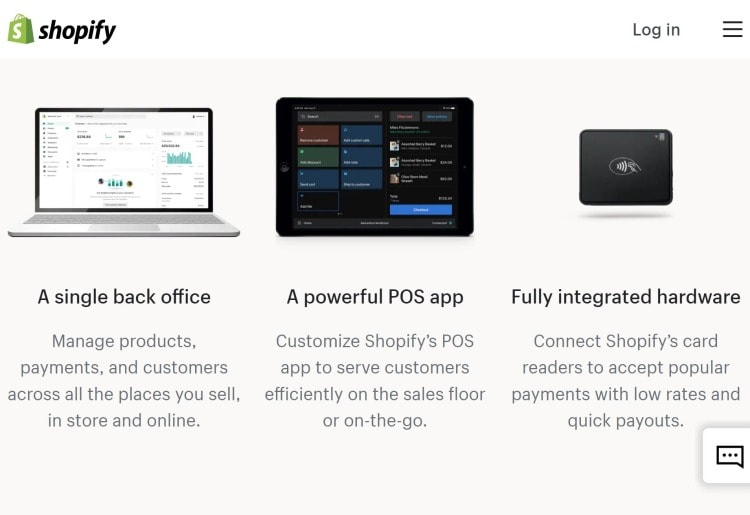 Ideal For
Small and medium-sized retailers looking for an easy-to-use POS system
Existing Shopify customers looking to sell in-person as well as online
Businesses looking to adopt an omnichannel approach to customer service
Why Go With Shopify POS
Shopify is a good choice for small and medium-sized businesses looking to sell in-person and online. Shopify POS is built around the Shopify Ecommerce platform, meaning that you get access to the user-friendly dashboard and all the tools that are used by millions of online stores. The POS app works on iPad and Android and has a modern design and customizable options to meet the needs of businesses.
With different pricing tiers available, you can choose a plan which meets your immediate business needs while retaining the flexibility to upgrade or downgrade as necessary. While one main reason to choose Shopify is its integration with its online platform, a Lite package is available for those only looking for a POS solution. Whichever plan you choose, you'll need to purchase the point-of-sale hardware. This can be purchased directly from Shopify, which means it should work seamlessly with your tablet and the Shopify POS app.
Shopify's customer support is excellent. Their tutorials, knowledge base and community forums make it simple to build familiarity with their platform. So even if you run into issues, you can be sure that a solution is at hand.
What's On Offer
Omnichannel selling to provide a consistent experience for your customers offline and online
Product and inventory management to stay organized and reduce errors.
Includes support for providing discounts, refunds, returns and exchanges
Reporting and analytics so you can make informed business decisions
Customer profiling to keep track of purchase history and lifetime spend
Monthly pricing plans with no hidden costs
Integrated flat-rate payment processing
24/7 support through chat, phone and email
Ease of Use
One of the strongest features of Shopify POS is its ease of use. There isn't a convoluted application process, meaning you only need an email address to sign up. Once you log in, you are presented with a clean user interface. If you are familiar with Shopify POS or want to explore its options, you can immediately start setting everything up independently. Otherwise, there are plenty of prompts to guide you along a series of setup steps.
As you move through the setup process—or if you contact customer support—you will be required to provide your name and phone number. Each task in the setup process follows a logical order, allowing you to get up and running with ease.
If you get stuck at any point, Shopify has plenty of options for support. Their knowledge base and community forum can guide you through most issues, while email and live chat support are available if you run into a more complicated problem.
So, if you are getting started with Shopify you will find a:
Simple sign-up procedure
Setup guide that makes it easy to get started
Comprehensive knowledge base, active community forum and YouTube channel that answer most questions and help you learn how to get the most out of the platform
Clean, intuitive user interface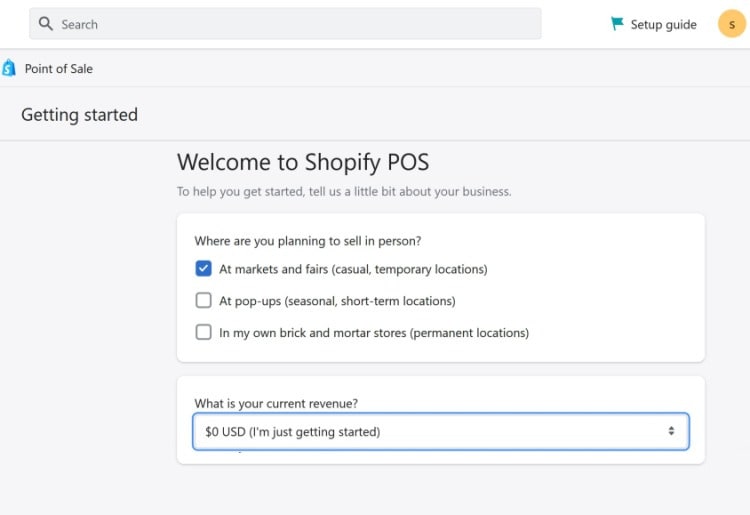 What's Unique About Shopify POS?
Naturally, where Shopify POS stands out is its seamless integration with its online retail platform. Millions of businesses use Shopify to power their Ecommerce sites—it's an established and reputable option. Shopify has applied the expertise they've gained online to their POS systems. If you are looking for a single solution to manage your inventory and sell products online and in person, Shopify is worth serious consideration.
Even if you are only looking to use the point-of-sale system, you will benefit from the features they have built for online retailers. For example:
Inventory and product management tools that are simple to use
Analytics and reports that provide a wealth of data which you can use to inform future business decisions
Checkout options that allow custom discounts to be set up and automatically calculate taxes based on your store's location
Customizable Mobile App that works on iPad, iPhone and Android devices
For those investing in the higher tiers, more advanced features include:
Omnichannel retailing to provide a better customer experience. This allows options such as paying in-store and shipping to the customer, buying online and picking up in-store, and allowing online returns and exchanges for items bought in person
Smart inventory tools to predict demand, alert when stock is low, and make sale item suggestions
Staff management features with the ability to attribute sales to staff members for commissions
You can purchase point-of-sale hardware, such as card readers and barcode scanners, directly through Shopify with free shipping and a 30-day return policy. Buying direct ensures that the plug-and-play equipment is compatible with the Shopify POS app. The app itself has a customizable smart grid interface that allows you to configure tiles to display the features you need.
Shopify understands that if your business thrives, so does theirs. They have excellent guides and tutorials to make using their platform easy, but you can also find free business tools and additional learning materials through YouTube and Shopify Learn. Shopify Experts allows you to receive proposals from recommended freelancers and agencies, allowing you to hire extra support to get the most out of the platform.
Customer Support
Shopify's customer support tends to be very good, although usually, you'll be able to find the answers you need without having to wait on support calls. The help center is a knowledge base with guides providing solutions to common problems. The community support area is a comprehensive forum which answers almost every question. These answers come from other users who will have experienced the same issues as you.
If you can't find a helpful answer in the help center, you'll be presented with an email form to contact the support team. The Shopify support team is available 24/7 via email, live chat, and phone.
Pricing (Software and Hardware)
Shopify POS allows you to sign up for a 14-day trial, and you only need to provide your email address to get started. A Shopify Lite subscription that gives you access to only the Shopify POS features is available for $9 per month, but you won't get Shopify's online retail features as part of this package.
If you are looking to use Shopify for your online sales as well as the Shopify POS system, plans are available at $29, $79, and $299 per month. Each of these plans includes Shopify POS Lite so that you can accept in-person payments.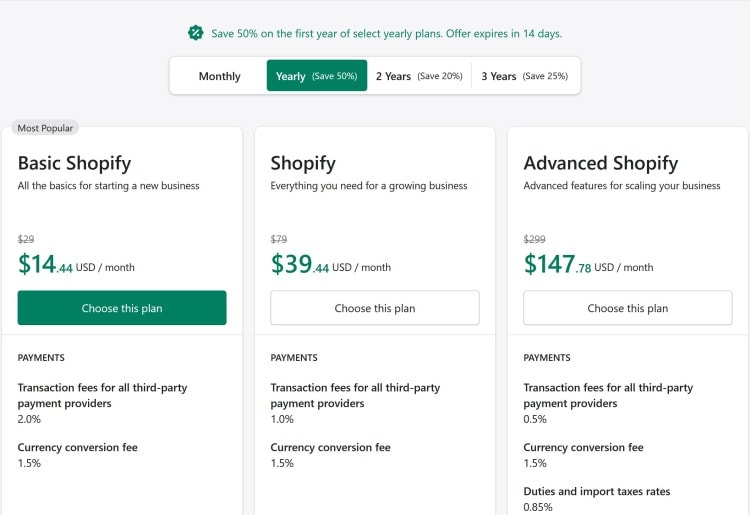 You will need the Shopify POS Pro plan if you want access to more advanced POS features. This plan costs an additional $89 per location per month but provides advanced inventory tools, shipment options and staff permissions.
Shopify's hardware store sells card readers, barcode scanners, cash drawers and receipt printers guaranteed to work with their POS system. Card readers cost $49 and 1D barcode scanners cost $229.
Contract Terms
Shopify's 14-day trial allows you to try the POS system before providing all your details and committing to pay. Shopify plans are month-to-month unless you sign up for a long-term offer. When signing up, you'll be offered discounted one-year, two-year and three-year plans that provide lower monthly prices.
Terms of Service are annotated with plain English explanations of each section, making the document easy to understand and allowing you to sign up without getting bogged down in legal jargon.
If you use Shopify's online services, you'll need to use the same payment processor when using their POS service. If you decide that the Shopify POS service isn't the right solution for your bricks-and-mortar business, you can cancel at any time while still keeping your Online Services active.
As Shopify's POS equipment is purchased, rather than leased, Shopify provides a 30-day return policy and a standard one-year warranty with an extended two-year warranty for POS Pro plan customers. For hardware produced by other manufacturers, the guarantee transfers over to a manufacturer's warranty after the 30-day return period.

Shopify Visit Site
About Shopify
Founded in 2006, Shopify is one of the leading online sales platforms. The Canadian company offers a range of Ecommerce services such as payment, shipping, and customer engagement tools. Since 2013, Shopify has provided POS systems, allowing online retailers to use the same platform for in-person sales.
The all-in-one Ecommerce platform is used in over 175 countries. More than 3.7 million websites use Shopify, including major brands such as Gymshark, Heinz, Tupperware, and Netflix.
Physical Address
151 O'Connor Street, Ground Floor, Ottawa, Ontario K2P 2L8, Canada.