In a Nutshell
Oracle NetSuite is a unified business management platform comprising a suite of 'modules' including point of sale, ERP, CRM and more. SuiteCommerce InStore provides your salespeople with a range of tools to help them assist and engage shoppers. It also ties your POS system seamlessly to all your operational business systems, eliminating the need for integrations between separate systems.
pros
Suite of tools to help assist and engage shoppers
Natively connects to your business systems
Accessible via cloud, lowering your software costs
cons
POS is only available with complete package
No free trial

Oracle Netsuite Visit Site
Ideal For
Mid-sized and large retailers
Retailers with a mix of physical stores and ecommerce channels
Why Go With Oracle NetSuite
Businesses choose Oracle NetSuite for its integrated business systems. With NetSuite, you don't just get an effective point-of-sale system; you also get access to a range of other modules including ecommerce tools, enterprise resource planning, customer relationship management, project management, payroll, accounting, and more.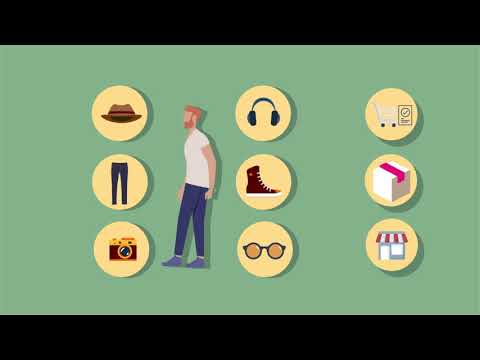 What's On Offer
SuiteCommerce InStore arms your salespeople with a mobile app that helps them assist and engage customers more effectively, driving sales and strengthening customer loyalty.
Features include:
Full-featured mobile POS. Enables you to quickly and easily perform common point-of-sale transactions like cash and carry, exchanges and returns. A touch-tablet user interface and responsive design deliver user-friendly digital tools across any device.
Omnichannel experience. Allows customers to create wish lists or add products to cart in one channel and then access their selections on other channels (e.g. online, phone or in store).
Enhanced Customer Profiles. Provides access to comprehensive customer information including average spend, average time between transactions, returns and support data, shopping preferences, loyalty points, and more.
Order and Inventory Management. Provides real-time visibility into all inventory held across the company, allowing customers to purchase products regardless of location in a single transaction.
Dynamic Merchandising. Present upsells, cross-sells and related product recommendations based on merchant-driven rules such as location, 'bought also bought' patterns, and more.
Access and Permissions. Allows you to assign security settings to specific roles, such as administrators, managers, bookkeepers, merchandising managers and clerks.
Real-Time Sales Reporting. Provides real-time insights into store statistics, salesperson performance and cash management.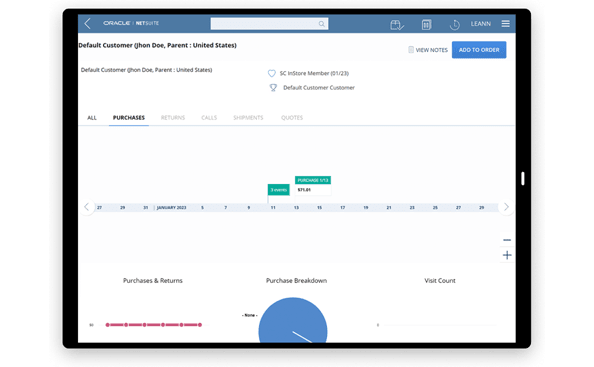 Ease of Use
Oracle NetSuite has powerful capabilities, but be warned that it can take time to train your employees to use the platform to its fullest potential. According to NetSuite, companies that use certified professionals see more effective deployments and a greater return on their investment.
What's Unique About Oracle NetSuite
As we mentioned earlier, the unique thing about Oracle NetSuite is its seamless integration of an entire suite of business management tools. If all you need is a point-of-sale solution that helps you assist and engage customers, then there are plenty of great options out there on the market. But if you're looking to integrate a top-of-the-line POS system with a range of other business management and productivity solutions, then NetSuite does this without the need for any external apps or integrations.
NetSuite modules include:
Omnichannel commerce, incl. point of sale (the subject of this review), B2C/B2B ecommerce, order management
ERP, incl. financial management, warehouse management, supply chain management
CRM, incl. customer service management, marketing automation, partner relationship management, sales force automation
Global business management, incl. multi-currency support, multi-language support, tax management, global accounting
Professional services automation, incl. project management, resource management, expense management, billing, analytics
Accounting software, incl. accounts payable and receivable, cash management, payment management, fixed asset management
Customer Support
All NetSuite subscribers get basic support, with 24/7 phone support for emergencies (known as 'Severity 1') and online support during business hours for regular issues ('Severity 2'). Premium support is available as an add-on; it includes 24/7 support for Severity 1 & 2 (and online support during business hours for Severity 3 & 4).
All users get access to the SuiteAnswers technical support portal and NetSuite User Community.
Pricing (Software and Hardware)
Users subscribe to NetSuite for an annual license fee and select which modules they want (e.g. SuiteCommerce InStore). The price is determined by the type of business, the number of full access users in your organization (people who assign roles and give user permissions) and regular users (people who can access NetSuite tools but can't make changes to the system).
Depending on the size of your business, prices start from $999 for a license and around $99 per month per user.
NetSuite doesn't offer a free trial, but you can request a demo.

Oracle Netsuite Visit Site
About Oracle NetSuite
Oracle Corporation is one of the world's largest software companies in the world by revenue and market capitalization. It is worth around $240 billion (as of January 2022), putting it firmly in the S&P 100 index of the 100 largest companies on the New York Stock Exchange. Oracle was founded in Santa Clara, California in 1977 by Larry Ellison, Bob Miner, and Ed Oates. Its headquarters are in Austin, Texas, and it serves 28,000+ businesses around the globe.
Physical Address
2300 Oracle Way
Austin, TX 78741